✕
Three things you need to know:
Construction job openings are increasing while the number of new hires trails behind;
Not COVID-19, but low pay and a lack of opportunities for advancement are the biggest reasons for the 'big quit;' and
Employees are looking for flexibility — contractors need a flexible and customized retention program and to develop a culture of experimentation.
Not sure too many of us would describe what we are seeing as "great." The U.S. Labor Department's recent Job Openings and Labor Turnover Survey (JOLTS) showed that there were 1.8 job vacancies for every unemployed person in February 2022, up from 1.7 the month prior. This represents a "very, very tight [job market] — tight to an unhealthy level," according to Federal Reserve Chair Jerome Powell, albeit 75,000 construction positions were filled during the same period.  
As stated in a recent 2022 Plumbing Heating Cooling Contractors Association report, while there has been job expansion across the U.S., there has also been the "big quit"— with mass resignations of 4.3 million in January 2022 as compared to 3 million on average at pre-pandemic levels. Ian Cook writes in his 2021 article, "Who Is Driving the Great Resignation?" that resignation rates are "highest amongst mid-career employees [employees in the 25 to 30 and 45-plus age groups]."
The Bureau of Labor Statistics (BLS) reported on April 1 that the "total nonfarm payroll employment rose by 431,000 in March, and the unemployment rate declined to 3.6%. Notable job gains continued in leisure and hospitality, professional and business services, retail trade and manufacturing." In March 2022, the BLS reported the following average unemployment rates seasonally for states with unemployment higher than national rate: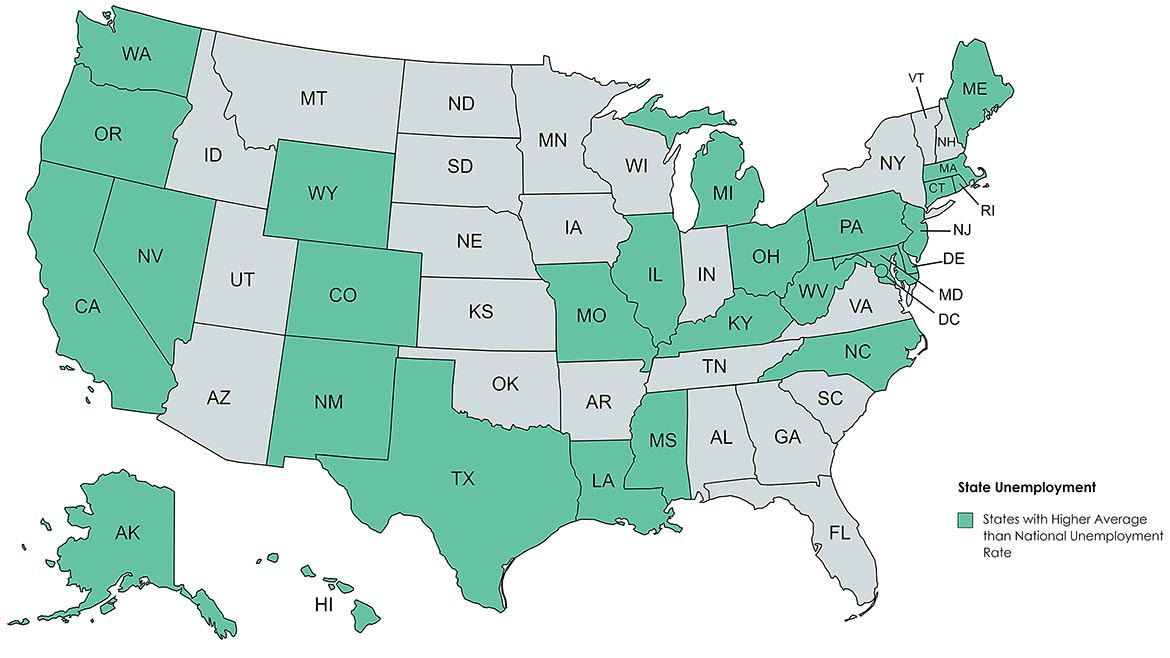 Eilis McCann writes in her article, "Key trends in the construction industry for 2022," that "since 2014, Deloitte found construction job openings to increase by 50% while the number of new hires trails behind at 14%." The graph below compares the U.S. Bureau of Labor Statistics' construction hires versus quits, which shows hires at -1.79% change from Q4 2020 to 2021, while quits dropped to 33.9% over the same period. This represents a 35-percentage point gap as a percent change from a year ago.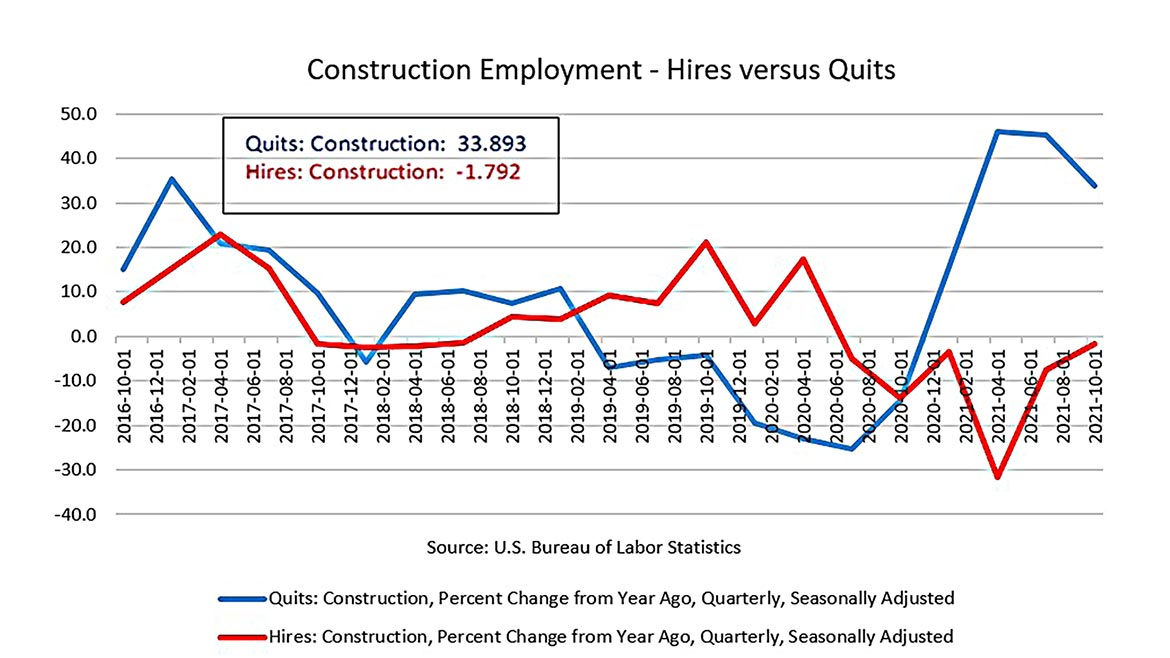 Quentin Fottrell writes in his MarketWatch article, "The No. 1 reason American workers quit their job has nothing to do with the COVID-19 pandemic," that "low pay and a lack of opportunities for advancement (63% respectively) are the biggest reason[s] why they quit their jobs last year, followed by feeling disrespected at work (57%), according to a survey of more than 9,000 people by the Pew Research Center, a think tank based in Washington, D.C." Forttell reported that approximately half of respondents noted childcare challenges for leaving their jobs, followed by lack of flexible working hours and lack of or poor benefits like health insurance and paid time off. 
The same article notes that with inflation at a 40-year high, many workers feel pressure to work more hours and/or earn better wages as government stimulus programs subside and depletion of personal savings as credit card debt increases along with higher mortgage and rent costs — all which are exacerbated by Federal Reserve interest rate hikes this past spring to stave off inflation.
Forttell reported that according to a recent Gallup poll of 13,000 respondents, "what was most important to [employment candidates] when deciding whether to accept a new job [included a] significant rise in income or benefits [as] the No. 1 reason, followed by greater work-life balance and better personal well-being, the ability to do what they do best, greater stability and job security, COVID-19 vaccination policies that align with their beliefs and the organization's diversity and inclusivity of all types of people." 
So, what can be done to mitigate this challenge that many of you face? It starts with a flexible and customized retention program. Cook noted that "if you discover that people of color are leaving your organization at a higher rate than their white peers, a DEI-focused approach may be called for. If you find that time between promotions correlates strongly with high resignation rates, it may be time to rethink your advancement policies."
Consider rehiring retired employees as part-time professionals and mentors to younger employees.
Other ideas offered by PHCC's member-only 2022 1st Quarter PHCC Competitive Edge Report include:
Consider rehiring retired employees as part-time professionals and mentors to younger employees; 
Emphasize recruiting of minorities, at-risk youths, military veterans and women into the industry; 
Promote use of on-the-job technology to attract employees looking for progressive 'Employers of Choice;'
Leverage assistance provided by the National Association of Workforce Boards (NAWB) and several other government programs designed to assist with this effort; and
Business owners should rebalance employee benefits to ensure employees can potentially offset stock market volatility like conducting more regular market analysis of local wage levels, offering competitive healthcare insurance, educational reimbursement assistance, profit-sharing, bonuses and performance-based incentives, and other relevant benefits that allow more money to stay in the hands of the employee.
The COVID-19 pandemic, rising prices, higher inflation, supply chain and staffing shortages have caused a tipping point and it feels like we are pushing on a string. Anne Field wrote in her article, "From 'the Great Resignation' to 'the Great Reimagination'", "companies should stop trying to predict the future and instead develop an ongoing culture of experimentation, testing, learning and iteration—creating incremental change [that] allow for constant adjustments." Employees are looking for flexibility not just for how they are connected to work, but flexibility that 'hybrid work models' offer with a portion of work aligned with employee's personal growth needs. 
For more great information from the PHCC Business Intelligence Team, check out www.phccweb.org/membership.