By now, everyone has heard the message that prefabrication is the answer to greater job-site productivity, installation consistencies and project profitability. However, there's a new trend beginning to take hold that offers even better results for large commercial projects looking to maximize smart building design with radiant heating and cooling systems.
While the concept of radiant heating has been around since Roman times, and precast concrete has been in use for more than a century, combining these two ideas is relatively new.
As more engineers and commercial building owners turn to radiant heating and/or cooling systems to meet LEED or other green-building standards, the construction industry is evolving to install these systems with greater efficiencies and accuracy while meeting tight schedules and budgets.
The answer is prefabricated radiant panels, which combine the end-user and sustainable-building benefits of radiant heating and cooling with the installation and job-site advantages of prefabrication.
Traditional methods
While there are several different installation methods for installing piping for a radiant system, large commercial structures have typically employed wire ties to rebar or staples to foamboard insulation before covering the pipe with a concrete overpour.
This method requires significant labor to fasten ties or staples, and also requires close coordination with all the trades to ensure the piping is installed per the construction documents without obstructing electrical conduit, floor boxes or drain piping.
Additionally, every radiant loop is unique and must be carefully marked off and laid out based on the approved shop drawings.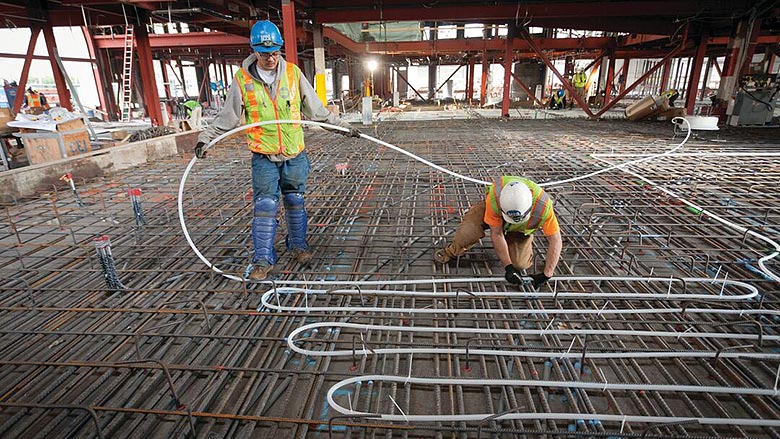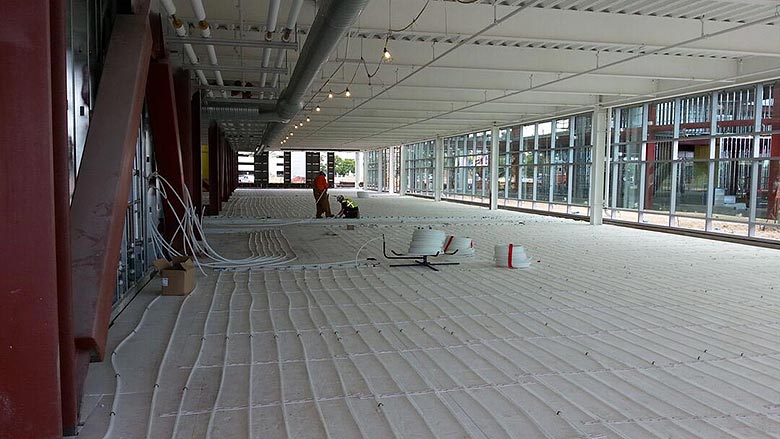 Prefabricated mats
Over the past two decades, with the trend towards radiant design in more commercial structures, radiant piping manufacturers have created a solid solution to add installation efficiencies in large commercial projects.
Custom-designed, prefabricated, pre-pressurized radiant piping networks created in a factory have become the newer installation efficiency solution for large radiant jobs. These piping networks, commonly referred to as "rollout mats," are pressure tested and shipped to the job site where they are literally "rolled out" like carpet.
However, even with the extreme efficiencies these rollout mat products provide, there is still a need for the concrete overpour after the piping installation.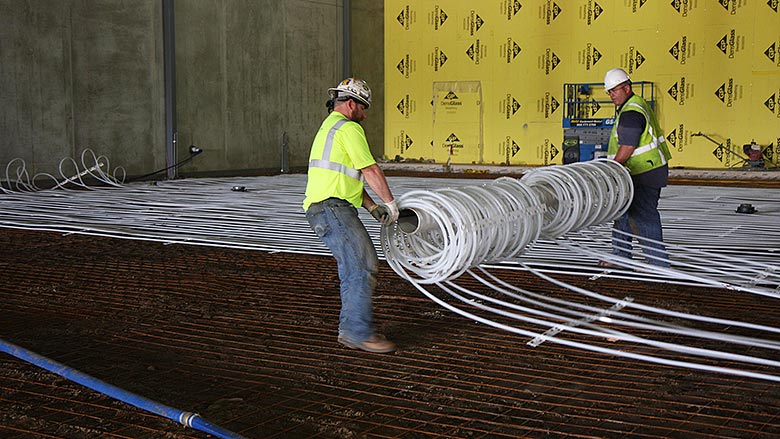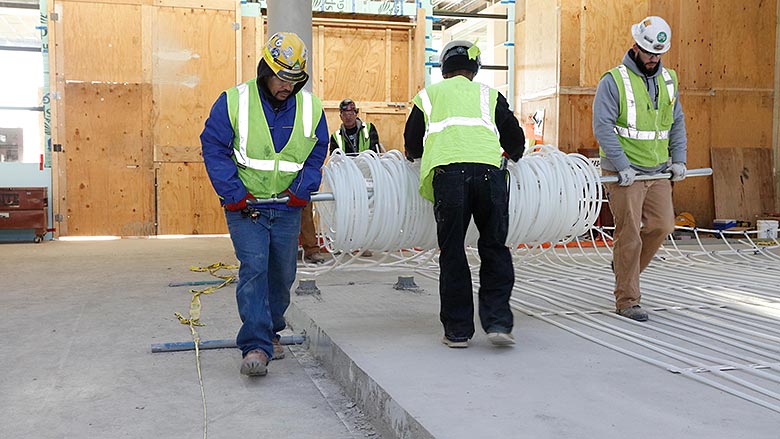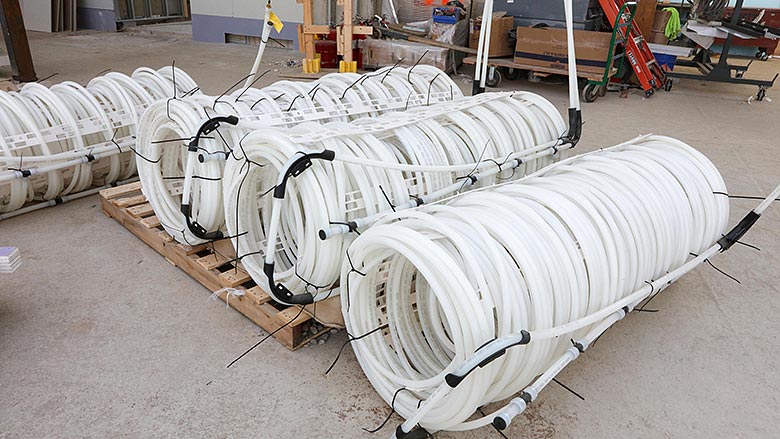 Prefabricated panels
Now, the next step in the evolution of smart, efficient building design and construction is prefabricated panels. With prefabricated panels, precast concrete contractors are taking a holistic approach to modern building design by incorporating the structural components along with the piping, conduit, duct openings and radiant into one.
This highly repeatable modular solution streamlines production, minimizes waste, and helps to maintain a high level of quality control. It can dramatically reduce site issues and coordination complexities because everything is already incorporated in the panel. The only area to coordinate is the connection points to the manifolds, along with final pressure testing and system commissioning.
Best of all, this solution can result in such a significant reduction in radiant system costs, it can help make radiant more viable in more commercial construction projects and avoid value-engineering cuts.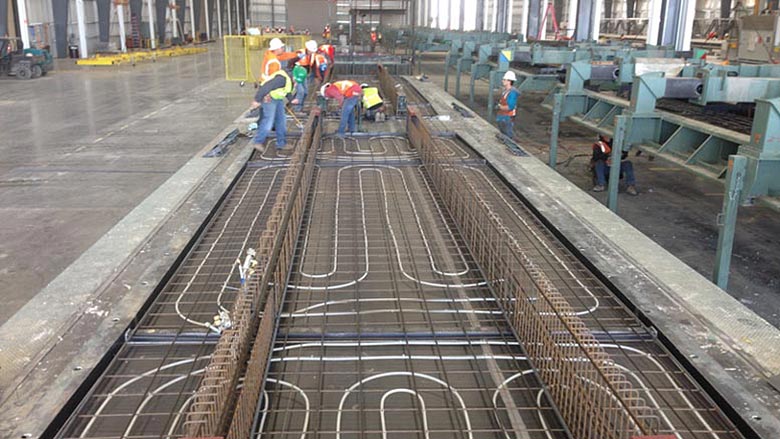 Points to consider
When considering prefabricated panels, there are several points to take into account, including transportation costs, UV protection for the pipe as it exits the slab and the radiant zoning and control strategy.
For example, instead of being able to route individual radiant loops as needed to accommodate zoning, you will now need to work within the confines of the panel. You will also need to coordinate how the individual loops are going to connect to the manifolds and where those manifolds are going to be located.
You will also need to take into consideration the panel design — can piping leaders be routed through the panels themselves, or are the leaders going to be embedded in a field-poured topping slab?
There will need to be clear delineation between what will be provided as part of the precast panel and what will be done in the field after the panels are installed. There will also need to be solid coordination with connection points, pressure testing and system flushing.
In conclusion
From greater job-site efficiencies to system consistencies to project profitability potential, prefabrication is the solution making its way into more and more commercial projects.
By incorporating prefabricated panels with radiant heating and cooling, it offers the opportunity to integrate a sustainable building solution into more commercial structures while also providing a holistic approach that significantly improves installation efficiencies, minimizes field conflicts and reduces system and building costs.