For years, environmental considerations and sustainability have influenced innovation in manufacturing, and in 2021, those factors became the driving force behind new product development. What was once a north star in the distance is now a guiding principle for many businesses, and the core motivation behind research and development efforts at water heating companies like A. O. Smith and Lochinvar.
As decarbonization and reduction of greenhouse gas emissions take an even stronger hold, engineers, contractors and facility managers are working to incorporate and specify green, sustainable and smart solutions into projects of all sizes and applications. These opportunities not only positively impact the bottom line for businesses, but they also aid in the care and keeping of our planet.
Over the past year, A. O. Smith and Lochinvar have both launched products that aim specifically to address the need for more sustainable solutions. For example, heat pump technology, large commercial boilers with cutting-edge combustion technology and enhanced water heaters offering as high as 99% thermal efficiency have been brought to market. These products all work together to accomplish the goals of cost savings and care for the environment.
Innovative products help lower emissions
Innovation is at the heart of lowering greenhouse gas emissions. Scientists and engineers alike have the same goal of designing and creating new technologies that will impact the world in a positive way. For decades, water heating manufacturers have had a very clear goal to create the most efficient equipment possible, but what happens when companies are hitting 97-99% thermal efficiency? This is where componentry tops out and technology must tap in. The technology is also more efficient, lowering overall greenhouse gas emissions.
This trend is happening across the industry; smarter controls allow for more real-time data, helping the units to operate more efficiently. When a call for heat occurs, just the amount of modulation needed to satisfy the demand will take place, eliminating wasteful short-cycling. Users can read trends and make adjustments to further maximize energy savings. The technology adjusts automatically to accommodate peak demand, and the unit senses environmental conditions, including altitude, to provide the most efficient operation possible. These seemingly small adjustments make a big impact on the bottom line for companies, not to mention greenhouse gas reduction.
Adopting ENERGY STAR-certified products can make a dent in lowering greenhouse gas emissions and eliminating negative environmental impact. A. O. Smith is proud to manufacture more than 1,000 ENERGY STAR-certified products, many of which are eligible for hundreds of dollars in incentives via national EcoRebates programs.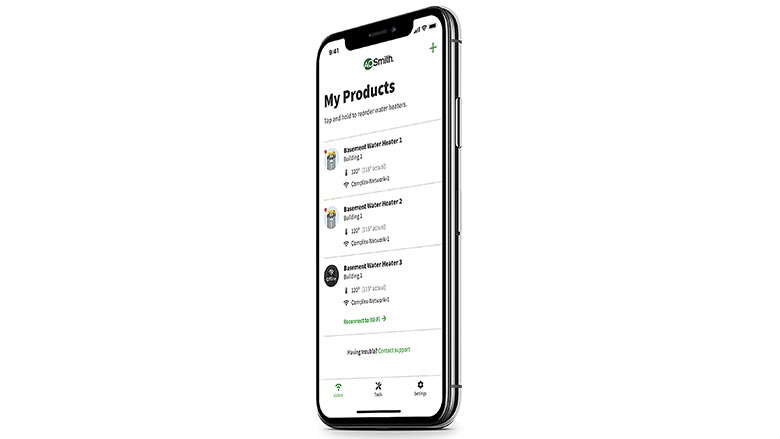 Electrification and decarbonization set the landscape
For years, the industry has been speculating about what electrification and decarbonization mean for the water heating world. We know water heaters' and boilers' efficient operation can make a significant impact on mitigating climate change and creating an overall healthier planet. Government regulations are advancing these trends at both a national and local level. Many building professionals have begun to focus heavily on the most efficient ways to heat the water used in a structure. Reduction in energy use and greenhouse gas emissions are often top priorities for both consumers and contractors. As a result, sustainable building guidelines, such as LEED and WELL building certifications, continue to increase in popularity. These guidelines offer benefits for using efficient products and systems as sustainable solutions.
Public utility commissions, in tandem with constantly evolving regulations, are large factors in the decision-making process for developing the most efficient solutions. Even in regions where government regulations are not as prominent, customers are looking for the most efficient solutions. While most of the "green" emphasis is on the West Coast and Pacific Northwest, the trend is slowly sweeping the nation.
Cogeneration has also been a key player in the push for more efficient solutions. Cogeneration systems are capable of producing heat and power from the same fuel source. This feature is particularly beneficial in regions of the country where there is a wide spark spread.
Heat pump technology also lands center stage for many customers looking for a smart solution in both commercial and residential projects. App-based solutions are becoming more common in the residential sector, making it even easier to save energy and track cost-savings in real-time. Tools like the A. O. Smith mobile app continue to advance to meet the needs of homeowners and professionals who want to integrate a heat pump water heater into the growing number of utility smart grid programs.
Knowing the importance of decarbonization and electrification, A. O. Smith has a policy and regulatory team specifically dedicated to understanding the most recent regulations and rebate/incentive opportunities. This team is closely connected to initiatives at the federal, state and local governmental levels, so they are the first to know when new legislation and regulatory actions are being proposed that could impact product development and A. O. Smith and Lochinvar customers.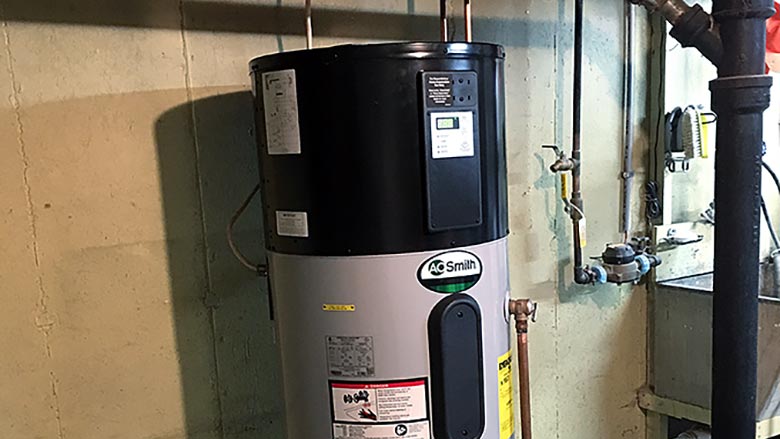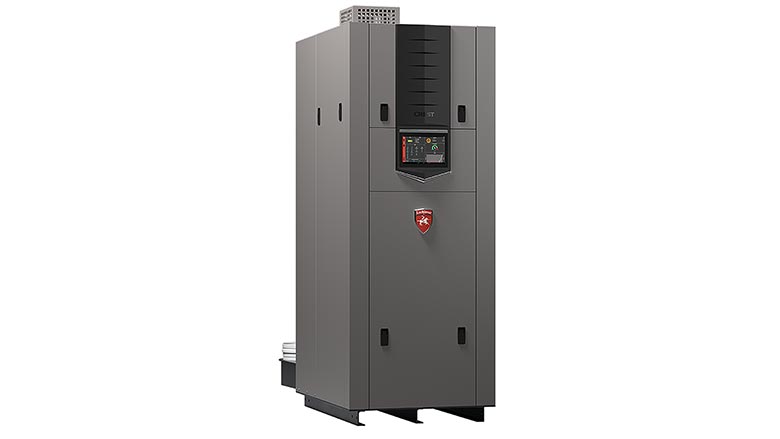 Grid flexibility gains attention
Through the introduction of product automation and smart technology, many units are now able to optimize their settings, thus assisting in the balance of the electric grid system. Grid flexibility controls accompany heat pump water heaters and standard electric water heater systems to allow for greater efficiency. This relies specifically on mitigating power plants and lowering the amount of greenhouse gases they emit. Typically, utilities are regulated at a state level. As of 2021, 34 out of 50 states have mandates on electric utilities. Those utilities are responsible for providing increasing amounts of low carbon and no carbon energy. Utilities rely on manufacturers to offer products that meet and exceed those standards. Overall, the U.S. is aiming to create a grid system that is less dependent on fossil fuels. Utilizing and controlling the gas and air mixture more effectively allows water heaters and boilers to do a better job at addressing these issues.
As companies and customers continue to look for sustainable solutions, smart technologies will be the answer. While componentry can help achieve high efficiency, technology provides the sophistication to achieve the best results. From automation and self-adjusting units to cogeneration systems and heat pump water heaters, engineers across the country are focused on making an impact on cost and energy savings for customers as they design products to help protect our planet.
Photos courtesy of A.O. Smith Corp. and Lochinvar.