Solar Thermal/Geothermal
Green Plumbing & Heating
Historic farmhouse upgrades to geothermal heating
The Cockayne Farm was at one time an internationally recognized Merino wool-producing farm in what is now Glen Dale, W.Va.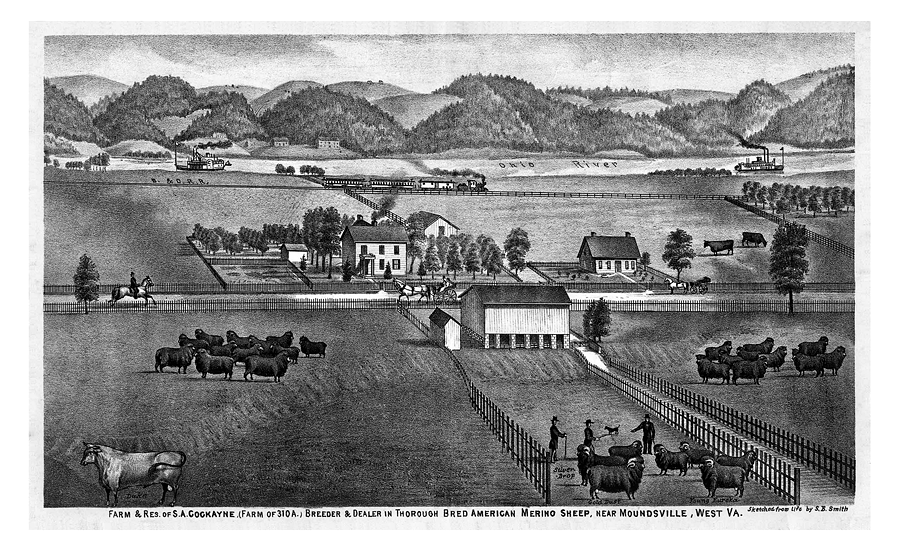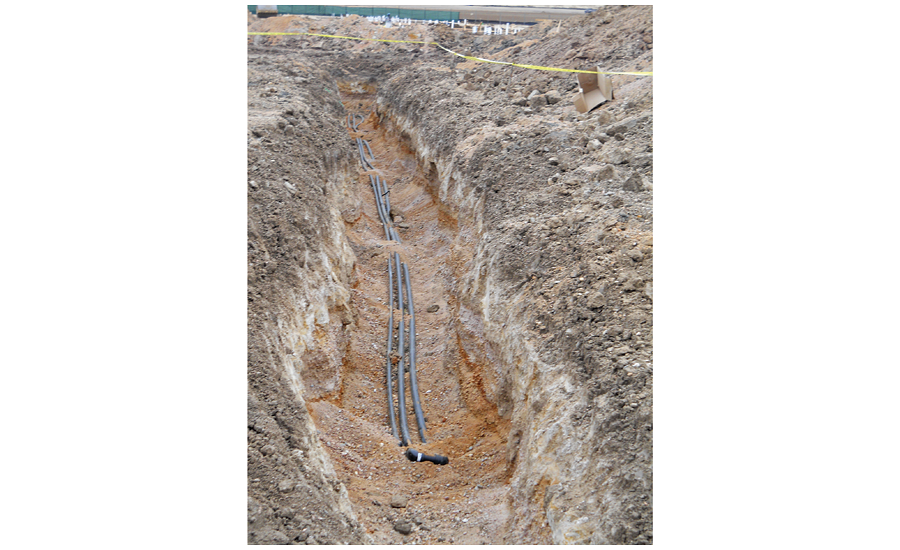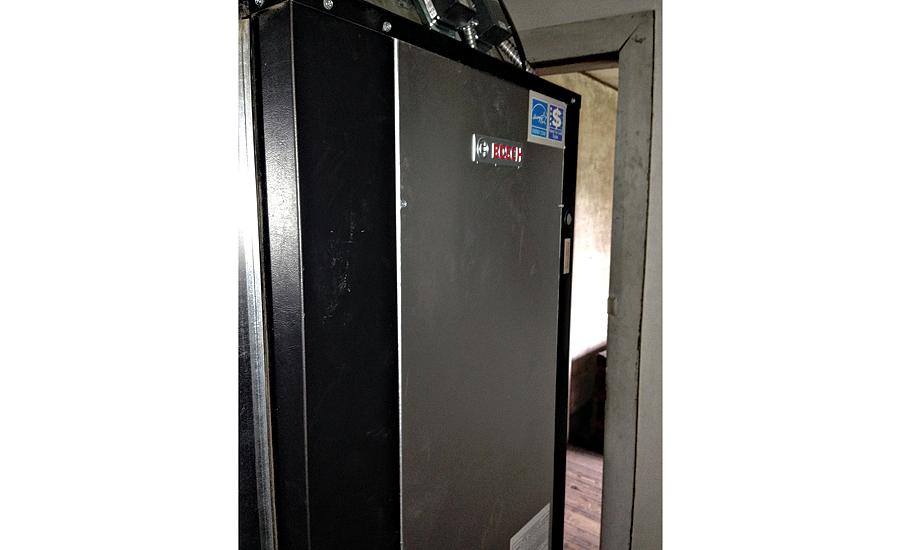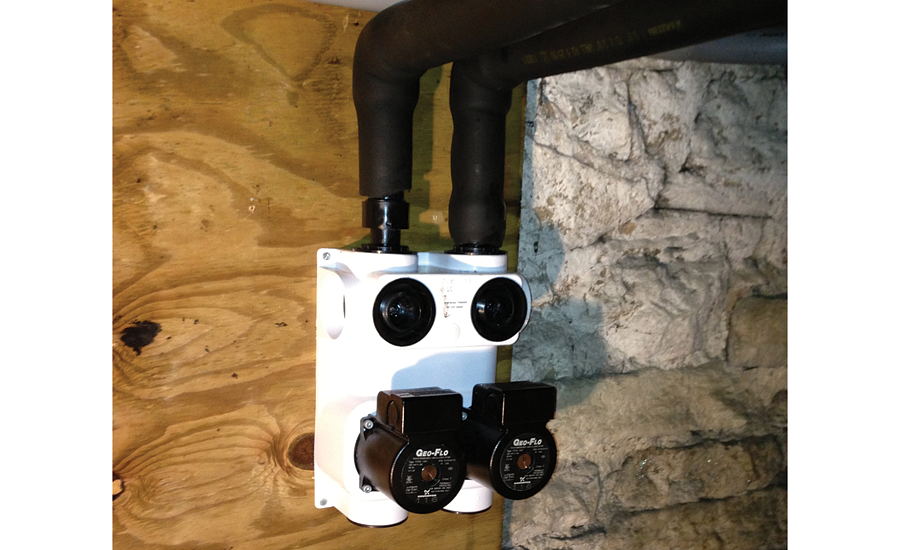 The Cockayne Farm was at one time an internationally recognized Merino wool-producing farm in what is now Glen Dale, W.Va. The 19th century Cockayne family members were social, political and agricultural leaders in the community. Samuel A. J. Cockayne, a lifelong Glen Dale resident and a descendent of an early pioneer to the area, died in November 2001. In his will, he bequeathed his aging 1850s farmhouse and its immense collection to Glen Dale. The once 303-acre farm had been reduced to the Cockayne Farmhouse and one-half acre of yard.
The purpose of the Cockayne Historic Preservation Project is to create an educational and cultural center on 19th century rural life. Other than adding rudimentary electrical, heating and plumbing resources in the first half of the 20th century, the farmhouse remained true to its 19th century origins.
"We wanted to go green," says Thomas Tarowsky, retired director of education for the Cockayne Historic Preservation Committee. "Geothermal was recommended by the project architect and engineer Steve Avdakov, owner of Wheeling, W.Va.-based Heritage Architectural Associates."
This is the first centralized heating/cooling system for the building; therefore it was a "clean sheet" design — including ductwork. Installing the system while preserving the historic look and feel of the house and its contents was essential.
"It took a great deal of planning, research and decision-making to reach a determination on the best approach to returning heat and providing cooling to a house that had never had a central climate control system," says Nila Chaddock, board chair of the Cockayne Historic Preservation Committee. "It was very important that we have a vendor with excellent credentials to install the geothermal system. It was the experience and reputation of Rumer-Loudin that made the decision for us."
Once the contracting decisions were made and the funding was in place, Avdakov provided the design. "The final design for the heat distribution system involved placing stainless-steel liners in each chimney to enable use of the structure's seven fireplaces as a means to distribute the heated/cooled air without disturbing the fabric of the historical structure," Tarowsky says.
Ohio-based mechanical contractor Rumer-Loudin — which is run by the husband-and-wife team of Sid Loudin, president, and Kellie Loudin, vice president — worked on several aspects of the project, including the installation of the air ducts, geothermal system and steam humidifier. Sid Loudin was the estimator on the project, as well as liaison between Cockayne and general contractor Centennial Preservation Group of Columbus.
Brandon Loudin, who represents the third generation in the family business started by Larry Rumer, was the lead geothermal system and steam humidifier installer; Bob Weekley was the lead duct system installer. Products installed include a 6-ton Bosch two-stage TA071 geothermal heat pump, a high-pressure Bosch Flo-Link pump center and VAPAC steam humidifier.
"We chose a Bosch system over similar systems because of the local dealer support," Kellie Loudin explains. "The supplier is in Ohio and we knew if there were ever any warranty issues, they would be promptly and fairly addressed."
Rumer-Loudin worked on the project for almost a year; the geothermal project was completed in the fall of 2013. "That time frame is not typical but was to be expected with this project because we would get to a certain point and then need to pull off until the other trades had progressed to the point where we could proceed," she says. "For instance, the geothermal vertical loop, header pit and piping to the house were installed in February, as well as some of the ductwork; however, we couldn't set equipment until plaster work was done. A retrofit geothermal start to finish typically takes about a week and a half."
The company has 25 years of experience installing more than 400 geothermal systems. About 25% of its work is geothermal — with about 50/50 new construction vs. retrofit.
"We have a large rural service area which does not have natural gas as an energy choice," she notes. "That leaves wood/coal burners, oil, propane or electric as the other choices. Many customers opt for a geothermal system with an oil or propane backup. That way they can install a smaller generator to run just the backup heat source in case of power outages. We have this type of system in our own home."
A river ran through it
One challenge the driller, Dillan Well Drilling of Darlington, Pa., faced was the fact that the Cockayne property had once been part of the river bed, so river gravel was hit right away and continued to a depth of 90 ft., which meant it had to case the geothermal wells to that depth. "The geothermal loop was four bore holes, 320 feet each," Kellie Loudin explains. "We knew this would probably happen because of a geothermal system we had installed for The Salvation Army on the Ohio side of the river in Bellaire, Ohio. The driller was prepared but it still created a challenge."
Another challenge was the fact the Cockayne Preservation Committee wanted an integrated, remote access, multifaceted monitoring and control system, which was installed by Quantum Controls Group of Delmont, Pa. Quantum designs, sells, installs and services turn-key electronic energy management/temperature control systems and access control/video surveillance systems for commercial facilities.
"We have installed controls on a number of geothermal systems over the last 10 years," says John Hredzak, owner and engineer for QCG. "Normally we get involved in about one to two systems per year. Our initial scope for this project was to design a system that could control temperature and humidity in a historical building with minimal impact to the appearance of the site."
No exposed conduit or wall molding could be used to wire the sensors to the main electronic controller. Routing wires/conduit behind the walls also was prohibited due to the architecture and composition of the wall materials, which could not be disturbed. Hredzak, Jonathon Newingham, field technician for QCG, and Justin Hredzak, lead tech for QCG, determined a wireless system would be best. It would require remote battery-powered sensors to be placed in strategic locations throughout the site.
The controls system was designed to monitor the temperature and humidity of six rooms within the two-story structure. The information is interfaced to a heat pump, humidifier and ground-source water pumps to control the temperature and humidity within specific tolerances. If the temperature or humidity falls out of a specific range, such as +/- 5° F or +/- 5% relative humidity, an alarm is generated.
"We worked with Rumer-Loudin to determine the best interface to the mechanical equipment it planned on installing," Hredzak says. "A Tridium JACE controller provides the 'brains' for the decision-making and is hardwired to a Honeywell wireless receiver using BACnet protocol."
The JACE monitors the temperature and humidity in the spaces and controls the heat pump heating/cooling/humidification stages as required. It also is connected to the site's Intranet router, which can be accessed remotely from the separate Cockayne Farmstead office building. Facility personnel can remotely monitor/control the system via real-time graphic displays, track historical trend data, adjust set-points and schedules and be notified of alarms.
The placement of the wireless sensors was a challenge for Quantum as the composition of the walls and the floors tended to block the wireless signal. Some sensors were moved from their initial desired location in order to get a strong signal yet not be too conspicuous.
Proper sizing is important
Challenges aside, Kellie Loudin says she and the team are very satisfied and proud of the work they did. She recommends that contractors who are looking to get into this line of work do their homework to be sure they know how to size a system properly on the air and loop side. She also encourages contractors to attend factory certifications and service training because the systems are more complicated to work on.
"Many times other contractors want to size the system smaller, thereby lowering the cost, and then getting the job," she says. "However, once winter comes and the system runs longer or the backup heat runs more and energy bills increase, they will have unhappy customers. They are better off to size it correctly and lose the job than to bid it too small and be faced with angry customers later."
She adds that if contractors are subcontracting the vertical drilling, make sure the drilling contractor is reputable and insured, and understands geothermal drilling. Also, if crossing state lines, be sure your driller is licensed in that state and check on drilling regulations.
Congress' 30% tax incentive and Rumer-Loudin's financing options make geothermal systems very appealing to many in the area.
"We hope Congress considers extending the tax incentives," Loudin adds. "One unique aspect for our area is the fact that many landowners have received gas and oil lease and royalty money. They really need tax credits so they are using some of this money to install geothermal systems in order to access the tax credits. For new construction, being able to spread the cost of installing the geothermal system over the term of a mortgage makes it a very attractive option. We don't currently install other renewable energy technologies but are not ruling it out for the future."


I want to hear from you. Tell me how we can improve.