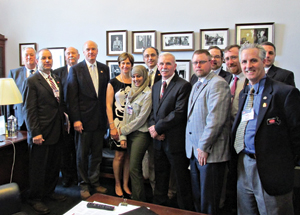 U.S. Rep. William Keating, D-Mass., (fourth from left) meets with Massachusetts PHCC members. PM Associate Editor Nadia Askar (sixth from left) also appears in the photo. Photo credit: PHCC
The 2014 PHCC Legislative Conference took place May 21-22 in Washington, D.C. More than 120 contractors and association executives went to Capitol Hill to ask their representatives to reauthorize the Carl D. Perkins Act. The Perkins Act is dedicated to career and technical education. It is designed to provide individuals with the academic and technical skills needed to prepare students for both postsecondary education and the careers of their choice. Members asked that this act not only be reauthorized, but also receive higher grant funding.
Members also asked their congressmen to be kept in the loop about three regulatory issues: the EPA's lead paint rule; the final furnace, air conditioning and heat pump rule; and the new water heater regulation. All these regulations are moving forward without the input of contractors. The lead paint rule is being expanded to include commercial and public buildings — without an accurate testing kit, the PHCC said. The water heater regulation intends to increase water heater efficiency, making the heaters larger, more expensive and practically impossible to install without major reconstruction to a building, the contractors said.
A networking reception included several members of Congress who stopped in and said a few words of encouragement: Rep. Mike Coffman, R-Colo.; Rep. Chuck Fleischmann, R-Tenn.; Rep. Paul Gosar, R-Ariz.; Rep. Jim Langevin, D-R.I.; Rep. Markwayne Mullin, R-Okla.; Rep. David Schweikert, R-Ariz.; and Rep. Glenn Thompson, R-Pa. 
Some memorable comments were: "If you are not at the table, you are probably not on the menu"; "You guys are resources to us. Keep coming and keep educating us — this should be a partnership"; and "Fact is there is a skills gap. We need training and education to be able to fill the great jobs you have." 
The next day began with a breakfast, where Rep. Steve Chabot, R-Ohio, told PHCC members, "Small businesses are the backbone of this country." And Rep. John Shimkus, R-Ill., asked PHCC members to "tell us when we are helping and when we are in the way."
PHCC members then gathered on the steps of Capitol Hill for a group photo and promptly dispersed for their congressional meetings. That evening, members gathered for an awards reception, where many members shared their stories of what happened on Capitol Hill and thanked the organizers of the event.                   
---
HELPFUL LINKS: