Plumbing & Mechanical recently interviewed owner of Princeton, N.J.-based 
Tindall & Ranson Plumbing and Heating
, Kevin Tindall, about his upcoming presidency of the Plumbing-Heating-Cooling Contractors — National Association. Tindall began his career working as a shop boy for his brother-in-law and afterward started an apprenticeship with the United Association. An active leader, Tindall has held numerous positions within PHCC, including secretary, board member, chair of the Energy Efficiency and Water Conservation Committee, and member of the organization's Quality Service Contractors and Union-Affiliated Contractors best-practices groups.
PM: What are the top items on the PHCC's agenda for 2015?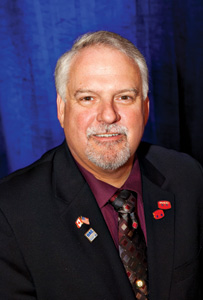 Incoming PHCC President Kevin Tindall
KT:We want to help our members be successful by offering the type of education, training and networking that can help them stay ahead of the competition and reach their business goals. By taking advantage of the best practices, resources and business tools that are available through PHCC, they can be the contractor of choice in their area.
Another priority is to continue to provide the type of industry representation that protects contractors' interests every day. As of right now, our key issues are: reauthorization of the Perkins Act; consideration of PHC contractor input on rules/regulations that negatively impact the industry; and passage of small-business tax relief.
PM: What will be your first order of business as PHCC president?
KT:What helps keep PHCC strong and relevant is a long-range strategic plan that the PHCC Board of Directors has established. As president, I'll continue to keep us on course to follow the strategies established in that plan, and make adjustments based on industry and business to further PHCC's mission and help us achieve our goals.
I also believe that keeping in touch with the membership is vital to the organization to sustain growth. This allows all contractor members to understand they have an equal say in how the organization is run and, more importantly, how the organization moves forward. The more involvement with our members, the more value our organization becomes to them.
PM: In what market sectors do you see business growth for plumbing and mechanical contractors in 2015?
KT:There are several market niches where growth is occurring, such as aging in place, health care, water conservation, energy efficiency, etc. PHCC communicates emerging economic and customer trends to our members to help them identify what business opportunities could exist in their areas — either now or in the near future.
PM: What other opportunities do you see for plumbing and mechanical contractors this year?
KT:Right now our biggest challenge as an industry is finding qualified workers to meet demand. This also can be seen as a great opportunity for our industry. It's a perfect time to accelerate our efforts to attract new people to the field.
PHCC is very active within the industry with various programs to help us rebuild the workforce we need to continue to provide safe and efficient plumbing and HVACR services for our country. And a special PHCC task force will begin work soon on workforce development planning to attract qualified workers to our industry.
PM: What can people (young and old) gain by joining the plumbing and mechanical industry?
KT:I think anyone in the industry would agree that the plumbing, heating and cooling trades offer a rewarding career and a comfortable living. And there are all sorts of positions available — technicians, project managers, CAD, office staff, business owners, etc. It depends on what you like to do.
The experience is enhanced when you join a group like PHCC, where you can share ideas and lessons learned with others in your field. For those interested in "making a difference," we do that every day as we fulfill our mission of protecting the nation's safety, health and environment. Also, compared to other fields, a technician's job in our trade can't be outsourced.
PM: If you had only one piece of business advice to give to plumbing and mechanical contractors, what would it be?
KT:Get involved with an organization like PHCC. I understand younger contractors believe they can get the information they need from the Internet, but there is so much more that an association provides. Work to leave the industry better than what you found it. It has been a great engine to provide the resources for your family; allow it to continue for future generations.
PM: Where do you see the greatest business opportunities for PHCC members in 2015?
KT:Compared to the downturn of a few years ago, there are plenty of opportunities for PHC contractors to diversify and grow their businesses. Sometimes these prospects are dictated by local markets, which can vary greatly. There also is the potential for many companies to become more efficient and profitable through use of new technology and software.
PM: When/how did you begin getting involved with PHCC?
KT:I joined PHCC through my local chapter in Mercer County in 1993, primarily because my first partner was involved. My involvement has increased ever since. I believe joining PHCC was the best business decision I ever made. I've learned so much from contractors I have met at the local, state and national meetings. The education and training I've taken advantage of has helped me take my business far beyond what I ever envisioned.
PM: What are you most passionate about?
KT:I probably get the most excited about the impact of the sustainability movement on our businesses, industries and lives. As the chair of PHCC's Energy Efficiency Water Conservation Committee since 2007, I have had some great opportunities to be involved with several emerging sustainable issues that affect PHC contractors and our industry. And as a business owner, I have established an expertise in this area to diversify my company and, at the same time, help customers save energy and money. I see so much value in moving toward a more sustainable environment — that's probably why I am so passionate about it.
PM: What will you want to say your accomplishments were as president?
KT:What I hope to achieve as president is to provide better communication with our members, increased education and webinars, and continued brand awareness. The more people in the industry that we can engage, whether members or not, the better it is for our industry. If we can continue to build on our relationship with the industry partners, legislators and regulators to move forward in one unified fashion, it is all for the good of the industry.
I understand that these are lofty goals, but I have always looked to achieve the most possible. If our organization can achieve these goals, I would consider my presidency successful.
PM: What is the most important lesson you learned from your predecessor(s)?
KT:I have learned so much from all of the PHCC National presidents I have known over the years. They've all shown some great leadership skills that have moved the association forward.
Most recently, current PHCC National President Steve Rivers has been a remarkable president to work under. I tend to be more reactive to situations than Steve. What he has taught me over the last two years is to sit back and listen to the opinions of others and collectively make decisions and move forward with the decision that was made. What I truly respect in the past few years that I have grown to know Steve is that he is always listens to all of the sides of the argument before rendering his opinion.
---
HELPFUL LINKS: