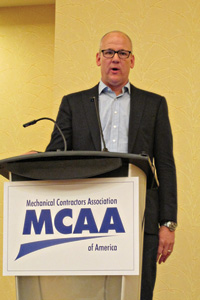 Political writer John Heilemann, co-author of the books "Double Down" and "Game Change," discusses the 2016 presidential campaign March 12 during MCAA's convention in Phoenix. Photo credit: Bob Miodonski/Plumbing & Mechanical
The Mechanical Contractors Association of America named winners of its annual safety awards, Distinguished Service Award and Partnership Enterprise Award in March during its convention in Phoenix.
The safety awards, developed with CNA's Construction Group, recognized MCAA member companies for their exemplary 2013 safety performance. A winning company must post safety statistics that surpass the nationwide industry averages and submit a written application including innovative initiatives that helped it achieve a high degree of safety excellence.
The winner in Category One, with 100,000 work hours and under, was Southwest Town Mechanical in Orland Park, Ill. In Category Two, with 100,000 to 250,000 work hours, the award went to Lyles Mechanical Co. in Fresno, Calif. In Category Three, with 250,000 to 400,000 work hours, Auburn Mechanical in Auburn, Wash., received the award.
Winning in Category Four, with 400,000 to 1 million work hours, was General Heating and Air Conditioning in Madison, Wis. In Category Five, with more than 1 million work hours, the award went to Apollo Mechanical Contractors in Kennewick, Wash.
John Odom, the recently retired chairman of California-based Murray Co., received the Distinguished Service Award, which is MCAA's highest honor. Among his accomplishments, Odom helped to found and then lead the California Plumbing and Mechanical Contractors Association. With CPMCA, he helped to negotiate a landmark collective bargaining agreement with labor partners at District Council 16. Odom suffered critical injuries during the 2013 Boston Marathon bombings and underwent surgeries to remove shrapnel and repair nerve and artery damage.
Weldbend Corp. received the Partnership Enterprise Award from the Mechanical Contracting Education & Research Foundation for its $100,000 contribution. Receiving the recognition for Weldbend were James Coulas III, Kevin Coulasand Michael Hammer. MCERF funds industry-related research and internship grants, and works closely with MCAA's student chapters.
---
HELPFUL LINKS: