Navien now offers an expanded educational program to support plumbers, contractors and construction professionals with all aspects of installation and maintenance for its new NPE, premium condensing tankless gas water heater.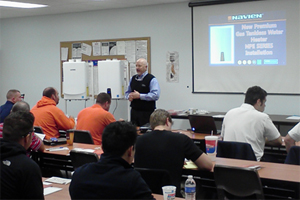 Rick Meyers of P-M & Associates, one of Navien's manufacturing rep firms, talks to students about installing the NPE tankless water heater at one of Navien's three training facilities. Photo credit: Navien

For those seeking extensive training and certification, Navien offers in-depth hands on training with live fire units at its three state-of-the-art academies in Irvine, Calif., Cherry Hill, N.J. and Vaughan, Ontario. For those who prefer a brief introductory training closer to home, Navien provides a variety of in-field trainings throughout North America.
Free webinars are also available, which consists of a one-hour presentation and Q&A period for installers to discover the NPE from the convenience of a computer.
"We understand that installers' time is valuable, and Navien's goal is to provide different levels of informative training to accommodate their schedule whether they have one hour or one day," said Brian Fenske, Navien national training manager.
Introduced to the market in October 2012, the NPE recently earned PE the 2013 AHR Expo Innovation Award with its 2" PVC venting capability, utilization of existing 1/2" gas lines and field gas convertibility.
A full list of Navien NPE trainings can be found at www.tanklessmadesimple.com
---
HELPFUL LINKS: