Edwards Plumbing & Heating, a third-generation contracting business, was founded back in 1948 by Charles W Edwards. Charles Edwards, a pipefitter by trade prior to WWII, became a Navy Seabee, building runways in the pacific. When he got home from the war, he decided to follow the American dream and start his own company — a plumbing and hardware store, which eventually evolved into installing mechanical systems. In 1959, the company dropped the hardware division.
Today, the Montgomery, Alabama-based company is run by Charles Edwards' son, Chuck Edwards, who serves as company president, and grandson, Charlie Edwards, who serves as vice president. His granddaughter, Sally Edwards Meacham, also works in the family business, heading up the human resources department and front office operations.
---
"Our trucks are our primary source of advertising and having 45 rolling billboards all over town and most definitely helped with generating new business." – CHARLIE EDWARDS
---
"It was only natural that the service and repair department would grow to help maintain the number of installations being done over the years," Charlie Edwards says. "Today, we have three separate divisions: plumbing, heating and air, and we also have a duct department."
The company, which services Montgomery, Autauga and Elmore counties, specializes in residential and light commercial plumbing and HVAC new construction and repair. Edwards Plumbing & Heating installs more than 600 systems a year, Charlie Edwards notes. Which means the company needs reliable employees and transportation to maintain the workload and keep customers happy and satisfied.
Edwards Plumbing & Heating currently employs 65 people, with 45 fleet vehicles in the field. Its fleet includes a mixture of different makes and models, including Chevrolet and Ford 3/4-ton trucks for new construction and Chevrolet, Ford and Mercedes 3/4-ton vans for service.
"Due to the scarcity of vehicles lately, we keep our options open," Charlie Edwards notes. "We bought our first Mercedes diesel van, and we really like the large cargo space and fuel range."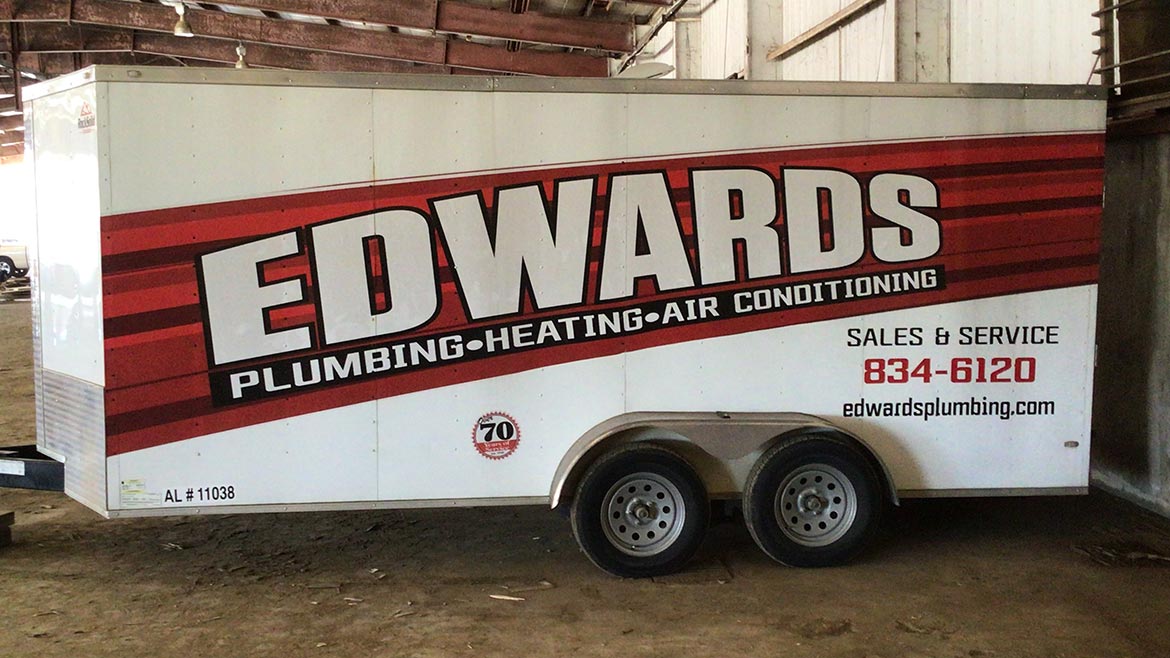 The Mercedes van is not the only recent change to the company's fleet, as the 74-year-old company also decided it was time for a logo update.
"Our name went from only on the door to running the length of the vehicle, which really made it stand out," Charlie Edwards explains. "We have always used small vinyl door stickers with our name in red. After decades of the same thing and our competition going to the newer and flashier wrap design, we felt it was time for an update. We worked with our local design company, F & E Graphics, and they helped shape it to what it is now. It has been a great success and has had very positive feedback from customers. Our trucks are our primary source of advertising and having 45 rolling billboards all over town and most definitely helped with generating new business."