Known as "The Temperature Experts," Shelby Township, Michigan-based Koz Heating & Cooling was founded just eight years ago — the culmination of Michael Kosmalski's dream to one day own his own HVAC company.
"It was the right time in my life to make my dream a reality," Kosmalski says. "I was fortunate that I had the support my wife and family. At the beginning, my office was at my home without a shop. Once I established a good customer base and got busier and busier, I was able to move to our current location."
Koz is actually short for Kosmalski, a nickname everyone calls him. So when it came time to name is new business, it was a no-brainer.
"I knew this was the kind of work I wanted to do when I was very young," he says. "I started out as an apprentice while getting my education, training and licensing. My goal was to eventually own my own company, and I've worked hard to make that dream come true. I now have more than 32 years of experience in the HVAC industry, and I enjoy working on boilers more than anything."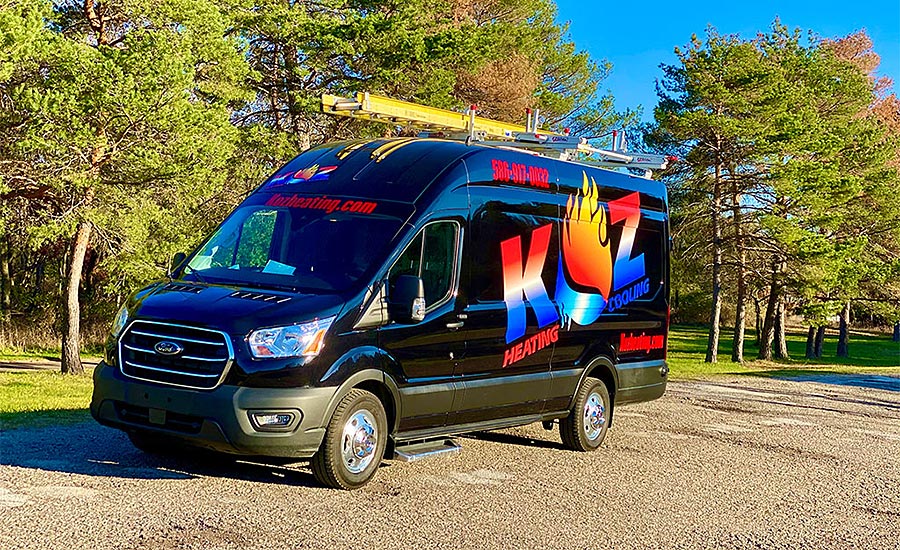 Unlike most HVAC companies in the Midwest, Koz Heating & Cooling specializes in boilers, offering highly trained experts to provide customers with quality, first-rate boiler maintenance, repairs and installation services. The company has eight employees, including Kosmalski's son, Jake Kosmalski, who works as an apprentice, as well as five fleet vehicles.
Koz's fleet includes a 2020 Ford Transit; a 2018 Dodge Promaster; a 2014 Ford Econoline; a 1996 GMC Pick Up; and a 2015 Ford Transit.
"My favorite is the 2020 Transit with AWD," Kosmalski explains. "It's larger than other service vans, allowing for plenty of storage space, and has enough room to stand up in. Also, most service vans are white and all look the same. This one is unique because it's black with a large colorful wrap, making it stand out."
Indeed, Koz's truck wraps are bold and colorful. Created by Kosmalski's brother, Larry Kosmalski, the design is extra-large to be bold and eye-catching while driving around town. Kosmalski wanted the colors to represent both heating and cooling, so the company's logo and truck wraps include red, blue, orange and white. The three newer vehicles all feature the latest truck wrap design, while the two older service vehicles sport the old wrap with only two colors.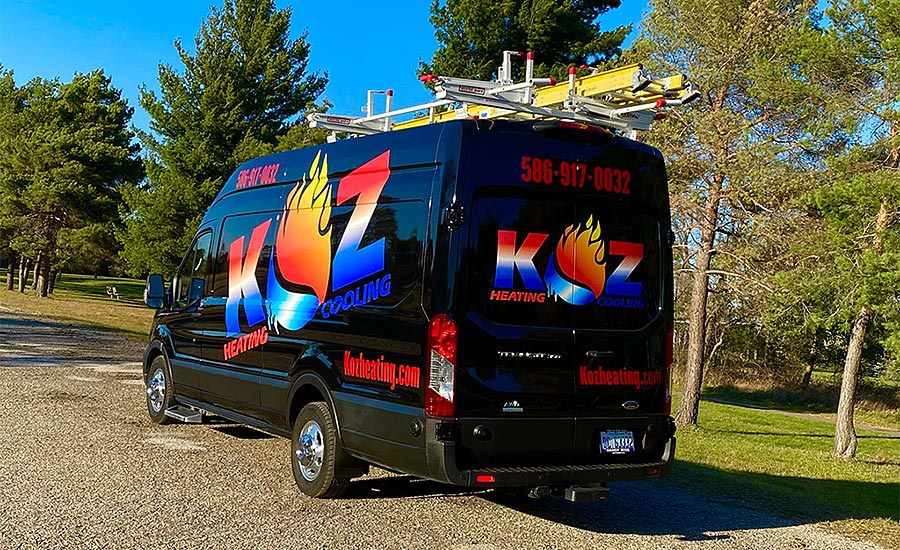 "We created the newer wrap because I was hoping to get better exposure, and believe it's worked," Kosmalski says. "Everyone loves the new truck. We get lots of questions and compliments on it all the time."
Kosmalski notes the company also markets through as many social media outlets as possible, through flyers and postcards via mail and through text and email campaigns. It also hands out lots of promotional items.
The company has also successfully weathered the COVID-19 pandemic, Kosmalski explains.
"Unlike many small businesses, we're very fortunate and have not slowed down," he says. "We're busier than ever. We've been very conscious and careful in keeping our employees and customers safe. We stress wearing our masks and constant handwashing.
"I'm proud of the company I've built, and I feel fortunate that I can work in an industry that I love," he adds.