For the past 15 years, Steve Baker had a plan to start his own plumbing company. Last year, that dream was finally achieved with the opening of Gideon Plumbing in Duncan, British Columbia, Canada. The company specializes in residential plumbing, drain cleaning and underground utility replacements.
"I had a very distinct vision for a startup that could only be done one way, and for many years, I didn't have the capital or the know-how to achieve it and/or make it a success," Baker says. "I'm an entrepreneur for sure, but a very calculated one. Gideon Plumbing is the culmination of all the experience I have acquired over the years from many great teachers in this industry, and I believe this is what has made our company an immediate success story."
Baker has been in the industry for 22 years. Prior to starting Gideon Plumbing, he worked as a plumbing service manager for another company.
"I started out as a laborer for an irrigation company, and I really enjoyed working with pipes and water," he explains. "The natural progression to become a plumber just evolved after that, and I have always found great satisfaction in this trade. It's also been a good way to provide financially because my job has always been in high demand and it is virtually recession-proof. And I just love the residential home services industry because it's much more personal than the commercial sector."
When it came time to start his own business, Baker notes he had some trouble coming up with a name.
"We had a list of things we needed in a name for our company," he says. "We wanted it to sound friendly and professional, to be unique, simple and short, and to make people think about what I meant to get people remembering us so when they go to Google in search of a plumber, they see our name. We wanted the name to have meaning for us as well.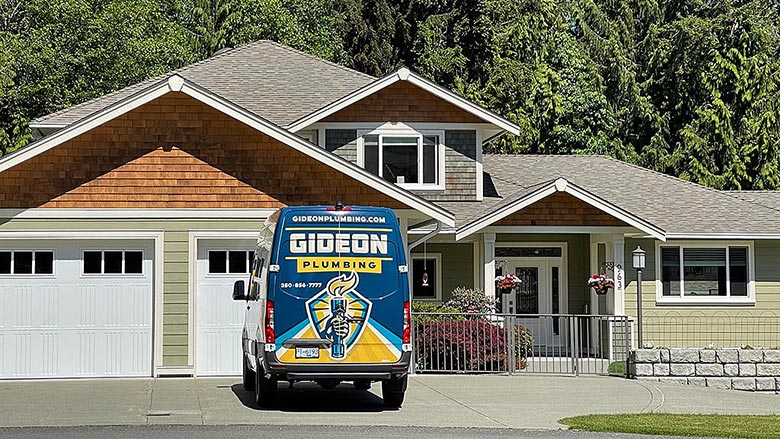 "We were having a hard time finding a name that fit our criteria that wasn't already taken, so we knew we would need to search elsewhere," Baker continues. "We are Christians, so we turned to the Bible for some good, strong names, and when we saw Gideon, it was like it jumped off the page at us — we knew that was it. It is simple, unique and hit all the points on our list, and we also loved the story of Gideon in the scriptures because it serves as a reminder to us that God gets the glory, and he will win the battle for us. We just need to put our trust in him, even when the odds are largely stacked against us. I personally love this message because I know firsthand that running a successful business isn't easy and many challenges will arise. So for me, when the challenges come, I will remember to trust in the Lord for victory."
Baker operates the business full-time with the help of his mom, Audrey, who is the office manager. His wife, Marrissa Baker, takes care of their five children. The entire family is excited to have their own business to help others in their community, Baker says.
In just one year, Gideon Plumbing has grown to four employees and two fleet vehicles — 2020 and 2021 model Mercedes Sprinter vans. Baker says he is hoping to add a third van in another five months or so.
"I've had the opportunity to work as a technician in many different vehicles, and in my opinion, the Mercedes Sprinter vans are best," Baker explains. "We have purchased two diesel ones so far, and they are workhorses, for sure. We have one of the most stocked service vans around, and it has no issue at all carrying the weight. The fuel economy is incredible, and they hold their value more than any other cargo van I know of on the market. Our vans have plenty of extra features, too, so it makes them really nice and comfortable to drive. They are the extended height version, so for me at 6 feet tall, I can easily walk underneath my step ladder that is stored on the ceiling inside."
When it came time to wrap his company's vans, Baker went to the professionals at KickCharge Creative. Baker had an idea of what he wanted to convey, so he chatted with the KickCharge, who were patient with him during the entire process.
"I wanted something to do with a shield because it says protection and safety," Baker notes. "The KickCharge Creative designers came up with the design based upon the story of Gideon in the Old Testament — it's a great story. There is simply no other van that looks remotely even close to ours in our entire service area. The shield icon is really neat to look at and it makes people think about its origin. The icon is huge, and that is quite unique — you can see the shield from miles away, and still make out what it is. I love the color blue because it was very calming and trustworthy. The yellow is a great accent color."
Baker says he wanted a standout wrap that was effective in his marketing efforts, but not just for grabbing attention.
"I wanted it to grab the right clients' attention by stating that we are very professional and will always do quality work," he says. "I also wanted it to state that we aren't the cheapest company in town either. Please don't call us if you're looking for a poor-quality install done by an underqualified technician in a beat-up dirty, unorganized van. That is not who we are, and our wrap/brand states clearly who will be showing up at your door when you call us. I love it, and it's proving to attract the right type of clients so far.
"We've had a great response from the public," Baker adds. "We track our calls and many say they saw our vans — it's a head-turner for sure. People often use their phones to take pictures of it."
The professional-looking vans help Gideon Plumbing stand out in a very competitive market.
"We have to really stand out as the best for people to call us for service," Baker says. "The one thing that separates Gideon Plumbing from the rest is our attention to detail in all things, from the vans to the office/call center setup, to the professionalism we display at all times when plumbing and dealing with our clients who are in the midst of difficult situations. Our customer service is top level and we happen to have some of the best plumbers in our area, too. The most unique thing of all though is how much we truly care about our clients that we serve. The staff at Gideon are these type of loving, caring individuals. The trick will be, how to maintain these type of characters and find more as we grow."