Last October, I was one of about 30 media professionals and social media influencers who got to take a top secret trip to Switzerland and Liechtenstein. No joke – I had to sign a nondisclosure agreement ensuring I wouldn't say, write or post any content until after the embargo lifted last month. In fact, the trip was so hush-hush, Hilti wouldn't even tell us why they were bringing us all to Europe. All we knew was that there would be some big new product announcement. I love a good mystery, so my interest was definitely piqued. So I hopped on a plane and made my first solo trip to Europe.
Hilti planned a detailed, multi-day agenda that included a walking tour of Chur, the oldest town in Switzerland, dating back to roughly 11,000 BC, and a trip up Mt. Chäserrugg via gondola lift for brunch, meet Michèle Frey-Hilti and learn about the Hilti Foundation and their areas of focus. Then we got down to business. We were shuttled to Verrucano Mels, where Ruedi Wagner, head of open technology innovation and robotics at the Hilti Group, and Andres Bong, head of corporate research and technology for Hilti, discussed the company's commitment to innovation. Then we were led inside a theatre for the big reveal.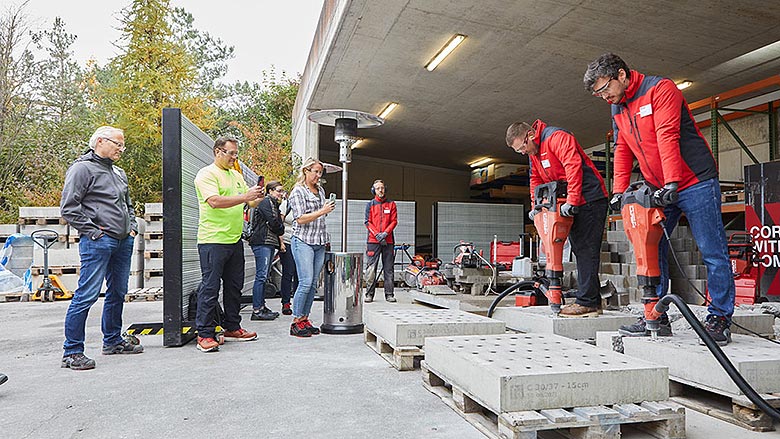 Introducing Nuron
Hilti announced the introduction of Nuron, a new 22V battery platform that will power all of its cordless power tools going forward. Launching more than 70 newly redesigned tools, the battery platform enables the smallest drills and drivers all the way up to heavy-duty applications which were once restricted to corded, gas-powered or higher voltage battery systems. Added bonus — all the battery packs and chargers work interchangeably under a single ecosystem to help reduce complexity for tool cribs and the cost for contracting business owners.
"This is a very special day," noted Christoph Loos, CEO, Hilti Group. "Innovation is part of our DNA, but never before have we launched more than 70 tools at once."
Loos credited the impressive feat to the Nuron battery platform, which ensures higher performance and longer operating times by allowing a significantly higher power transfer, helping customers meet tight deadlines.
With Nuron's interchangeability, contractors can run the entire tool group with just a few batteries, thereby saving money. That's always important for contracting business owners.
Additionally, Nuron delivers increased cordless performance. More power and performance allowed Hilti to add new cordless tools — such as the TE 2000-22 cordless jackhammer — into its portfolio that were previously unthinkable, noted Johannes Huber, executive vice president, diamond tools and accessories, for Hilti. The hammer runs on two of the higher amp-hour Nuron batteries and weighs only 38 pounds. "We innovated the heat management system of the battery packs and developed a new interface from the batter to the tool that allows it to draw more than 100 amps out of the batteries."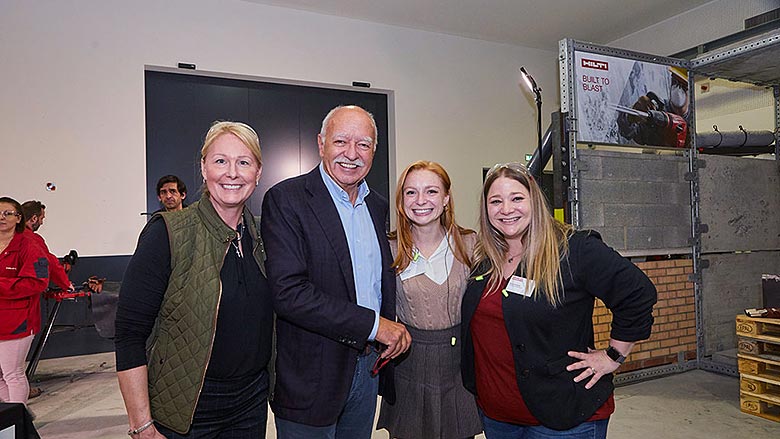 I personally had the chance to try out several tools on the new Nuron platform, including the cordless jackhammer and the NPR-24-22 press tool, which presses copper and steel pipes up to 1 1/4 inch, and plastic pipes up to 1 1/2 inch. The NPR-24-22 features improved pipe connection reliability via a pressure sensor to prevent jaw retraction until the specified force has been reached, and audiovisual signals warn the operator of errors. It also presses faster — Hilti noted — in just four seconds and then auto-retracts to help save time on every single pipe connection. It was so easy, even I could do it! Check out the video below to see the NPR-24-22 in action.
Interchangeability and performance are important features for contractors, no doubt. But if you ask me, the real game-changer in this new platform is the data and analytics. All Nuron tools generate data, which is then stored on the Nuron batteries and sent securely to the cloud during every charge without any operator interaction. The keywords there are "without any operator interaction." So technicians just continue to operate as usual, without any added steps. The data collected includes information such as tool usage, tool utilization, charging location and battery state-of-health. This information can then be used to alert individuals if action is needed immediately or can be accessed on-demand as required and is available on mobile and desktop via Hilti's ON!Track software platform.
"With Nuron, we remove the biggest hurdle in the power tool industry for IoT," said Michael Neidow, executive vice president, tool services and software, Hilti Group. "With our solution, our customers can keep working the way they work, and the data is sent to the cloud. With that, the question becomes, what do we do with the data? The first answer is we take our service to the next level. We have predictive analytics built into our batteries. Once we know the battery is about to go bad, we proactively exchange this battery for a new one with our customers before they even know they would have had a problem. The second answer is tool crib optimization. Customers will see all the idle tools, which they can bring back to productive work, and they will have access to tool usage data and respective benchmarking analytics, which they can then use to make more informed decisions. We manage the tools of the customers so they can focus on running their businesses."
And last, but certainly not least, the redesigned Nuron batteries are more durable, including a new, robust fiberglass-reinforced housing and external shock-absorbing bumpers which provide extra protection even in the toughest conditions, Hilti noted. And, the electronics are fully sealed to protect against moisture, dust and other jobsite contaminants.
Ted Przybylowicz, executive vice president, fastening and protection, Hilti Group, noted that Hilti not only endeavored to extend its health and safety technologies into the Nuron platform, but raised the bar on health and safety to "new levels." All of the new tools that produce dust are compatible with Hilti's OSHA Table 1-compliant Dust Removal Systems, which also run on Nuron batteries; Active Vibration Reduction is available on all Nuron tools and Active Torque Control technology is featured on many of them as well.
"With this new platform, we are confident that we are ready for the future," Przybylowicz said.
Hilti plans to bring all of its existing cordless tools over to the Nuron battery platform. Nuron products are available now in the U.S. and Canada, with a global rollout to continue throughout the year.
The plumbing industry is constantly innovating, and it's exciting to see more and more tools entering the IoT space in this data-driven era. The analytics contractors receive will truly help them optimize their businesses and manage technicians and time spent on projects in the field.
Editor's Note: Traveling internationally during a global pandemic is incredibly difficult and stressful. I'd like to give a special shout out to Danielle Wilson, Hilti's public relations manager for brand and digital marketing. Danielle, with the help of her team, planned for every possible outcome, answered a ridiculous amount of silly emailed questions, relayed ever-changing COVID-19 protocols, ensured everything went smoothly and made it look (almost) effortless! Thank you for all the hard work you put in to take care of all of us!
Photos courtesy of Hilti.