Murray Company (MC) has spent more than 100 years establishing a rock-solid reputation as one of the premiere mechanical contracting firms on the West Coast. With a commitment to safety, the employee-owned firm has earned distinction as Plumbing & Mechanical's 2021 Mechanical Contractor of the Year.
"It is an honor for MC to be considered by Plumbing & Mechanical for 'Mechanical Contractor of the Year,'" says Jim DeFlavio, president and CEO of MC. "I know our entire team of dedicated, hard-working and energetic employees will appreciate the recognition of all their hard work."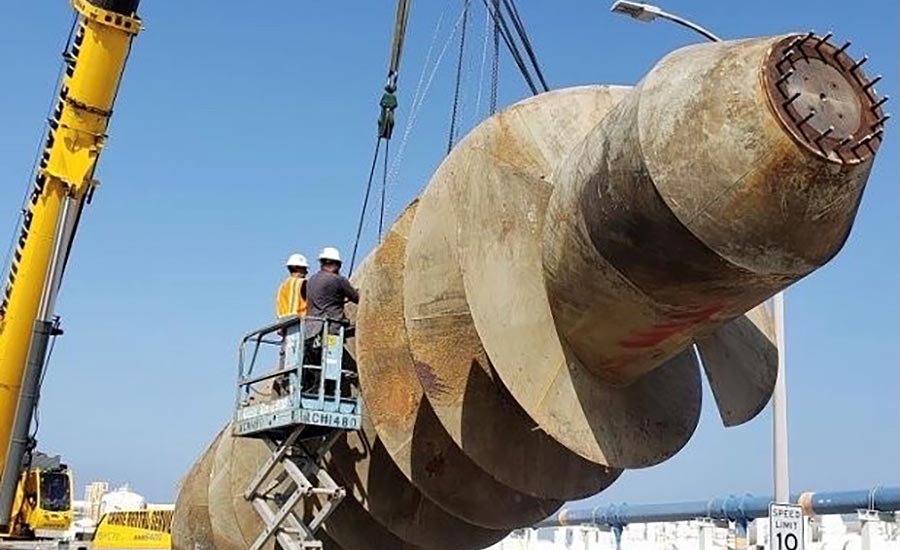 A history of growth and success
Founded in 1913, MC has a long and storied history. The company became incorporated in the state of California as Murray Plumbing & Heating Corp. in 1956, and stayed true to its roots as an entrepreneurial, hands-on, design-build industrial and commercial HVAC, plumbing and piping contractor.
In 1969, MC was acquired by John Carner. Under his engineering and leadership, the company took on more sophisticated work in aerospace and related industries. During the next 20 years, Carner selected and developed many of the current long-term leaders of the company. He semi-retired in 1999, becoming chairman of the board, while Kevan Steffey, John Odom and Rick Stafford took over day-to-day operating control of the company. In 2002, Carner passed 100% ownership to MC via the MC Employee Stock Ownership Plan.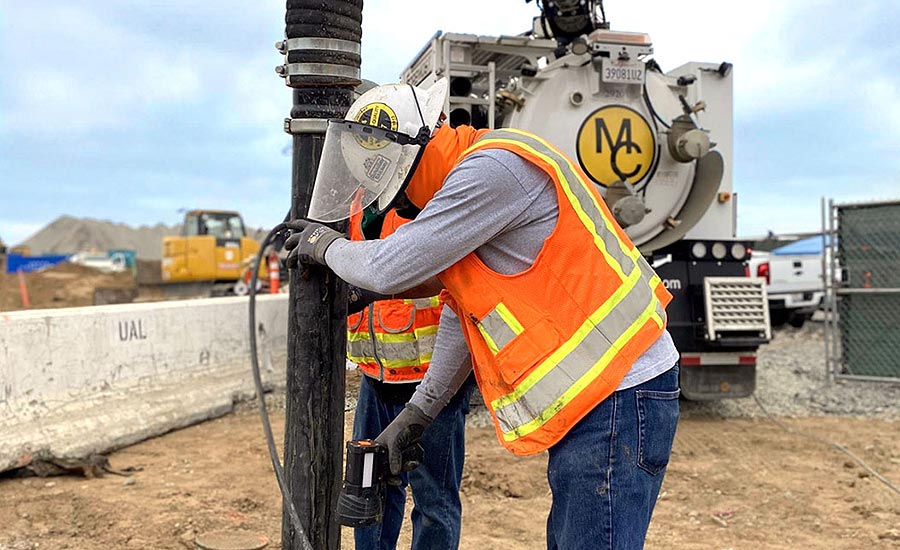 Today, MC has grown into a full-service design-build plumbing and mechanical contractor with a growing project portfolio, which includes plumbing, HVAC, semiconductor, water and wastewater, industrial, biopharma, health care, higher education, hospitality, data centers, correctional centers, public works, manufacturing, residential, mixed-use and more. The company boasts 1,178 employees across its various locations, and 280 fleet vehicles. Headquartered in Rancho Dominguez, California, MC has additional locations in San Leandro, San Diego, Newbury Park, Santa Clara, Riverside, San Dimas, Livermore, California, and Chandler, Arizona.
"MC has become very diverse," says Don Odom, executive vice president of business development. "Despite having what appears like many division because of our vast capabilities and our multiple locations within and outside of California, at our core, we are one team. We've expanded our geographic footprint, as well as the markets we serve; we're not just pluming and piping.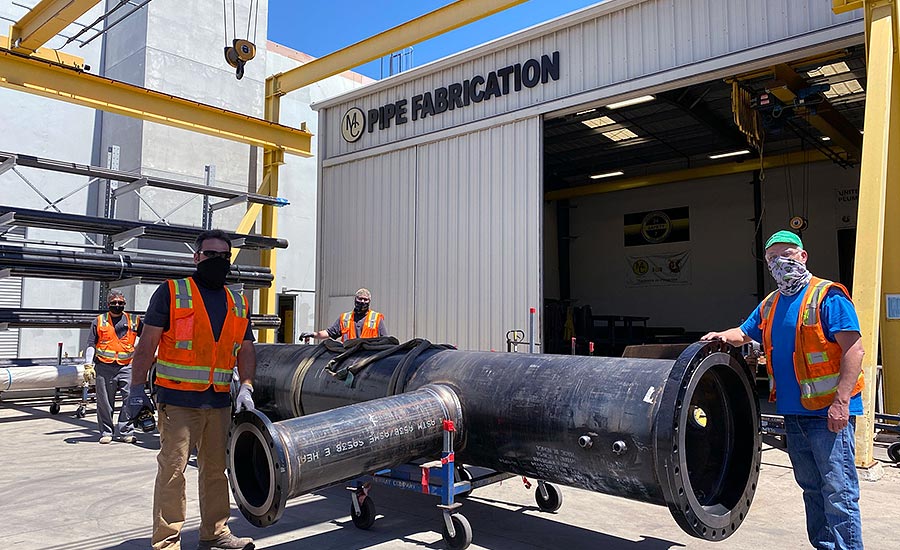 "Right now, there's a microchip shortage that's taking place," he continues. "The government is offering manufacturing grants and funding plans ranging from $50 to $100 billion to U.S.-based companies to increase the percentage of microchips manufactured here in the United States. These chips are used globally in just about everything we use — internet, vehicles and other cutting edge applications. MC is one of the few select companies that pursue this kind of work and we are fortunate enough to be well-established with our semiconductor clients."
MC also just celebrated the 10-year anniversary of its Northern California branch last month — an accomplishment of which Terry James, vice president, Northern California, is quite proud. After getting his start at a wholesaler, James moved around to various positions within the industry, including project manager, project engineer, operations manager and more. When MC decided to expand into process piping, James jumped at the chance to be involved.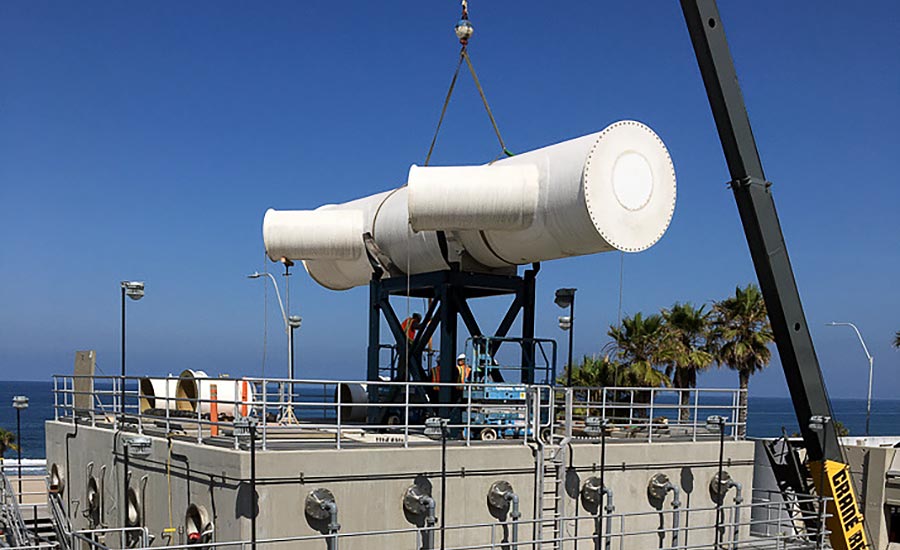 "When I came to MC, they had put together a really wonderful plan, and it was something of a challenge," James says. "Starting something from the ground up really appealed to me, so I dove in. One of the first guys I hired, he and I bid our first job in his pickup truck and in a café. Now we are in three different buildings with 150 employees and 14 project managers. We've had a lot of growth. Every day, I'm proud of every person on my team."
Indeed, the Northern California team started in a 6,500-square-foot fabrication shop and office 10 years ago. Today, the team has 80,000 square feet of fabrication space, and close to 10,000 square feet of office space. 
"I love winning — I'm extremely competitive," James notes. "I like to be the underdog and take home the win. I'm proud of what he have accomplished here in building Murray's name to become one of the leading contractors in the Bay Area for advanced technology."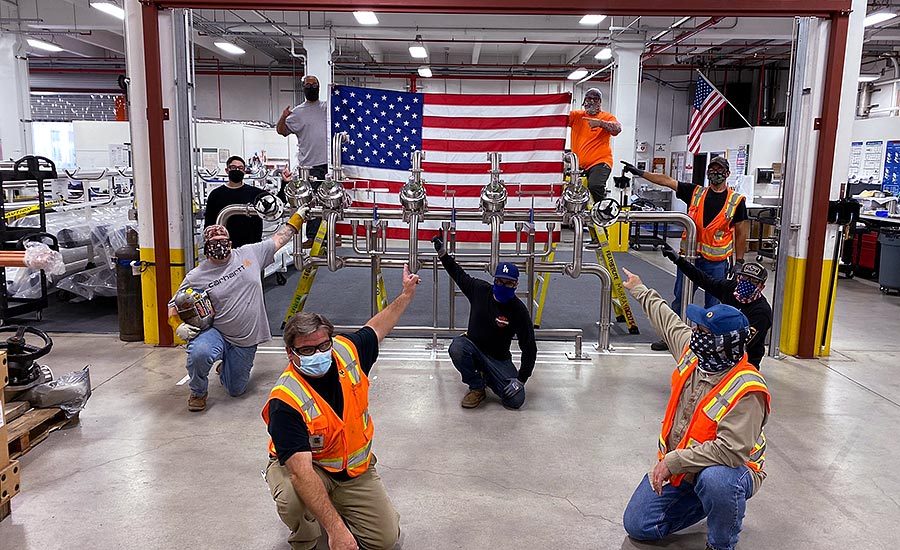 In addition to being named Plumbing & Mechanical's Mechanical Contractor of the Year, MC has won numerous other awards, including Engineering News-Record Top 600 Specialty Contractor — Ranked #73 Overall (2020 stats); Engineering News-Record Top 50 Mechanical Contractor — Ranked #48 (2020 stats); 2018 and 2017 Engineering Contractors Association Contractor Safety Award; and more. 
The company also belongs to a number of industry associations, including ASHRAE; American Society of Plumbing Engineers (ASPE); Engineering Contractors Association (ECA); Mechanical Contractors Association of America (MCAA); National Fire Protection Association (NFPA); Sheet Metal & Air Conditioning Contractors' Association (SMACNA); United Association (UA); and more. 
"These affiliations have strengthened MC by providing us valuable resources in terms of current guidelines and regulations effecting the industry in which we work, in addition to continued education and training opportunities," notes Marta Martin, director of marketing. "Through our affiliations, we have had the chance to interact with our clients, meet new vendors and suppliers, and various other contractors and other industry professionals with whom we've exchanged ideas, discussed projects and built relationships over many years. We are in the know about the latest industry standards, which is critical to our success and delivery methods. Through our direct involvement, we hope to shape and influence our industry. MC values its memberships with these organizations and appreciates their support. Additionally, we greatly appreciate the long-standing friendship and partnership with all of our labor partners."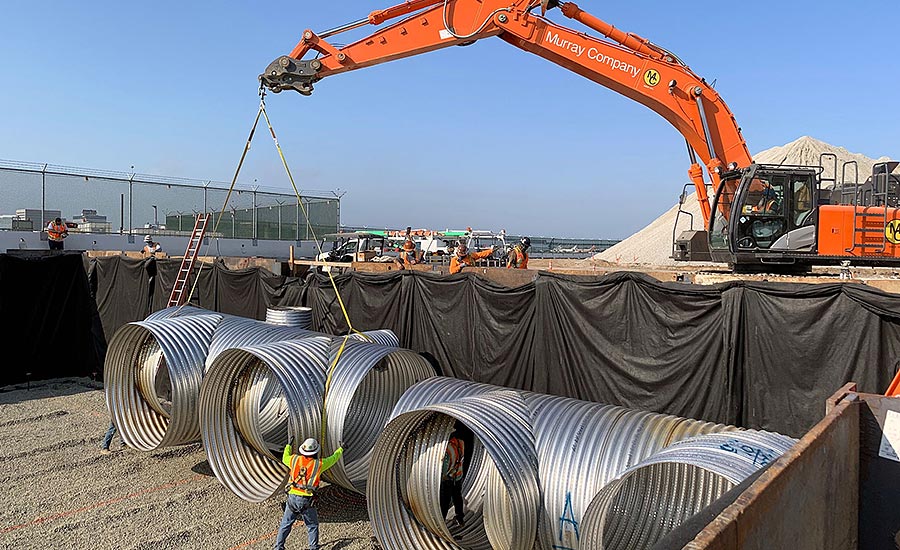 Overcoming challenges
In 108 years of operation, MC has seen its share of difficulties from both internal and external factors. On April 15, 2013, John Odom, then company president who was currently in the process of handing over the reins to DeFlavio, was injured in the Boston Marathon bombings. His heart stopped twice in the ambulance on the way to the hospital, but first responders were able to resuscitate him both times. His son, Don Odom, was with him at the time.
"Jim DeFlavio was in a transition period at the time — he just picked up the pieces and quickly adapted to the situation," Don Odom says. "He didn't have extensive mentoring during his transition period because my dad was his mentor. Jim took the reins during a very challenging period and just picked up where my dad left off. I'm proud of Jim and how he handled finding himself in the deep end. Thank goodness, my dad is doing great now, enjoying his retirement."
The Odom family has a long history with MC, as Don Odom's father, uncles and grandfather all worked there. Don Odom is in his 36th year with the company. 
"Our biggest hurdle right now is resources," Don Odom says. "Material escalation is another issue we're seeing right now. In another year, we might be having a different conversation."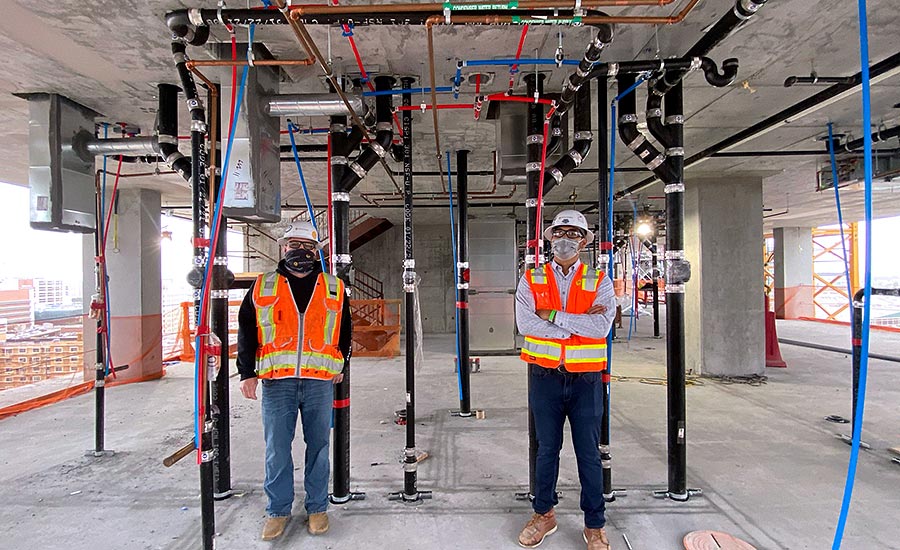 Employee-owned, employee focused
Becoming an ESOP was a huge milestone for MC. 
"In 2002, John Carner was trying to figure out how to sell the company," Don Odom says. "My dad, Kevan Steffey and Rick Stafford were familiar with ESOPs. So they all sat down, made an agreement and got with the bank. Soon thereafter, they were able to purchase the company from John, turning MC into an employee-owned company. It's been fantastic.
"It's just an incredible opportunity for our employees," he adds. "I've seen many people retire very well over the years thanks, in large part, to their ESOP portfolios. I like that there is skin in the game for everybody."
MC takes care of its employees in other ways, as well. Gabe Hernandez, vice president of estimating and engineering, started with the firm 17 years ago as a plumber. He entered the trades right out of high school — something almost unheard of in today's world. After getting into a motorcycle accident when leaving a jobsite, he lost full mobility of his arm. Because of his injury, he would no longer be able to work in the field.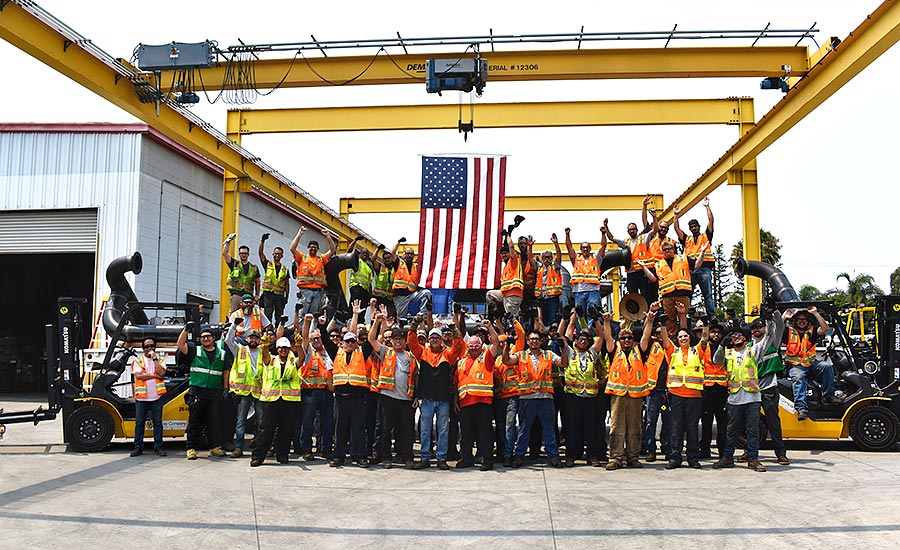 "It was pretty life-changing for me," he says. "MC gave me the opportunity to come into the office and start helping out in the estimating department. And little by little, I climbed up, and now here I am running the estimating in the engineering department."
When Hernandez first hired on with MC, the ESOP wasn't a consideration for him.
"I just wanted a job," he says. "I was about 25. Now that I'm older and wiser, I'm so grateful for that. Everybody is vested into the company — the goal is to get everybody rowing in the same direction, and the ESOP is one of the greatest things about the company." 

Mark Piliavin, recently retired purchasing manager, started at MC in 1999 as a purchasing agent. Five years later, when the department manager retired, John Odom offered Piliavin the position. 
"It's been a great ride," he says. "I just turned 69 in May, and that's when I retired. The only reason I was able to do that was because of the ESOP. For many years, I thought I was going to die at my desk. I never saved a dime. I got married in 1978, had three kids, and now I have eight grandchildren. It was only with the ESOP that I was able to retire with a significant amount of money. My wife and I are enjoying retirement. I'm still helping in the office a couple days a week because they needed some help. They took care of me, so I could never turn my back on this place. And I'm used to getting up early anyways."
Piliavin notes he couldn't imagine having to work for any other company. In fact, he turned down a few offers of consulting work from competitors after he retired. 
"In my 48 years in this industry, I have not come across a company that takes as good care of its employees as MC does," he says. "It shows in the money we make; it shows in the stock price that we have. It doesn't matter what your title is. Everybody gets the same percentage of benefit level."
The company truly embodies a family culture, James notes. 
"Everybody is looking out for everybody — we all have each other's backs," he says. "It's very important everybody is successful here because we're an ESOP company. There is no 'I, I, I, or me, me me' type of attitude. It's more of an 'us' culture. If we do a bad job, it hurts our share price, so it hurts every person in the company. There's none of this, 'You have a lesser title so you're less important,' you may see in other companies. Everybody is important, and everybody is rewarded. There's no stuffiness. Everybody is here to do a job, from the CEO on down. Everybody jumps in and knows what to do. It's pretty special."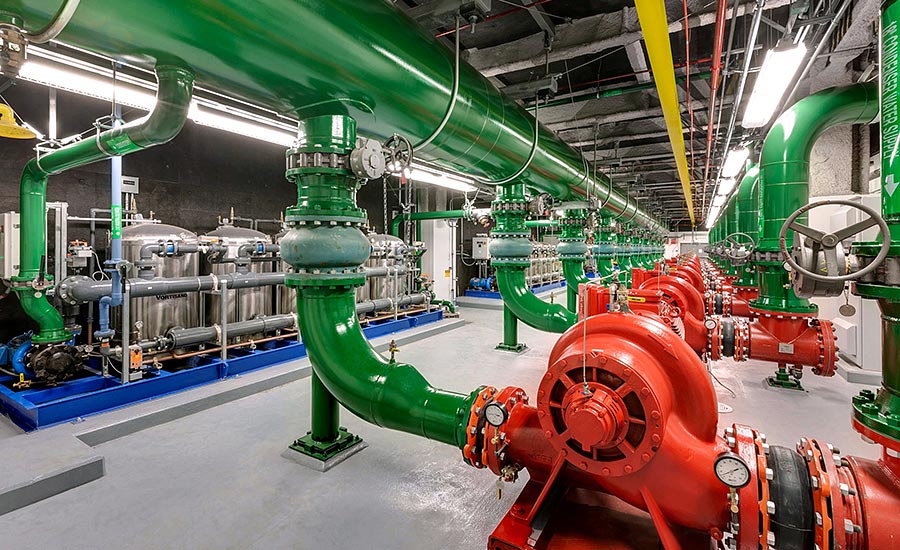 Home growing recruits
In terms of growing the company, James notes the firm goes to many of the local university and college job fairs. 
"We also participate in the Associated Schools of Construction (ASC) competition — we sponsor certain schools and help them prepare for competitions," Don Odom says. "We donate a lot of time to help train, coach and advise students. And along the way, we naturally build relationships. If you do a good enough job, and they're taking home first-place awards, they're going to become interested in your company."
Don Odom sees people resources as a top issue for MC in order to grow the firm.
"It seems nowadays the kids don't want to get in the trades," he notes. "They want to go play on the computer at home. So that is a real issue for us."
He adds that MC does outreach events, sometimes partnering with the local unions.
"Asking 'do you want to be a plumber,' is not every exciting — it doesn't really get the juices flowing for somebody," he says. "That's the struggle right now, trying to get people into the trades. But it's a great deal. You get into the trades, you make good money with no school debt. College isn't for everybody, and I think this is a great path for people to earn a great living without going the college route. That's what we're trying to get across, and we've had a little success there."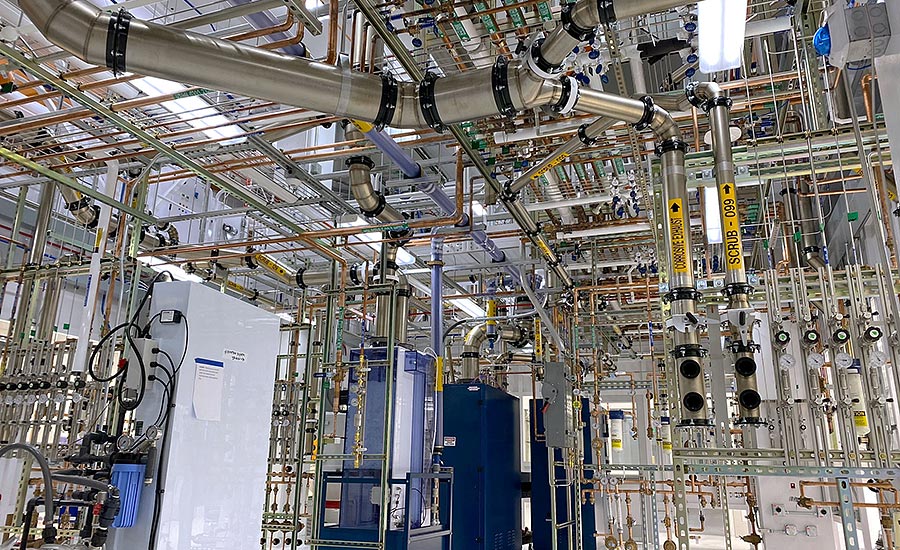 MC also offers internships to college students. They start off working with Hernandez in the estimating department, then work their way into all different areas of the company. 
"We start with estimating, because that's where it all begins" Hernandez says. "They later become project engineers, and depending on their strengths, they might get assign to a small job to manage on their own. Kind of from start to finish.
"I love mentoring the up-and-comers," he adds. "With electronics and the computer age amongst us, I feel that we rely too much on electronics, and the true craftsmanship of what this industry is about is kind of just fading away and just disappearing. And so, yeah, I'm going to try and just teach these kids everything I know."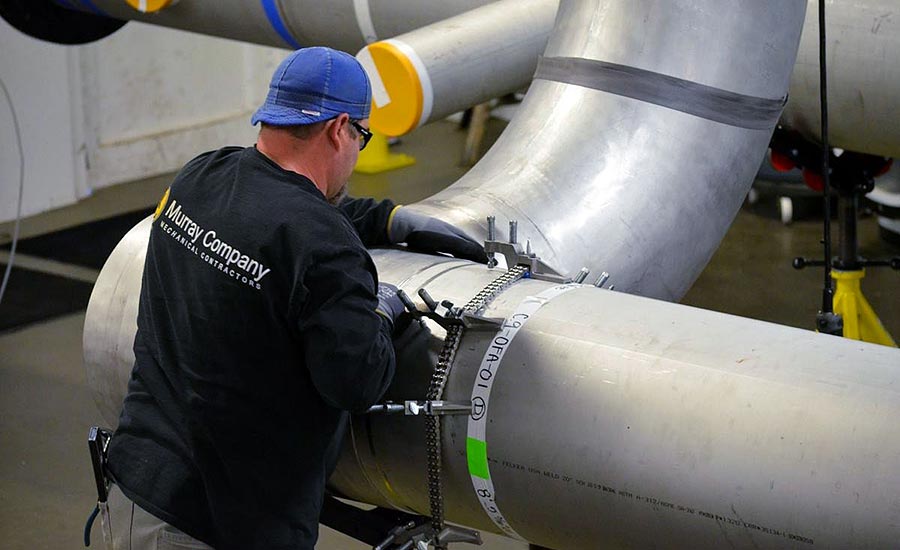 Successfully navigating COVID-19
As the COVID-19 pandemic unfolded, MC responded swiftly, enacting immediate safety measures to ensure the health and well-being of employees. 
"Our Safety Director Justin Myburg, with help from various consultants and our Human Resources Director Diana Lloyd, issued a COVID-19 prevention plan, and provided updates along the way as federal, state, and local municipality mandates and direction changed," Martin says. "There were also a number of employees who were sent home to work in order to lessen the amount of people in our offices, and of course, we provided all the necessary PPE along the way. We, like others in the construction industry, were and are fortunate to have been considered an 'essential' business, and for the most part our projects continued."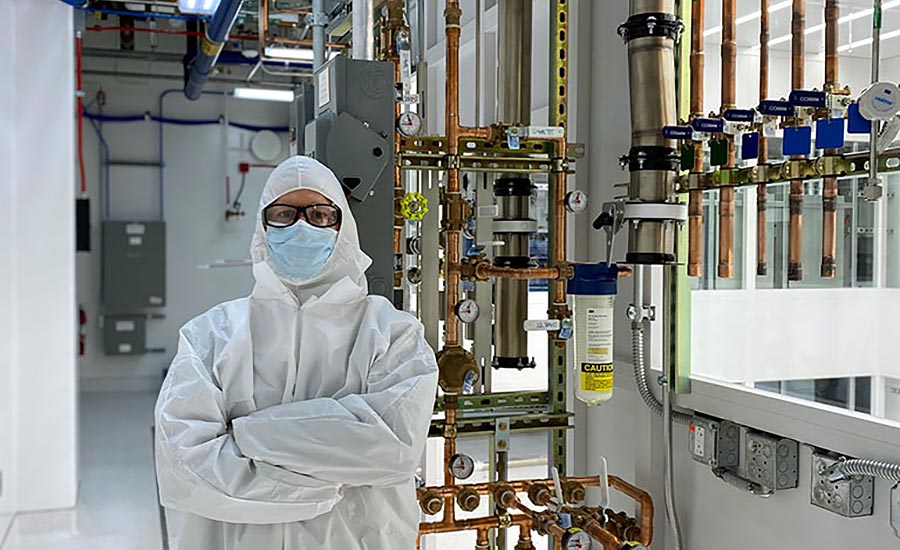 While some projects were halted, put on hold or even canceled completely, Martin notes MC considers itself very fortunate to be able to keep its employees working and providing for their families during the pandemic. 
"The pandemic did take its toll — we were down about 20% as a lot of projects were delayed or stalled," Don Odom says. "Now, those things are coming back to life, which is good, but we had already penciled people in for these projects, which should have already started. It's hard to get those people on these jobs now, especially going back to the resources I previously mentioned. But Justin and Jim DeFlavio did an amazing job. We had meetings every morning to keep everyone informed with the latest information. Our most important concern was keeping our people safe and having an opportunity to work. It was a difficult period, but now, we're looking pretty good."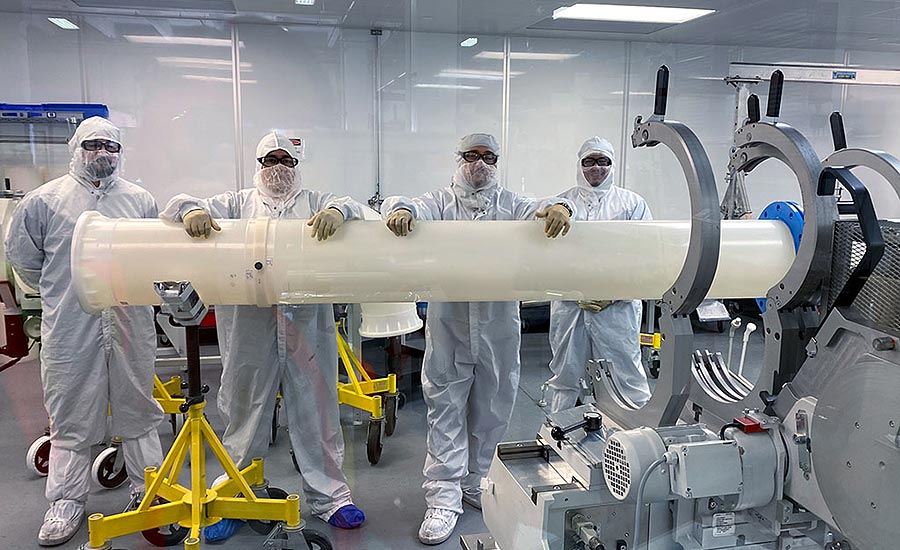 What's next
According to Martin, MC has prepared itself for the opportunities presented as we come out of the pandemic. 
"We see potential growth in all the different regions we serve," she notes. "We look to serve the communities in which we work and beyond, by helping to provide various medicines, much needed computer chips, health care, education, entertainment, infrastructure, housing, aviation and beyond. We are optimistic about our future, and have our wonderful employees — including our best-in-class craft people — to thank for that." 
James' overall goal is to ensure MC is sustainable in the Northern California market when he ultimately retires.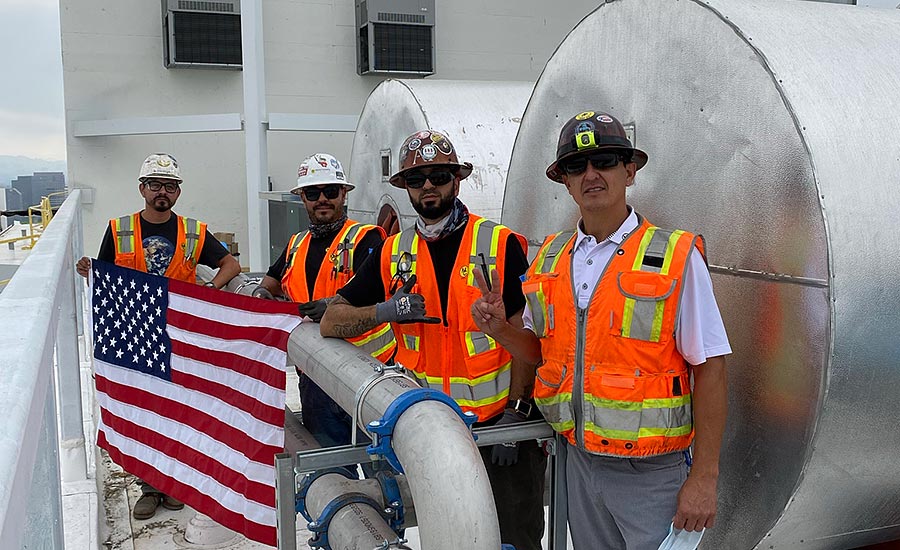 "I want to make sure Murray Co. is a recognized name in the Bay Area long after I'm gone," he says. "To ensure it's here for the next 100 years."
Don Odom wants the company to continue its growth at a nice, steady pace.
"We want to strengthen our position in the market in these other sectors," he says. "I'm so proud of our team in all departments and in all regions. I'm very proud of how tight we are, and how we've been able to keep that teamwork and family atmosphere, driving projects to be successful for ourselves and our clients."