How top of mind is the topic of waterborne pathogens in healthcare settings?
Watts Water Technologies President, Americas Munish Nanda opened plenty of eyes with staggering statistics during the company's well-received second health care symposium held in early October at the Watts Works Learning Center in North Andover, Massachusetts.
"One in 20 people who get admitted to the hospital get an HAI (hospital-acquired illness)," he said during the event. "Those are statistics that are starting to catch the eye of every hospital administrator."
This year's symposium brought together engineers, contractors, manufacturers reps and invited guests for a day of deep diving into a subject that continues to gather headlines. Attendees heard from four thought leaders who provided key insights into waterborne pathogens and how to prevent them from creating chaos in a health care environment.
The day started with Shatha Salah, an environmental manager at the University of Alabama-Birmingham Medicine/University Hospital. Salah manages the UAB Medicine water safety plan and serves as a member of the UAB Medicine water safety team.
Salah told the story of how UAB Medicine recovered from a Legionella outbreak to become one of the leading healthcare organizations when it comes to implementing water safety plans.
Salah went into detail about how UAB Medicine changed its culture and received widespread buy-in with the implementation of its water safety plan.
Points of emphasis included multiple training sessions conducted by water safety professionals and given to maintenance team members, project managers and contractors. Salah added another key was involving plumbers and maintenance team members in water safety discussions. The hospital's infection prevention team was educated on basic plumbing tasks and technical activities and how they affect water safety.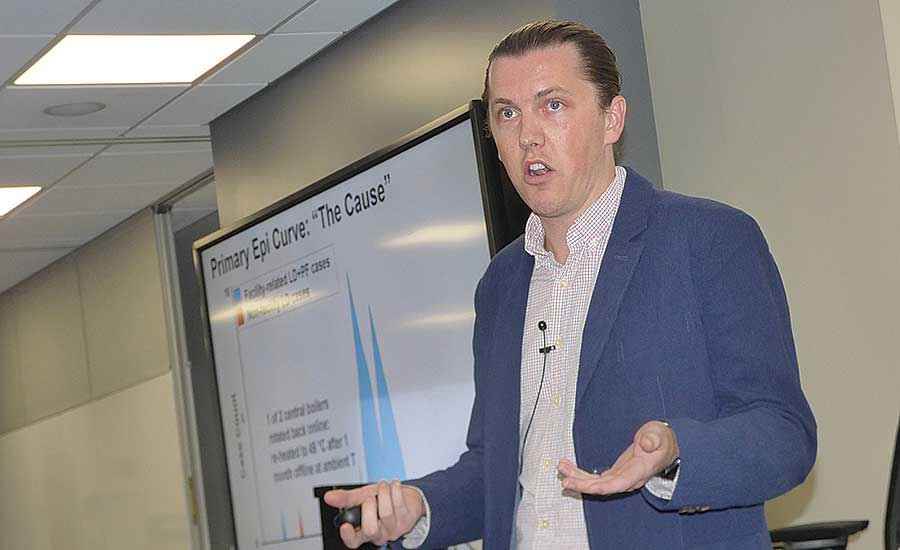 Virgina Tech Research Scientist Dr. William Rhoads was one of the presenters at the second Watts healthcare symposium at the Watts Works Learning Center in North Andover, Massachusettes.
Salah said some challenges that arose while implementing the plan included pipes not being labeled properly and having to rely on plumbers' knowledge, as well as changing the overall culture by engaging plumbers, hospital maintenance and clinical staff in the plan. She added education was key with staff and patients located in high-risk units on the importance of point-of-use filters installed in room fixtures.
"The money you spend in a proactive way will be much less than the money you will spend on lawsuits by not being proactive," she said during her speech. "Don't be in a silo."
Dr. William Rhoads, a research scientist at Virginia Tech, discussed key findings from research and hospital legionella outbreaks. Rhoads ticked off a long list of OPPPs or opportunistic premise plumbing pathogens.
"The types of organisms are changing that cause illnesses," he said during the event.
In terms of tackling the problem, Rhoads cautioned there is no one-size solution. "There are no sliver bullets," he told attendees.
Instead, Rhoads said there is a need for integrated understanding of opportunistic pathogens, plumbing system design, operation and engineering control options.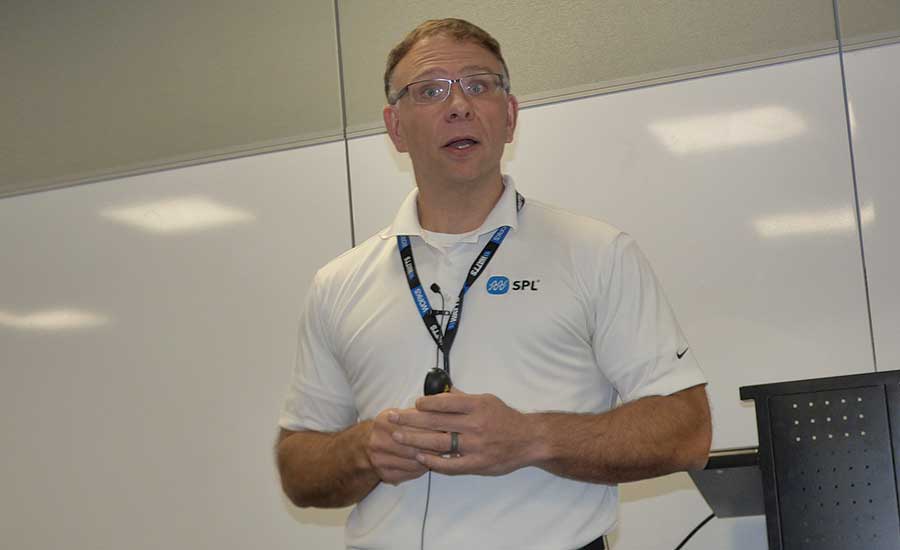 SPL Consulting Services Technical Director Frank Sidari says one key is to take into consideration engineering design decisions that could have an impact on the implementation of a water safety plan.
The second half
After lunch and a tour of the Watts Works Learning Center, Frank Sidari, technical director at Special Pathogens Laboratory Consulting Services, spoke of how engineers, facility managers and infection control can work to manage building water systems to reduce the risk associated with opportunistic waterborne pathogens and coordinate efforts with their water safety and management program.
To again show the prevalence of this topic, Sidari cited Center for Disease Control data that shows of 620 CDC consultations from 2014-2017, excluding legionella, 134 involved potential water-related hospital-acquired infections with nontuberculous mycobacteria (29.9%), pseudomonas (18.7%) and burkholderia (10.4%) being the most common offenders.
Sidari noted from a current perspective current regulations hardly exist for proactive legionella management and regulation is not focused on other pathogens, especially in health care and other buildings. He added education on infection prevention is critical given infections caused by other pathogens are not as straight forward as legionella due to the different reservoirs, transmission methods and types of infections.
Sidari said one key in water safety is to take into consideration engineering design decisions that could have an impact on implementation. He said if a building has PEX pipe installed, using chlorine dioxide as a disinfectant is not a good idea due to studies showing it makes that type of pipe brittle. He also explained the use of thermal shock disinfection as a corrective action in a watery safety plan should take into consideration the temperature and flow rate of the building water system.
He added proactivity on the testing front is critical.
"If I was a contractor or engineer and asked to do any work on an existing building, before I got in there I would want some sign-off from the owner that they either gave me the test results and it's all clear or they sign off saying that they don't hold me responsible if there's any legionella in the water system and they didn't want to test," he said to the audience. "Being proactive with testing is important."
The symposium wrapped up with Cannon Design Plumbing & Fire Protection Discipline Leader Aaron Bock, P.E., who gave a comprehensive review of current and future design methodology on water circulation and temperature, premise plumbing design for waterborne pathogens, energy conservation and maintenance of systems.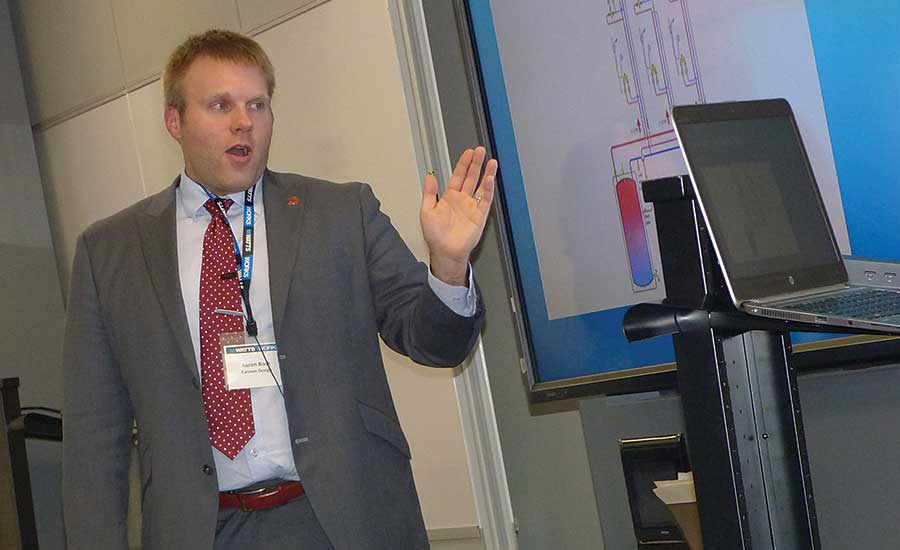 Cannon Design's Aaron Bock stresses education must remain at the forefront in the fight against waterborne pathogens in healthcare and other commercial buildings.
Bock, as the other speakers stressed, said education remains key in the fight against waterborne pathogens.
"It's important to be in the business of education in this whole endeavor through events such as these and through publications and other articles," he said during his speech. "While the topic is getting a lot of notoriety both good and bad, it still needs to happen that news gets to the folks who are ultimately making the decisions to defend their facilities against pathogen growth and keep legionella and other pathogens under control.
"It's important that this information is getting out to folks making decisions, whether that's at the facility or the design level, or even the reps attending events like this," he continued. "All those people and forces work together to build and design these systems that ultimately will be in service for years, and in the lifetime of that building we want it to be as robust as it can be against pathogen growth and legionella. It's up to us and all the people working together to make those systems work as best as they possibly can and make sure they are best armed against pathogens as they possibly can be."