When Pete Peterman decided to start his own heating and cooling contracting business in 1986, he knew he would have to do one thing above all, and that was go above and beyond to ensure his customers were satisfied. After 30-plus years of operation, adding plumbing services, two new locations and breaking ground on a new headquarters, Pete Peterman's philosophy has been the driving force behind the company and its continued growth.
That long-term commitment to customer satisfaction along with the company's incredible growth these past few years have nabbed Peterman Heating, Cooling & Plumbing accolades as Plumbing & Mechanical's 2019 Residential Contractor of the Year.
Measured growth
Peterman Heating, Cooling & Plumbing began out of the back of Pete Peterman's garage. The company currently operates out of a building in Indianapolis. It opened a second location in Columbus, Indiana in 2012. In 2013, Peterman added plumbing services to complement its heating and cooling offerings. And then in 2018, it added a third location in Lafayette, Indiana.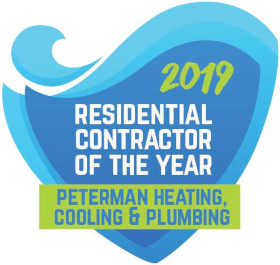 "We had customers asking if we could replace their water heater along with their furnace," Chad Peterman, president of Peterman Heating, Cooling & Plumbing, explains about why they added plumbing services. "We would tell them no because we didn't do that work, but we knew a guy. My plumbing department got started when the guy we knew finally said, 'Hey, you're sending me a bunch of work. Do you guys just want to team up and start a plumbing department?' We were like, OK. We had never really thought about it because Dad was never a plumber, he was a heating guy.
"We started doing a little bit of service, then moved into some bigger projects," Chad Peterman continues. "That kept us busy and got us off the ground, but I can tell you in those first three years, we were just a guy out there running a plumbing service. We didn't really know where we could take plumbing, what it was all about and how to do it. We joined Nexstar Network in 2015, and it was Nexstar that really taught us how to build a plumbing department. We're still learning every day."
Today, roughly 40% of the company's revenue comes from its plumbing division.
Peterman has grown a little more than 100% over the last three years, Chad Peterman states. It was named to the Indianapolis Business Journal's Fast 25 as the 11th fastest growing company in Indianapolis a few months ago. It also made it to the Inc. 5,000 list of the 5,000 fastest-growing privately held companies in the U.S. this year.
"There have been some big honors this year," he says. "Awards are nice, but it's a good chance for us to reflect back on all the hard work it took to get here. As president of the company, it's my main job to make this the best place our employees have ever worked. We do that by creating an environment where people can grow, where people can get better, and ultimately when they get better, they take care of our customers and they grow our company."
Family business
Peterman currently employs 116 people, about 81 of which are technicians and installers. The company also has about 70 fleet vehicles.
Chad Peterman runs the company with his brother, Tyler Peterman, who serves as its vice president of installation operations. Pete Peterman is currently semi-retired, but still handles about 10% of the company's multi-family residential business.
"My brother and I have two different stories," Chad Peterman says. "My brother was always the mechanically inclined one.  He can fix anything, he can build stuff, and he enjoys all that stuff, so it was a natural thing for him to always really want to get into the business. I, on the other hand, am not as mechanically inclined, as my dad and my brother will both point out. After college, I didn't really know that I wanted to get into the family business.
"So after college, I moved to Charlotte, North Carolina, and worked as a sales rep for a company that manufactured adhesives," he continues. "Then in 2011, I started to do a little more investigation into what Dad was actually doing. Lo and behold, I found out this business was not just about replacing furnaces and water heaters — it's a people business. It's about taking care of customers and, most importantly, taking care of the people who work here. That was something I could resonate with. I've been working here eight years now and I love it more and more every day because of what we're doing, the lives that we're changing and the depth that we're trying to make in this industry."
Tyler Peterman agrees he was always interested in the family business.
"Being around the business while I was growing up sparked an interest in me," he says. "I started full time when I finished college in 2013, and it's actually been more than I thought it would be. I just love coming to work every day and working with the people we do. It's nothing short of amazing."
Tyler Peterman says working closely with family members is not a problem because they are so different from each other.
"My brother and I are in separate realms," Tyler Peterman says. "Our realms do interact with each other. I do more of the operations, and he handles more of the sales and office side of things. We each have things we handle and we interact with each other, but we don't overlap to where we're stepping on each other's toes. So that part of it works really well. My dad and I are more alike, so we do work a lot more together. We have a special dynamic between the three of us. I have the utmost trust that Chad is going to do what's best for the company. So there is never any questioning of decisions being made or anything of that nature."
Service Manager Alan Scott has been with the company since April 2018. He left a job at another service contracting company because he was looking for a place that respected the work he was doing.
"There isn't any other place I've worked at that comes close to this," he says. "It's pretty special the way everyone comes together, works together and communicates the way we do. You couldn't ask for a better situation to be in. Coming here, I felt at home as soon as I got here. I kind of joke with Chad that I'm still waiting for the rug to be pulled out from underneath me."
Scott says the best part of working at Peterman is the family culture.
 "We're obviously not Petermans, but they make us feel like we are part of their family," he notes. "And that matters."
Kristy Muse will be coming up on her 20th anniversary as controller with the company in January. Muse also left a larger HVAC company to join Peterman. When she started, there were only eight employees.
"I loved the family environment and I really enjoyed getting to know Pete's wife and his kids  —  I've known them since they were tiny," she says.
Muse notes the company is different because all three Petermans listen to their employees and care about what they have to say.
 "The culture has evolved as we've grown," she says. "I've always enjoyed coming to work. I enjoy the management team — we all get along and that's kind of unusual. I'm amazed by where we were and where we are now, and I attribute that to Chad because he's very concerned about company culture. Prior to this, we were all like, 'What's culture?'
"Right now, since we've grown so large, we're working on not losing that small company, family culture feel," she continues. "There is no separation between departments — it's more of 'we're in this together, how can we help you?' We're always evolving, we're always striving to make the culture better."
Overcoming obstacles
Unlike many other companies in the industry, Peterman is not experiencing growing pains due to lack of skilled labor.
"I'm not a huge believer there is a labor shortage," Chad Peterman says. "Obviously, the labor piece is not as fruitful as it once was. The key for me is to never stop looking. We have an internal process with what we like to call our waiting list. It's our goal to one day have a line of people waiting out the door to work for our company. We want to have names for every single position. Sometimes we interview for positions that we don't have an opening for. I think a lot of people think there's a labor shortage because they only look for a position when they desperately need one. So then it looks like, 'Well, I can't find any good people.'"
The other side of recruiting new talent is keeping existing employees, which Chad Peterman says can be accomplished by creating the best place employees have ever worked.
"It's about creating that culture where people never want to leave," he says. "It's also about growing. Without a growth mindset, your people will outgrow your company. They will want to move up, but if you're not growing, that becomes very difficult. That's my big thing, constantly recruiting, creating a culture and continuing to grow. I tell our people that we want to grow better, and if we grow better, the bigger will take care of itself."
Bright future
The company is currently in the process of building a new headquarters in Indianapolis since it has outgrown its current building.
 "When finished, it will be about three times the size of our current building," Chad Peterman says. "It's really a big step for us."
"We want to continue to make this a place where people can say this is the best place they've ever been employed," adds Tyler Peterman. "And we want to continue to grow. We want to continue to raise the bar for our team members, then watch them exceed that expectation or jump over that bar and look for new heights."
Chad Peterman notes that regardless of how big the company grows, the important thing to remember is how the business got started.
"My dad still tells the story of how he started the company when my mom was six months pregnant with me," he says. "You can only imagine how that conversation went over. He started by knowing how many bills he had for that week, so he would know how much money he needed to bring home. The fact is, Dad started out with one simple mission: Take care of the customer to achieve the goal by the end of the week. It's interesting that even though we have a lot more people, we can do a lot more jobs, we take care of a lot more customers, the goal is still the same: To improve every day. I think it's so cool that a company of one or company of 116, we still have the same mission, we still have the same goal. We just make it more pronounced now and we impact the lives of more people.