One of the themes of the Quality Service Contractors 41st Power Meeting — held Sept. 9-12 in Nashville, Tenn. — was understanding human behavior and how it affects a service contractor's business. QSC Business Coach Beth Dobkinand consultant Vicki LaPlant of Vital Learning Experiences touched on the subject when discussing how service businesses can build success by recruiting women.
"We need to train our own people; women are the largest untapped resource for the industry," Dobkin said.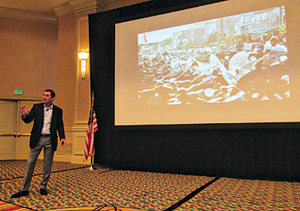 Former Harley-Davidson communications director Ken Schmidt explains to Quality Service Contractor members how Harley-Davidson uses the annual Sturgis Motorcycle Rally to get to know its customers and potential customers by observing their behavior.Photo credit: Kelly Faloon/Plumbing & Mechanical
LaPlant added that women are often the decision makers when it comes to purchasing residential equipment for the home. And since women think differently than men, having a women plumber or HVAC tech is an asset.
QSC members also heard from Ken Schmidt, former director of communications for Harley-Davidson Motor Co. His message — do something positive to differentiate yourself from your competition.
"When competitors look like each other, when products look the same, consumers can't tell the difference," he said.
Schmidt explained how Harley-Davidson went from almost certain bankruptcy to the premier motorcycle brand — by studying the behavior of its customers and then giving them a "lifestyle experience" with visible passion and enthusiasm from every Harley-Davidson employee.
Other speakers included Ben Tyson from Google, who discussed the importance of making your website and other online marketing efforts easy to access and interact with on mobile devices; and Jeremiah Webb from Power Selling Pros about booking more calls by using principles that show the customer your company cares about solving the problem.
The next QSC meeting is Feb. 26-28, 2015, in Scottsdale, Ariz. u
---
HELPFUL LINKS: