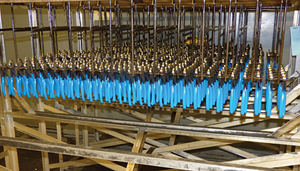 Attendees of the 2014 Channellock Fiercely Made in Meadville event were shown how the company's trademark blue handles are applied to its various tools.Photo credit: Mike Miazga/Supply House Times
Hand-tool manufacturer Channellock's history dates back to 1886 when George DeArmentstarted the Meadville, Pa.-based company. More than 125 years later, the now fifth-generation company continues to thrive thanks to a commitment to excellence in both the product it makes in its U.S.-based plants and the people it employs.
The company recently hosted its 2014 Fiercely Made in Meadville media event at its headquarters. Media members were given a thorough education on Channellock's history and the great lengths it goes to make quality hand tools, as well as a tour of the company's two Meadville manufacturing plants, where they were shown how a tool is made from the beginning die-cast to it being put in the carton for shipping.
Known for its trademark blue handles, Channellock manufacturers hand tools such as pliers, nippers, wrenches, screwdrivers and nut drivers. The company, with a roster of 360 full-time employees, is led by President and CEO Bill DeArmentand his two sons; Jon DeArmentis vice president of manufacturing and engineering, while Ryan DeArmentis vice president of sales and marketing. Bill DeArment's daughter Joaniealso works for the company.
"This only happens here because we have good people," Bill DeArment said. "If we don't have good people, none of us would be here."
Channellock has four key guiding principles it stresses throughout the organization—principles that date back to founder George DeArment: good management is never far from the factory floor; people count more than machines; bigger does not always mean better; and dedication to excellence is the surest way to surmount adversity and to prosper. 
Point No. 2 was punctuated by a densely populated wall-of-fame at company headquarters that honors employees who have been with the company for long periods of time. In fact, Bill DeArment was honored for his long company tenure during the latter stages of the event.
That longevity, however, is something the company is aware could become an issue as its workforce continues to age. Channellock is being proactive on that front and has established a local apprentice program it hopes will help further feed the pipeline of young, skilled talent.
---
HELPFUL LINKS: