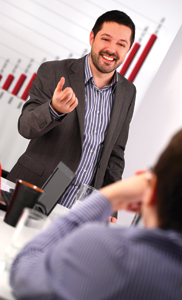 Photo credit: ©istockphoto.com/EmiliaU
I study training and peak performance, as well as work with many diverse companies every year, and I've observed some common training mistakes that I want to help you avoid in your own business. I spend a large amount of my time helping people zero in on their unique personal and professional strengths to accomplish more than they ever thought possible.
Effective training helps individuals see how to utilize their strengths and understand how specific training will help them become more successful. When it comes to training meetings that actually make a positive impact on behavior and results, there are a few common mistakes you need to be aware of and avoid.
One of the key distinctions between business owners who struggle and those who flourish year after year is the desire and skill set to keep things as simple as possible, while implementing proven systems and strategies. Owners and managers who seem to consistently struggle tend to make things more complicated than they need to be. Training in your company does not need to be overcomplicated, you simply need to have a consistent strategy in place which offers your team members valuable information and tactics.
There's a universal mindset of very successful people that includes their desire to implement rapidly, minimize mistakes and get the greatest return on investment possible.
More and more companies are beginning to view their training time and training budgets as serious investments that should create a tremendous return for the business owners, management and, of course, the frontline team members. The only way to accomplish great returns when it comes to training is to plan accordingly, show up with a contagious sense of passion for your topic, continuously work on improving your methods and keep it fresh.
Create effective training meetings
Below are five crucial mistakes to avoid when it comes to developing your own successful company training meetings.
1. Failure to prepare for regular meetings. The majority of service managers are tasked with the role of "company trainer" for a number of categories including (but not limited to): customer service, sales, communication skills, technical skills, paperwork, housekeeping, etc. Most owners and managers who deliver the company training meetings are multitasking throughout the day and have many different hats to wear in order to be successful in their positions.
Due to the fact that they have so many things happening in any given day, preparation for weekly training meetings becomes a last-minute task. It doesn't get the time or attention necessary to be effective for the company, clients and team members.
2. Overwhelming your team with too much content. Just because I'm a huge proponent of planning and preparing for company meetings does not mean I want a large number of topics prepped and ready to deliver for just one meeting. Most trainers put way too much content into a short meeting without diving deep enough into any given topic to create real change.
We recommend focusing on one deliverable piece of content, then going deeper into explaining the who, what, when, where and why regarding this one individual topic. Most training is done in the morning and many technicians are slow starters this time of day, which means they can only digest a certain amount of information at a time.
3. Trainer dominant vs. interactive group training. Most trainers have pretty big egos. OK, almost all of them do! There's nothing wrong with keeping an ego in check as a manager or trainer. It's critical to remember that the training is not about who is delivering the message — it is all about the people being trained on the message.
It's easy to get into lecture mode and just teach, teach, teach, but that's not an effective way for your team to learn and retain information. Begin to incorporate group conversations and activities into your meetings and the topics you deliver. Allow them to learn from each other as you simply facilitate and guide the learning. It's always effective to have them do some group reinforcement exercises at the end of each meeting and allow a few minutes for questions or discussion.
4. Failure to inspire and motivate the team to succeed. A company trainer does not need to be a motivational speaker or jump up and down with pom-poms like a cheerleader. However, if you're the training face of your organization, you absolutely must bring some passion and enthusiasm to your delivery — effective training is 20% content and 80% show.
 That's not to say content isn't critically important, but it does help us realize the importance of creating a motivating and entertaining experience while the team is being trained. You must at least have the ability to demonstrate your own passion in a way that becomes contagious for helping the team desire to accomplish its goals.
5. Lack of follow-up after the meeting. One major thing that contributes the most to killing positive results after training is the lack of follow-up and follow-through on topics that have already been facilitated. You're sadly mistaken if you think your company can host a weekly meeting and drive improved results just from that meeting alone. There must be follow-up. There must be consistent and effective ongoing coaching.
Team members must know and understand how the training is immediately relevant to their jobs, how they can easily implement the training in the field and how it can make a positive impact on their results. Too often, training is delivered only once and then it's on to the next topic without having follow-up sessions or coaching to influence a positive, lasting behavior change.
If you're a progressive company, training is at the forefront of what you do. It should be strategic, planned and consistent. It also should be clear to your team members that training makes them better, makes the company better and provides a better overall experience for your customers.
Creating a culture of training is imperative to stay ahead of the competition and continue to improve your customer service. So as you design future meetings in your own shop, be aware of how topics are being presented. Effective training meetings have the potential to immediately improve results for your company and avoiding these five mistakes will help you develop the best possible strategies.
---
HELPFUL LINKS: