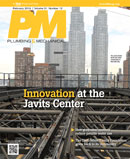 PM's February 2014 cover
An unattainable rule
I applaud Peter Stafford's efforts to raise industry awareness of the potential dangers of respirable crystalline silica and the Occupational Safety and Health Administration's proposal to dramatically lower silica exposure levels ("Construction health hazard: silica dust," February 2014 Plumbing & Mechanical). Unmentioned, however, are the costs and technical obstacles presented by the new standard in the efforts to reduce the "nearly 700 workers per year from deaths related to silica exposure on the job."
As chair of the American Foundry Society's Government Affairs Committee, I have been involved with submitting comprehensive comments to OSHA on its proposal to revise the current standard — one of the most comprehensive rulemakings the agency has ever undertaken with significant economic consequences to the foundry and construction industries.
In its comments, AFS urged the agency to withdraw its proposal on the grounds that OSHA has failed to establish that there is a significant risk at exposure levels below the current permissible level (PEL). In fact, data from the national Centers for Disease Control and Prevention shows a sharp decline in the incidences of silicosis in recent decades.
More importantly, the proposed rule to cut the PEL in half is not technically or economically feasible. Many commercial labs can't accurately and consistently measure silica samples at the current PEL, let alone the proposed level. OSHA seems to acknowledge this problem by providing commercial labs two years in which to improve the quality of their silica analysis, yet would still hold employers accountable for complying with the rule during that same two-year period.
As for economic feasibility, OSHA estimated the rule will cost the foundry industry approximately $43 million annually to implement. This number is grossly understated. Our analysis shows it will cost $2.2 billion a year, or the equivalent to 10% of the foundry industry's revenue and 276% of its profits.
The financial impact would disproportionately affect smaller foundries and drive thousands of jobs overseas at a time when national unemployment levels are still unacceptably high.
Rather than impose an unattainable, job-killing rule from Washington, it is my opinion OSHA needs to work with the industry to craft new regulations that are pragmatic, workable and actually improve workers' health and well-being.
Bradford Muller
Charlotte Pipe and Foundry
Charlotte, N.C.
 
Water lessons
Good article on clean water in the February issue ("Clean water is not a luxury," February 2014 Plumbing & Mechanical). I love the shout out that plumbers protect the health, safety and welfare of our nation!
I recently spoke to my daughter's second-grade class about how lucky we are in this country to have clean drinking water, indoor showers, etc.; how many other parts of the world aren't as lucky as us; and that we have to credit plumbers as having brought all of this to us and for keeping us safe.
It sure was funny to hear where some of them think our water comes from!
Julie Wieman
MacGregor Plumbing, Heating & Air 
Harbor Springs, Mich.
---
HELPFUL LINKS: