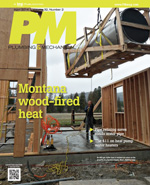 PM's April issue
Safety concerns
As the owner of an irrigation construction company, I'm concerned about safety on the job. I'm not impressed with the cover photo of Plumbing & Mechanical's April 2014 issue. Where is the guy's hard hat, eye protection and gloves? While we're at it — on page 7, one of your advertisers should know better and outfit the actor with eye and hearing protection. 
Mike Todd
Milwaukee Lawn Sprinkler Corp. 
Menomonee Falls, Wis.
The cover of the April 2014 edition of Plumbing & Mechanical has some serious safety flaws that should have been addressed prior to the photo being taken.
No hard hat.
No safety shoes — unless they are safety sneakers (I have seen them). But boots are preferred on most jobsites to protect the ankles.
No safety glasses.
No gloves.
It appears he is too close to the load. Should it shift or one of the straps breaks, he is in serious trouble.
The rigging looks "funky." Hard to tell what they did with the straps. It appears the straps were not long enough, which I have seen many connected together with shackles.
If we are to promote jobsite safety, we should start with the professional publications. The office side needs to promote it. If they consistently see it, it should become second nature, not after an accident happens.
Bill Walsh
TraneOregon
Portland, Ore.
Why, with safety being such a concern with all quality contractors, strict OSHA enforcement and insured loss, would you print a cover with someone directing an overhead load with no hard hat? Pictures like this should never be published. 
Chuck Mailhiot 
Newington, Conn.
Editor's note: Thanks for the feedback. We'll make sure to take better care in selecting photos for covers and features.
Buying products online
I want to pass on to other contractors my experience with online purchases so that they can avoid the same problems. I needed a Steamist SM-4 steam generator for replacement in a customer's house. The local supply house told me that model was no longer available but I went online through Amazon and found it. 
I ordered it but was then notified that, in fact, the model was no longer available. Because I was already online, I went ahead and purchased the SM-5. It was delivered, but the customer postponed the job because he was away and didn't come back for a few months. 
When we went to do the replacement, we found out the steam generator sent to us was 208 V instead of 240 V, which we needed in a residential house. When I contacted the online vendor, I was informed that we could not return it because the distributor it had purchased it from would not accept the return. So I got stuck with a steam generator I will never use, which costs more than $1,000. 
If I had purchased this product through the local supply house, Simon's Supply Co. in Fall River, Mass., it would've worked with me and arranged for a return. I would have gladly paid a restocking fee. This is the traditional supply chain we have depended upon for years. When we bypass it, we take risks that are not necessarily obvious upfront. This lesson cost me $1,000 but I am offering it to my fellow contractors for free. 
However, if anyone needs a Steamist SM-5 steam generator … 
Greg Hall
Independent Plumbing and Heating
Bristol, R.I. 
---
HELPFUL LINKS: