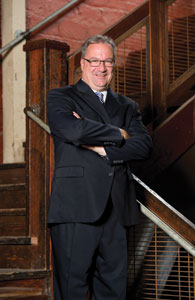 Viega LLC CEO and President Dave Garlow(Photo credit: Viega LLC)
Last month, Plumbing & Mechanical interviewed Viega LLC CEO and President Dave Garlow at his office in Wichita, Kan., on issues facing the plumbing-and-heating industry. Since joining Viega in 2000, Garlow has worked as a regional manager, national sales manager, and as vice president of sales and marketing. For the past eight years, he has been a member of Viega LLC's executive committee. Garlow has a bachelor's degree in mechanical engineering and an MBA.
PM: What was your first order of business as Viega's new CEO and president?
DG: It is important that our Viega LLC family and our industry understand that even though the leadership of our company has changed, the things that matter most won't change: product and service innovation, industry-leading customer support, and commitment to our employees and community.
We're on a good track, but that definitely does not mean we're going to stand pat. We always have initiatives on the table. That is typical of how we operate our business. You will see some changes, but those are most likely the result of things that have already been in the works. So we'll make changes to make sure our sales and service organizations are always on the leading edge and our training programs are up to date.
PM: What industry issues interest you outside Viega?
DG: I do have some industry and community interests that I would like to lend the Viega brand to in order to further these causes. One that comes to mind is working alongside other industry groups to help today's youth understand how rewarding a career in the trades can be. Our industry is full of opportunities for people who are willing to work hard.
PM: What is the most important lesson you learned from your predecessor, Dan Schmierer?
DG: What I learned from Dan over the years is immeasurable. We worked together for almost 14 years; we started at Viega on the same day back in 2000. Frankly, he was instrumental in turning my job here into a career. Dan led this organization by inspiring and motivating individuals while, at the same time, not taking himself too seriously. Considering where he led Viega LLC over the past 13-plus years, I would have to say that one of the lessons is that of humility; but the most important thing Dan instilled in all of us is the importance of loyalty.
PM: Why do you believe teamwork is so important in today's business environment?
DG: Teams win. I've had an amazing career from the standpoint of having worked with really good organizations, from a small four-person office as a manufacturers rep to a 400-person manufacturer here. In each case, the leader of the organization was a successful business person who insisted on teamwork. Teamwork starts with trust, which is fundamental. You have to trust the people you work closest with. Above all, teams win!
PM: In what market sectors do you see business growth for plumbing and mechanical contractors in 2014?
DG: Forecasts seem clear. We can expect the residential housing sector to continue to improve along with an improvement in the commercial arena.
For Viega LLC, the growth story has always been more about product innovation and market penetration than settling on just growing organically with the market.
As our industry grows, getting young people interested in our industry's trades will be one of the biggest challenges we face. This is a really important issue right now that needs attention.
PM: What core values distinguish Viega from other companies?
DG: Not many companies can truly call themselves innovators. Viega can. After 115 years, Viega's dedication to true innovation isn't just a corporate motto; it's our lifeblood. It's the essence of who we are. Real innovation is continuous improvement and courageous creativity.
Our vision is to continue to be a leading supplier, in the eyes of our customers, to the industries that we serve. For Viega, that means being the employer of choice in our community and it means supplying our industry the innovative products, outstanding field support and supply chain competence that are at the core of our success.
We want to get the right tools to the right people and provide them the support they need to do their jobs. Our customer focus won't change. Our mission will continue to be enhancing lives by providing innovative piping systems for our industry. Our daily business efforts will continue to reflect our core values.
---
HELPFUL LINKS: