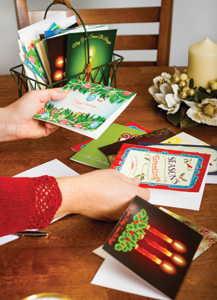 Photo credit: ©istockphoto.com/Diane Labombarbe
Whoa — is the end of this year really around the corner? Maybe, maybe not. As Winston Churchill once said: "Now this is not the end. It is not even the beginning of the end. But it is, perhaps, the end of the beginning."
I'm sure that explained everything very well.
One point I'd draw from that pertinent pithiness: If you've gone on a little too long thinking and acting as if you're a start-up company, now's the time to move into the end of the beginning. You are, after all, rolling into another year. When you face the end of one year and enter another, you're moving into the cycles of life and business during which all things happen (or don't).
One thing that happens (or doesn't) is you keep the customers you've earned. Another thing that happens (or doesn't) is that when a season changes, you sweep in and grab opportunity by its seasonal hand.
That's where you are — because it's where we all are.
As another well-known orator once said — in fact, he's so well-known, he goes by the moniker Anonymous: "And in the end, it's not the years in your life that count. It's the life in your years."
For whatever stage of business, we could turn that around to say: It's not the years in your business that count. It's the customers in your database. And more to the point: It's not the customers in your database that count. It's the ones who keep calling you their contractor. Because they're the ones who will call you when an emergency pops up.
Simplest year-end strategy
Customer retention marketing is the time-honored tradition of focusing on those customers who matter most — those who buy more, buy more often and give more referrals. And this end-of-year holiday season is the time to reach out to them, once again, to keep them in your fold when the calendar turns pages.
A simple and cost-effective way of keeping the name of your business in the minds of all those potential repeat customers is sending seasonal  holiday cards (www.contractorholidaycards.com) or postcards. These are great because they are quick, to the point and serve as an inexpensive way of keeping your customers from wandering off to your competition.
Most of all, a great holiday card to your customer list gives you the opportunity to say "thanks" to the people who are keeping you in business. Customers do all the buying and all the referring; they pay for your employees … and they pay you. This is the time of year to acknowledge them with a nice holiday message. Plus, your competition probably won't send one, so you'll stand out even more!
The card is a good counter to the principle that no "sale mail" should be sent from Dec. 10 through Jan. 12. During this time, people have had it up to their eyeballs with what folks are selling and your message is quickly discarded.
You can do other things, too …
More ways to spread holiday cheer
Change your voice greeting.Help maintain the festive seasonal spirit with a friendly greeting, such as: "Happy Holidays from ABC Plumbing! How may I bring you some cheer?"
But remember, be sure to keep it updated. No one wants to hear a "Happy Thanksgiving" the day before Christmas. I recommend just sticking with "Happy Holidays;" it's easier.
Participate in media giving events.Donate toys or canned goods in your company's name during media charity events. Or, even better, ask a local media outlet to forward names of needy families. Agree to serve a family of your choosing and you'll be in the news for having stepped up.
The goodwill pays your heart, regardless, but the exposure and recognition will pay your business.
Have an open house for customers, friends and the media.Plumbing contractors don't see this a lot — customers coming to you — but you can enjoy some real face time with customers, reinforcing your mission of your service to them. And they can see how you carry out your day-to-day operations with professionalism. Open houses also give you a chance to tell customers and prospects about services they may not know about.
And they give customers a chance to say to their friends, "I'm going to my contractor's open house today." Which opens the door to loads of referrals.
Regardless of what promotion you settle on, make sure you share your story with the local media to help your cause and generate an image of goodwill for your company. This is a perfect time to send out a media release.
As your name becomes attached to heartwarming acts, you build a positive image in your market without having to make a heavy-handed push for sales. That can come later, when sales promotions that follow in January build on the goodwill built for your company.
But remember, when things are crazy for your customers (family get-togethers, in-laws coming to town, traveling, etc.), emergencies are bound to happen. And no one wants the plumbing to break when you have family and friends over for the holidays. That's why you need to keep your name in front of them and tell them you'll be there if they need you, especially during emergencies.
Now is the time! The holidays provide a great opportunity to connect with your customers and cement the relationships that will bring continued sales throughout the coming years. That means you don't have to be "selling" to sell your customers on why you deserve their business. Do a great job of saying "Happy Holidays" and your customers will thank you with their future sales, referrals and loyalty.
---
HELPFUL LINKS: