Truck of the Month
Truck of the Month: Daniel Cordova Plumbing, Baldwin Park, Calif.
Daniel Cordova Plumbing is going all-in.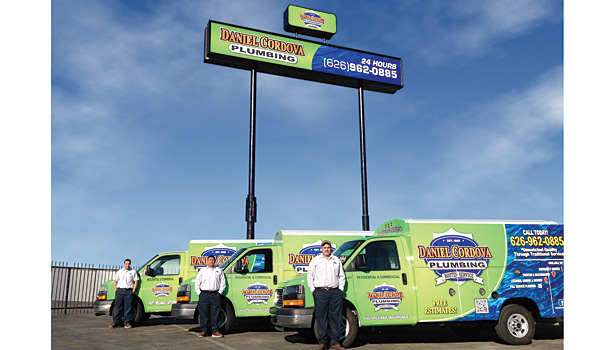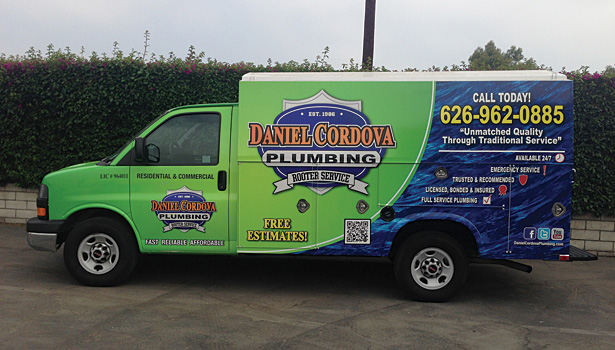 One of the best advertising tools for Daniel Cordova Plumbing stands 40 ft. in the air adjacent to the Interstate 10 freeway outside the company's Baldwin Park, Calif., headquarters.
The two-year-old company sank a mid-five-figure capital investment into a two-sided freeway sign, much like the ones seen at truck stops. The investment has paid major dividends.
"That's probably the busiest freeway in Los Angeles," 27-year-old company owner Daniel Cordova notes. "The sign helps with our branding. We definitely put a lot of money into it, but it's paid off. People call all the time because they saw our sign on the freeway. A sign like that establishes legitimacy. People think we're a 20-truck company. "
Actually, Daniel Cordova Plumbing has four trucks and six employees specializing in mainly residential service repair and replacement throughout the San Gabriel Valley and northern Orange County areas outside Los Angeles.
"The biggest challenge was getting started, jumping in and just doing it," says Cordova, who started the company in the summer of 2011 after running a plumbing contractor company with his father, Mike Cordova. "It was difficult starting a company. There were some challenges in making the phone ring and from the operational side of things, but it was well worth it."
Cordova places a major emphasis on advertising through social media circles and the Internet. He has yet to place a single print advertisement. The wraps on the four trucks feature a QR code that takes customers directly to the company's website. The trucks also highlight the company's presence on Facebook, Twitter and YouTube.
"We see customers scanning the QR code on the trucks all the time," says Cordova, who recently joined best practices group Nexstar. "We've been parked in shopping centers and have seen people take photos of our truck to get the phone number. We're big into modern ways to advertise, and we made sure we have nice trucks that stand out and send a professional message."
Cordova's fleet consists of three GMC Savannah trucks with Royal bodies and a GMC Sierra, also with a Royal body. The green and blue wraps were designed by Office Manager Laurie Castillo and produced and applied by Whittier, Calif.-based Page One Printing.
"We like the trucks for their accessibility," Cordova says. "The trucks have the room to be fully stocked with products and equipment. When we get to a house, we can knock out the job and don't have to go back to the shop or the supply house."
Cordova has seen his company make major strides in just more than two years. "When I first started I basically had nothing; now we're about to hit $1 million in sales this year," he says. "What we're doing definitely works and it's because of my dreams and desires, the people I have working for me and the customers we serve. We're all about the relationships with our customers. We're in it for the long run with them."
---
HELPFUL LINKS:


I want to hear from you. Tell me how we can improve.