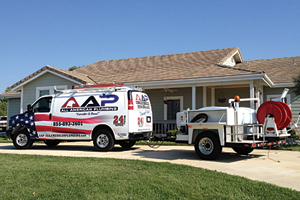 PM's August Truck of the Month: AAP-All American Plumbing. Photo credit: Ed O'Campo
Anthony Pouliotis proud of the rapid growth Mira Loma, Calif.-based AAP-All American Plumbing has achieved.
The 41-year-old Pouliot started the service and repair company two-plus years ago after a nine-year run as partner in another contracting firm. He's been in the plumbing business dating back to his early teenage years when he helped out at his father's plumbing company.
AAP-All American Plumbing grossed $1 million in its first eight months of operation and saw revenues increase to $1.7 million last year. The company, which covers Riverside, San Bernardino, Los Angeles and Orange counties in Southern California, has expanded its fleet of service trucks from one to eight in that span.
Pouliot says the key to his company's success isn't keeping a constant eye on the revenue ledger, but rather making sure employees are doing the essentials needed to provide the highest level of customer service.
"I run my shop a lot different than most," he says. "For some shops, it's all about numbers. Numbers are important, but here it's not so much numbers. I know the money will come if we do good work."
Pouliot requires his techs have a minimum of two "request-for-service" calls each month after a year of employment.
"If customers aren't happy enough to refer or request you, why would I want you working here?" he says. "These are all good plumbers. My job is to make them good representatives of the company. It costs a lot of money to get customers. You have to be interactive and build relationships with customers."
Pouliot says the decision to feature a patriotic name and truck wrapping didn't take long to make. He spent six years in the Air Force as a weapons instructor.
"I'm a very proud American. It was an easy choice," says Pouliot, who added the AAP designation in front of All American Plumbing to stand out from other patriotic-themed companies with similar names. "The response has been fantastic. We get a lot of calls from people who saw our trucks."
AAP-All American's fleet features two Chevy GMC box vans (boxes by Harper) and six Chevy GMC service vans. "I like the height of the box. We're able to walk in and out with no problem," Pouliot says. "The trucks also provide a good branding opportunity." Ontario, Calif.-based Gator Wraps designed and installed the truck wraps.
Pouliot utilizes the Internet for the majority of his advertising. "When I first started, every night after work I took advantage of every opportunity I could to put my information out on the Internet. Last year we did $1.7 million with five trucks and spent $40,000 on advertising. We're shooting for $2.5 million this year."
 Pouliot says a sharp focus on customer service is a must in an ultra-competitive market such as Southern California. "If you don't treat the customer well, you can easily be forgotten," he says. "We focus on doing good work and following up and making sure the customer is completely happy across the board. We don't leave until the customer is happy." 
---
HELPFUL LINKS: