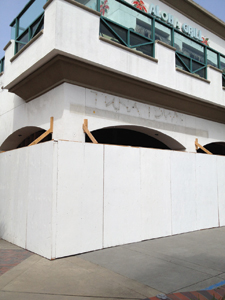 The late Tuna Town, Huntington Beach, Calif. Photo credit: Kenny Chapman
One of my all-time favorite sushi bars was called Tuna Town, located in Huntington Beach, Calif. We all have favorite places for various reasons and Tuna Town certainly had sentimental value for me, as well as fresh fish, awesome décor and good music (usually playing just slightly too loud).
The lovely Christy and I had been going to this great sushi bar several times a year since our very first trip to California many years ago. During that time we took friends there from different parts of the country and always recommended it when people were traveling to Orange County.
Since we were such fans of the restaurant, Christy had been in their "club" (think about a service agreement) for many years receiving their updates, coupons, specials and reminders. To our shock, a few months ago she received a message notifying everyone that Tuna Town was closing its doors.
What?Nooooo! How can it be? Not our Tuna Town! Please tell me this is a joke!
We recently returned to Orange County (Newport Beach, specifically) for a few weeks to stay in the place we spend a lot of our time — Balboa Island. This area is about 15 minutes south of the late Tuna Town. I knew the restaurant was closed. But as we walked down Main Street in Huntington Beach and saw the restaurant all boarded up and nothing left but the holes from the lag bolts that previously held the Tuna Town sign, it really hit home.
Whenever I see failed businesses in any industry, I always think about the bigger picture, how it specifically applies to our companies and some of the more difficult questions that we all need to reflect upon and learn from.
What went wrong with Tuna Town? What really happened? Was it bad management? Was it poor pricing? The happy hour and Sunday specials were way underpriced for the value received. Perhaps they didn't charge enough? Did the owners take their eye off of the ball?
Any time we had eaten at Tuna Town, it always meant consistently good service, a great product and a nice environment. What had changed that caused the owners to close the doors? Even if the owners developed other interests or didn't want to be partners any longer, why isn't the restaurant a saleable asset?
Do I dare say, "Could it be the competition?" Can it ever be the competition? Yes, as a matter of fact, it can be but I'm not sure in this situation. A couple years ago a very competitive national sushi bar chain opened just down the street. Plus, Tuna Town has always had a local competitor a couple blocks away and it still did fine, or so we thought. Did the competition improve its marketing strategy? Did it create a new product or service that diners only can receive at that restaurant?
Pricing for profit
What about you? What does some random restaurant closing in a town most of you don't frequent mean to you as a service business leader? What does this mean to us in the home service industry when it's just another failed restaurant among the never-ending list of eateries that don't make it?
It means everything! This exact situation happens every single day in the United States, Australia and Canada where our clients live and run their businesses. What can we learn from this particular misfortune of a closed business, which resulted in displacing its team members and loyal clients?
I believe one of the biggest reminders we can take from this situation is to look in the mirror! As the leader of a service business, you represent the look, feel and culture of your company.
Many years ago I became an E-Myth Certified Consultant by Michael Gerber and his team. Gerber, author of the influential business book titled: "The E-Myth Revisited," used to drill a point into us that I will never forget. He would say, and I paraphrase: "Show me a small-business owner and give me a mirror. I'll show you what the company looks like without ever walking through the doors of the business."
Are you doing everything you need to do in order to stay relevant and progressive as the competition evolves? I hope you are focused on these things and are consistently portraying the image you desire to your team members and customers.
Perhaps more importantly, you must ask yourself, "Am I priced at a profitable level?" Pricing that is too low is one of the biggest reasons that service businesses fail! We see this happen constantly in our industry, yet overall we still struggle with calculating what our billable rates need to be based on numbers and facts, not market conditions or competition. Part of this struggle comes from the fear of raising rates based on the numbers required for profitability.
The training that companies' front-line team members receive typically doesn't encourage increased sales or higher tickets. Your front-line team is your brand. It is your responsibility to train them effectively on how to represent you and your company at the highest levels possible, regardless of the situation.
Most companies have huge opportunities to improve their sales simply based on helping their team members understand how to better recognize customers' needs and offer strategic corresponding solutions.
Are you training your front-line team to convert basic service calls into enhancements and upgrades? If not, why not? Upgrades and enhancements are better for the customer, better for the company and better for the technician. However, most service companies don't effectively train strategies that help their service and sales team create positive results through improved communication.
 We must be laser-focused on success strategies, integrate consistent training for our front line, and price our products and services to make a profit! This is not a hobby, my friends, this is business. If we don't do the things we need to do, we become a statistic just like our beloved Tuna Town ... RIP. 
---
HELPFUL LINKS: