How's the view up there?

Photo credit: A to Z Statewide Plumbing
Hollywood, Fla.-based A to Z Statewide Plumbing specializes in service and repair work in condominiums and high-rises.

That niche lends itself to a unique marketing opportunity for the 22-employee company. The company's name and phone number are listed on the roofs of each of its six Isuzu NPR service trucks with Hackney bodies.

"We've always wanted to put the name on the roof since we do so much work in condos and high-rises," explains A to Z Manager John Driscoll Jr. "We couldn't do it with our vans because the roofs are rippled and ladder racks get in the way. When we got the super trucks, the first thing we lettered was the roof. The (body) wrap came after that."

 The rooftop branding has paid dividends for the 30-year-old company.

 "We have received a few calls from condo owners who are on the 20th and 30th floors of a building and looked over the balcony and saw our phone number," he states. "We recently had a lady call who saw the roof and we did a water heater replacement for her the next day."

 While the roof branding qualifies as a forward-thinking touch, A to Z still gets good mileage out of its standard truck wrap, which shows the company name submerged in an aquarium-type enclosure. Hollywood-based Metro Signs designed and produced the wrap.
 "We wanted to set ourselves apart from the other service plumbers down here," Driscoll Jr. says. "My father (John Sr., who started the company in 1981) came up with the idea. Putting the name inside the body of water makes us stick out. It's nice and clean and the bright blue color really attracts eyes to it."

 Having a strong visual presence with the super trucks is only half the success story. The Hackney boxes afford A to Z techs plenty of on-the-job comforts.

"The ceilings are over 6 feet so you can stand up in them," he says. "With the aluminum ramps, we can roll water heaters and cable machines in and out. We also use the ramp as a work station. We have a pipe vice that connects to a socket on the rear bumper. We cut pipe right there."

In addition to heavy condo and high-rise work, A to Z performs service and grease-trap cleaning and maintenance for numerous malls in the South Florida region.

"We're a full-service company providing everything from A to Z," Driscoll Jr. notes. "We'll do home repairs and then go clean out soakage pits. We'll get any shopping center out of a jam. A lot of our repeat business comes from people who can't get in touch with anybody on the weekend or a holiday. We pride ourselves on emergency response. We'll resolve the issue and continue to provide them with great customer service."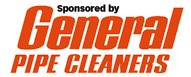 Show Us What You're Driving!
Think you have a vehicle worthy of PM's Truck Of The Month? Let us hear about it!
Send us photos of your service fleet electronically by e-mailing us
(Editor@PMmag.com), or mail us your prints to:
PM - Truck Of The Month
155 N. Pfingsten Road
Suite 205
Deerfield, IL 60015
PM's Truck Of The Month is sponsored by General Pipe Cleaners.
Links