A change for the better for Roman Plumbing.

Photo credit: Roman Plumbing
When he first moved from Queens, N.Y., to the Tampa area, Frankie Roman's  company mainly focused on custom home plumbing work.

But the economy had other ideas for Hudson, Fla.-based Roman Plumbing. "Change got me through the economic downturn," he says. "I had to adapt from doing new construction to doing primarily service work. I did have a background in service work from New York. We redirected our focus and I am glad I did it."

Roman started his business in 2002 and now deploys three service trucks around the Tampa-St. Petersburg area. Roman Plumbing's fleet features two Ford Transit trucks and one Dodge 2500 van.

"The Ford trucks are great on gas and we don't need to carry a lot of unnecessary material. We have less inventory," he says. "We'll use the van if we have to transport larger items such as 50- or 80-gallon model water heaters."

The trucks feature a distinct blue water motif, which includes a funnel on the trucks' sides and a wrench on the doors. "The wrap was my wife Joanna's idea," Roman explains. "We wanted something that dealt with water savings. We liked the idea of water droplets on the top and the water funnel on the side. The rest the designer (King of Wraps out of Port Richey, Fla.) fine-tuned."

Photo credit: Roman Plumbing
Roman also has incorporated the truck's design onto business cards, water heater and disposal stickers and back-flow inspection cards. "We wanted it all tied into the trucks," he says.

The response to the vibrant service trucks, Roman notes, has been positive from an awareness standpoint. He recalls one particular customer who zeroed in on the truck's design. "There was an elderly lady who thought it was raining outside," he notes. "She told me, 'Your truck is all wet.'"

Roman, who helped start the Tri-County chapter of the Plumbing-Heating-Cooling Contractors Association in the Tampa Bay area, says competition in the area is steeper than ever, but is confident the steps he has taken from a marketing, branding and business standpoint will help his company going forward.

"We are in a highly competitive market, which is flooded with unlicensed contractors and handymen," he says. "It's getting harder. We set ourselves apart from the competition. We keep a clean look with the trucks, we wear uniforms and we use a flat-rate book. We're there for our customers day or night. Professionalism in this industry goes a long way."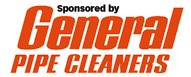 Show Us What You're Driving!
Think you have a vehicle worthy of PM's Truck Of The Month? Let us hear about it!
Send us photos of your service fleet electronically by e-mailing us
(Editor@PMmag.com), or mail us your prints to:
PM - Truck Of The Month
155 N. Pfingsten Road
Suite 205
Deerfield, IL 60015
PM's Truck Of The Month is sponsored by General Pipe Cleaners.
Links