This plumber has a 'Glowing' future.

Photo courtesy of Dun-RIGHT Plumbing and Heating
As he was getting started in the plumbing service business two years ago, 36-year-old Bill Dunphy, the owner of Dun-RIGHT Plumbing and Heating in the greater Boston area,  realized he had to make a big transportation decision.

With finances tight - four months earlier he had started the company with $27 in his pocket - Dunphy made the decision to forgo a new service truck in favor of purchasing a used one. He spent $4,500 on a 2002 Dodge Ram 1500 truck.

"It wouldn't have been wise to go out and pay $600-$700 a month for a new truck right after starting a business in one of the worst economies people had ever seen," he explains. "It was more important to me to put that money toward advertising."

These days that repainted metallic blue, yellow and black 2002 Dodge turns plenty of heads in the metro Boston area thanks to the use of reflective, vinyl lettering. The lettering, by Mike Rapoza of West Bridgewater, Mass.-based Rapoza Signs, glows in the dark.

"I wanted to be seen if I was out at night," he says. "It was another way to advertise."

The truck at night. Photo courtesy of Dun-RIGHT Plumbing and Heating
The unique lettering touch has produced its desired result.

"I've gotten a few calls where people will say, 'I saw you go down the highway the other night,'" Dunphy states. "You don't really see the truck because it's so bright. It moves through the air. Any light that hits it, it lights up. It really stands out. My neighbors don't like it too much."

There is additional lettering on the truck that holds a place close to Dunphy's heart. On the side of one of the truck doors is the inscription "Mom's and Billy's Dream." The phrase honors his late mother, Louise Dunphy, who encouraged him to revisit a career in the plumbing field after an earlier flirtation with the business in his younger days.

"Unfortunately Mom never got to see this," he says. "She was the one who gave me the little push to look into plumbing again. That's why it's on the truck. I have an angel looking over me. She's with me every day.

"As the business grows and I get more trucks, there will be something in reference to Mom on them. She helped me with this, and it's the best choice I ever made for myself in my life."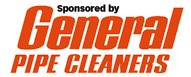 Show Us What You're Driving!
Think you have a vehicle worthy of PM's Truck Of The Month? Let us hear about it!
Send us photos of your service fleet electronically by e-mailing us
(Editor@PMmag.com), or mail us your prints to:
PM - Truck Of The Month
155 N. Pfingsten Road
Suite 205
Deerfield, IL 60015
PM's Truck Of The Month is sponsored by General Pipe Cleaners.
Links