AAA Service Plumbing, Heating & Electric really captures "The Power Of Pink".

AAA Service Plumbing, Heating & Electric service vehicles certainly stand out. Photo credit: AAA Service Plumbing, Heating & Electric.
Sarah Enright is proud to be a female plumbing company owner.

She shows that pride through Denver-based AAA Service Plumbing, Heating & Electric's fleet of service vehicles.

Not only are eight of the company's 31 trucks pink in color, but they show the 25-year-old Enright on the side of the Spartan boxes that sit on Ford E350 Super Duty Cutaway chassis.

"We were doing a big campaign for Susan Komen (Susan G. Komen for the Cure breast cancer awareness) and we were playing around with the idea of pink advertising and realized how much we really liked it," she says. "We changed all of our advertising. Everything we do has a pink touch to it."

Enright, whose father, Mike, started the company 27 years ago with only one truck, became the company owner in 2010. That is when the idea was hatched to feature herself on the trucks.

"I wanted people to be aware we are a woman-owned company," she states. "This is a male-dominated industry. There are women in the industry, but there are so few in this role. I'm grateful my father gave me the opportunity to be in this company and continue on with it."

At first, there was a snafu with getting her photo on the trucks.

"We were trying to cut-and-paste me in, but it wouldn't work because the photo was so old," Enright explains. "We did a whole new shoot for it last year."

Golden, Colo.-based New Vista Image handled the design and wrapping of the eight trucks, which have drawn rave reviews around the metro Denver area.

"We've really been promoting and advertising (being a female-owned company)," Enright says. "We get people calling in saying it's great to have a woman owner even if they don't need service. It's been pretty powerful."

Enright also is proud of the design that adorns the back doors of the trucks, promoting various specials such as drain-cleaning ($99) as well as water heater ($47) and toilet ($27) tune-ups.

"We had a motto of not taking part in the downturn of the economy," she states. "A lot of people have cut back on marketing due to the economy, but we decided to continue to advertise. We want to make sure we are still out there. It's worked out really well."

Enright joined the company, a Nexstar member, out of high school in 2004 and has worked her way up the company ladder over the last eight years.

"I was the cleaning lady when I was still in high school," she states. "I've done field coordination, customer service and dispatch. I've worked in the warehouse and the accounting department and recently became service manager.

"It's really funny. When I was a little girl I used to joke I would be on the side of the trucks one day. It makes me chuckle every time I see one of them. I've come full circle."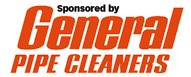 Show Us What You're Driving!
Think you have a vehicle worthy of PM's Truck Of The Month? Let us hear about it!
Send us photos of your service fleet electronically by e-mailing us
(Editor@PMmag.com), or mail us your prints to:
PM - Truck Of The Month
155 N. Pfingsten Road
Suite 205
Deerfield, IL 60015
PM's Truck Of The Month is sponsored by General Pipe Cleaners.
Links