Photo credit: Maccarone Plumbing and Heating
Truck No. 21 holds a special distinction for Glen Clove, N.Y.-based Maccarone Plumbing and Heating.
"It's a 1994 Ford and you can barely see the lettering on the side," proudly notes Lou Maccarone Sr., who, after leading the company for 35 years, stepped down as president two years ago, but still maintains a key presence. "It has 260,000 miles on it and has never had the engine apart. That's longevity. It's been a godsend for us."

That truck is part of a company fleet of 50 service vehicles, which also includes 17 Chevrolets, 11 Ford vans, 11 Sprinters (one of which is pictured above) and two Isuzus (one with a Hackney body).

The company places a high importance on functionality, durability and the look of its service vehicles. Two mechanics are on call seven days a week, ensuring the fleet runs smoothly.

"Yes, it costs more to have mechanics, but the most important cost is knowing those trucks will run from Monday morning through Friday night," Maccarone Sr. states.

Maccarone Sr.'s son and company vice president, Louis Jr., created the eye-grabbing faucet and flowing water artwork on the service vehicles. Oyster Bay, N.Y.-based M4 Graphics designed and wrapped the vehicles for the 90-employee union shop, which is a member of New York State Association of Plumbing, Heating & Cooling Contractors.
"The color on the back of the trucks is the same sea foam green color as the first truck I ever bought, a 1968 Chevy," notes Maccarone Sr., whose other son, John, is the company president. "Louis took that color and blended it in. You can't not know these trucks are around. They stick out like a sore thumb. They are very catchy."

Maccarone Plumbing and Heating, which dates back to 1934 when Maccarone Sr.'s father, John, started the company, offers a wide range of residential and commercial service and repair work - including fire sprinkler installations and water treatment options - to all points from the bright lights of Manhattan to the lighthouse at Montauk Point on Long Island. The company, which offers a 24/7 service guarantee to its customers, recently started work on the new 700,000-sq.-ft. Canon North American headquarters building off the Long Island Expressway.

"We do just about anything that is able to come through the door," Maccarone Sr. says. "In all of these years, we have never said, 'No, we can't do this.' We say, 'Yes, we can.' The secret to our success is we are honest, fair and level. That's how we keep going."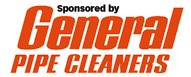 Show Us What You're Driving!
Think you have a vehicle worthy of PM's Truck Of The Month? Let us hear about it!
Send us photos of your service fleet electronically by e-mailing us
(Editor@PMmag.com), or mail us your prints to:
PM - Truck Of The Month
155 N. Pfingsten Road
Suite 205
Deerfield, IL 60015
PM's Truck Of The Month is sponsored by General Pipe Cleaners.
Links