These trucks are definitely attention-grabbers!

Photo credit: MacGregor Plumbing
Ever since MacGregor Plumbing President Julie Wieman started replacing her service fleet with Ford E-350 chassis including Unicell SRW bodies, a level of eagerness has developed among her technicians.

"The guys still in the old vans are frothing at the mouth waiting for one of these," Wieman states.

Thus far, Wieman has replaced five vans in her fleet of 24. The 109-inch-tall boxes allow technicians to stand upright while working with a custom-shelving system.

"There is an immense amount of room in there," she says. "There's a work area where you can tear a motor apart. It's large enough where we can stack a water heater upright."

In addition to providing better efficiencies inside the vehicle, the new Ford vans are a welcomed relief when dealing with the tricky Northern Michigan weather. MacGregor has locations in Harbor Springs and Charlevoix, serving resort towns situated on Lake Michigan.

"I really liked the idea of the bodies being fiberglass," Wieman says. "We can stop worrying about the rust (from salt trucks). The new vans are 1-ton. They don't get stuck in the snow. Some of these cottages are located down on the shoreline. It's not always easy getting out of there in the winter."

Besides investing in the new vans, Wieman, whose company mainly deals in residential service but recently added a trenchless sewer repair service, wrapped each one - an uncommon practice in her neck of the woods.
"Wraps have not caught on up here yet," she says. "Ours have garnered a lot of attention."

Wieman, whose company is a member of best practices group Nexstar, used Florida-based Sign Zoo to get the ball rolling on the design. Sign Zoo also installed the wraps.

The back door of the red vans features a stock photo of a plumber stepping out of the truck. One side of the wrap shows a sunken whirlpool tub, while the other side highlights three children who happen to be quite familiar with Wieman - her twin 7-year-old sons, Jack and John, and 4-year-old daughter, Madylin.

"We didn't do it intentionally," she laughs. "We spent four or five months looking for a photo that showed comfort and family friendliness. Someone suggested a photo of my kids. I sent some photos around and that one got the most votes without knowing those were my kids. It was not nepotistic. The joke is my kids will hate me when they are teenagers."

MacGregor, started by Wieman's late father, John MacGregor, in 1962, recently celebrated its 49th anniversary. The company's tagline, "The One You Can Recommend," has been its signature for the past two decades. Wieman is hopeful the response to the new vans is a sign of even greater things to come.

 "Our vans have always been our No. 1 marketing source," she says.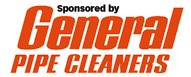 Show Us What You're Driving!
Think you have a vehicle worthy of PM's Truck Of The Month? Let us hear about it!
Send us photos of your service fleet electronically by e-mailing us
(Editor@PMmag.com), or mail us your prints to:
PM - Truck Of The Month
155 N. Pfingsten Road
Suite 205
Deerfield, IL 60015
PM's Truck Of The Month is sponsored by General Pipe Cleaners.
Links