✕
While hydronic systems have not yet captured the lion's share of HVAC solutions in the United States, a home in New Hampshire offers a glimpse of how the landscape might be changing within the next decade.
From the exterior, the four-bedroom, 3,500 square foot home in Jackson, New Hampshire, hardly looks remarkable. The hydronic heating system inside, however, is elaborate, thorough, and highly efficient. The property also includes a nearby barn that serves as a guest house.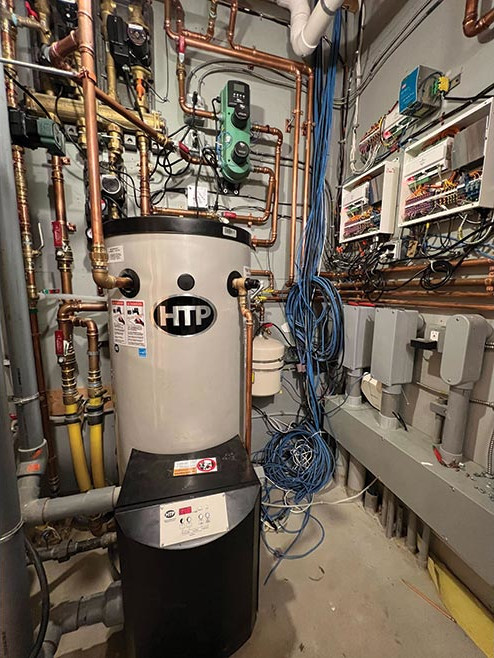 The system, designed by Messana Hydronic Technologies, includes 13 zones, a 5-ton heat pump and Messana's mSense room comfort sensors and controls. They monitor relative humidity, temperature and Volatile Organic Compounds (VOCs) for indoor air quality.
Fewer than 10% of homes in the United States include hydronic heating systems. In Europe, hydronic systems — which are dependent on heated or chilled water — are much more widespread. By 2030, about 70% of homes in Europe will include a heat pump.  The New Hampshire home, however, illustrates a trend that is taking root in several pockets of the U.S., notably New England and some Western states.
No doubt, more hydronic systems are coming. Heat pumps have a low carbon footprint, reduce costs and can be used for heating and cooling, among other advantages. "We're seeing more and more air-to-water heat pumps,'' says Bryan Rossi of Messana. "Hydronics have a much longer life span and the flexibility to use gas and electrical sources. It's very normal in Europe, but in the United States, there's a very small amount of hydronics on the market."
Heart of the system
A 5-ton Aermec air-to-water heat pump serves as the heart of the hydronic system. It supplies hot and cold water to several radiant floors and Jaga hydronic fan coils.
The home's first floor utilizes a radiant floor for first-stage heating and cooling, and six fan coils for second-stage heating and cooling. The second floor uses Jaga Briza 22 fan coils to provide heating and cooling to the upstairs bedrooms, and electric radiant floor for heating the bathrooms. The barn uses a concrete radiant floor for both heating and cooling.
While it seems complex, Rossi said the system is quite simple. Messana designs systems for residential and commercial buildings of all shapes and sizes. The company designed a system for a home in Palo Alto, California that extended across 13,477 square feet as well as a 27,000-square-foot house in Massachusetts. The New Hampshire project covered 5,000 square feet, including 1,500 square feet in the adjacent barn.
"It's a fairly simple system for the most part,'' Rossi says. "It's a single tank with radiant floor heat on the first floor. They used 1-inch thick hardwood floors, which is extremely thick. The Btu output in cooling is not super high. The fan cooling is designed to supplement those areas, to ramp up and down as needed. The upstairs has no radiant heat. The barn has its own radiant floor for heating and cooling but no supplemental coil."
The perfect temperature
Temperatures in Jackson, located in New Hampshire's White Mountains, vary widely over the course of a year. During winter, temperatures can dip into single digits while summers can reach the upper 70s. The average temperature in the town of about 1,000 residents is a chilly 41°.
With the extreme temperature changes, Messana's room comfort sensors play an important role in maintaining the proper setting for the homeowner.
More and more homeowners are embracing the technology that allows for complete temperature control and other comfort settings. Messana's mSense measures the operative temperature by combining the influence of air and radiant temperature in a way similar to a person's skin.
Sensors also pick up relative humidity and air quality. A gas sensor measures CO2 and other substances that directly affect a person's health.
"People typically respond to thermal discomfort by continually readjusting their thermostat,'' Rossi says. "An air-based thermostat never represents the real human thermal exchange. mSense comfort sensor is an essential element of a climate control system especially in presence of radiant ceiling panels but also in conventional radiant floor and air systems."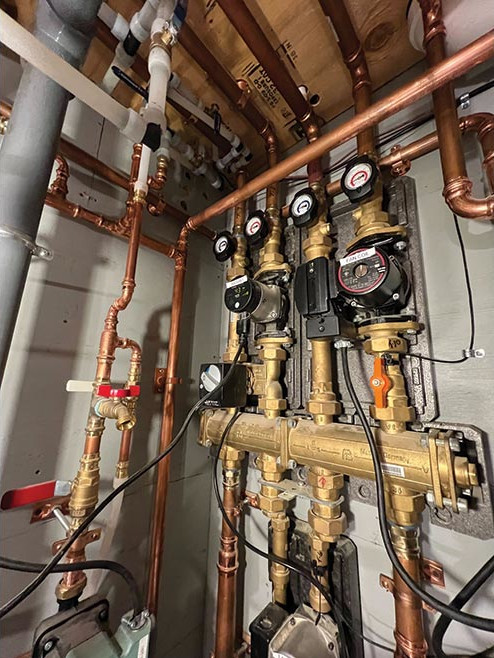 Backup plan
Since New Hampshire winters can call for a significant heating load, Messana also included an HTP Phoenix high-efficiency water heater in the project. The PH130-55 has a Btu/h input range of 35,000-130,000 and a 96% thermal efficiency rating.
"The Phoenix is a backup for the heating side of the house,'' Rossi says. "When the required buffer tank temperature is not being met, Messana's controls activate the HTP water heater to assist the air-to-water heat pump in reaching the required buffer tank temperature."
The Phoenix features a modulating burner that operates at a 5:1 turndown ratio, which provides high system efficiency even during low load conditions. A laser welded tank constructed with 316L stainless steel resists corrosion and a hybrid cupronickel/stainless steel heat exchanger offers superior heat transfer capabilities and expands and contracts rapidly, eliminating scale build-up and promoting self-cleaning.
"It's going to provide plenty of heat, and we were able to add another stage of heating by adding in a pump block without having to buy a whole other boiler,'' Rossi explains.
Shift to hydronics
Amid the worldwide battle to fight climate change, hydronics can play an important role in reducing a homeowner's carbon footprint while also saving money. Some sections of the country are adapting more readily, but the shift toward hydronic systems is going to hasten over time.
"You're going to see more and more demand for hydronics,'' Rossi says. "They have a much longer life span and the flexibility to use gas and electric, or to even use them together. That's the long-term plan for cooling and heating in the U.S. Right now, hydronics is such a small market. But it's very normal in Europe, where a lot of homes already have the infrastructure in place. I think we're definitely going to see that shift over to the U.S."