As businesses and homeowners across the nation wrestle with inflation and stretching their dollars for maximum value, one area that can't be overlooked is the heating system.
High-efficiency boilers come with a higher price tag, but the energy (and dollar) savings associated with the unit are usually the better choice when compared to a standard efficiency or cast-iron unit. There are instances, however, when a standard efficiency boiler is a suitable replacement. Also, homeowners may have their own expectations, and it's important for installers to knowledgeably explain the differences.
The primary difference between standard and high-efficiency models is the number passes within each heat exchanger. A high-efficiency model has two, three or four-pass heat exchangers. Boilers burn the gas, which heats up and rises toward the heat exchanger that cold water passes through. As the water circulates, the heat is transferred from the combustion process to the water, ultimately warming up the home. The multiple-pass heat exchangers allow the user to save more money per Btu during this heating process versus a single-pass standard efficiency boiler.
In conversations with customers, some important considerations usually develop.
One is lifespan. A properly installed and serviced cast iron boiler can last about 25 years. A condensing boiler will last 15-20 years. The energy and fuel savings of the condensed unit will more than make up the difference.
Perhaps just as important is educating the customer about servicing. A properly installed condensing boiler is far less labor-intensive than a cast iron boiler. For condensing boilers, most service calls can be completed in 90 minutes.
Here's some servicing math that can be easily communicated. The average heating season is about 2,000 running hours. If you used that number for a car that averages 20 mph, that's the equivalent of 40,000 miles. Would the customer drive a car 40,000 miles without getting serviced? It's unrealistic to expect heating systems to do the same thing.
The most important conversation with homeowners should focus on efficiency. High-efficiency boilers deliver 96% efficiency. Only 4% escapes through the chimney or vent pipe. Users can save up to 20% on heating costs in just one year, perhaps more if the boiler is particularly old.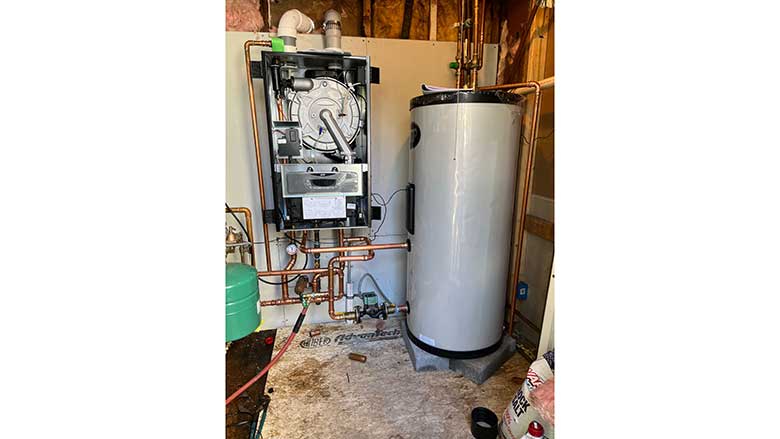 High-efficiency boilers save precious natural resources, too. Cast iron is an inefficient material for heat transfer. Every time heat or hot water is required, 450 pounds of cast iron and up to 15 gallons of water must be heated before the boiler can start heating the home.
Some other points can be conveyed to recalcitrant homeowners to explain the benefits of high-efficiency boilers. They include:
A modulating firing rate. A cast-iron boiler always fires at 100 percent regardless of the load;
Smaller footprint than a cast-iron boiler, making more floor space;
Completely sealed combustion, greatly reducing the chances of carbon dioxide spillage; and
Variable water temperatures based on outdoor temperatures. A condensing boiler can run at much lower temperatures than a cast-iron boiler. Lower temperatures lower fuel bills.
There are instances where a standard efficiency model is the better solution. Sometimes, the application envelope will not allow a high-efficiency model to be installed. The issue could be related to gas delivery, venting or space. The constraints in those instances usually come with a hefty price tag to correct, and customers are unwilling to address those issues to upgrade to a high-efficiency unit.
The most important conversation with homeowners should focus on efficiency. High-efficiency boilers deliver 96% efficiency. Users can save up to 20% on heating costs in just one year.
There's never a bad time to consider boiler replacement, but there are warning signs that merit attention. Watching for leaks, diminished thermal comfort and knowing the age of the boiler are important for owners to make proactive decisions about potential boiler replacement. Regular maintenance and monitoring by plumbing and HVAC professionals can ward off unplanned, exorbitant boiler replacement costs.
In the final analysis, high-efficiency models provide the best return on investment. The unit will pay for itself sooner than standard efficiency models. Plus, in commercial buildings where heating is needed for customer satisfaction, many units have Wi-Fi capabilities to ensure issues are addressed before customers notice.
While upfront costs for a high-efficiency model are higher, the money and energy savings across the lifespan of the boiler are worth the investment.