The radiant heating market is one that took the industry by storm in the early 2000s. More than two decades later, the acceptance and applications of radiant systems have grown exponentially. Experts describe the radiant heating market in 2022 as "consistent" and "expanding," citing labor, material and logistic uniformity shortages as the top challenges hindering radiant projects.
Ryan Westlund, senior manager, REHAU, says the acceptance of radiant systems has been more common in recent years. "We are seeing consistent demand for both residential and commercial. Though it's not spiking in growth as it was at beginning of the millennia," he says. "As knowledge spreads among engineers, and as their experience base and confidence in the systems grow, there's less fear about being the vanguard in a 'new technology.' They are using something they've used successfully in previous projects."
Jan Andersson, president of MrPEX Systems, agrees, pointing out that while radiant has grown, it is still a small fish in a big pond when comparing the entire heating market. "The general awareness of radiant heat has become a lot more widespread," he says. "The market is still growing every year; however, as compared to more traditional means to heat structures, it still represents a small percentage of the overall heating market."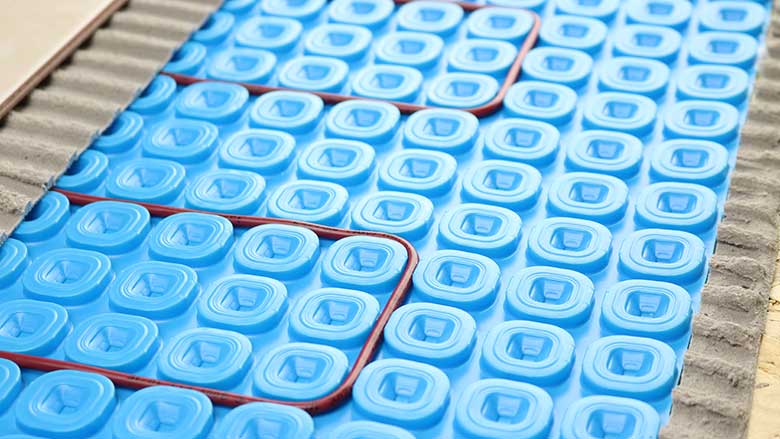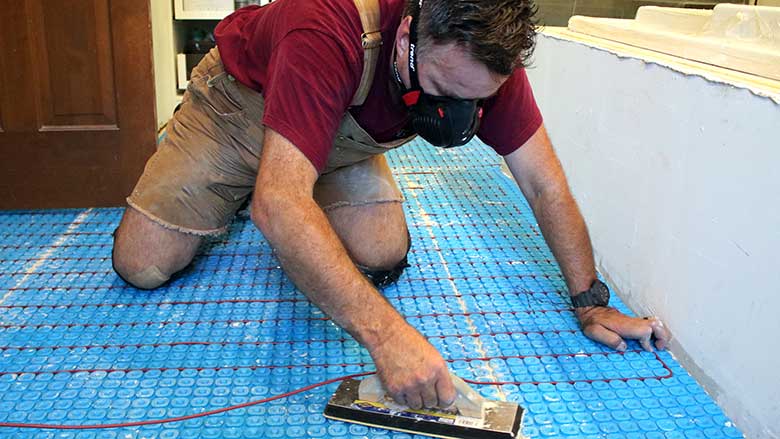 The unique design of WarmlyYours' Prodeso Uncoupling membrane allows for greatly accelerated installations of radiant floor heating—in fact, most floor heating installs with this membrane can be completed in a single day.
Photo courtesy of WarmlyYours
---
Growth in residential and commercial markets
The radiant heating market has always been relatively well known for its popular radiant floor heating systems in residential applications, but experts say today the commercial market is presenting ample opportunity as well.
Josef Marcum, radiant design engineer at Viega, says the radiant heating market is stable in the residential market and growing in the commercial market. "Universities, hospitals and large commercial projects are using radiant to create more energy-efficient buildings," he says. "It really helps 'green' up the commercial building industry."
Julia Billen, owner and president of WarmlyYours, points out the volatile housing market has pushed some homeowners to invest in more renovating projects. "The radiant heating market has been extremely strong over the last couple of years. In fact, it's been outperforming the housing market, both of which are historically very strongly correlated," she says. "This is largely because of high home prices and now high-interest rates pushing some buyers out of the market, which has left a sizable amount of money to be sublimated into renovating expenditures (such as installing floor heating) instead of home buying."
Billen adds that residential bathrooms and kitchens will continue to be frontrunners in that radiant heating market, but the company has seen a significant uptick in sales for home offices during and after the pandemic, and the commercial market is presenting some new opportunities as well. "Electric floor heating will always have a large share of the residential market, but the commercial market may contain significant opportunities for growth for radiant heating as property managers seek to create enticing spaces for workers returning to physical offices," she says.
Dave Sniadak, manager of public relations, Uponor, agrees, stating that home retrofit projects are driving the radiant heating market. "With more and more homes serving double duty as residence and workplace, people are spending more time at home than ever before. This shift in lifestyle has offered up opportunities to retrofit radiant into spaces homeowners had not considered in the past. This shift also aligns with consumers' desire to have a healthier indoor environment, as radiant improves indoor air quality, offers superior energy efficiency, and comfort throughout the home," he says. "While commercial radiant continues to be a strong market, Uponor is seeing incremental opportunities in the residential market due to this retrofitting trend."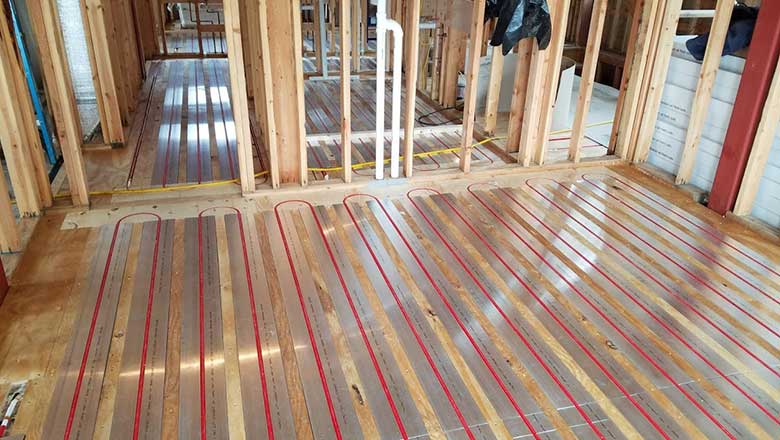 REHAU radiant floor heating system installed in a recent residential hallway and bathroom.
Photo courtesy of REHAU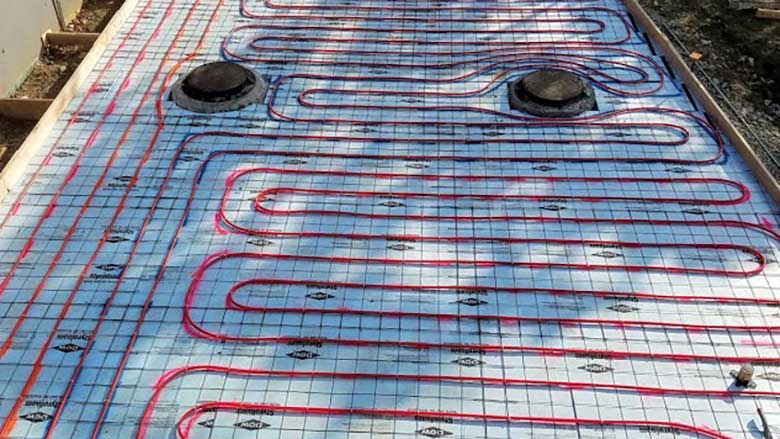 A REHAU snowmelt heating system installed under a driveway.
Photo courtesy of REHAU
---
Customer needs and challenges
As radiant heating systems become more popular in new commercial applications, and as installation ramps up due to more residential retrofits, the need for training and education continues to rise.
"The greatest need today is access to design services and competent installation guidance," Sniadak says. "Getting the proper radiant design training from a reputable manufacturer or working with a design professional to assist with the layout is the best way to ensure optimal system performance. As any radiant contractor knows, once the system is installed, it is almost impossible to fix a bad design."
Naturally, the ongoing lack of skilled labor and the need for more training go hand-in-hand.
"Labor shortages and the lack of trained workers in the field affect both the contractor and end-user," Marcum states. "Certain regions of the U.S. are more developed when it comes to skill level, but Viega offers both training and products that help close the gap."
The need for experienced people applies to all levels of the supply chain, as well as the multiple trade industries needed to install radiant heating systems.
"I feel that the biggest challenge is to find experienced people," Andersson points out. "This goes up and down the chain, but as radiant heat becomes more popular, knowledgeable installers will be a must as radiant heat systems are difficult to retrofit if something is not designed or installed correctly."  
Billen adds that education is needed outside of the plumbing industry as well. "One of the most common customer needs for both professional and homeowner customers has been the need for experienced radiant heating installers. Even the most seasoned tile installer only has a fraction of their total projects involve radiant heat, so oftentimes they can use a hand when they encounter something they're unfamiliar with in the field," she says. "To address this need, we developed a service branch for our business, called SmartServices, with options where we can either install the floor heating system directly, provide remote installation supervision, or perform onsite installation training."
In addition to a more skilled workforce, radiant heating pros point out that obtaining raw materials needed to make product has continued to be a challenge.
"The greatest challenge over the last year has been the raw goods needed to make the products and then the logistical nightmare that has plagued all industries, especially the construction industry this year," Marcum says.
Billen agrees, noting that relationships between local vendors have been key to working through supply chain challenges.
"Perhaps the biggest challenge that the radiant heating industry faces today is concerning logistics, particularly from overseas vendors that supply us with components and materials," she says. "There are ongoing issues that cause inventory shortages and shipping delays, which can negatively impact our customers. We're addressing this challenge by developing relationships with more vendors in our local markets to ensure that we'll have access to the components and materials we need."
Supply chain challenges are not the only logistic challenges the radiant heat market has to overcome. "Every building is slightly different, but nearly all specifiers are posed with a similar question at some point in the design charrette, 'How much energy will a radiant heating and cooling system save me, and what is my payback?'" Westlund says. "Without getting into complex EnergyPlus models, we are seeing most systems can save 30% to 35% of heating and cooling energy, by implementing a radiant-hybrid system paired with DOAS. Across most common building types and the plurality of climates, this has proven to be true. That said, everyone seems to prefer more nuanced tools to help support what we have anecdotally known for some time."
"The opportunity to educate consumers and professionals alike on retrofitting a space with radiant is very exciting." — DAVE SNIADAK, UPONOR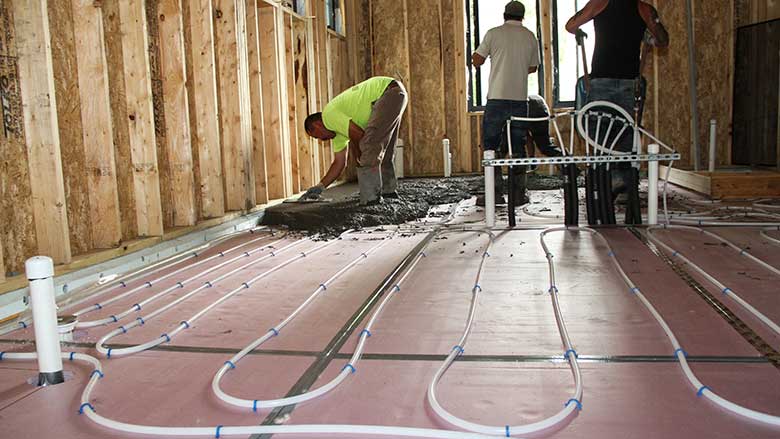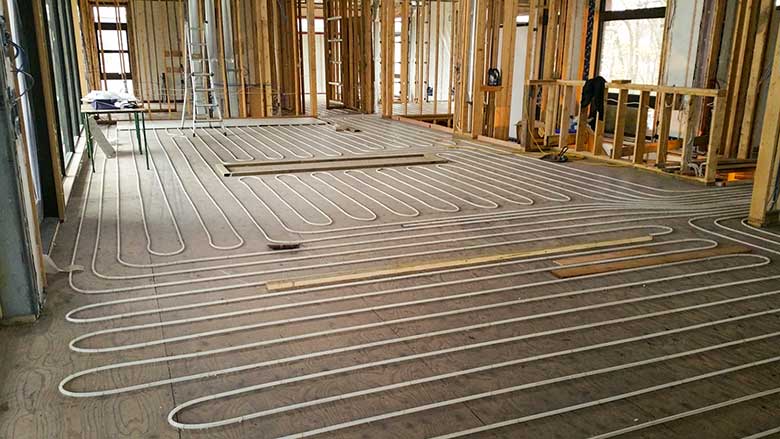 Home retrofit projects are driving the radiant heating market, notes Uponor's Dave Sniadak.
Photo courtesy of Uponor
---
A shift in mindset for efficiency
Radiant heating systems are known for providing long-term energy savings, but the challenge has always been getting end-users to see the big picture, given the initial investment it takes to choose or convert to radiant. All buildings and homeowners want to achieve energy savings, and with a national push toward decarbonization, radiant heat professionals say end-users need a greater understanding of long-term sustainability vs. energy savings.
"Previous discussions were always about energy savings, but we are starting to receive more inquiries and interest in the carbon footprint and embedded energy associated with the sourcing and manufacturing of HVAC components," Westlund says. "Everyone acknowledges that radiant systems, or more specifically the thermal mass, have to be part of the discussion when we plan a net-zero building."
Andersson points out that people need to understand the difference between regular convective forced-air systems and radiant systems. "Once they do, it is an easy choice given the opportunity to not only use energy efficient heat sources but also have a very efficient delivery system to allow you to zone better and focus on where the heat needs to be delivered."
Marcum says there is a common misconception about indoor comfort when it comes to radiant heat. "A big misconception is that a temperature number like 72° correlates with human comfort," he says. "People must understand that you can be more comfortable at lower temperatures for radiant heating and higher temperatures for radiant cooling, compared to an air system. With the temperature set point decrease in heating and increase in cooling, we can lower our energy requirements."
Continued growth
Despite education, labor and supply chain challenges, professionals expect the radiant heat market to continue to grow.
"I expect to see a growing number of low-temperature commercial heating systems with states and cities banning fossil fuels in the years to come so this will increase the demand for radiant because low temp air systems require trunk work that is very large and that increases the overbuilding size," Marcum says. "Radiant systems will continue to increase in the commercial segment to help lower overall construction cost. If you can cut your trunk sizes in half then you could lower the size of the building by maybe 12 inches per floor, if you had a 14-story building that is 14 feet less material you need use to construct your building, or it's a free 15th floor you can rent out."
According to Billen, the future of radiant looks bright as the country continues to become more aware of the impacts of fossil fuels. "With increased awareness of the impacts of fossil fuels on our environment, we fully expect to see significant growth in the electric floor heating market as people seek out better, more energy efficient options for heating," she says. "We also expect to see more and more customers combining their electric floor heating systems with programmable thermostats to further increase their efficiency."
Westlund agrees, stating that the market is aging, so the need for continuous innovations for ease of installation will grow.
"As the market becomes more mature, there will be a need for innovations in the accessory area to reduce costs of time and installation," he says. "We are seeing this in the European markets REHAU serves since they are a little ahead of us. Another example we are seeing in other countries is mass timber projects – where the building's skeletal structures are timber versus steel or concrete. These carbon-sensitive projects highlight the resilience and adaptability of hydronic radiant systems in different building designs."
Sniadak says Uponor finds it exciting to continue educating customers about the benefits of radiant heat. "The opportunity to educate consumers and professionals alike on retrofitting a space with radiant is very exciting," he says. "Through a range of potential installed applications — from knobbed mats laid down on existing slab, to aluminum plates installed under subfloors — the potential to enjoy the benefits of radiant without the need to rebuild foundation and flooring is accessible to a wide range of homes across the country."