There's no question that the pandemic has left a permanent mark on commercial restrooms. Seemingly overnight, the pandemic produced a new set of standards from which we, as end-users, now evaluate restrooms. These new criteria encompass everything from convenient, well-planned layouts to reliably easy access to touch-free tech and consumable products to the appearance of cleanliness — and many more factors.
The higher standard for restroom cleanliness remains elevated, notably as the public's use of restrooms has continued, even amidst recurring COVID-19 outbreaks. More than 40% of Americans have used public restrooms as often as they did before COVID, according to the 2022 Healthy Handwashing Survey. Interestingly, 27% say they use them even more now than a few years ago.
What's more is that end-users are highly sensitive to the cleanliness of restroom environments. In fact, almost 60% say they are likely to spend more cash at a business with clean, well-maintained restrooms. Another 58% say when out running errands they'll take restroom breaks at a business that is known for providing restrooms that are well cared for.
Expectations and performance specs for washrooms are elevated, and the performance of today's products, materials and layout strategies have followed suit. Here are four trends in restroom design and construction that contractors, specifiers, and designers should consider.
No 1: Simplify restroom layouts for easier navigation
Prior to the pandemic, restroom designs were calling for space maximization to increase traffic flow and sustainability. Since 2020, the focus has shifted to reducing cross traffic and supporting social distancing in restrooms.
Specifically, design elements like eliminating doors, adding S-curved and automated doors and widening doorways, have been increasingly popular. Designs that encourage one-way traffic not only ease traffic flow, they help reduce close physical contact. Layouts with restroom stalls forming a perimeter around communal washing stations with open circulation are also becoming more common.
Restroom partitions are now featuring LED occupancy indicators built into the cubicle system so restroom users needn't try to open each door for availability. When the cubicle door locks, the light band turns from green to red so that users can easily see which cubicles are available and which are occupied. Besides providing a simplified visual guide, the LED indicator becomes a modern highlight in the restroom's design.
For multi-user restrooms, new washbasin designs with increased space between the handwashing areas while washing hands. Easy-to-access handwashing stations located outside of restrooms are also growing in popularity. 
Further, configuring sink areas with soap and drying options close to sinks — along with adequate trash bins — keep handwashing traffic moving and eliminate the need to move from the sink with wet hands that drip water on the floor. All-in-one handwashing fixtures that have the soap, faucet and dryer all in one unit can also help to contain water.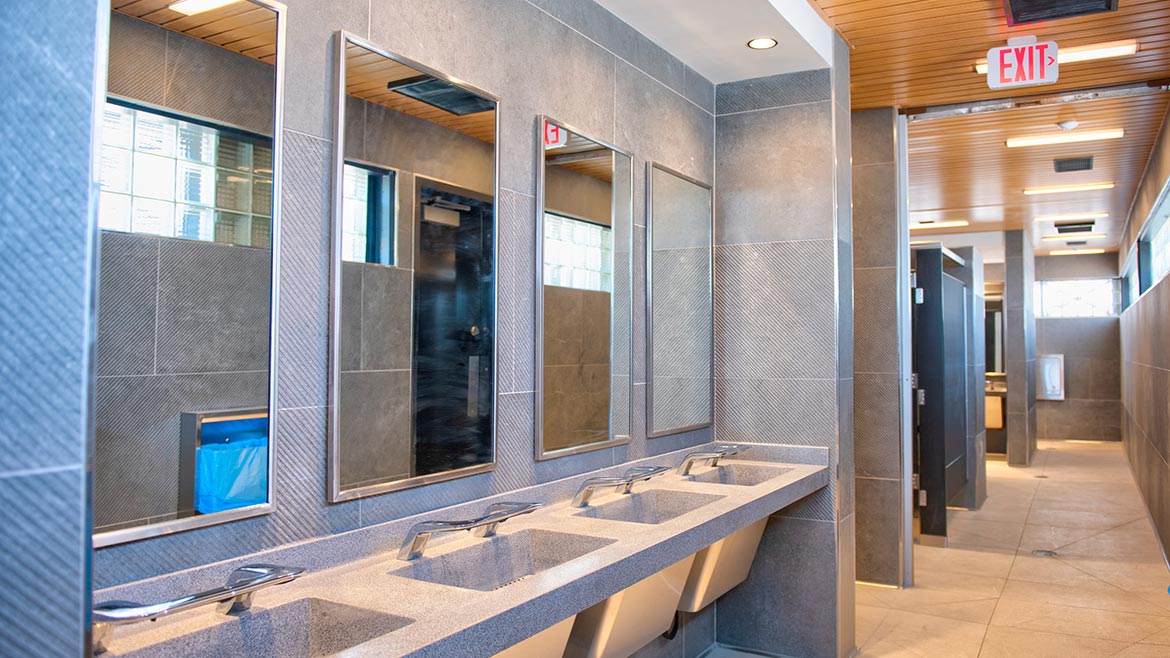 No. 2: Clean up the air
While bad odor in restrooms is a big turnoff to end-users, the presence of odor also implies the air is not being ventilated properly and, therefore, may be contaminated with aerosolized contaminants. In other words, a bad smell can be viewed as a predictor of poor Indoor Air Quality (IAQ) and the overall cleanliness of a restroom.
According to Centers for Disease Control (CDC), coronavirus appears to spread indoors through close personal contact and via poor circulation of building ventilation systems. The American Society of Heating, Refrigerating and Air-Conditioning Engineers (ASHRAE) advises that ventilation and filtration provided by heating, ventilating, and air conditioning systems can reduce the airborne concentration of SARS-CoV-2 and thus the risk of transmission through air.
Robust HVAC systems that that exhaust the proper amount of air — flowing in the right direction and in the right quantities — is vital to diluting airborne contaminants in restrooms. Increasing the introduction of outdoor air can also improve ventilation. Opening outdoor air dampers beyond minimum settings can help reduce or eliminate HVAC air recirculation. Filters must be changed and duct systems cleaned regularly for optimal performance.
No. 3: Choose hygienic materials and finishes
For today's sinks and countertops, using smooth and nonporous materials with seamless construction like natural quartz and solid surface help prevent bacteria, mold and delamination accumulation and growth. Durable, sustainable and beautiful, these materials can be easily cleaned, disinfected, repaired, reused and have a longer lifecycle. Being cast-formed, they can be specified in many attractive shapes and forms. They are also available in a wide variety of nature-inspired colors and may be specified with recycled content.
For soap and faucet fixtures, PVD coatings are not only a more sustainable way to finish metals than traditional electroplating, they're fundamentally antimicrobial and environmentally friendly. Produced with physical vapor deposition (PVD), which is an advanced process that creates a molecular bond to the fixture, the coating for the finishes will not corrode or fade. Choose from a variety of PVD finishes to complement any restroom design.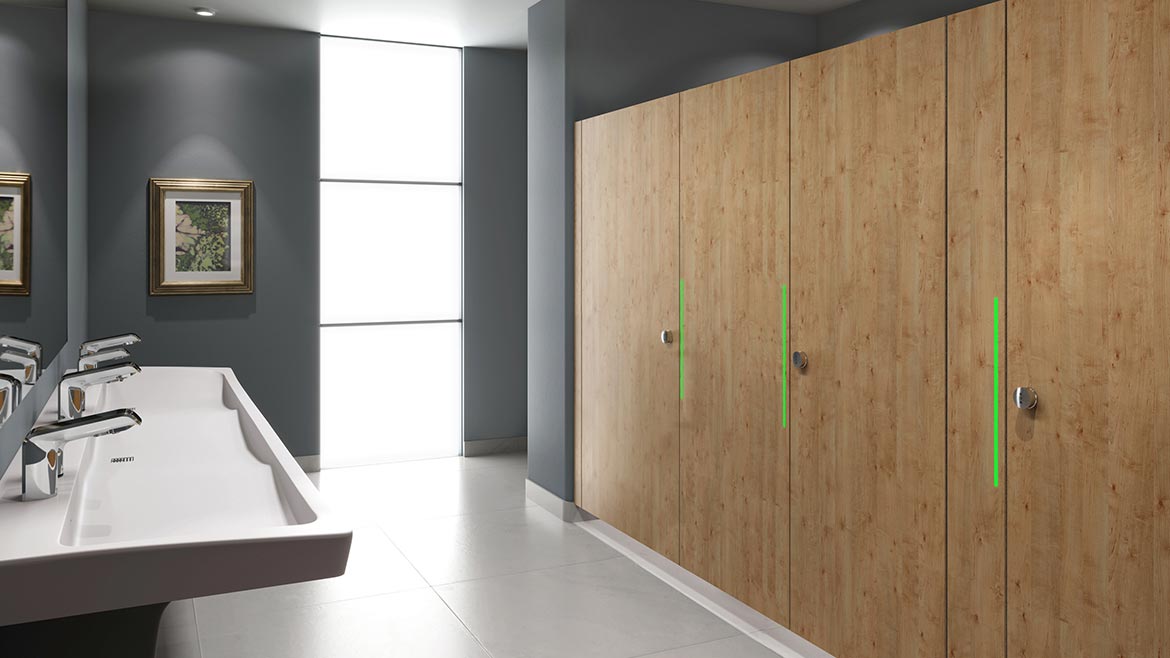 No. 4: Ensure a touch-free washroom experience
The days of manually operated restroom fixtures are numbered. Research by Bradley Corp., conducted in 2020, shows that architects/designers expect to see high increase in specs/demands from clients for touchless fixtures in years to come.
That is echoed by 2022 research with end-users: The Healthy Handwashing Survey of American adults shows that access to touchless fixtures is the number-one improvement requested for restrooms. It's also the top feature that makes them feel "safer" from germs in restrooms.
Further, 84% believe it's important for public restrooms to be equipped with touchless fixtures and 63% say they are more likely to return to a business that offers no-touch capabilities in its restrooms.
The top touchless restroom features considered most important are faucets, soap dispensers, flushers and restroom entrance doors.
Fortunately, to coincide with increased consumer demand, the mechanicals used in sensored technology have been greatly improved. While some older touchless models include sensors that deliver spotty soap and water activations, today's designs incorporate advanced sensing technology to ensure continuous and reliable washing.
Beyond performance, hygiene and convenience, touchless fixtures are easier to keep clean, maintain and service than manually activated fixtures.
Today's washrooms have a number of hygienic, functional and aesthetic upgrades inspired and/or fast tracked by the pandemic. Whether or not the pandemic sticks around, these new priorities that provide users with a safe and healthy public bathroom experience are here to stay.