It's been more than two years since kitchen and bath professionals, designers and builders have gathered for the industry's largest trade show and conference — the Kitchen and Bath Industry Show (KBIS), which is held annually in conjunction with the National Kitchen and Bath Association (NKBA).
KBIS is co-located with the National Association of Home Builders' International Builders Show (IBS). Together, the two events make up Design and Construction Week (DCW), which pulled more than 60,000 attendees to the 2020 show in Las Vegas.
More than 600 kitchen and bath exhibitors use KBIS/IBS to showcase the latest product technology and design trends to the tens of thousands of designers, dealers, architects, showrooms, builders and remodelers who attend the show. For the first time since 2018, DCW is returning to the Orange County Convention Center in Orlando, Florida, this Feb. 8-10.
According to KBIS Show Director and Group Vice President of CEDIA Expo & KBIS at Emerald Jason McGraw, registration as of early January was about 20% behind the 2018 Orlando show, but the show team is projecting to have about 60,000 attendees.
"Planning for KBIS and DCW is like running a marathon," McGraw explains. "In fact, we begin planning for the following year's event more than 18 months in advance. There are so many details and moving parts, it takes a large team of staff from the NKBA, Emerald and NAHB to pull the whole show together including the efforts of our exhibitors, the show's partners, vendors, host city and hotels."
Although two years have passed since the onset of COVID-19, the country and industry are still very much dealing with the pandemic as cases continued to surge from late 2021 through early 2022, with a new variant emerging.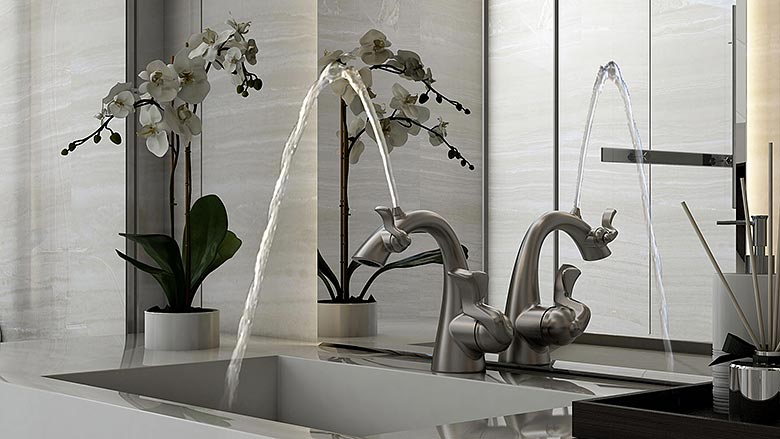 "With the COVID-19 pandemic, we've had to adapt our plans and implement health and safety protocols to provide a safe environment for all attendees and exhibitors," McGraw says. "We've also added more digital and on-demand options for the show in addition to an online matchmaking platform and new mobile app. We plan to capture more of the show floor sessions and exhibitors' new products via video to offer on-demand following the show."
Along with the enhanced on-demand streaming options, KBIS has some other exciting features in store for the 2022 show.
"In addition to the tremendous line-up of exhibiting brands on the show floor, we have a number of exhibit pavilions this year including the German, ICFF, Kickstarter, NKBA Global Connect, Outdoor Living and Wellness pavilions, as well as our Discovery District with up and coming brands," McGraw notes. "NKBA's Voices from the Industry (VFTI) conference is set to have 80 new content sessions from leading industry designers and experts that will be offered both live and on-demand."
McGraw adds that the KBIS NeXT Stage — a compilation of presentations, panel discussions and award programs — returns in 2022 with a whole new offering of live sessions on the show floor exploring the latest trends and design hot topics including some exciting surprise guest speakers.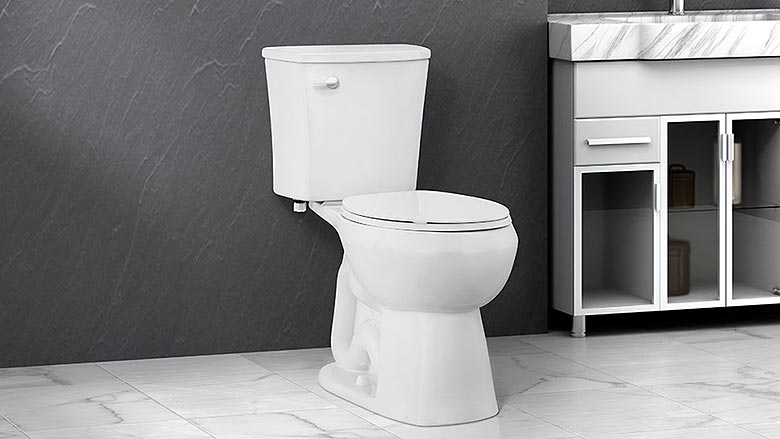 Trends to expect on the floor
Much has changed in terms of hygiene and product functionality priorities since the last KBIS show in early 2020, which took place just prior to when most of the public became aware of COVID-19.
McGraw expects to see many products on the floor that mirror the general public's desire for cleanliness, smart home capabilities and enhanced overall wellness.
"According to NKBA's Design Trends 2022 Report, we'll see a continued rise in smart home and technology products and solutions for the kitchen, bath and throughout the home. With so many homeowners and their families spending more time working, learning and entertaining at home, flexible multi-functional products are in high demand," he says. "Bold colors and natural themed products will gain more traction. And with the ongoing pandemic, the desire for easy to clean products and health and wellness solutions are also in demand."
Bathroom faucet and water filtration manufacturer Nasoni adds that there will be more attention drawn to water conservation and safety on the 2022 show floor.
"We are hearing an emphasis on health and wellness, and especially concerns about water quality coming out of faucets. One market that continues to grow is the senior housing industry, and we assume there will be much interest in innovative products to assist seniors with their daily hydration and hygiene routines," Nasoni President and CEO, Steve Waddell says.
Waddell adds that smart faucets are remaining popular and as the remodeling market continues to surge, customers are looking to upgrade kitchens and bathrooms and stay in their existing homes.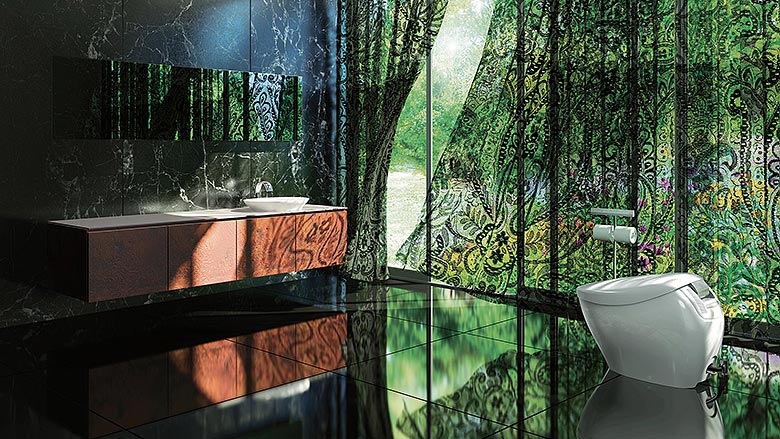 Niagara Conservation also points to water conservation as a prominent trend this year. "Water conservation needs to be at the forefront of everyone's minds. Looking at the water levels at Lake Mead is evidence enough that we as a society have to conserve water where we can, but the rising sewer and water fees force us to face the reality that water is expensive," says Jenni Steele, vice president of marketing at Niagara. "Thankfully, the government is willing to help those who want to conserve water through the recently approved infrastructure bill, so we're excited to see what innovative technologies arise."
Bill Strang, president of corporate strategy at TOTO, agrees that water safety and conservation are top-of-mind.
"KBIS presents the unique and important opportunity for TOTO to work alongside its competitors for the benefit of the kitchen and bath industry as a whole and its end-users," he says. "We stand shoulder-to-shoulder with other kitchen and bath manufacturers to ensure that legislative, codes and standards efforts across the country are prioritizing water conservation and safety."
Strang points out that TOTO, alongside other manufacturers such as Delta, Moen and American Standard, have a group that gets together to meet specifically on codes and standards. "It's important to have a competitive spirit, but also to work harmoniously together to make sure our industry is making things work more efficiently," he says.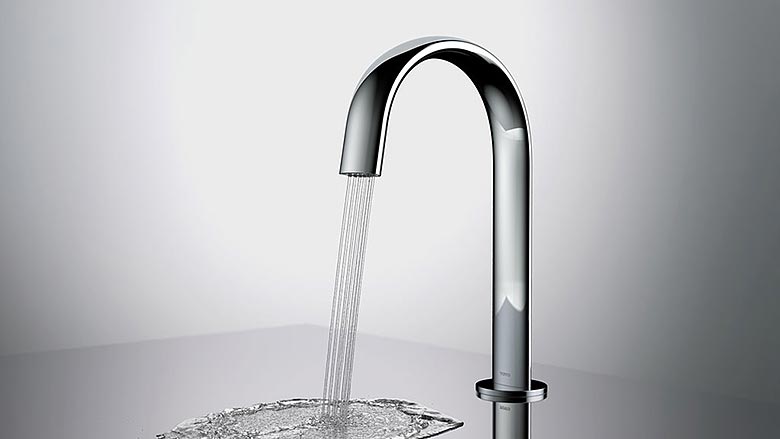 It's no secret cleanliness will be at the forefront of bathroom and kitchen products for years to come.
"At KBIS you'll see many products focused on enhancing the health and safety of both home and public spaces," Strang says. "From TOTO, one example is our WASHLET Bidet toilet seats which have electrolyzed water — drinking water — what sprays into the bowl of the toilet after every use. It's not only important to create bathroom experiences that are comfortable and relaxing, but also extremely hygienic as well."
In terms of product design and aesthetic, some exhibitors say modern, minimalist designs are popular.
"At Peerless, we've focused on minimalist, modern design and functionality technologies in our products at an affordable price. We tap into what homeowners want by running a series of tests and closely watching how trends perform in the market," Peerless, a division of Delta Facuet, says. "We've come to find that these homeowners are inspired by contemporary and transitional designs and want to bring those elements into every part of their home."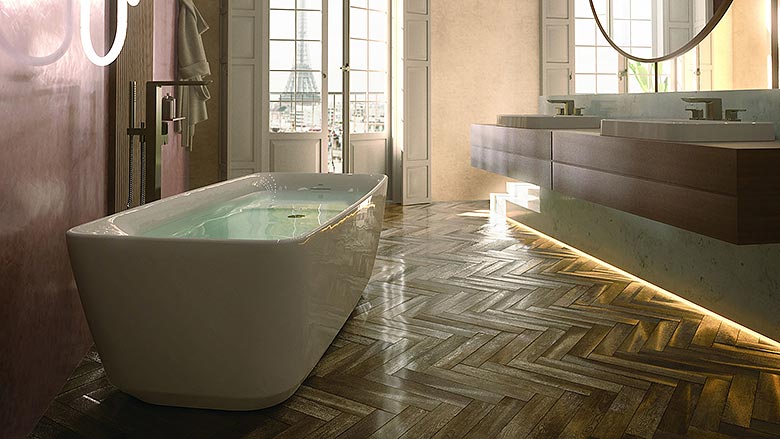 In terms of style, a House of Rohl survey found that 58% of homeowners want to be able to showcase their personal style within their kitchen, whether that's through faucet intricacies, materials or colors.
"The past two years have had a lasting impact on the kitchen and bath space. Consumers want their homes to feel like a relaxing retreat with exquisitely designed products that inspire holistic wellbeing," a House of Rohl spokesperson explains. "We expect to see more products that cater to the hygiene-conscious homeowner as they are looking to reduce germs and cross-contamination. Kitchen and bath products made with easy-to-clean and bacteria-resistant materials are also expected to be prominent."
AIRMADA Drying Solutions is a manufacturer of shower drying systems and will be exhibiting at KBIS for the first time this year.
"The pandemic made us all realize that we can and need to view our homes in a different way — a way that is more thoughtful, healthy, and that truly suits our needs," says Rebecca Jones, North America territory manager, Airmada Drying Solutions. "I am expecting to see innovative products focused on making daily life easier."
Making daily life easier is where smart home products shine. Exhibitors note that providing smart home solutions, without being invasive, is key.
"It's important for TOTO that when new technology is introduced, it must provide an enablement to the user; it must improve the overall experience," Strang explains. "But this technology cannot be intrusive. It must be introduced in a way that provides a cleaner, better experience, without requiring the user to take extra steps; it needs to be a seamless experience."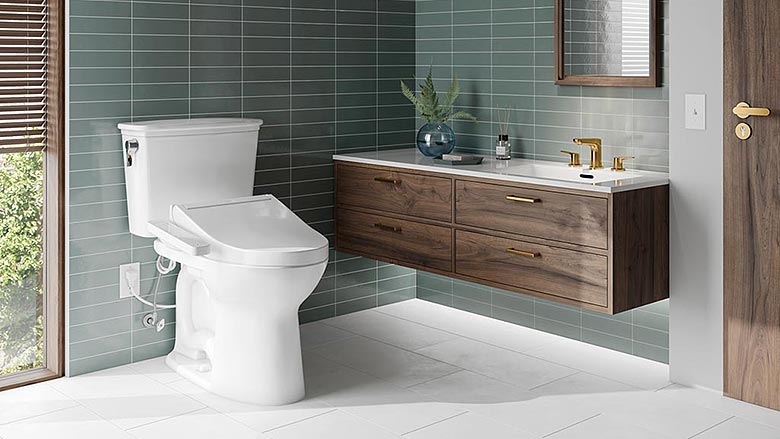 Excitement is building
With so many new technologies trends taking center stage within the bath and kitchen sector, exhibitors are eager to get back to an in-person trade show experience.
"After a very challenging two years, we believe there will be a lot of excitement and energy in seeing the latest products and innovations," Nasoni's Waddell says. "We thrive on engaging directly with our customers (and even our friendly competitors), and those interested in our products, including potential team partners. We learn a lot in this setting and anticipate a really great show."
Niagara's Steele agrees, saying connecting with industry partners will be a highlight of KBIS 2022. "Seeing and connecting with our partners in the industry. Niagara is a family company, and with the struggles of the pandemic, we have really missed being in person. This will be a chance for us to reunite with our industry family and to show everyone what we've been working on this past year."
McGraw summarizes it well, saying KBIS 2022 should be a celebration of the industry.
"Getting back together in-person, face to face at KBIS 2022 is going to be terrific. It certainly has been a challenging couple of years for the events business with the pandemic, but we're ready to kick off 2022 with a celebration of the industry gathering together again in Orlando next month. There will be so many new products and innovations to see from hundreds of the industry's top brands," he says.
Photos courtesy of NKBA (KBIS event photo), Nasoni, Niagara Conservation and TOTO.