What do street drag racing, stock car racing, a senior basketball team and kite surfing have in common? They're all hobbies of professional plumbers. Pretty cool, right? Pfister certainly thinks so, as the bath and kitchen manufacturer has launched a new docuseries featuring the lives of plumbers throughout the U.S.
"American Plumber Stories," aims to promote the plumbing trade to the next generation of professionals. The show highlights the stories of plumbers around the nation, including how they got started in the plumbing trade and the passion they have for their profession. These stories show how they built a career that allows them to lead financially rewarding and fulfilling lives. The show will also feature plumbers and their unique hobbies, such as car racing, kite surfing and competing in equestrian events. Country music singer and Army veteran Craig Morgan wrote the theme song, "The Good Life," for the show and hosts each episode.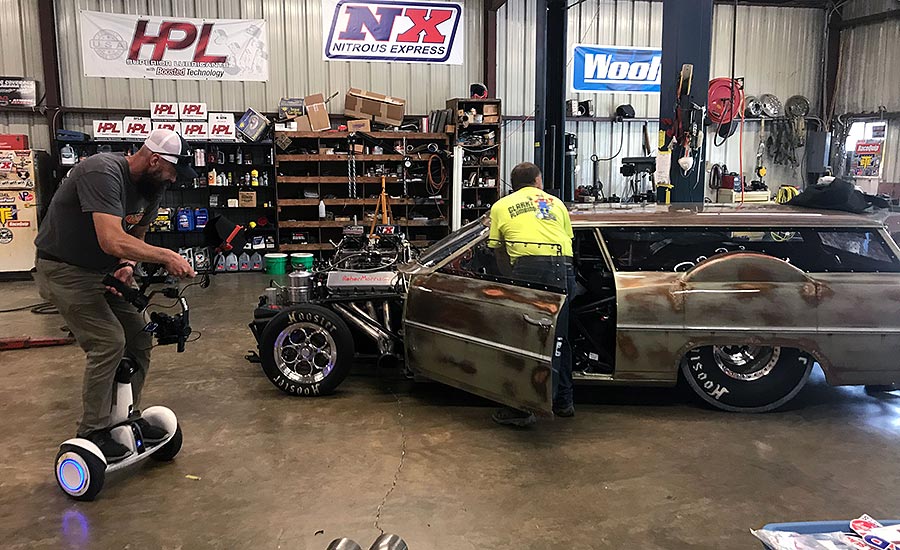 "We have three goals with this series: To inspire, educate and entertain," says Spencer Brown, director of sales for Pfister and producer of the docuseries. "The younger generation needs to see this trade firsthand, and not just because a guidance counselor thought they should get into the trade. We want them to be inspired. The second part is education — how does one become a plumber? What steps does it take? What programs are there to get involved? Whether it's high school to trade school to learning on the job, we want to educate them. And lastly, we want to humanize the plumber. When I say that, I mean what do they do in their free time, what are their hobbies? Whether they're kite surfing on the Columbia River or racing cars or horse show competitions, we wanted to have some type of entertainment because you have to keep the younger generation focused on what we're trying to do here."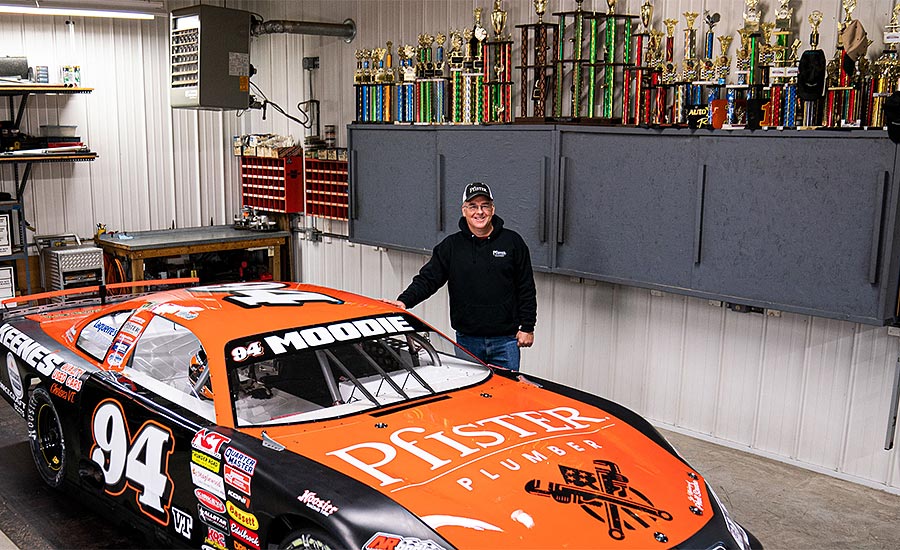 An idea born during the pandemic
The COVID-19 pandemic brought the world to a screeching halt, and because Brown was no longer traveling all the time, it allowed him to think about moving the Pfister brand forward.
"I knew eventually we would get through this, and we could kind of reset — I reflected on all the plumbers who I've been dealing with over the past 20 years, just thinking about what we could do differently," Brown explains. "The most common thing plumbers would tell me from Florida to California was always the same thing: Shortage of labor. Their No. 1 issue was they don't have enough people to work. They're constantly advertising for plumbers, and they would take anybody — no experience needed. They would tell me they could do a lot more work if they had more plumbers.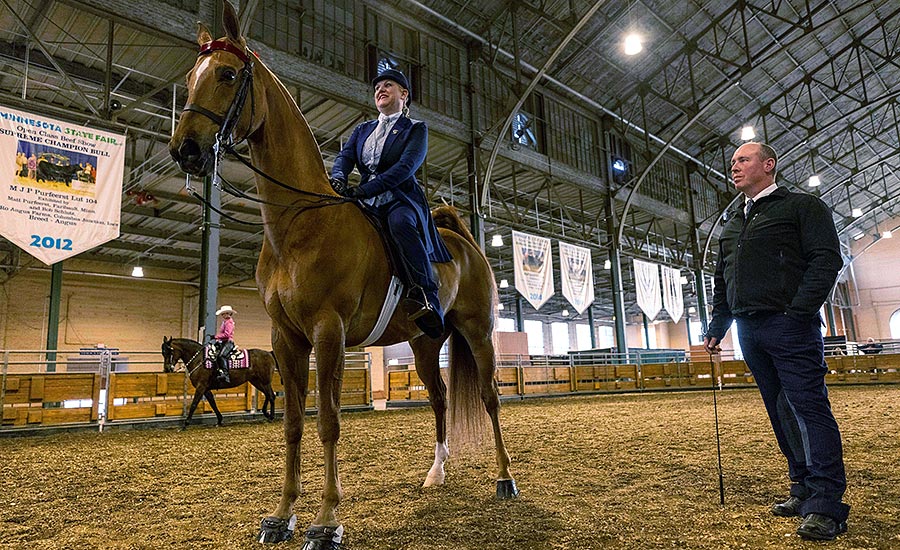 "I just remember reflecting on that because I knew what their lifestyle was like (because I have a good relationship with these plumbers)," he continues. "It is a financially rewarding, great job. We needed to show people why this is a great job, that way, you get more people interested in the industry. These plumbers all have great stories, careers, hobbies and lives, and this docuseries is a way we could show people that. I had this idea to let's show the next generation what plumbers are all about."
Brown reached out to Producer Mark Womack with Sub7 Production Co. with his idea, and Womack immediately emailed him back. Not knowing Brown's vision, Womack explained the work he had been doing with Academy Sports by traveling around the country telling stories.
"That's when it hit," Brown says. "I was like, 'We're going to tell the stories of a plumber.' That's where the title came from — American Plumber Stories. Mark shared a baseline of how he wanted to do the show, and it evolved from there."
Much like the plumbing profession in general, Pfister has had to overcome some negative perceptions of its brand as well. Brown saw "American Plumber Stories" as a way to tell the manufacturer's story as well by combining them together.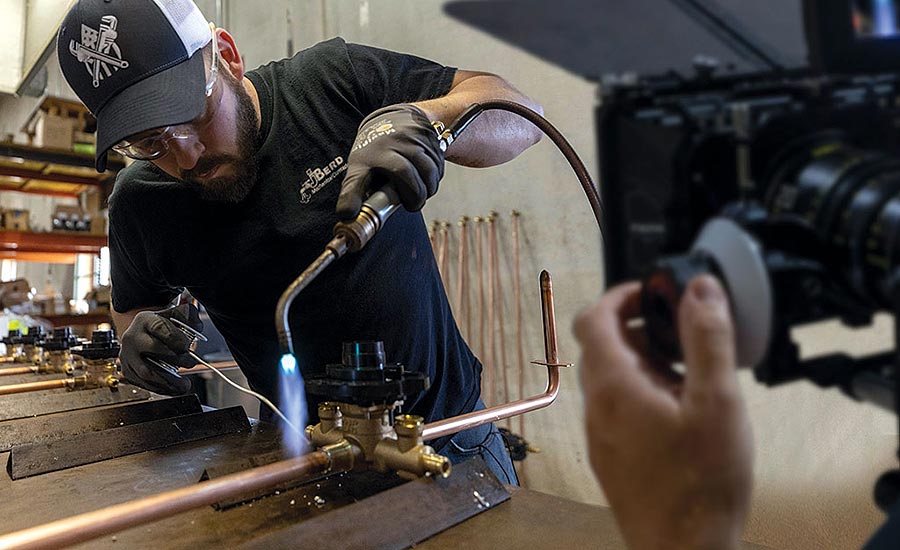 "Pfister's been around for 111 years," he says. "Without the plumber's support, we wouldn't be where we are today. I kind of look at this in the sense that we're giving back to the plumbing community. They supported us. This is a great way to support them. It will show that we are part of their community. We are loyal to them, like they've been loyal to us. There are some things that we did as a brand where we did kind of step away a little bit. But we've always been there and will continue to be there with them. We, as a brand, are dedicated to the trade and that part of the industry, and that's what we want to showcase. In fact, we're so committed and passionate about our plumbers, we actually put the plumber name on our brand now on the wholesale side of the business — it says 'Pfister Plumber' to show our commitment."
Additionally, because the company has been known as Price-Pfister for 100 years, Brown saw this as an opportunity to reintroduce the Pfister name and brand.
"We're still called Price-Pfister all the time, which is fine," he says. "But a lot of people don't know us personally, and I think this is a way they're going to get to know not only the brand, but our people. Once people see our culture, they'll see who we are and they will want to have a relationship with us. I think 'American Plumber Stories' will showcase a lot of that as well. Ultimately, this docuseries is not about Pfister, it's about the plumbers."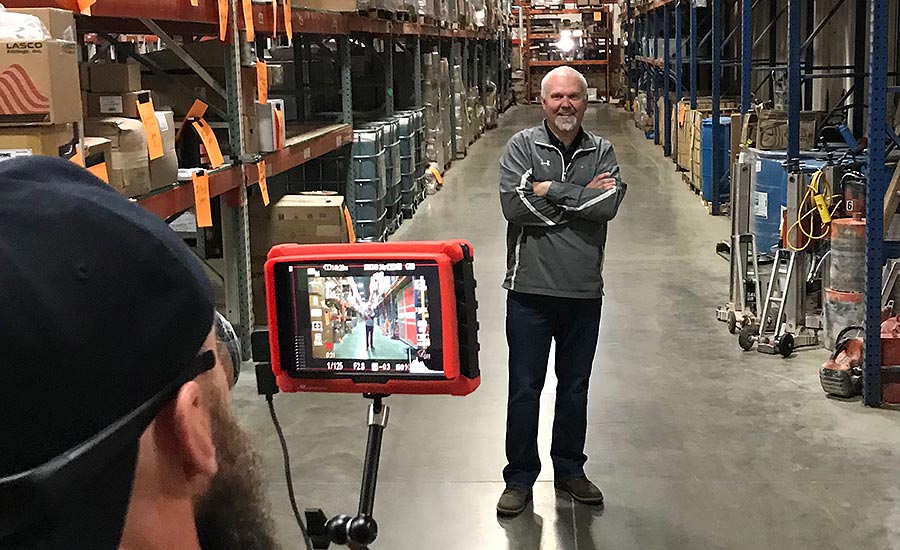 Making the docuseries
Brown notes the production of the series went very quickly because nobody was traveling, allowing Pfister to speed the process up.
"The irony is, without COVID-19, this wouldn't have happened," he says. "The timing was everything, because it does take a lot of time to produce an episode. Not just for me, but everyone involved. Even with Craig Morgan — this was during peak concert season, but all of it was shutdown. So he had time to do this with us and write the theme song. The shutdowns sped everything up — we had the pilot episode shot and filmed within two months."
The first episode, "Six Feet Under," premiered on YouTube and social on Aug. 2, and the second episode, "The Next Generation" aired Aug. 16. The first season will feature four more episodes airing every two weeks, with a Labor Day special planned for Sept. 6. Season 2 is scheduled to pick back up in January.
"We wanted to have enough episodes to get through the summer," Brown notes. "Some of the things we were filming, we needed the summer months for — you're not going to kite surf in December. Initially, 12 episodes will be released over the course of six months."
Though each episode is only about 10 minutes or so, the Sub7 team films for many hours to get 10 minutes of great footage.
"We usually give it two full days," Brown says. "Typically, we go into the office and do the interviews — that's when we get to know them and let them tell their stories. Then, we'll go on a jobsite and film there. Then we'll spend the next day on their hobby or their passion, whether it's the horse show competition, bowling or kite surfing. It's fairly quick, but it's all day filming. There's a lot of set up and detail that goes into this that people don't see. I've learned a lot about it. It's been a pretty unique experience because there's a lot of fun and a lot of emotion. We have tears, smiles and laughter — it's raw and real; it's authentic. I think that's extremely important for people to see."
Brown notes there is definitely a negative stigma associated with the trades, especially in plumbing.
"The irony is other than oxygen and food, water is probably the most important thing for us to live," he explains. "Yet, the plumber who delivers water is one of the least sought-after jobs. The plumber doesn't get the same respect as the doctor. A doctor saves lives, but so does the plumber. We interviewed J-Berd Mechanical CEO Dave Berdan, who put it this way: 'The only difference between a doctor and a plumber is that a doctor washes his hands before the job, and a plumber washes his hands after the job.' Both professions are equally important to humanity. But that negative perception of plumbers has always been there — we're hoping this show will help change that."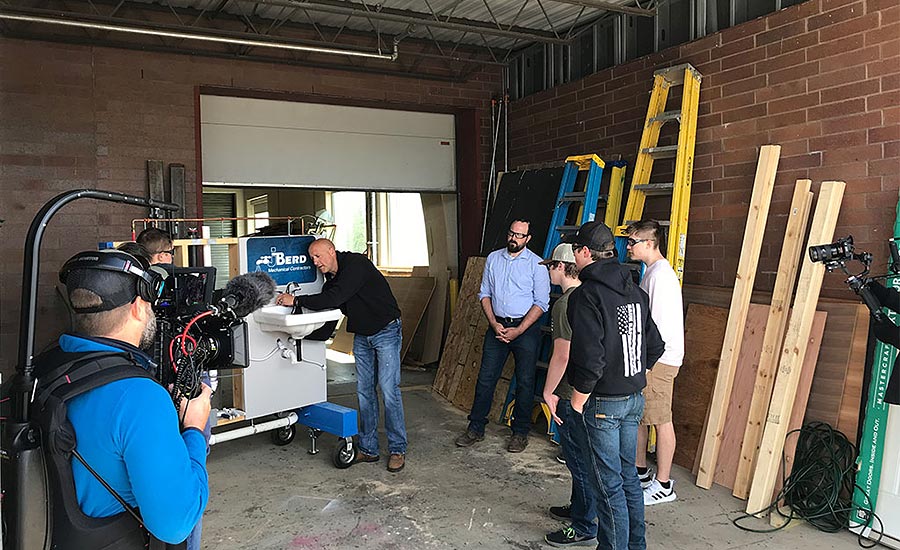 Sharing their stories
To get started, Pfister focused on its current relationships with plumbers. Brown contacted the plumbers he knew about getting involved in the project.
"We wanted to make sure we covered all kinds of plumbers, from new construction to residential service to drain cleaning," Brown says. "We also wanted to make sure we covered as many parts of the country as we could. You're going to hear all the different accents and see how plumbers do things differently. We wanted to show diversity."
Jeff Oeschger, president of Lakeland, Florida-based Pro-Team Plumbing, is featured in episode 5 "Start Your Engine," which debuts Oct. 4. Oeschger was approached by Brown in early 2020 to be part of the series.
"I have always had a great partnership with Pfister, and I wanted to be a part of this," he says. "There's a lot that goes into a short video, but I greatly enjoyed working with the product people. I hope we can attract people into our industry. We greatly need plumbers. These videos will show the fruits of our labor and how the plumbing trade can provide the 'extras.'"
Oeschger's episode features his love of stock car racing. He bought a racecar while living in Vermont in 1996 and began racing in New Hampshire. The rest is history.
"Owning a profitable plumbing business allows me and my team some extra money to enjoy life," he says. "Many of my employees have been able to buy new homes, new vehicles, boats and other toys because of the potential to make money in the plumbing industry.
"Our partnership with Pfister has created friendships that go far beyond a 'business relationship,' Oeschger adds. "It's a great company with great people. The Pfister plumber experience is just icing on the cake."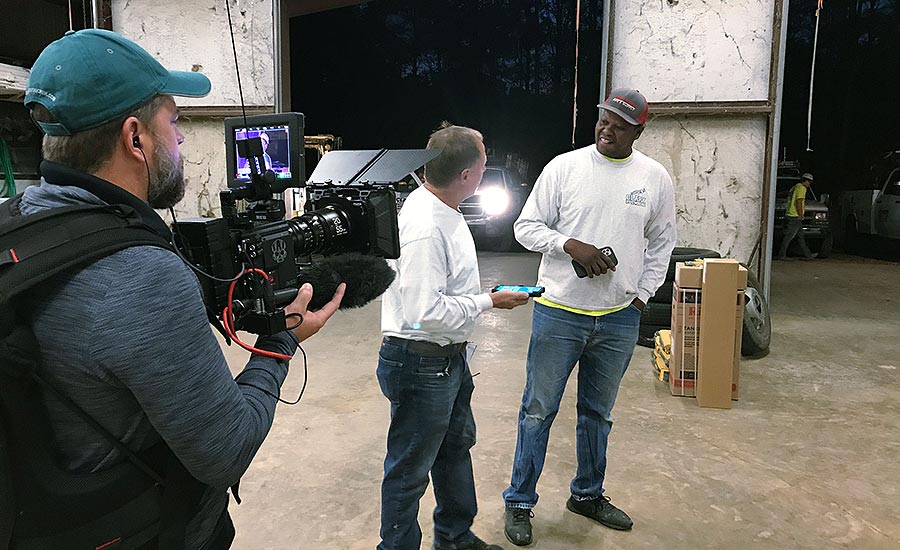 Featured in Episode 2, J-Berd Mechanical, located in Sauk Rapids, Minnesota, created a high school training program to help recruit the next generation plumber.
"We understand the talent crisis that the trades industry will be facing in a few years if we can't get more people into the industry," notes Megan Henkemeyer, marketing communications manager for J-Berd Mechanical. "We worked with our local high schools to see how we can support and supplement their career and technical education (CTE) classes. Based on those discussions and our mission to bring the trades to more kids, we came up with J-Berd Trades Day and our traveling trailer that we stock with fun activities for the schools to use. Our hope is that through hands-on experiences like these, we can spark interest in kids to consider any career path in construction."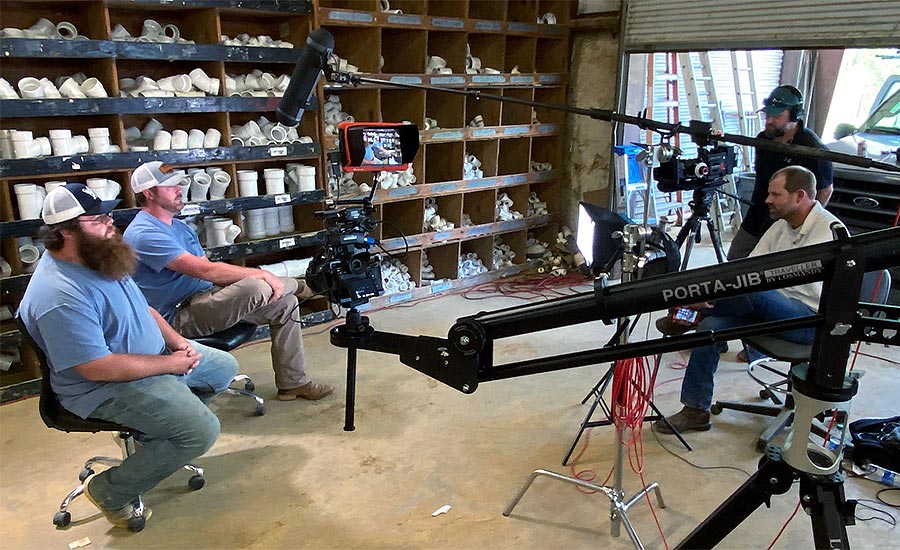 When asked how he got involved in the docuseries, Kevin Johnson, president and owner of Gilbert, Arizona-based CHS Plumbing, laughs and says he folded under pressure over time.
"I was a little hesitant at first, but we were really happy to be part of it — mostly because of the huge need for labor in the trades," Johnson says. "That was our motivation to see if we could help with that long-term process of trying to convince people that plumbing is still cool."
CHS Plumbing has 300 employees between its two locations in Denver and Gilbert, outside Phoenix. But Johnson notes he would add 100 new employees in a minute if he could find them.
"Pfister has an interesting approach because it dips into our personal lives a little bit more than maybe we would want, but I think it helps make the point," he says. "It will help open the door and let people see the opportunities available for people who normally would not choose this path. We're going to market this on our end along with some of the programs with high schools we have going on. There's a lot more to plumbing than people realize. I think this will be a good tool to promote the trade."
Johnson's episode, which will air sometime during Season 2, features his experience as part of a national senior basketball team.
"It's through the Masters Basketball Association — instead of saying 'old' or 'senior,' they say 'masters,'" he says. "It's a very big program in about 75 different countries. The ages start at 50, and there's a different team for each country at every five-year increment. I've been playing the last seven years. I started with the 60-year-old team, and now I've graduated, if you will, to the 65-year-olds."
Johnson was never involved in the sport in high school or college, only playing casually. After graduating high school, he was only 5 feet, 6 inches tall and 100 pounds. Today, he is 6 feet, 4 inches tall.
"I just love basketball — I have from a young age. Unfortunately, I was on the sidelines for a long time, but then, all of a sudden, I grew," Johnson says. "I heard about this league from a friend on the team, and he encouraged me to give it a try. You go and try out, and they select the team, which is together for about four or five years. My friend is on the same team — we've been fortunate enough to stay together for seven years now. Most of this team has played in the NBA or have played in Europe, and they've all played in college. I'm the unique anomaly, I guess. But in some ways, it's helped me a lot — I don't have the wear and tear on my body the way those guys do.
"There are tournaments almost every month somewhere in the state," he adds. "And then, when you're on the USA team, we travel to the World Games at venues all over the world. In the last seven years, I've been to Brazil, Costa Rica, Italy and Finland for the World Games. Next year, we will be in Japan. It's a fun little way to have a hobby."
Brown notes all of the plumbers featured in the docuseries have been amazing.
"As soon as I start talking about the idea, it just resonates with them," he says. "These are real issues they are facing. They can't wait to talk about it. They're the best spokespeople to talk about the trade because it's who they are. They love telling their stories of how they became a plumber. Some of them are generational plumbers, some of them got into it because they had a mentor. We have this neat community, and they're as passionate as I am about this project."
As the show has garnered more attention, Brown notes some plumbers are reaching out asking how they can tell their stories.
"As this thing resonates, everyone is going to want to share their story of why they became a plumber," he says.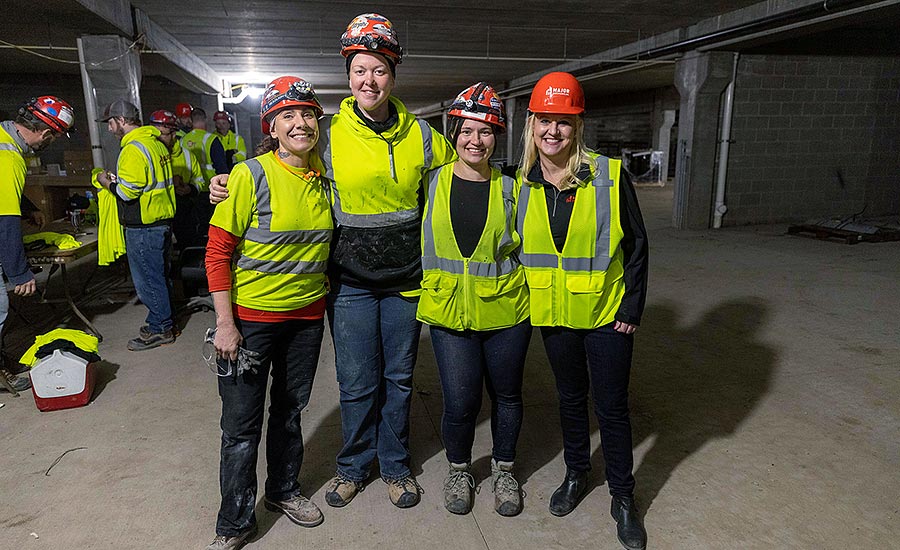 Overcoming the stereotype
The "American Plumber Stories" is a great tool to start correcting that negative perception the plumbing industry — and the trades overall — currently face.
"Everyone has to be a stakeholder in this," Brown says. "There are many manufacturers creating programs to get the next generation involved. We definitely need to get into these high schools and sponsor programs to educate the next generation early. There's not a lot of funding in schools anymore for this type of thing. That's why the private sector needs to step up. One of the big things is we need to donate materials as well as help train the future generation. Pfister has donated faucets to training schools. Other manufacturers have done the same. We need to sponsor internships and create mentorships. There's a lot more we all could be doing.
"We all need to spread the narrative that you can make a good living being a plumber," he adds. "It's not only that, though. What we've found with these plumbers, is that it's more about the reward of creating something. They look back at how they built something. That was what they loved about their job. Not all jobs provide that type of reward, but for them to look back and say, 'I built that,' is kind of neat to showcase as well."