The PHVAC industry is all about relationship building — and manufacturers rep firm Hart, Travers & Associates lives and breathes this concept.
The 67-year-old firm provides inside and outside sales with marketing support for Illinois, Wisconsin, Northwest Indiana, eastern Iowa and the Upper Peninsula of Michigan. HTA has expanded its customer base beyond plumbing distributors, focusing also on engineers, contractors, builders, architects, developers and kitchen and bath showrooms.
The company's professional reputation and willingness to go above and beyond for its customers has netted it the distinction of being Plumbing & Mechanical's 2021 Manufacturers Rep of the Year.
"It's humbling and it's an honor," says Chris Travers, partner at HTA. "There's a lot of manufacturers reps in Chicago — and across the country. I was shocked to be honest. I think we do a good job, but I don't think we're head and shoulders above everybody else, that's for sure."
---
"Successfully transitioning from generation to generation is something we have to be proud of because it takes a lot of planning. We have a great partnership." – CHRIS TRAVERS
---
The name game
HTA was founded in 1954 by John Latimer when he left Eljer Toilets to begin a manufacturers rep firm with just two lines — Zoeller Pump Co. and Flagg. That fall, the firm added a third line — Anniston Foundry and was joined by Morris Hart, who previously worked with Latimer at Eljer. The company then became known as Latimer and Hart, but not for long. Latimer and Hart decided they needed help with the three lines, so Jack Milligan became the third member of the firm, thus changing the name to Latimer, Hart and Milligan.
By September 1956, Latimer retired and was replaced by Dick Kriebel, who came to the firm after 17 years with Columbia Pipe & Supply, a distributor in Chicago (now part of Ferguson Enterprises). With Kriebel's arrival, the company underwent yet another name change to Hart, Milligan and Kriebel.
In the 1980s, Morris Hart and Jack Milligan brought the second generation into the business with the hiring of their sons, Tom Hart and Mike Milligan. Following Kriebel's retirement in 1987, Tom Hart became a partner, and the firm was once again renamed as Hart-Milligan.
Fast forward to 1991, Morris and Tom Hart recruited Travers away from A. O. Smith, and he later became a partner in the firm in 1996. The company then became Hart, Milligan and Travers. Then, upon the passing of Jack Milligan, and Mike Milligan leaving the business, the firm underwent its last change to Hart, Travers and Associates — as it is known today. 
Tom Hart directed the company for nearly the next 30 years, working to establish the foundation that has helped lead to the agency's longevity and success.
Tiffany Moscicki, principal at HTA, is the granddaughter of Morris Hart and the daughter of Tom Hart, representing the third-generation ownership of the firm. 
"My father took so much pride in our agency," Moscicki says. "He believed we shared in our successes as a whole and treated everyone with such fairness. Our agency has grown with different lines, expanding territories and adding to our staff. As of 2021, we proudly represent 16 manufacturers and have 13 employees. My father was very much a part of that.
"We pride ourselves on having a very high level of service and professionalism," she adds. "We don't have product specialists for any of our lines, and every one of our employees, from top on down, understands and can sell every line that we represent."
The current third partner of HTA, Reggie Layoff, joined the company in 1997 and became a partner in 2009.
"Boy, it's been an awesome ride so far, that's for sure," he says. "Working with Tiffany and Chris is amazing. I've known Chris forever. And Tiffany, I'm so proud of Tiffany. She's done a terrific job and is going to continue to do that."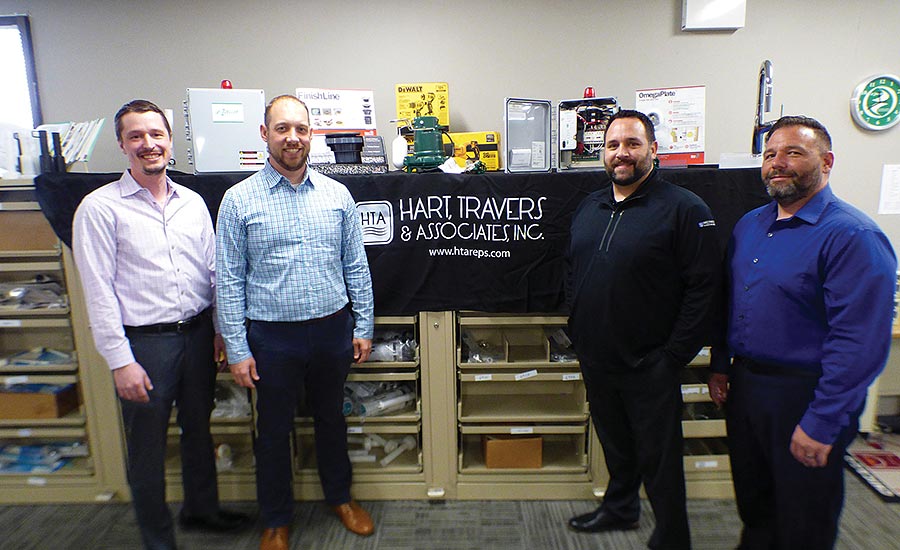 Hart, Travers & Associates outside sales team. From left to right: Michael Hart, Jason Johnson, Jeff St. Onge and James Spurney.
Defying the odds
Succession planning is often difficult for any type of family-owned companies. SCORE, a network of volunteer, expert business mentors, finds that only 30% of family-owned businesses survive from the first to the second generation, and only 12% from the second to the third generation. HTA beat the odds not once, but twice.
After graduating college, Moscicki spent five years as a product manager with Kraft Foods. After her five year mark, she was ready to try something new — around the same time a position became available at HTA for another inside sales rep in 2005.
"I've known Chris Travers a very long time because he and my dad were business partners — I used to babysit his children," Moscicki says. "My dad and Chris offered me the job, which I was not expecting at all. I started thinking about shifting from the food industry to the plumbing industry — it was very overwhelming. But then, I started thinking about family business and knew I could not pass up the opportunity. The fact my dad and Chris would even consider me — not having any plumbing knowledge — was such a compliment. It was such a sense of pride, and I said, 'OK, I can do this.' And I did."
When Moscicki started at the company, it was just her and Shawn Horton — now the company general manager — in the inside sales roles.
"At that time, we had maybe half the lines that we do now, we just kept growing, adding lines and adding people," she explains. "When we got Blanco as a line, that's our showroom line, I started going out and making calls on showrooms. And now, here I am, 16 years later."
Moscicki got married the same year she joined the family business, and because she no longer had the Hart name, people didn't put two and two together that she was related to Tom Hart.
"My brother is in the business as well – he's one of our salesmen — and my dad has always been harder on the two of us than anyone else in the company," she notes. "There was never any special treatment because we were his kids. I actually think the two of us had to work even harder to overcome that. Especially when I was made a partner — I never wanted people to think that I got it because I was part of the family."
Moscicki is proud of being part of the company her grandfather started, knowing that other family businesses have not been as fortunate.
"We've always had the environment that you can disagree with one another — it's OK," she adds. "I think that's how we've been able to grow for 67 years. If we were all the same, you wouldn't have any growth, right?"
Tom Hart retired from the business three years ago. Travers notes that he and Moscicki would laugh and say their goal at the time was to simply keep the business afloat.
"Successfully transitioning from generation to generation is something we have to be proud of because it takes a lot of planning," Travers says. "We have a great partnership. As Tiffany's late grandfather said when his partner John Latimer retired, 'I'll tell you this, we've never had a cross word in all our years.' I could say the same about Tiffany, Reggie and I. We always seem to find a good point to compromise on a decision. I'm lucky to have them, and I'm proud of the people I work with and the team we have put together."
"I'm proud to be a third generation of a family-owned business," Moscicki adds. "I am proud for so many reasons, and on a personal level too. I'm proud to be a female business owner, a mother and a wife. You can do it all, and have it all."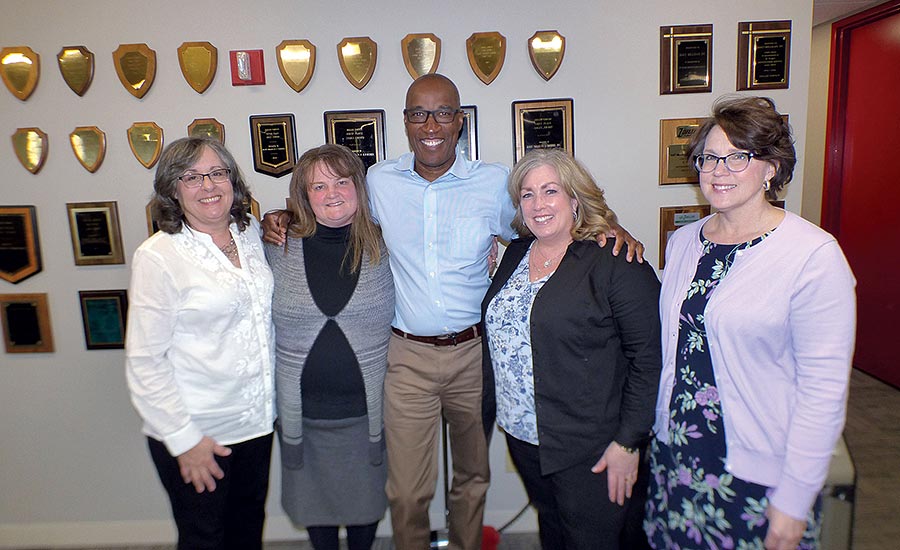 Hart, Travers & Associates inside sales team. From left to right: Donna Derrow, Stephanie Goad, Shawn Horton, Kelli Aiardo and Debbie Miller.
Building lasting relationships
Coincidentally, Zoeller Pump Co. — HTA's longest represented line — is also in its third generation of ownership, with John Zoeller as its current CEO, and Bill Zoeller as its president. Travers, Layoff and Moscicki all agree that it's great having another family-owned business be their longest represented line.
Zoeller started out dealing with Moscicki's father, Tom Hart, and Travers. But today, most of his interaction is with Travers as John Zoeller doesn't get out into the field as much as he did during his early days with his family business.
"I like how they take care of the customers," John Zoeller says. "When you look at the value they bring — being able to work with the customer, solve the problems, get to the root cause of issues and being able to take care of the application — they do a really great job."
John Zoeller notes HTA is his first call Monday morning and last call Friday night.
"They do a really good job of training their salespeople on our brand and the products we have available," he says. "They get them to our classes and invest in their training to make sure they are very knowledgeable about our brand.
"Our brand has the luxury of getting the very best out in the field," John Zoeller adds. "HTA understands they are our eyes and ears. They listen and relay, and work with us so we can understand what is happening in the field. Then, we can help them, and they can help their customers. They have great communication, and that's what sets them apart. They've transitioned through three generations and have kept that value and commitment to the customer, which is awesome. They live the values and do a really great job."
Nick Manning, president, PRIER Products, notes that Plumbing & Mechanical made an excellent choice in choosing this year's rep winner, as the manufacturer named HTA PRIER's Rep of the Year in 2020. HTA has represented PRIER since 2007.
"From their inside sales staff to the partners, Hart, Travers & Associates is committed to learning about products and passing that information on to customers in their marketplace," he says. "PRIER regularly hosts educational webinars for our reps and they are regular participants. They have coordinated our design engineers to host educational webinars for the specifying engineering community. One of the reasons how we know they have product knowledge is that the number of inbound calls from Hart, Travers is relatively small, much smaller than it should be for the volume in their territory, they are handling any product questions before PRIER needs to get involved."
Manning notes that manufacturers representation is an interesting profession, and there is no "one size fits all" formula for successful reps.
"Certainly they do a great job in coverage of their markets, from the specifying engineers, to the wholesalers to the contractors. Hart, Travers has strong relationships with these sectors," Manning adds. "We know this from interactions at buying group meetings and shows, and of course, working their marketplace with them. They do this through their investment in people — they have a strong inside staff that is always available to answer questions and an adequate number of outside sales reps to cover their marketplace. I think the fact that there are three principals in the business is another reason for their success, multiple high-level decision-makers aid in communication and expediency."
Jake Ismert, regional sales manager, Sioux Chief, has worked with HTA since 2014, and always finds it enjoyable to drop by the office and meet with the team when in the Chicago area.
"They have a long history of representing Sioux Chief, and both their inside and outside team have solid knowledge on Sioux Chief products," Ismert says. "When we offering training on new product and existing products, they take the time to learn.
"Chris, Tiffany and Reggie never hesitate to invest in their agency to continue to grow and to put themselves in position to best service their customers and the manufacturers they represent," he adds. "From investing in their people, software programs, warehousing, customer events, time at industry networking events and associations, training on their product knowledge etc., they are never afraid to invest in their future and do what it takes to continue to grow. That makes for a good partner. They are always willing to go the extra step they need to take to get the job done for their customer." 
HTA has proven repeatedly it will do what it takes to get the job done — even if it involves a personal delivery, as was the case when Layoff had to run a Zoeller pump to Madison, Wisconsin-based First Supply on a Sunday, during a Chicago Bears game.
"They're always there when we need them," says Mike Miller, general manager of First Supply. "We do a number of events and they're always willing to help — they never say no. I think they lead with 'Yes." That's how they're a step above. If we need quick help in a pinch, they're there. Reggie ran us that Zoeller pump in a heartbeat — he's a great guy.
"They're a tremendous relationship company — and I don't say that loosely because I have high expectations when it comes to relationships with representatives," he adds. "When we need to get information for any of the products they represent, they've been a tremendous help. We are a family-run company, and so are they, so we try very hard to unilaterally support each other and any type of business. They're a leader in the industry in terms of knowledge, particularly when it comes to Zoeller. And so I think those two things, the relationship building and industry knowledge are what sets them apart."
---
"We're still going to have a rough road here through the end of this year. Communication is the best thing that we can do right now — just communicating with our customers. Everything that we get from our manufacturers, we try to get right back to our customers and just communicate the best information we get. If we're honest with everybody, we'll be OK." – REGGIE LAYOFF
---
Work hard, play hard
Though it may sound cliché, every HTA partner describes the company culture as "work hard, play hard."
"Our culture is awesome, we're all about family and family comes first," Layoff says. "We have a lot of professional people and we all know what job needs to be done. We have a lot of fun, but we work hard also. And we all get along very, very well. We're all about being professional and caring about each other.
"There are some great agencies in Chicago, but we just have a great reputation," he adds. "Our service is what puts us above anybody else. We've been in Chicago since our inception. Our reputation has always been that we take great care of the customer. If we have to get in the car at 5 a.m. and run product somewhere, we do that. We call people back. Our integrity, I think, puts us above anybody here in Chicago, for sure."
"Over the years, you build relationships with people," Moscicki adds. "We talk to people about everything, more than just product. We know about their families, their hobbies, their personal lives; we become friends."
Travers describes the company as a bunch of friends that like to have fun and work hard. "That's the short and sweet of it, really," he says. "We all pick up the phone when it rings — that's who we are, and our customers know that. It's what they like about us. We work really hard, we have a lot of fun and we're like a big family."
Horton also compares the company to a family. "I say that in earnest because Tiffany, who is the third- generation owner right now, I trained her when she started. And I don't even know how to describe what having that relationship of being a family means? I guess I couldn't see myself in any other place where there wasn't a fun environment to work in, if there weren't people with integrity, if there weren't people looking out for you, like you were looking out for them. And I think this company does that for me."
Change and challenges
The past year has had no shortage of challenges for the plumbing industry. Layoff points to shipping as the biggest obstacle the company is currently facing.
"It's been a challenge for over a year," he notes. "It just seems to be getting worse and worse on a daily basis. You have a lot of full trailers sitting around, but nobody wants to go hook up a tractor to it and deliver it. That is a huge issue. I think we're seeing surcharges now coming from more manufacturers covering all of the fuel charges and some of the other obstacles with shipping. Back orders, of course, are also a huge issue right now.
"The industry is struggling quite a bit, and it's not getting any easier," Layoff continues. "We are on the for phone hours at a time now putting out fires. And I don't know if it's going to get any better. We're still going to have a rough road here through the end of this year. Communication is the best thing that we can do right now — just communicating with our customers. Everything that we get from our manufacturers, we try to get right back to our customers and just communicate the best information we get. If we're honest with everybody, we'll be OK. Communication is important in just about everything we do."
Horton says finding good people during a labor shortage is definitely a challenge for the firm.
"The challenge is identifying great people, and then communicating the message that if you want a career and be able to support a family and make a great living, then the plumbing industry is a great avenue and we can help you with that. If you would have asked me coming out of college 30 years ago what I wanted to do, I would have said I wanted to work for IBM. And if you asked me today, I'd be like, 'No, the path I took was exactly what I needed and where I needed to be.'"
As a kid who grew up in housing projects in inner city Chicago, the plumbing industry has been a wonderful opportunity for Horton, and he hopes to show others that. 
"I want to be able to reach back out to some of those kids and say, 'Hey, listen, if you're willing to work, if you're willing to give it a shot, I can help guide you into a wonderful career opportunity that we can both work together on,'" he says. "That's my next vision — to be able to reach back where I was and bring somebody else into the fold. This past year of COVID has been a challenge. We saw so many people lose jobs and businesses close. But plumbing, our business, was essential. We didn't miss a beat. We kept right on going and it's just a testament to the industry itself — how valuable plumbing is to society."
Travers says the biggest change in the business has been technology and the speed at which people work today.
"Back when I started in 1991, we still had customers that mailed orders into us via snail mail," he says. "Today, I might get 20 orders in the course of a morning via email. It's just the speed and the expectation of how fast you need to respond. Relationships are just as important today as they were years ago, but the pace is tremendous. I like the pace. I like to be busy. I really enjoy that pace. But it is the expectations, and the response time that have changed."
Moscicki concurs, saying the business has become much more competitive as the pace has sped up.
"It's become more digital. I get far more email from my customers now than I do phone calls because we are all busier." she says. "Unless it is urgent, then I get a phone call. With email, it's like, 'Get back to me within 24 hours,' vs. the phone calls."
Staying current in the ever changing landscape of the industry is another challenge for the firm, Moscicki notes.
"In the past year, we have updated our computer storage and phone systems to make it easier to share information and work efficiently," she says. "We did this a few months before COVID-19 hit. Since then, we have become more adept with technology and virtual training, allowing us to continue product education during COVID. We now have profiles on Facebook, Instagram and LinkedIn, all of which help us relay information to the field. Staying current also helps to attract youth to the company, which I believe is vital to our industry. Plumbing, and all trades for that matter, will always be essential and it is important that we continue to bring new people into the industry."
Because of the firm's ability to navigate business during the pandemic, HTA actually grew in revenue 4% last year, Moscicki notes.
"Not to pat ourselves on the back, but we did a pretty darned good job getting through COVID," she says. "We didn't have to lay anybody off, nobody got sick and we came through it pretty well. I'm proud of us for that."
What's next?
Long-term, Moscicki notes the company is working on bringing more young people into the fold.
"It's part of our succession planning," she says. "Within the next five years or so, we will have some people retiring. We want to bring in good people so we can adapt and keep up."
Travers also points to succession planning as an important goal for the company.
"Tiffany is younger than Reggie and I," he says. "We want to ensure we have a good succession plan in place, which we always have, to make sure we're ready for the day one of us leaves the company, so the rest of the people can continue on successfully."
He also notes that while HTA always want to grow its current lines, another constant objective is to acquire more lines that both compliment its current business and will help the agency continue to grow.
"We want to continue to grow, obviously," Layoff adds. "And maybe get a little younger — not that we're old gray beards, but I think companies should always be trying to find younger people to train and make them fit."
Photos by Mike Miazga/Plumbing & Mechanical.