When you ask Bruce Hornberger to talk about his company, M & H Sales, he smiles and says he is blessed. Founded in 1994 with his business partner, Doug Martin, the company employs six people and represents six lines in the mid-Atlantic region. The small Malvern, Pennsylvania-based firm embodies honesty, integrity and does whatever it takes to take care of its clients, which has earned them the title of Plumbing & Mechanical's 2019 Manufacturers Rep of the Year.
Striking out on their own
Bruce Hornberger, who recently turned 69, went to work for D.A. Fehr right out of college.
"When I left college, President Nixon's letter got home before I did: 'The President of the United States requires your service,'" he says. "So I got drafted. When I interviewed with D.A. Fehr, he told me I had the job. I said, 'Well, I have to go into the service.' He told me the job was mine when I got back. You don't hear that too often. I had six months, and the war was almost over. I didn't have to go to Vietnam, which was a blessing. A year or two earlier, and I would have been gone. And I thought I was invincible — I never would have come back!"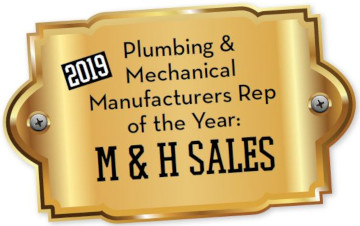 Upon his return and beginning his new job, Bruce Hornberger trained on the road for two days before he was sent out on his own.
"I spent quite a bit of time there, but I was getting older and there had been talk about an ESOP program," he says. "Eventually, I figured out we weren't going to be able to buy in and be part of it. So several friends of mine who also knew Doug said we should talk. He was working for his father's company, Martin & Smith, which was a rep out of the Philly area. But his father passed away and the transition wasn't going well. He could see the writing on the wall.
"The next part happened very fast — we met, we talked and we were so excited about building a business," Bruce Hornberger continues. "We had one more meeting after that. Then we shook hands across the table and said we were 50/50 from this day on."
Both Bruce Hornberger and Martin left profitable jobs with their companies to start their business together. They started out with only one line, Connecticut Stamping & Bending Co.
"We figured if the two of us worked day and night, we would gross $25,000," Bruce Hornberger says. "Now, when we started, I said to him, 'We're not going into my basement, your basement, my living room or your living room. If we're going to be a rep company, we have to look like one to interview for lines and such.' So, we rented an office and put two cars on the street. We bought an old phone system and a computer, which neither of us knew anything about.
"The real key was we quit," he continues. "It was scary, but I didn't think about it too much. I was really excited about building my own rep business. Doug was a fabulous detail man; I'm the big picture guy. We were a really good team. We had a good code of ethics and we held each other accountable."
Three months after the doors opened, M & H Sales picked up its second line, Bristol Pipe, which is now North American Pipe — a line it still represents today. The other lines include: R & M Energy Solutions, Slant/Fin, TracPipe CounterStrike, Viega and Wal-Rich. Within two years of operation, the firm hired its first employee.
More recently, Bruce Hornberger's son, Jeff Hornberger, joined the company with the goal of eventually taking over Martin's territory, which covered the greater Philadelphia area.
"Doug said to me, 'Here's what we're going to do: I'll be his boss, you be his father,'" Bruce Hornberger says. "It was beautiful. I would have been a lot harder on him."
However, the plan accelerated when Martin passed away in 2015 at age 65.
"Jeff took over much more quickly, he was pretty well seasoned by then," Bruce Hornberger says. "If it wasn't for him, I might have sold it and moved on. I never told him this industry was a good living and he should come here. I told him he should try something else first — and he did."
A family business
M & H Sales has always been a smaller, close-knit family business. Prior to joining his father's company, Jeff Hornberger was a salesman for a concrete company that produced modular cells for prisons.
"They were a customer of M & H's, so there was a connection there," Jeff Hornberger says. "I was always interested in the family business, but I think timing had something to do with it as well. The 2007-2008 Recession made things difficult — building really slowed down. It was a good opportunity for me to leave there and come here.
"I like the long-term relationships where the customers I call on frequently become friends," he continues. "I like to say we're in the solutions business. There's a lot of fires to put out and a lot of ways we can help them."
Jason Bowes, has worked sales for M & H for three years, starting right out of college, much like Bruce Hornberger did.
"I've always been in the trade with my dad doing the hands-on side," Bowes says. "During my job search, I came across M & H Sales and it sounded fun and interesting, so I figured I would give it a try."
Bowes loves the family orientation of the company.
"We believe that God has a path for us and guides us daily," he says. "We are blessed every day for the service we can provide our customers. M & H Sales works together as a team and acts as we are a family. I couldn't be happier with the decision and opportunity to work for M & H Sales. Bruce and Jeff are wonderful owners/bosses. Our relationship is more than work; it feels like family to me."
Dennis Conklin is another salesman for M & H who hit his one-year anniversary working for the firm in April. Conklin has actually known Bruce Hornberger for 20 plus years while working for a wholesaler. When the opportunity came to join M & H Sales, Conklin says it was a "no-brainer" to leave the wholesale side.
"I think the best part about working with M&H Sales is it feels like the small, family owned business values your input," he says. "I can honestly say that it feels like I have always worked here. I know they believe, as do I, that to be successful with sales you have to build relationships. You need to treat your customers as business partners and love what you do. We're different because we have a handful of manufacturers and I believe they are some of the best in the industry. It is easier to promote a product line you are passionate about. If you believe they are the best, and I do, it motivates you to tell the story. I truly believe that we are one of the hardest working groups in the industry, and we invest the required time to learn our product lines providing our manufacturers the professional representation they deserve."
Brad Benfer is the most recent hire for M & H's sales team, having started his new role in December. He was referred to the position by a friend who worked with the firm.
"He highly recommended them which led me to pursue the opening," Benfer says. "I came from a different industry and believe this industry is both stable with a good opportunity for growth. My friend who is in the industry gave me the initial introduction. The people are top notch — knowledgeable, trustworthy and experienced. Compared to other industries I have worked in, it is different. I believe they care about my well-being as well as that of the customers. These are the kind of people you want to work hard for."
Relationship selling
M & H Sales has always emphasized relationship selling, according to Bruce Hornberger.
"Before we do the product and the price, we would establish a relationship — as quickly as possible, but it doesn't always happen in a day," Bruce Hornberger says. "I tell Jeff and the others, always look for the opportunity to help. Consequently, to this day, I continue to have fabulous relationships."
"We put the relationship ahead of the sale," Jeff Hornberger adds. "I'd much rather maintain the relationship and have the sales going the next five, 10 and 20 years. It's important for the future of the company. It would be easy as a short-term decision to run around and take a bunch of business, but it would not be good for the longevity of the agency."
Piscataway, New Jersey-based AARON & Co. has done business with M & H Sales since the company opened its doors.
"There are all kinds of manufacturer reps," says Barry Portnoy, president of the company. "They're not the biggest agency with the biggest coverage, but they're responsive, they work well with our people and they have integrity. And perhaps the most important thing is they're a family business going through generational succession. That has value to people like ourselves who are still independent distributors. It's relatable and gives us encouragement. An independent agent like that has a greater appreciation of understanding our struggles or our viewpoint as a multigenerational family business."
"Bruce Hornberger has an amazing amount of professionalism, integrity and leadership qualities," adds Scott Weaver, president and CEO of APR Supply, Lebanon, Pennsylvania. "I have never met a more committed person to our industry."
M & H Sales has been the rep for Omega flex for the past 18 years.
"M&H Sales give us a great deal of focus in their territory and they are highly connected within the contractor segment of the market," says Ed Moran, vice president — residential markets for Omega Flex, TracPipe – CounterStrike. "Making calls with anyone of their salespeople is an organized, professional event. Bruce and Jeff are very committed to our line and have had all of their sales staff attend training classes on the products. I am completely comfortable with them representing our line at any segment of the supply chain."
Moran says M & H is one of the few reps who have won Omega Flex's President's Award on multiple occasions. The award is presented to the rep who has gone above and beyond during the course of the year.
"They simply out-work everyone else in the market, and when you put forth the level of effort coupled with the best product knowledge in the country, they're extremely difficult to beat," says Moran.
Dalyn Cantrell, director of national accounts, Viega, has worked with M & H for more than 20 years.
"Bruce and his team have very strong customer relationships, as well as a high level of respect from the manufacturers that they represent," she says. "They are always willing to dedicate their time and energy promoting our products and spend a great deal of time getting to know their manufacturers' people and products, which leads to their success in selling what they know."
New beginnings
M & H Sales had operated out of Quakertown, Pennsylvania, since its inception, but the Hornbergers recently purchased a new building located in Malvern in December. The company spent the first few months of the year transitioning to the new location. May 1 was the first full day of operations in its new headquarters.
 "Quakertown has been a good home to us, with Doug and Bruce being located out there," Jeff Hornberger says. "But I've been doing more business closer in and around Philadelphia, and with me taking on more responsibilities with the business; this was a lot closer to home and closer to more of our business. It's a little bit more of a central spot with better commute times."
The salespeople are mostly on the road, but are in the office every other week or so, Jeff Hornberger notes. The company also holds a mandatory sales meeting once a month.
"They're in the home office when they need to be and strategically located in each territory," he says of his salespeople. "Oftentimes with the mid-Atlantic region, the territory lines vary between product lines. As an agency, we cover all of New Jersey and Delaware, and Pennsylvania out to State College. But within that parameter, each line has different boundaries."
Bruce and Jeff Hornberger have several short-and long-term goals over the next few years.
"First on the list is to get settled in here and establish our new home and office," Jeff Hornberger says. "Part of that is having a new office manager join our team. We'll have overlap between here and Quakertown for at least two months. After that, we plan on adding another person on the commercial sales side."
As for Bruce Hornberger, he has no immediate retirement plans for the near future.
"I don't know if I'm ever going to really retire," he says. "It's already been strange this past year because we have salesmen in every territory, so my phone calls have really dropped. I've never spent so much time in the office. We've agreed that my job will be to do the engineering specification and mechanical calls and handle the training and specification calls for our Viega and CounterStrike lines while managing some of the higher level decisions and big picture aspects of the business."
As for the future of the industry, both Hornbergers believe there will always be a role for the professional plumber.
"I've been through the American Hardware and True Value changes to the industry — those were the predecessors to Home Depot," Bruce Hornberger says. "We sold sump pumps, they had sump pumps. They were selling against our customer, the wholesaler. I've survived that — along with Home Depot and Lowe's. Now, there is Amazon. Somebody still has to put it in, install it properly. Somebody has to maintain it from time to time and replace it."
"We're fortunate enough in this country and area where everyone has plumbing, heating and most have air conditioning, and there is always building going on," Jeff Hornberger adds. "However, we still get faxed and handwritten orders. While there are a lot of other businesses that are paperless, I think our niche area, while it is changing, isn't going to go nearly as fast as some of the other sectors. There's still going to be a necessary face-to-face interaction between the manufacturer, manufacturer representative, wholesaler and contractor."