There's nothing more traumatic for homeowners than discovering catastrophic damage to their homes. Water damage is one of the most common and most costly types of homeowners' insurance claims. Every year, about one in 50 homeowners will file a water damage or freezing claim, accounting for almost 24% of all homeowners' insurance claims, according to the Insurance Information Institute. The average cost of a water damage or freezing claim is about $10,900. Therefore, it's no surprise that leak detection and prevention devices are becoming more attractive to homeowners and property managers all across the U.S.
"In the last 12 months, leak detection has become more popular as insurance companies and contractors alike are all searching for solutions to mitigate risk and provide additional value to their customers/homeowners," notes Jeff Long, product manager, StreamLabs. "StreamLabs has been pioneering the rough plumbing segment of the smart home market providing leak detection and water control for the entire home since 2018."
Jason Rosenthal, vice president of marketing for Phyn, explains that after years of hype and promise, leak detectors are beginning to enter the mainstream.
"On the technology side, advances in AI and machine learning have made user experiences much better for the consumer, allowing for insurance companies, home builders and municipalities to build programs around the latest devices," he says.
Additionally, the number of product offerings has increased as the market continues to grow, adds Kevin Weirich, senior director of product management — connected products at Resideo. 
"We believe there is growth in both the point-of-use and whole-home solutions," he says. "In this emerging product category, awareness continues to grow among homeowners and the value for property managers and insurance providers is increasingly supported by data."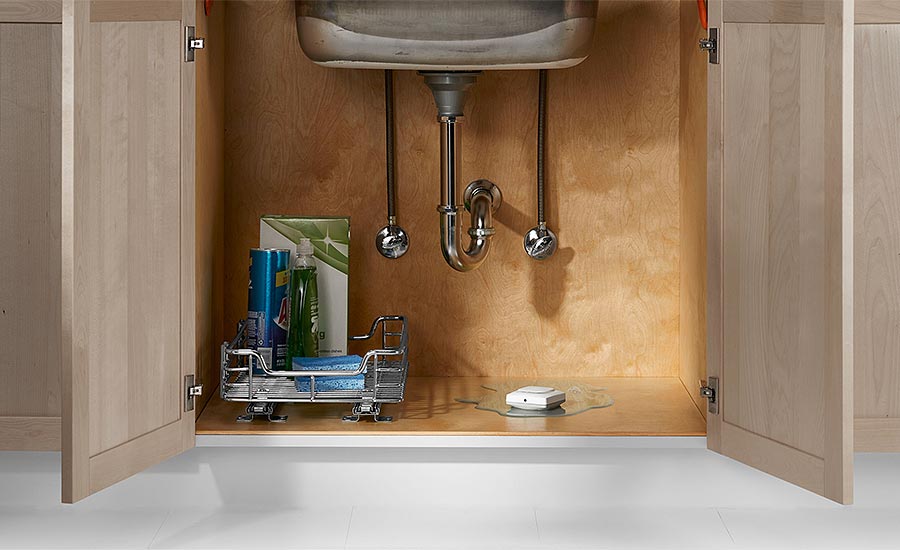 Resideo's battery-operated sensor can notify homeowners in more ways than one by sending notification to a user's phone, with LED status lights and a 100 dB alarm, so homeowners can have peace of mind. The Water Leak and Freeze Detector can also keep track of humidity and temperature in the monitored area, letting homeowners track their trends via the app.
 
Smart technology
More consumers are naturally seeing leak detection as a component to an existing smart home ecosystem, alongside security cameras, climate control and fire protection, according to Ian Greene, marketing director at FloLogic.
"They've either had a leak or know someone who has, so they understand the benefit easily," he says. "General category awareness, while still nowhere near where it will be three years from now, is growing as more insurers require and incentivize leak detection device installations and more plumbers, home security and home integration pros recommend devices. The end-customer is always the best driver of innovation. The benefit they're after is peace of mind."
Mason Hall, director of marketing, digital and IoT, for Moen, agrees that consumers continue to gravitate toward the added convenience and control offered by smart technology.
"The Flo by Moen Smart Water Security System uses proprietary smart technology to give homeowners more power than ever before to control, conserve and monitor the water that flows through their homes — including the ability to help stop leaks before they start, providing added peace of mind that their home is secure."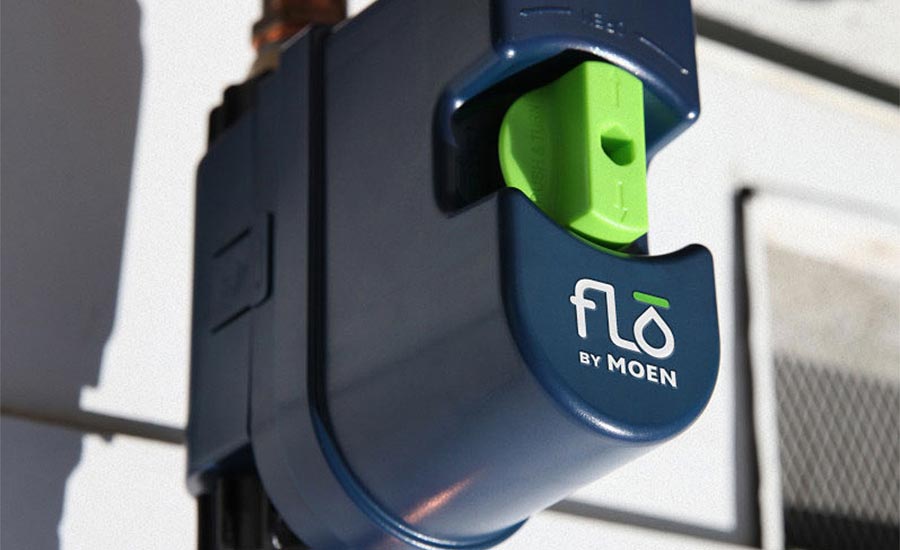 Not only does the Flo by Moen System protect against water damage and leaks, it also allows homeowners to view water data, monitor usage and set conservation goals, notes Mason Hall, director, marketing, digital and IoT for Moen.
Long believes there are a few factors contributing to the general adoption of smart home plumbing technology — among them, the lower cost of electronics. 
"The barrier of entry to purchase a smart device is lower than it ever has been, and more people are buying connected devices for their homes," he says. "The availability of Wi-Fi in the home and general access to the internet makes adoption and penetration into the home much easier. Lastly, a lot of the convenience devices in the market today that have already permeated the home — such as smart thermostats, voice automation assistants, doorbells and security systems — have paved the way for additional smart products to enter the home. Once devices for the visible parts of the house have been adopted, the next logical step is behind the wall applications."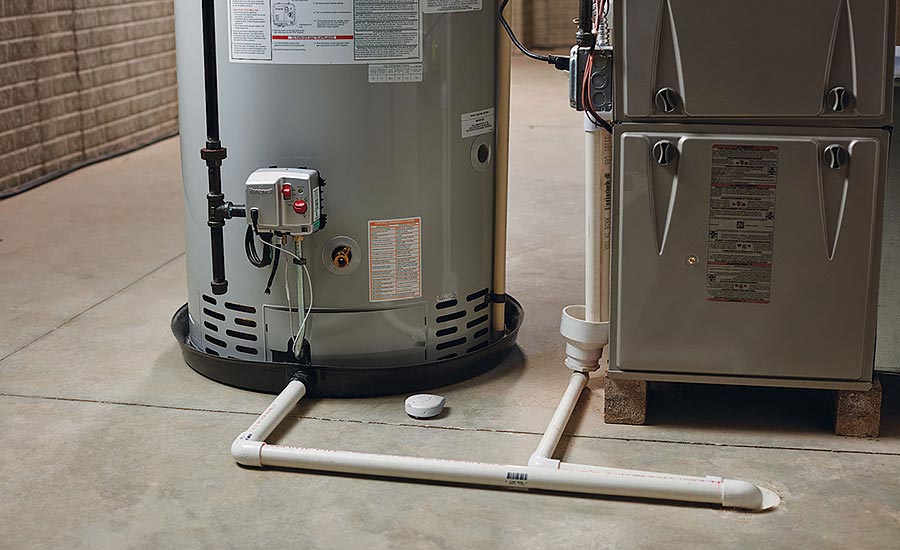 The Flo by Moen Smart Water Security System uses proprietary smart technology to give homeowners more power than ever before to control, conserve and monitor the water that flows through their homes.
 
Growing awareness
According to Rosenthal, local municipalities are beginning to recognize the value that leak detection devices provide by conserving water, and by making their customers more aware of how they are using their water. 
"Builders and insurance companies have long had an interest in leak detection, and are now starting to make our devices part of their standard offering," he says. 
Rosenthal also notes leak detectors have made huge advancements over the past five years.
"It used to be that a home needed dozens of detectors or electronically controlled shutoffs at every appliance, which cost thousands of dollars and were difficult to install," he says. "And even with this type of set up, there were lots of false positives that shut the water off at inconvenient times for homeowners. Now, leak detector solutions such as the Phyn Plus are cost efficient and use state-of-the-art sensors that are more reliable. And you just need one to monitor an entire property. These factors make it much easier for insurance companies, builders and water companies to partner with us to offer our devices to their consumers."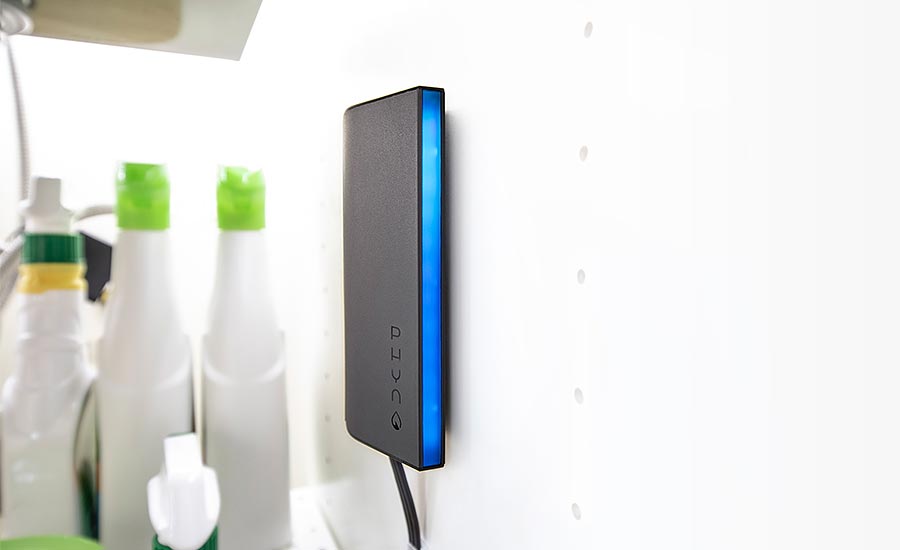 The Phyn Plus measures tiny changes in pressure 240 times every second to understand the unique voice of each water fixture in each home. This allows Phyn to understand the subtle differences between a running bath and a burst pipe.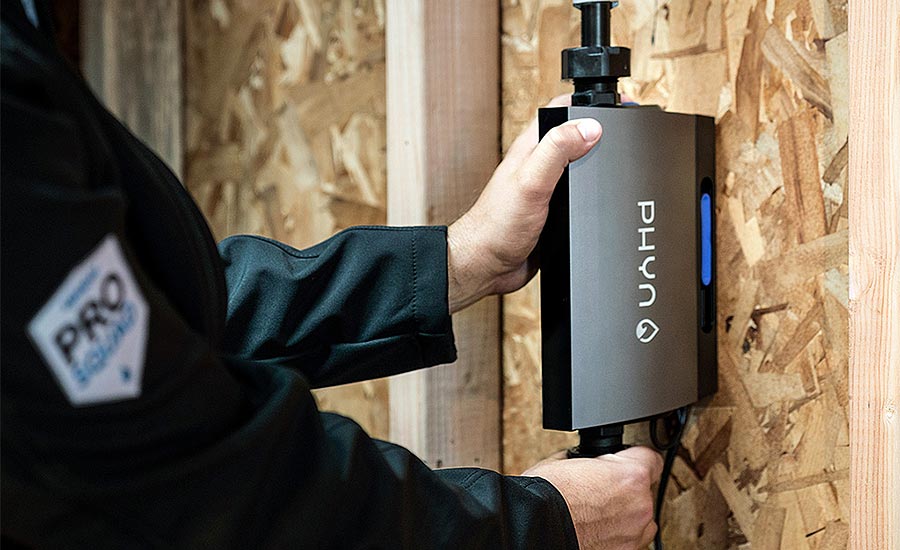 Phyn Plus also features pre-freeze warnings for homeowners, notifying them in the app before freeze conditions set in so they can take action and prevent frozen pipes.
Weirich says he is seeing more penetration in multi-family dwellings as property managers make investments to try and minimize surprises and reduce operating costs. 
"Water claims are one of the highest insurance claims filed each year, and with connected devices, managers can gain remote awareness to small water issues across their entire population of properties before they become a major issue," he explains. "This can reduce the reliance on a tenant to be proactive in reporting small leaks. 
"As we expect in a growing market, we see new entrants that tend to compete with standalone devices rather than an ecosystem of connected solutions," Weirich continues. "This has helped raise awareness of the product category and is giving the consumer the opportunity to evaluate different price points. Resideo's portfolio of connected solutions allows a homeowner to interact with their water leak and freeze detectors in the same app as their smart thermostats — this whole home approach is where we expect to see the most value created for homeowners and the professionals."
Additionally, Weirich points to residential building trends as a driving factor for leak detection growth. 
"For the last several decades, we've seen more laundry rooms on second stories, as well as a higher percentage of new refrigerators connected to water lines," he notes. "These sources of water leaks are reinforcing the magnitude of insurance claims attributed to water. In fact, the No. 1 insurance claim over the last several years have been water leak claims. Among all of the risks that could lead to filing an insurance claim — fire, theft, flood — everything is decreasing in likelihood. Everything except water leaks. Why? For one, people are putting washing machines on the second floor for convenience, instead of in the basement or the garage (as I mentioned). And also, plastic piping also is being used more. While plastic is faster and more cost efficient to install, it's not as durable to weathering and rodents as copper pipes.
"Homeowners want to feel secure and operationally efficient," he adds. "A secure home keeps intruders out, but also assures potable water is safe and pressurized water is contained. An efficient home uses connected thermostats to manage energy use as well as smart water products to manage water consumption."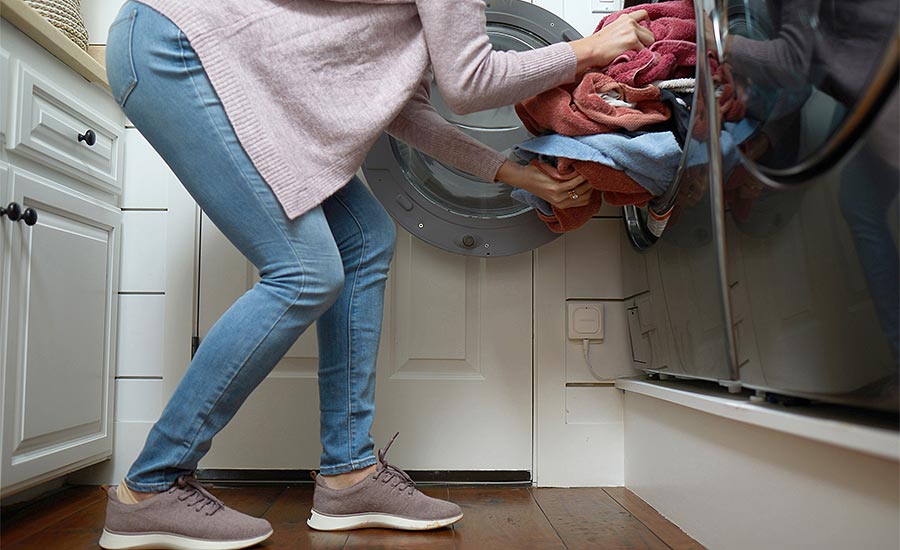 Resideo's Wi-Fi Water Leak and Freeze Detector includes a 5-foot cable sensor which detects water along its entire length. Additional cables can be added, extending the sensor length up to 500 feet, allowing homeowners to loop and lay the sensor through a basement or utility room.

Making the sale
According to Hall, plumbers should offer leak detection products to provide them with added protection against water damage and leaks, convenience, peace of mind as well as more control over their water.
"By educating their customers on the many benefits these products offer, plumbing contractors can provide added value to their clients as well as generate additional business opportunities for themselves, including from both the installation of the product and helping clients troubleshoot if the system finds a leak. 
It's also important for plumbers to stay on top of new technologies so they're not eclipsed by their competitors, Greene notes.
"Plumbing contractors can use leak detectors to differentiate themselves from their competition by offering their customers the latest in leak detection and water monitoring technology," Rosenthal adds. "Also, our device provides a way for them to increase customer loyalty. For instance, if the Phyn Plus device detects a leak, the homeowner can call the plumber that installed it directly from the Phyn app. And, our device offers a way for contractors to partner with the homeowner to monitor the long-term health of the plumbing system through diagnostic leak and pressure testing." 
The best way to pitch the sale to homeowners is to educate them on leak detection devices, Long explains.
"Leak detection devices are really safety devices like any other, which help to mitigate risk, prevent damage and provide the ability to alert the homeowner to take action," he says. "Many homeowners don't realize how big of a risk leaks really are, so as a plumber, you have the opportunity to educate them. Remind them that water damage claims are five times more common than theft claims, and seven times more likely than fire damage claims, according to a report by the Insurance Information Institute."
Additionally, most insurance carriers will provide discounts on policy premiums for having a leak detection system installed in their home, Long adds.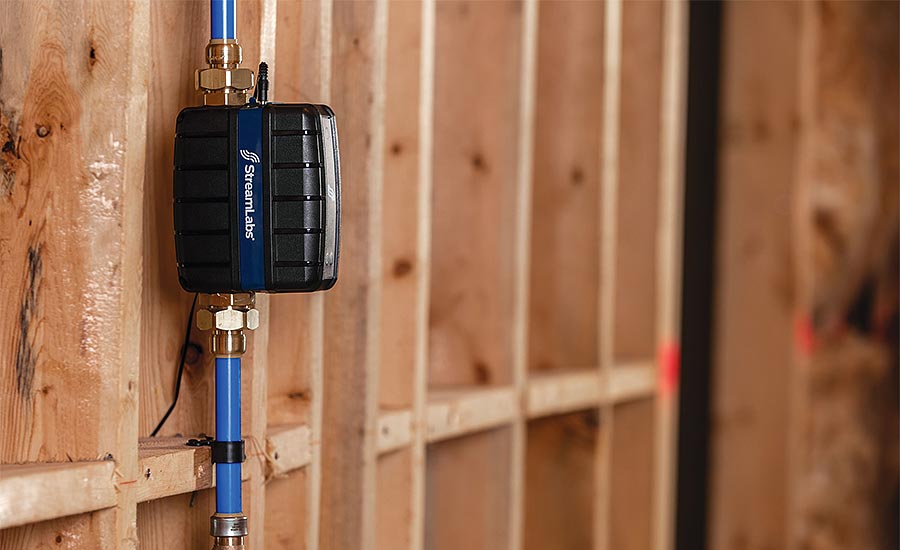 The StreamLabs Control is a whole-home smart water leak detection device that detects leaks as small as 0.1 gpm. The control performs monthly valve checks for continuous long-term operation and reliability.
"The savings can pay for itself over the life of the product," he says. "For StreamLabs specifically, they can become a StreamLabs PRO installer and complete product training. This product background will provide plumbing contractors with the foundation to answer a majority of customer concerns. Our customer and technical support teams along with our website are great resources for contractors to leverage." 
Weirich notes leak detection is just another tool in the "plumber's arsenal of solutions."
"It also has a relatively low price point, and provides a sense of security to the homeowner," he says. "This helps the professional become a 'hero' and trusted advisor in addition to being the person they call when something fails and needs fixing. One time, I had a plumber working in my home and he noticed my water leak detector; he said: 'I love those things – I recommend those to every customer that I see.'"
Weirich says one of the greatest tools for plumbers is to have first-hand user success stories, or consider citing credible studies that show the top water leak detectors. 
"One of the unstated or unconscious reasons people have for not buying a protect they hope they never have to use is just that — they don't end up needing it," he says. "They buy it, then it sits there and they second guess the value. If the homeowner can visualize that payoff moment as something other than a leak (that statistically will happen at some point over a decade of homeownership) they can warm up to the purchase."
Greene notes deep premium discounts for leak detection installations are huge sales incentives for consumers. 
"Additionally, sales opportunities reside in every leak repair job and water heater upgrade installation," he says. "When a customer feels the raw pain of leak damage, they are ready to invest in prevention. And when they're upgrading their plumbing, leak detection technology is the ultimate upgrade opportunity. 
"Customers sometimes fear leak detection technology will add a layer of complication to their daily lives," Greene continues. "Fortunately, the smart devices work out of sight and out of mind, where the homeowner will only become alerted for a suspected leak. And the manufacturers who invest in customer care are there to answer the post-installation questions, alleviating device support concerns from the installer."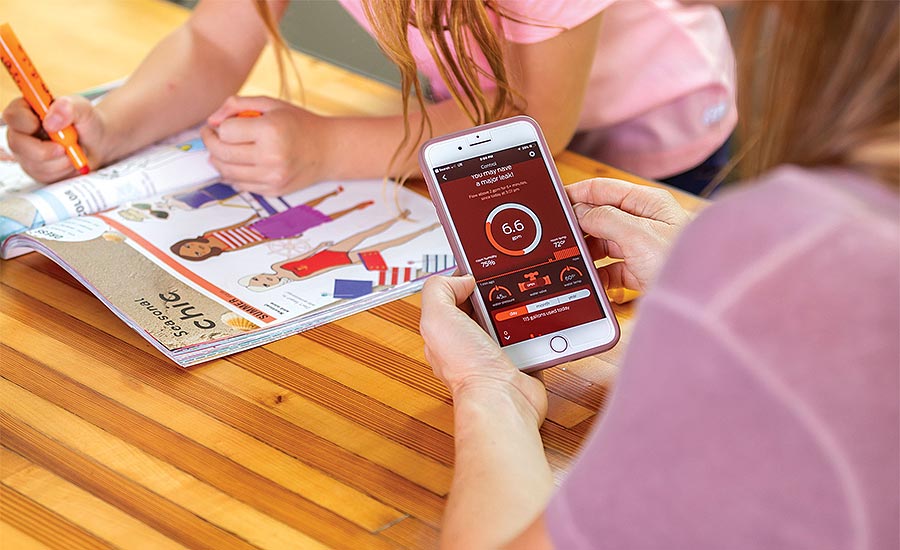 The StreamLabs Control pairs to users' Wi-Fi network to provide real-time water usage and leak alerts, as well as other alerts such as pressure, temperature and humidity through the free StreamLabs app.
 
What's next
Hall notes, "Moen is constantly listening, watching and learning to see what consumers are looking for in their homes, and the company will continue to focus on developing smart innovations that provide value for homeowners."
Long predicts the future will bring even further market penetration into the home.
"As technology advances and consumers become more informed about the available benefits, there will be a shift from what was once seen as manual valves toward automation — essentially anything you had to manipulate by hand could potentially be automated."
Greene agrees, but there is still a huge opportunity for growth in this segment.
"The growth rate continues to accelerate, yet penetration in American homes and businesses is still low," he says. "We may see a five-fold increase in the next five years, and still have majority of the market yet to address."
Going forward, Weirich expects to see more detection products part of an active system that can turn off the leak, rather than passive systems which require the user to take action.
"We'll see further integration with 24/7 monitored home security — imagine the first responder list inclusive of plumbers," he says. "Measurement and management of the water system of the home will create new use cases and value for homeowners, pros and municipal water managers. 
Rosenthal notes rebates will continue to play a role in pushing the industry forward with increased adoption.
"In some markets, leak detection systems may become mandatory or offered at no cost with rebates, much like smart thermostats have done," he explains. "And with the proliferation of these devices, we will see new innovations around conservation. The initial value of leak detection is what drives most purchases and excites partners in the ecosystem such as insurers. But look for leak detection solutions to add capabilities that automatically reduce water consumption in innovative ways that do not disrupt the water use experience for the consumer."