The smart home market is booming. There are now connected devices in practically every room of the house — smart lights, smart cameras, smart door locks, smart refrigerators, smart HVAC systems, and yes, smart plumbing devices. According to Verified Market Research, the global smart home market was valued at $80.83 billion in 2019, and is projected to reach $207.88 billion by 2027, growing at a CAGR of 13.52% from 2020 to 2027.
"As more and more connected plumbing devices are developed and released, we will see a similar trend that occurred for 'owning' the front of the house and developing a singular platform or solution to act as a hub," says Jeff Long, product manager for Cash Acme and StreamLabs, brands of Reliance Worldwide Corp. "Google and Alexa are perfect examples of companies bringing smart technology together into one centralized portal. I don't think it will be too far of a stretch for the same to occur with behind-the-wall applications that aim to integrate water quality, delivery and control technology."
Bill Strang, president of corporate strategy, e-commerce and customer experience for TOTO USA, notes Internet of Things-enabled products are thriving because they can bring a true benefit to consumers.
"There are actually needs you didn't know you needed satisfied that are being managed and resolved for you," he says. "For example, we had facility managers ask us to improve their ability when someone enters a stall and what duration of time they are inside. I told them we could do that — when someone walks in, the flush valve will ping, and it will flush when you walk out. When the person walks in, a timer will start, and if it runs to 25 minutes, it will send out an alert to the custodial staff to check stall number seven. So it allows them to do a welfare check in case someone may be incapacitated.
"As IoT and connected smart products come into the home, we're going to learn there are more things that will be derived out of the benefit you can get from that product than was the original intent of that product's introduction," he adds.
James Walsh, vice president of chinaware and commercial products for American Standard, notes the advancement of touchless products in the plumbing market.
"Touchless technology has been commonplace in commercial restrooms for a long time; however, now there is more demand to incorporate the technology in residential spaces as well," he says. "Manufacturers have responded to this demand by designing more stylish and functional pieces for the home to add to their portfolios of touchless products."

The rise of touchless
American Standard has seen a rise in touchless products in the home to limit touchpoints and the spread of germs, Walsh explains.
"Consumers want to keep their homes cleaner and safer than ever to protect their families, which has caused an increase in demand for touchless technology since the beginning of the COVID-19 pandemic," he says. "The way we examine health, hygiene and the spread of germs has drastically changed in the last year, and looks to be a trend that will continue. Hands-free technology for the bathroom and kitchen can help inhibit the spread of germs and bacteria, to keep hands of all sizes cleaner and make homes safer. Products like our new Cadet Touchless Flush Toilet and the touchless Beale and Avery Kitchen Faucets help accommodate this demand with sensor activated systems."
Emily Martis, senior product manager, smart kitchen and bath for Moen, agrees touchless technology is top-of-mind for consumers.
"People are looking for a way to help reduce the spread of germs in the home," she says. "In fact, internet searches for terms like "touchless faucet" and "hands-free faucet" are up nearly 200% in pay-per-click campaigns since the previous year, according to Moen data. Moen offers touchless faucet options for both the kitchen and bath."
Moen's U by Moen Smart Faucet can be controlled in four ways — with voice activation via Amazon or Google smart speaker, with the hands-free wave sensor; via the handle; or with the smartphone app. The faucet can dispense amounts of water as small as one tablespoon and as large as 15 gallons at a specific temperature, plus allows users to personalize the experience by creating presets in the app for containers they frequently fill, like a coffee pot or baby bottle. A new "wash hands" command allows consumers to ensure proper handwashing. When issued, the water turns on, then pauses for 20 seconds while a user scrubs their hands and turns back on when it's time to rinse. 
Moen also offers the U by Moen Smart Shower, a next-generation Wi-Fi/cloud-based digital shower that provides homeowners with the ability to create their ideal showering experience via personalized presets which range from customizing shower temperature to setting the precise length of your shower. Users have three choices to control the shower: voice activation, a smartphone app and an in-shower controller.

Leak detection and security
Up to this point, the majority of the smart technology has been integrated into point of use water devices, such as showers, faucets or water filtration devices, so the term "smart home plumbing" may be premature or a bit limited when referring to the intersection of rough plumbing, according to Long.
"The smart home plumbing market, in my opinion, is still emerging as early innovators are learning and adopting the technology, coupled with the fact that technology is still being developed," he explains.
However, leak detection has certainly been a growing trend, he points out.
"Insurance companies and contractors alike are all searching for solutions to mitigate risk and provide additional value to their customers," Long says. "RWC has been pioneering the rough plumbing segment of the smart home market by providing StreamLabs leak detection and water control products for the entire home since 2018."
Long also explains that water quality and filtration are also beginning to garner more national attention as problems continue to arise in the U.S. with access, availability and deliverability of clean water. 
"Naturally, solutions to address these issues will continue to be developed," he says. "We're already seeing integration of Wi-Fi into these systems even at the most basic level with functionality that alerts a homeowner when it is time to change the water filter."
Long notes there are a few factors contributing to these trends and the adoption of smart home and plumbing technology in general. 
"The first is lower cost of electronic devices, so the barrier of entry to purchase a smart device is lower than it has ever been before, and more people are buying connected devices for their homes," he explains. "Next, the availability of Wi-Fi in the home and general access to the internet makes adoption and penetration into the home much easier. Lastly, a lot of the convenience devices in the market today that have already permeated the home — such as smart thermostats, virtual assistants, doorbells, security systems and more — have paved the way for additional smart products to enter the home. Once the visible parts of the house have been conquered, I believe the next logical step is behind-the-wall applications." 
Martis explains consumers are looking for ways to have more control over their home, including water flow.
"Homeowners are looking for ways to add convenience to their spaces, as well as improve the health and hygiene of their homes," she says. "Moen's smart water products meet both of these desires, giving homeowners enhanced functionality, convenience and control over the way they experience water every day. The Flo by Moen Smart Water Security System helps protect the home from water damage and leaks, 24/7 — and provides homeowners with peace of mind their home is secure. Leveraging the Moen App, consumers also get an unprecedented ability to control, conserve and monitor their home's water from anywhere at any time."

Health and wellness
Strang notes it's an interesting time in the plumbing market. TOTO is able to actually monitor and track the performance of every single toilet, urinal, faucet and soap dispenser in large facility restrooms across the country. On the residential side, the company doesn't yet have interconnected products, but it does have products that bring a smart type of experience to the customer, such as TOTO's Washlet bidet.
"There is a little bit of smartness, if you will, incorporated into the Washlet," Strang says. "Some of our models have the ability to learn your routine to actually turn the heated seat on and lower it down during periods of non-use. We've just seen an explosion of demand for this product. During the toilet paper panic of March 2020, we sold out of everything we had in stock."
Strang says TOTO is currently developing a Wellness Toilet, which will monitor and track consumers' biometrics. The product is currently undergoing beta tests in Japan.
"This product will provide you with a trend line of your biometrics throughout the day — day in and day out — but it will also provide some input and opportunities for you to improve your behavior or activities to get a better experience from your diet or hydration. Our expectation is that's something that we're going to bring to the market here in the next two years or so. When that launches, we believe it's going to be a big impact because today's consumers want to have the ability to monitor their biometrics."
Strang points to the evolution of smart watches that monitor heart rate, blood pressure and sleep. There are even new devices that can measure insulin levels for people struggling with diabetes. 
"I do a lot of riding — about 4,500 miles a year on the bike — and I'm always monitoring my heart rate, energy output, how many Watts I can throw into the bike and how fast I can go," Strang says. "That's how I measure and monitor, and I can actually see my levels of performance improving. The integration of electronics and feedback is so important to the way we live our lives today."

Environmental concerns
Ankur Maheshwari, director of global product management and decarbonization for Rheem Manufacturing Co. points to electrification, increased efficiency and smart functionality as to top smart home plumbing trends. 
"The demand for electrified products is being driven by the decarbonization movement, as well as new environmental regulations that have been passed across the country at the state and local levels," he says. "We believe these policies are just the tip of the iceberg and align well with Rheem's ongoing commitment to developing innovative and sustainable products. 
"Consumers are also taking a greater interest in the efficiency of their water heating devices for a variety of reasons, but cost-saving benefits are often the primary focus, along with any relevant local regulations," Maheshwari adds. "Other factors, such as increased performance and convenience, are additional advantages." 
Maheshwari explains the ability to control multiple devices from a single "hub" is also increasingly important in the smart home market.
"Home appliances with smart functionality are becoming more common, and multiple, one-dimensional interfaces are increasing 'app fatigue' among homeowners," he explains. "Rheem's EcoNet smart thermostat, for example, acts as a hub that provides the ability to control an ever-growing list of Rheem smart heating, cooling and water heating products, so they are all conveniently accessed through a unified portal."
The ProTerra Hybrid Electric Water Heater is a great example of a Rheem product that takes into account the demand for electrification, energy efficiency and hub compatibility through Rheem's EcoNet Smart Thermostat, Maheshwari notes.

Contractors: Don't miss the boat
Plumbing contractors should not be intimidated by these new smart home technologies. Plumbers have already earned the trust of their customers, so they should position themselves to be the experts in all things plumbing —including the smart home. 
"Although residential touchless products are still a fairly new trend, the desire to maintain cleaner, safer homes is likely to continue into the future," Walsh says. "Offering touchless products and installations will be essential to meeting the needs of consumers.
Long notes that incorporating the sale of smart home products allows contractors "to provide additional value to their customers, reduce liability in some cases and generate more revenue on top of their existing business by adding adjacent or complimentary product services." 
Martis adds that more and more homeowners are turning to smart products to make their homes more enjoyable and lives easier, but finding someone they can trust to properly install these products can be a challenge. 
"With the increase in consumers adopting smart technology in their homes, comes a need for professionals who are qualified to install smart home products," she says. "Which is why Moen has developed the Moen Pro network, to certify plumbers in installing Moen smart home products. This can benefit both the homeowner looking for professional installation and the plumber who is now certified to install smart products, giving the pro the ability to expand their business with new opportunities."
There are a variety of reasons contractors should consider adding Rheem smart products, Maheshwari explains. 
"Perhaps most importantly, these products address traditional consumer demands — such as product quality, dependability, energy efficiency, etc. — while also offering the convenience and protection benefits that are exclusive to devices with smart functionality," he says. "Contractors, however, will also benefit from ProTerra, EcoNet and other Rheem products with smart functionality. Intelligent maintenance reminders ensure service appointments aren't overlooked, while features like ProTerra's LeakGuard can intervene with an automatic shutoff in the event of an emergency. Not only does this mitigate potentially adverse effects on the home, but it also can preserve a better work environment for the contractor doing repairs."
Strang notes that plumbers already have the capability and wherewithal to do this type of work. 
"The consumers' demand is already there for these products," he says. "Consumers are looking for contractors who are clever and engaged, not just someone who can dig a whole and sweat a piece of copper. They've got to understand what it is to actually build a connected home, and to be familiar and conversant in it. Familiar and conversant are two different things."

The future of the smart home
According to Maheshwari, a "combination of features that improve ease of use for consumers and ease of installation for contractors, while increasing energy efficiency and raising the bar on sustainability will continue to serve as the core of Rheem's product offerings for next five years and beyond."
Long notes the market will likely see further penetration into the home as technology advances and consumers become more informed about available technology benefits.
"We expect a shift from what was once seen as manual operated valves to automation," he says. "Essentially anything you had to manipulate by hand could potentially be automated."
Strang predicts the ability to have maintenance for connected devices done over the internet, much like what is seen with cars and smartphones. 
"It probably won't be as elaborate as Tesla, but I do see that happening," he says. "I believe there's going to be an opportunity for deeper and further engagement."
The post-pandemic landscape of how surfaces are treated and how we consider the spread of germs calls for the industry to continue to find innovative ways to maintain clean surfaces, Walsh notes.
"In addition to products that limit touchpoints, the demand for easy-to-clean surfaces is on the rise," he says. "American Standard's ceramics are made with our EverClean antimicrobial surface to inhibit the growth of stain and odor-causing bacteria, mold and mildew. This design keeps the surfaces cleaner, helps the products last longer and aids in keeping germs from spreading. We expect to see more materials like this in bathroom design across the industry in the coming years." 
---
American Standard
Cadet Touchless Flush Toilet 
Release date: April 2021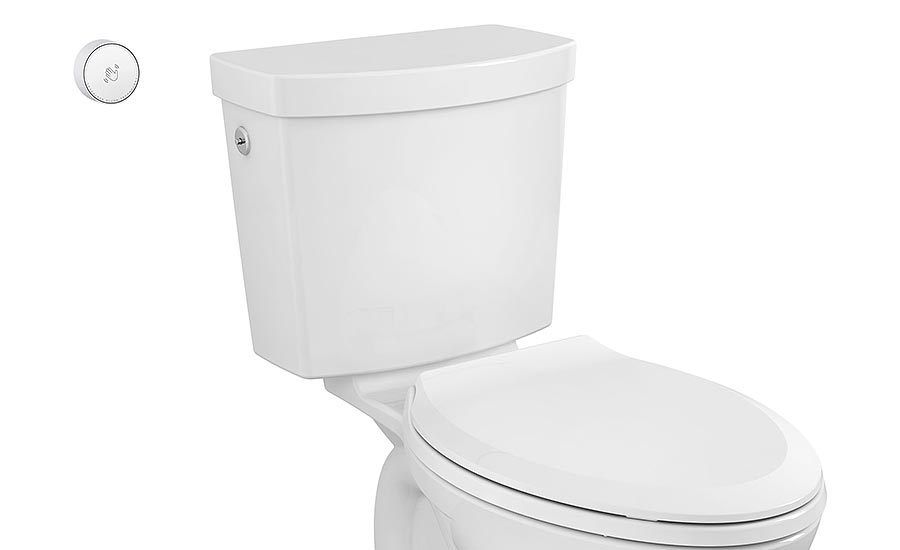 Product description: Equipped with reliable touchless technology, a dependable flushing system, and a push-button actuator to enable a manual flush for uninterrupted operation, the Cadet Touchless Toilet is engineered to outperform and ensure a cleaner, more hygienic bathroom environment, the company says. A simple wave of the hand in front of the sensor triggers the powerful Cadet flush, known for its proven ability to clear the bowl quickly and completely, while reducing germ-spreading touch points. The dependable WaterSense-certified flushing technology uses 20% less water than regular toilets, with a water-saving 1.28 gallons per flush without sacrificing performance.
https://www.americanstandard-us.com/
Moen
Flo by Moen Smart Sump Pump Monitor 
Release date: January 2021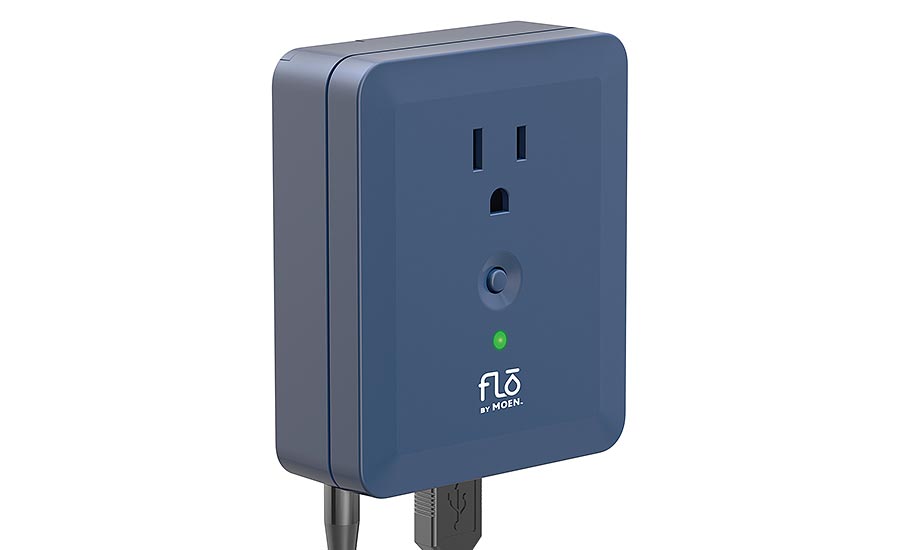 Product description: This smart device helps homeowners reduce the risk of flooding as a result of failed sump pumps by providing monitoring and alerts when potential failures or unusual conditions are detected. The Smart Sump Pump Monitor is retrofittable to a homeowner's current sump pump and provides peace of mind through advanced analytics and by monitoring for high water levels, loss of power, pump failure, as well as temperature, humidity and leaks.
Rheem Manufacturing Co.
Rheem Proterra Hybrid Electric Water Heater 
Release date: May 2020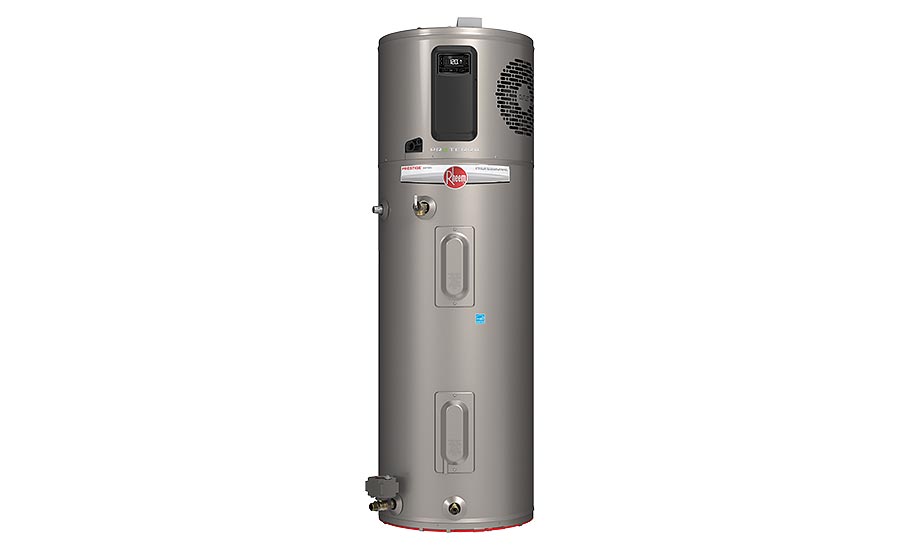 Product description: ProTerra, an EcoNet-enabled hybrid electric water heater, was designed with plumbing contractors in mind. It is easy to install and service, and with zero clearance requirements, can be installed in tighter spaces. The model with LeakGuard offers built-in leak detection and automatic shutoff that limits water loss from the tank to no more than 20 ounces. ProTerra also offers access to a detailed system diagnostic through Rheem's Contractor App, which shortens service visits and improves credibility in the field. Serviceable components are all easily accessible from the front of the unit, which saves plumbers valuable time on a jobsite.
StreamLabs
StreamLabs Control 
Release date: January 2018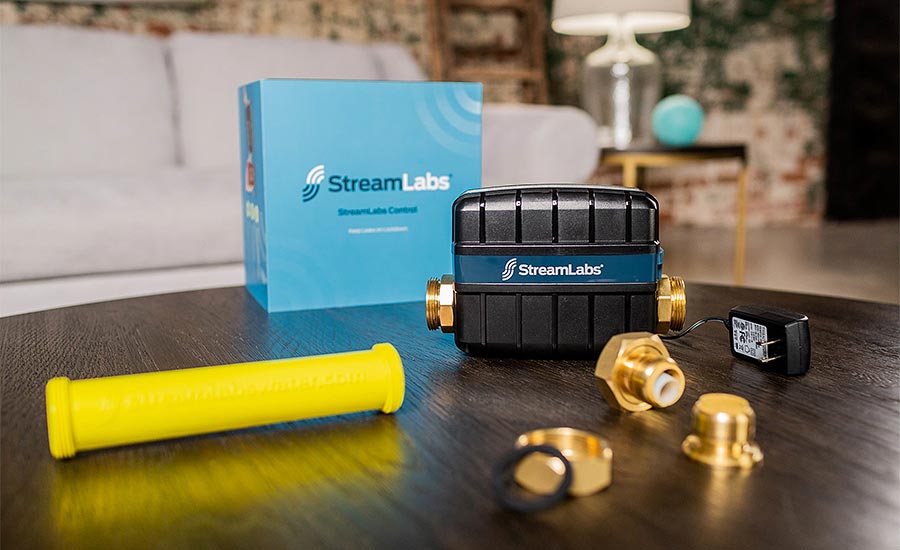 Product description: The StreamLabs Control is a whole-home smart water leak detection device that detects leaks as small as 0.1 gpm. It pairs to users' Wi-Fi network to provide real-time water usage and leak alerts, as well as other alerts such as pressure, temperature and humidity through the free StreamLabs app to provide an efficient and sustainable well-protected home or building. With its brass full-flow valve and a stainless-steel ball valve, the control performs monthly valve checks for continuous long-term operation and reliability. It comes with a two-year warranty extended to four years when the technology is installed by a StreamLabs PRO contractor.
https://www.streamlabswater.com/
TOTO
Aquia IV Arc WASHLET+ C5 Toilet 
Release date: December 2020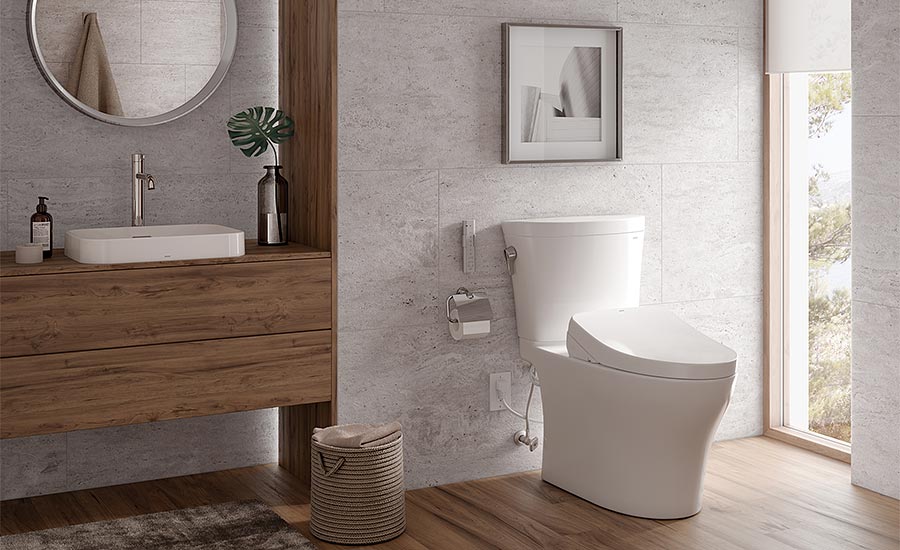 Product description: The Aquia IV Arc offers a sophisticated transitional design statement with its elegant flared tank. Its elongated skirted design is aesthetically pleasing and offers easy cleaning by removing the nooks and crannies where dust collects, while its slender tank gives it a heightened sensibility. The Aquia IV Arc toilet seamlessly connects with WASHLET+ models, leaving no protruding supply connections (water or electrical). It offers the DYNAMAX TORNADO FLUSH system by TOTO, a high-efficiency flushing system that is more effective in one flush than most toilets are with multiple flushes, and advanced bowl-cleaning technologies: PREMIST, CEFIONTECT and EWATER+, the company says. Also, it offers Auto-Flush, a sensor-operated, hands-free flush feature.