The plumber you'd send to your mom's house."
That's the slogan of Simi Valley, California-based Dutton Plumbing. The company specializes in the ultimate customer experience, according to Founder Eric Dutton. 
"Our goal is to create a relationship with every customer," he says. "We don't want to be a commodity. It's not a transaction, it's a relationship. It ties back into our slogan."
That focus and commitment to customer service and the emphasis on workmanship has nabbed Dutton Plumbing the honor of becoming Plumbing & Mechanical's 2020 Residential Contractor of the Year.
Getting started
At the young age of 10, Dutton's mother remarried, and the family moved to California. Dutton's new step-father was a plumber who drafted him as free labor on weekends, holidays and during summers.
"I was working, digging holes and helping him or helping somebody working for him with plumbing jobs," Dutton says. "Of course, I hated it because no kid wants to be a plumber — they want to be something cool. I went to college for a few years, then went back to plumbing. Eventually, I went out on my own — got away from plumbing and into the motorcycle business for almost three years. I had a great time doing that because I like motorcycles, but I still found myself connected with plumbing. I didn't want to abandon that as a reliable income source." 
When his motorcycle business partnership turned sour, he returned to plumbing full time. 
"I kept thinking, 'I don't know if I really want to do this, but I do it well — and it makes pretty good money,'" Dutton says.
However, once Dutton was married with a baby on the way, it sealed the deal. He got his contractor's license shortly thereafter and started Dutton Plumbing working out of his house in 1987. His first job was a residential new construction, which his step-father helped him bid.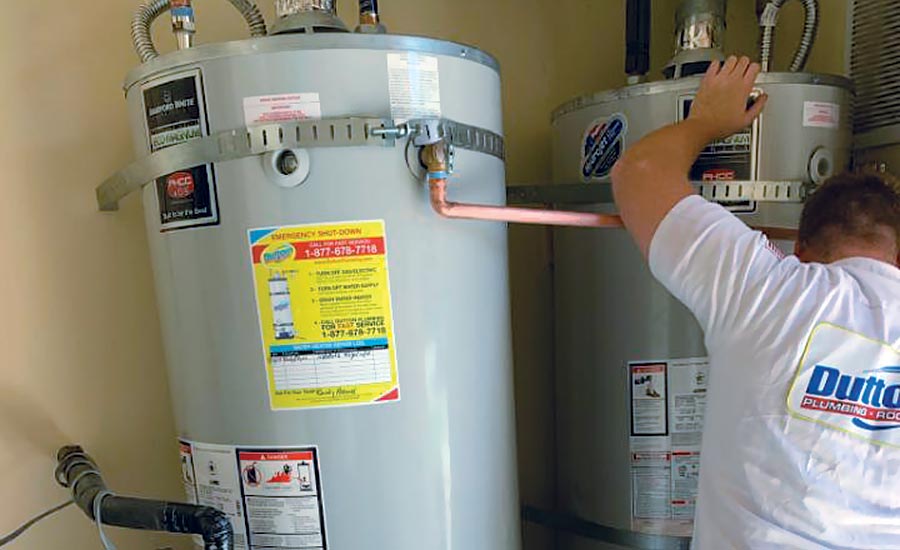 Dutton Plumbing works hard to develop relationships with all of its customers.
"He bid it so low, and my overhead was such that I was able to do it, and it got me started," he says. "I did that for a while, then the economy shifted and things started to change. In 1998, I attended a seminar in San Diego called, Mayo Marketing by Maurice Mayo of Mayo Plumbing and Heating. He was one of the godfathers of plumbing contracting. Maurice put together everything from flat rate books and uniforms to types of trucks you should use and marketing strategies. I drank the Kool-Aid, started following his plan and stuck with it."
Dutton says it was hard, but he was committed not to be weak and go back to new construction. Eventually, things got better and his business recovered. His company had grown to six trucks, so Dutton purchased his first commercial location in 2000. "Five years later, I bought my first building — it was 7,000 square feet," he says. "I thought we'd never grow into it, and we actually outgrew it. About four years ago, we moved into our latest location, which is about 30,000 square feet — it's perfect.
"Today, the company is 100% residential service repair and replacement, with slightly under 100 employees and 45 fleet vehicles. 
Family culture
Dutton Plumbing takes care of its employees, offering medical, dental, vision, life insurance and a 401K program with an employer match.
Eric Falconer, operations manager, has been with the company about 14 years. 
"I was 19 — just out of high school — and my best friend was working here at the time," Falconer says. "He told me it was awesome and they just sat in front of computers all day. I'm a huge nerd, so the idea of being at a computer all day was bliss to me. He was like, 'It's great, they start us at $9 an hour.'"
Falconer laughs, saying he thought he was going to be rich at the time. "That's how I got here. As the company grew, I kind of just grew with it, and here we both are today."
He notes that the company adheres to the work hard, play hard philosophy.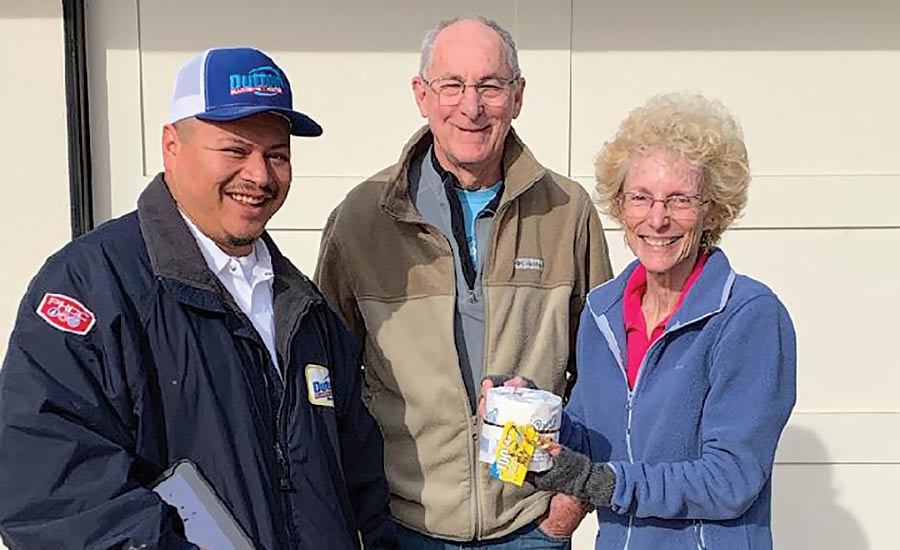 Dutton Plumbing had some fun with marketing during the great toilet paper shortage during the COVID-19 pandemic by offering $73 toilet paper to customers. Upon purchase, they received a "free" drain cleaning.
"The team here executes at a really high level," Falconer says. "Everyone is on their A-game when they get in front of a customer. We have a ton of 5-star Google reviews, and they're well earned. At the same time, there's a family vibe. Everyone is friends here, we're all laid back and kind of silly. None of us take ourselves too seriously. It's so different from a lot of plumbing shops where there is this dog-eat-dog mentality." 
Randy Arnold, has been an advisor for Dutton Plumbing the past three years. "I watched a video of Eric Dutton about his beliefs on customer service, and I wanted to see if it was true," Arnold says about what drew him to the company. "There are many opportunities to grow, and it's an awesome atmosphere that makes you want to go to work every day. Eric is a stand up man; he means what he says. I'm proud, honored and privileged to work for Dutton Plumbing."
Marketing 101
Dutton Plumbing is well-known in its market for its creative marketing, which includes the company's ingenious slogan.
"An office employee at the time came up with it," Dutton says. "He was a teenager when he started working here, and he attended a trade show in Long Beach. I told him, 'Prepare yourself, it's a bunch of plumbers.' His only experience with plumbers were our guys, who are clean cut and well-groomed.
When he got back, he said the event reminded him of the Capital One commercials with the angry Vikings storming the town — a bunch of surly-looking, scruffy men charging in and grabbing everything that's not nailed down. Then, he said, 'Our plumbers are the ones you'd send to your mom's house.' I heard that, and I really liked it. I told him I was going to steal it. He told me it's all mine, so I trademarked it and it's been our motto and slogan ever since.
"We use it all the time," Dutton adds. "When it comes down to customer complaints, we will ask, 'What would I do if this was my mom in this situation?' It's really served us well and has become  the main core of our culture here.
"That same slogan and Dutton's own mother have also inspired clever radio commercials for the company. In fact, Dutton Plumbing won a silver ADDY Award in 2017 and a bronze ADDY Award in 2020 for the commercials.
"I have a natural sense of humor and I'm a pretty sarcastic guy," Dutton says. "My mother, who is 93, is a zany lady who thinks out loud. She was always one of those embarrassing moms when I was younger. I noticed old ladies can say whatever they want and get away with it — they can be inappropriate and people just kind of chuckle. So I thought, why not be genuine to who I am and to the brand? We allow the mom character to think out loud on the radio. They're staged like phone calls between my mom and I, of her calling the company and me answering the phone. She's this crazy old lady, and totally inappropriate. They are funny as hell."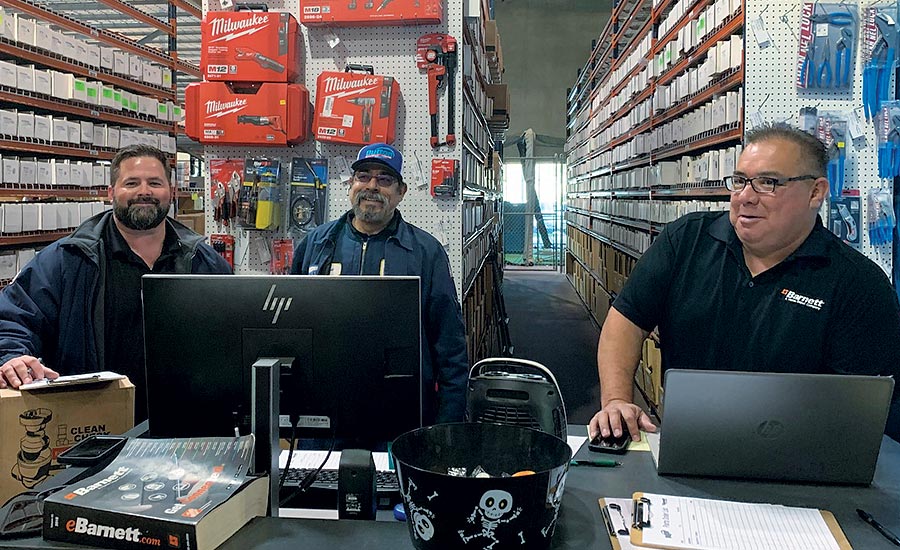 The company offers its employees medical, dental, vision, life insurance and a 401K program with an employer match.
Opportunity knocks
Last October, Dutton Plumbing was acquired by Goettl Air Conditioning & Plumbing.
"All of a sudden, I looked at the calendar and thought, 'What's my next play? Am I going to continue doing this until I blow away in the dust?' That's what prompted the acquisition," says Dutton, who is now 61, but jokes he doesn't look a day over 70. "I've known Ken Goodrich for nine years and I love the guy — he's smart, and he's a winner. When he approached me, I was hesitant because I've only ever worked for myself. Working for family doesn't count. My business coach told me 80% of owners who sell out or are acquired and are asked to stay on don't succeed because it's the mindset you just can't wrap your head around. I think the fact that I have the business coach, and because it's with Ken, makes this doable."
Dutton notes there were challenges in the beginning with the transition to his new role within the business, but now he's having the best time.
"Goettl is a whole new game," he says. "Ken's goal is to Goettl-ize the nation, and though we still rock the Dutton brand at this branch, I love the passion and the vision. I feel privileged to be part of that.
"Goodrich, who is CEO of Goettl Air Conditioning & Plumbing says acquiring Dutton Plumbing was part of his mission to create a national, coast-to-coast brand of HVAC and plumbing services.
"As we started to grow our plumbing operations, I decided I really needed a professional," Goodrich says. "I really needed somebody with depth and a proven level of success to help lead that piece of the business, and so Eric was the first guy I thought of. We both have some shared values and some shared ambitions, and so we decided to come together. The business was very well-run — it had tenured staff, key components, good financial statements and great brand recognition. Partnering with them was a great fit."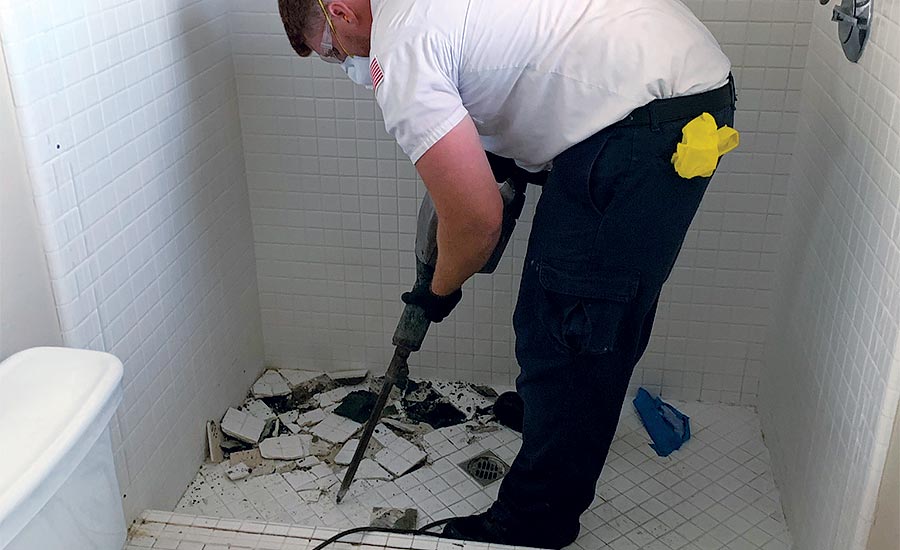 Dutton Plumbing is 100% residential service repair and replacement.
What's next
According to Goodrich, his plan is to continue to grow Dutton Plumbing and its service space.
"We're going to expand to different geographical areas inside of California, Southern California, and also grow our air conditioning services within Dutton at the same time," he says. "We believe that we can significantly grow the business with adding our air conditioning services, as well as the collaboration and support that we bring to the company.
"Eventually, the Dutton Plumbing brand will be absorbed by Goettl Air Conditioning & Plumbing.
"Ultimately, I want to bring in a one brand strategy, but we have to be very careful with that," Goodrich says. "We have no timeframe to do it, but yes, as we move on carefully, we will start to migrate the brand to Goettl. 
According to Dutton, he has about a year before his current agreement is up and he hands over the keys to the company, so to speak.
"Technically, the ownership has shifted, but I'm still in charge — Ken's been super gracious about it. We are partners and he means it, so there's still a sense of ownership that I'm privileged to have. It's hard to let go, but I believe in the Goettl brand 100% — they're just getting started. I fully expect this company to be a billion dollar company in a matter of a few years. It'll be the largest, and by far, the best. Ken hunts talent, and when he goes hunting, he brings back the big catch. He gets the right people, and he's smart enough to know what those people look like. There's no stopping Goettl."