We do what we say." 
With that tagline, Mechanical has built a solid reputation as being an honest and fair mechanical contracting firm in its 51 years of operation. The company provides CAD/BIM, building automation, construction, facility management and service, engineering and fabrication services to numerous markets, including healthcare, industrial, K-12, higher education, government, mission critical, high-rise, aquatic, wastewater treatment and more. 
Under the second-generation leadership of President Brian Helm, Mechanical is very involved in industry initiatives and supporting the local communities in which it works, which is why the company has been named Plumbing & Mechanical's 2020 Mechanical Contractor of the Year.
History and growth
Mechanical is part of the Helm Group of Companies. Founded in 1946 as the Freeport Blacktop Construction Co., The Helm Group originally paved city and county roads. 
Mechanical was formed in 1969 to handle the growing piping specialty trade work that was developing around the nuclear power plants and treatments the company was building. Mechanical became a major pipe fabricator and constructor in the region and started shipping fabricated pipe throughout the U.S. The name of the parent company was changed to Helm Group.
"Each of the five companies [in the Helm Group], for the most part, is pretty independent," Helm says. "The mechanical, plumbing and service work is all under Mechanical's umbrella. We started in 1969 doing treatment plant work as a general builder, and needed a piping contractor to be part of that. So we started a piping company in addition to our general contracting work. So Mechanical grew from that treatment plant business." 
Both the Helm Group and Mechanical are headquartered in Freeport, Illinois, though Mechanical has grown in recent years and now boasts eight total locations. In 2002, the company added two separate locations in Chicago; one in Milwaukee in 2008; two more in Champaign and Peoria, Illinois in 2015; one in Omaha, Nebraska in 2017; and most recently, one in Kansas City, Missouri in 2020.
According to Helm, owning construction companies is in the family business dating back prior to 1946 when what is now the Helm Group started. 
"I used to come into the office on Saturdays and work during the summers when I was in high school and college, and it seemed like a natural fit," Helm says. "The company had the same values I and my family had. So it was just kind of a natural extension to start working at the company myself."
After graduating college, Helm spent a few years working construction in Atlanta before returning to the Helm Group and Mechanical in 1999. Under his leadership, the company has enjoyed wide success, even being named Engineering News Record's Midwest Specialty Contractor of the Year in 2019. 
Helm is also the current president of MCAA as well as a member of SMACNA. These association partnerships have helped the company with labor relations, education and government affairs, Helm notes. 
"One of the things MCAA and SMACNA does is negotiate with the labor counterparts, such as the  UA on the MCAA side, and the sheet metal workers on the SMACNA side," he says. "And they don't just negotiate labor agreements, but they also work out common solutions to joint problems." 
Being a union shop has benefited Mechanical, especially in regards to having an available resource for labor. 
"If we get a big job, we can get 50 or 100 people — whatever it takes — with only a couple days' notice and be able to staff that job appropriately and with well qualified people," Helm notes. "When that job is over, if we don't have a place for those employees to go, they can go work for another union contractor."
Currently, Mechanical has 650 full-time employees and 325 fleet vehicles. 
"We work hard to select the right project, so when one job finishes, we have enough other projects for people to go to so we can keep them steadily employed," Helm says. "Sometimes that may mean a day off here and there, but for the most part, our employees are going from one job to the next."
Mechanical has been hiring project managers and upper level managers even through the COVID-19 pandemic to ensure it has staff members to help manage the current workload. 
"Right now, the market still seems pretty strong," Helm says. "There is a worry that six to 18 months from now, some projects will end up being cancelled. Other than being worried about it, we haven't seen that come to fruition yet."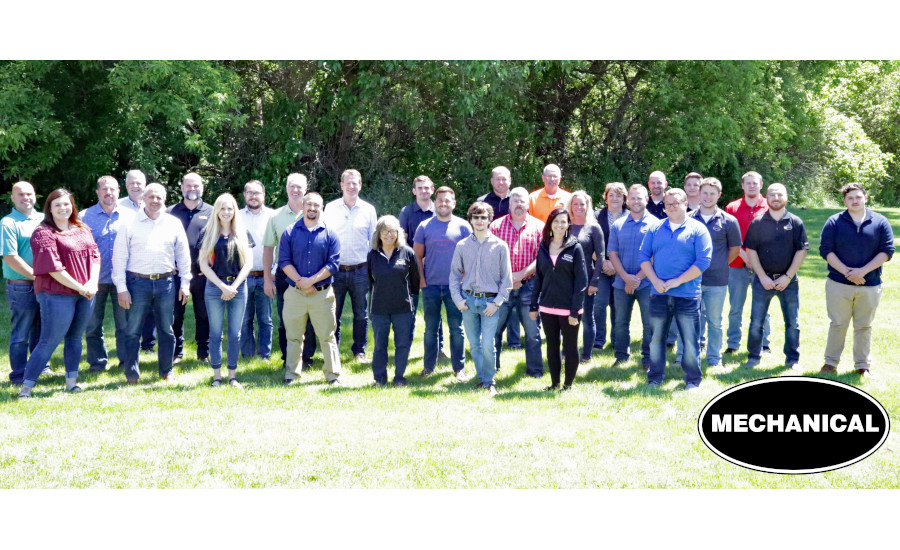 Homegrown employees
Mechanical partners with several university programs to recruit employees. Most of them begin through internships, as the company usually has between six to 10 interns a year. 
"It helps when we have a summer or two with them before making a full-time offer," Helm says. "A lot of our full-time employees have started that way. There are some geographies where we are short people, so we've had to do a better job of training employees and even moving some people to higher positions — both in the field and office."
Helm notes navigating the labor shortage has been a fun challenge because of being able to promote higher level positions internally before their age might dictate they are ready. 
"We've had a lot of great success putting people in these positions earlier than they may have been at another company," he adds.
Dale Cox has held several positions at Mechanical, spanning more than 20 years with the company. He is currently vice president. 
"The Helm family creates opportunities within the company for their people," Cox says. "If you are motivated and are willing to contribute the effort that's required for success for yourself and the company, the Helm family will absolutely create opportunities for you. I always appreciated the fact our good people do have career paths within our company. They can spend their whole career here and not be stagnant — and they can be absolutely challenged and rewarded every step of the way.
"The other thing I really like about Mechanical — why I've stayed here so long, and why it's so easy for me to promote this company to other employees and potential employees is — is because they really care about their people," he adds. "Our industry is challenging, and it's going to get worse. It's going to get more challenging for lots of reasons, there's a lot of things done in a virtual environment now in lots of ways. So it requires a much deeper skillset than it used to. However, it's still a good industry. And you want to be with a company that has the right type of support, resources and people skills that will make your job the most effective. I can't even imagine working for anybody else anymore. I like everything about our company and what we do. We're not perfect, but we do a lot of things really well."
Cox describes Mechanical's culture as being people-oriented because it focuses on people and developing them while giving them the tools they need to succeed. 
"I'm proud of many things during my time here, but it changes over time," Cox says. "When you're young, it's about building a project and accomplishing tactical things, making deadlines and things like that. But as I've gotten older and taken on other responsibilities, I'm very proud of the people I work with and my ability to mentor them. I'm at a stage in my career where mentoring means more to me than doing one more job. I've done thousands of projects, but I really love to see our young people develop and become the next generation of leaders in our industry."
Another longtime employee, Gary Statdfield joined Mechanical Dec. 1, 1972. 
"I went to school for a couple of years and ended up assuming I would go to work for my father, who was a small plumbing contractor," Statdfield says. "My first year apprenticeship, I got assigned to Mechanical, which is the best thing that ever happened. As a third-year apprentice, I moved to the Quad cities and started an office down there for Mechanical. We were doing wastewater treatment plants and I lived down there for about 10 years. In 1983, I came back to Freeport and was president of Mechanical for 18 years. Then Brian became president in 2001, and I moved to vice president of business development."
Statdfield notes he has spent his entire career with one company because of the atmosphere and the Helm family.
"What they make, they put back into the company," he says. "They also challenge you. I like to be challenged, and there's always new things happening, whether it's geographic territory or larger projects we were doing, and we have grown quite a bit."
Ryan Blackman, a mechanical engineer by trade and vice president at Mechanical, got his start in construction after graduating from the University of Wisconsin. He's been with Mechanical for the past seven years.  
"To say the culture here is fantastic doesn't do it justice," Blackman says. "It's a great place to work. I feel like everybody within the company is valued for the positions and responsibilities they're given. With the number of offices we have, it's amazing how Brian has been able to maintain that small company feel. I wouldn't classify ourselves as a small company anymore, but for a company that started as a relatively small office out in Freeport and is now a more than $300 million dollar enterprise, it's impressive." 
Blackman runs one of the Chicago offices on the commercial side of construction. 
"Looking back on the experience of the companies I've worked for in the past, and I'm not just saying this because he's my boss, but I would say working for Brian and the way he really enables and kind of pulls everybody together to work as a team is the best thing about working here," he says. "You always feel like you're part of something, that you're all working together towards a common solution. I think in the industry that we're in, just by the nature of it, you have to work together as a team, and Brian really fosters and allows people to do that by giving people responsibility and opportunities to succeed."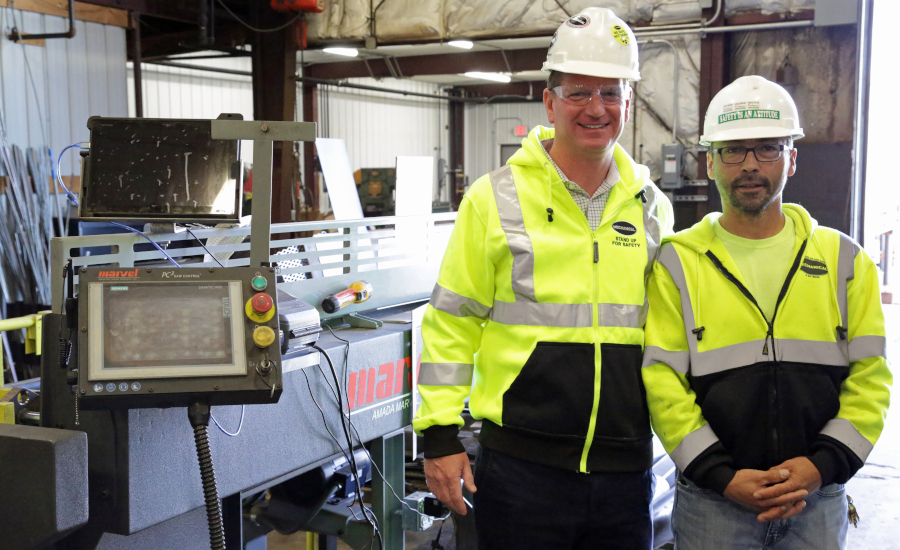 Cutting edge of technology
Helm has been very big on implementing new technology at his company —in fact, it was one of his initiatives as MCAA president. 
"The implementation of new technology to help productivity has been one of the biggest changes to the company over the years," Helm says. 
However, one of the biggest challenges the company faces is the ability to measure field productivity, he notes. 
"We think we're productive, but being able to prove it is not something we're very good at," he says. "There's some technology we're exploring to be able to scan work completed on a daily basis and feed that into a BIM model — we think that will be the solution to the problem."
"We do a great job leveraging all kinds of technology to be as efficient and accurate as possible," Blackman adds. "We're probably more cutting edge than a lot of contractors across the nation, whether its 3D scanning, installation tracking, prefabrication and more. Any of those types of technologies that help us engage with the design team, owner or customer to get feedback before the project is built helps us deliver the product they want. That technology has helped set us apart. We've been purposefully outsourcing our virtual design and construction group over the last year and a half to a lot of people that don't have the same capabilities we do, which again, helps increase the experience we have both internally and externally, and kind of broadens our footprint and where we can go."
Looking ahead
According to Helm, Mechanical is in growth mode and looking to add additional cities over the course of the next one to three years. 
"We will be adding one or two more cities in that timeframe," he says. "Looking at geographic expansion is one of the really big things we're doing.
"We have two more initiatives as far as the future goes," Helm adds. "One is to stay in front of emerging technology, so we have one employee whose sole responsibility is to research and implement emerging technology in construction because we want to ensure we're staying in front of all those trends. Secondly, is ongoing training for field and office employees. We're using a new learning management system to be able to formalize our continuing education process and making sure we're always learning from each other, and also from third party providers."
As far as long-term goals, Helm says it's all about growth and increasing productivity while keeping everybody safe and providing the quality Mechanical's customers expect.
"We're focused on exceeding our customer's expectations while also growing the company both in scope and geographically," he says. "So we're constantly striving to be better in what we do and also do it in more places.
"We've had a lot of employees spend a lot of years here and had multiple generations of employees go through the company," Helm adds. "Seeing them meet their career goals is what I'm personally most proud of."