Just about every company claims to have a family culture, but not every company truly works hard to make it a fact. Harrell-Fish Inc. (HFI) is one of the good ones. With its vision statement, "We will relentlessly grow, develop and build our people, company and communities for a better future," it's clear HFI puts its employees first.
The firm's commitment to its employees, as well as its dedication to improving the industry by educating everyone — including competitors — as well as its eagerness to be early adopters of technology and innovation have earned HFI the title of PM's 2022 Mechanical Contractor of the Year.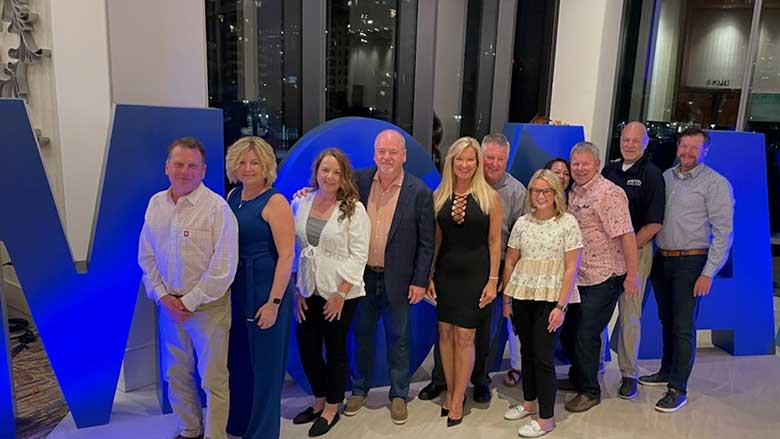 A team of HFI employees attended the 2022 Mechanical Association of America annual convention held in March in San Diego. From left to right: Mike Livingston, Dave Conner, Scott Hinton, Keith Kolb, Steve Legan and Steve Dawson.
The HFI way
Harrell Mechanical was founded in 1985 by Joe Harrell when he was 50 years old. Harrell had previously run a family contracting company, but was not part of the succession plan, so he left, sold everything he had and founded a mechanical contracting firm.
"Joe founded the company with the idea of selling it eventually," notes Steve Dawson, president, CEO and current owner of the firm. "He really was a great contractor – he wanted to see this company go far into the future — successfully."
By 1991, Harrell was in the process of selling his then-$20-million-a-year company with 75 employees to his first partner, Rennie Fish. It's also when Dawson came on board as a fresh mechanical engineer straight out of Purdue. 1994, the sale was finalized and the company's name was changed to Harrell-Fish.
"At that time, it was decided Joe should be my mentor and teach me how to run a contracting company," Dawson says. "It was a blessing and a curse. The blessing was I got a guy who's almost 60 who has done this all his life, and he's teaching me. The curse was we would go to meetings, and Joe would make all these promises like, 'Yeah, you'll have that today,' or 'You'll have that in the morning,' or 'You'll have that by the end of the week. No problem. Steve will get it to you.' And I'm like, 'Joe, I have to do all this. It's easy for you to make these promises.' That was the challenging part."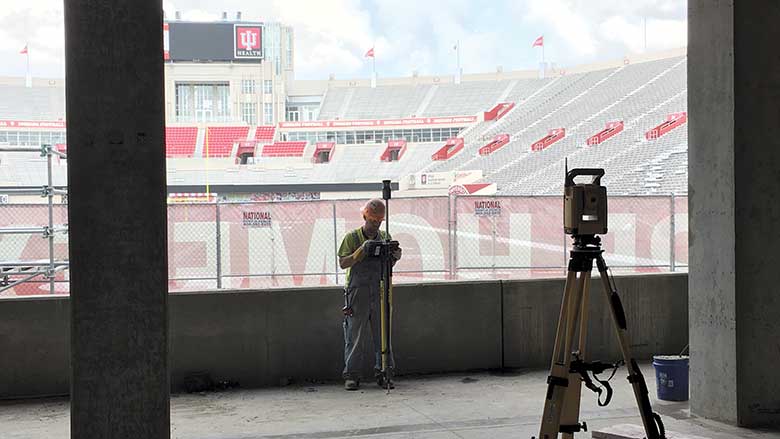 Fish successfully ran HFI from 1994 to 1998, but after a health scare in 1997, decided he wanted out of the contracting business. So he turned to 28-year-old Dawson, who had been being groomed for ownership by Harrell, to buy him out.
"Because of my young age, we told the banks and bonding company that I was 'about 30,'" Dawson explains. "The company had grown too big for just one owner, so I got three other partners and we made the announcement. Both Joe and Rennie were very respected, and I'm really young at this point. All of these people — our foremen and our clients — they watched me grow up in the company, and now all of a sudden, I'm the guy. I wanted to be confident and I wanted our people to be confident. I told them, 'Each of you is really good at what you do, and as long as each one of us takes care of our own business and does a really good job, we're going to be fine. If there's a question, we ask it and find the answer. If there's an idea, we want to hear it. If there's a problem, we want to solve it.' And that was how we started — with that natural servant leadership style. I was all about how I could help them be better."
Dawson eventually bought out his original partners over time, and then added new ones. Currently, HFI is owned by five partners. Dawson remains the majority shareholder.
"It does make a difference to have partners," he explains. "They're all in the company, we're all here every day. We're all on an oar, if you will, rowing the boat together."
Under Dawson's stewardship, HFI has grown from $20 million to $125 million in revenue, 400 employees, 180 fleet vehicles and three office locations in Bloomington, Evansville and Fort Wayne, Indiana. HFI performs work in seven states, specializing in the construction, industrial, health care, bio-pharmaceutical, commercial, food service, residential and energy industries. HFI performs and excels in all areas including plan and spec work, design/build, BIM, fabrication, full 24-hour emergency service and, maintenance and construction management.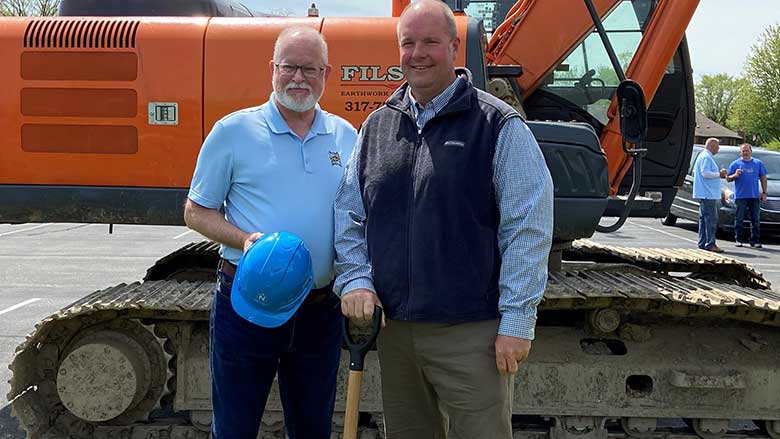 Harrell-Fish employees live by the "HFI Way," which places a focus on family, professionalism, service, quality and safety. The HFI Way means the company will "do whatever it takes, as one team, to make a difference by being leaders in mechanical and building solutions."
"We took everything we believed and we put it on one sheet," Dawson explains. "These are ideas that started before me, but have been present in this company since I joined it in 1991. We have a very specific and intentional onboarding process. We have a specific and intentional training process. We picked every word on this sheet very specifically and intentionally, to try to transfer the idea of who we are. Because to some degree, piping is piping anywhere in the country, and estimating is estimating. But how we interact with clients, how we conduct ourselves on a job site, in meetings, that's really about who we are."
In addition to this year's Mechanical Contractor of the Year, HFI has received MCAA's Safety Excellence Award, American Standard's PaceSetter & Diamond Award, the Jonas High Five Award and others. The firm is also heavily involved in MCAA, Mechanical Contractors Association of Indiana, USGBC and more.
"We take our role in shaping the future of our industry very seriously," Dawson says. "We believe it is a mutually beneficial relationship and we get back far more than we put in. The ideas, collaboration, PEER Group Relationships, all help us learn and grow as an organization. Then we make a difference for others by sharing what we have learned and developed. It becomes an upward spiral."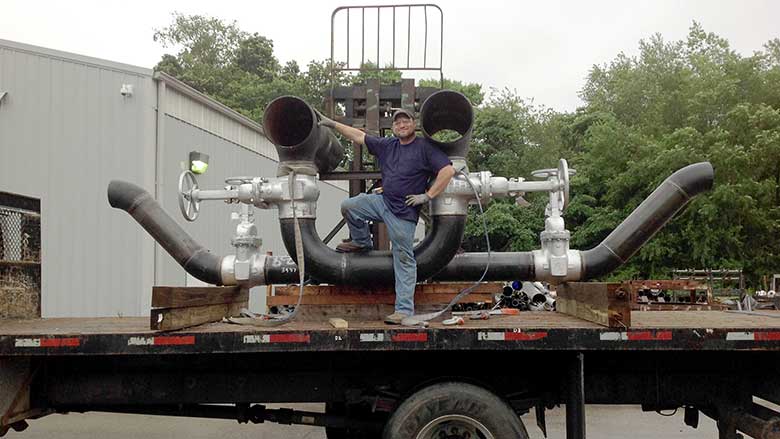 Focus on family
Like most companies with fast-growing revenues, HFI is hiring. The firm places a large focus on recruiting, attracting and retaining employees, Dawson notes.
"More than 50% of our company has been here five years or less," Dawson notes. "So how do we maintain the HFI Way with people who have not been here that long? So our biggest challenge, and our single greatest success, is our company culture. As president and CEO, one of the most important things I can teach and nurture is our culture. It's more important than the work that we do. Because if we get the culture part right, the work we do is going to take care of itself."
Additionally, HFI's social media accounts are all internally focused — all to retain current employees.
"About 70% to 80% of our marketing messages are internally focused, not about generating new business," Dawson says. "We celebrate birthdays, babies, softball team championships, high school and college graduations, if someone shot a big deer or caught a big fish. We celebrate our people. We also do these things called Frankie Fridays, where anyone in the area can stop by for a cookout in our back shop. If you're near, drop in. If you're ever in Bloomington, come to a Frankie Friday, and you can eat with us. The food's not gourmet, but the camaraderie's priceless."
Brad Schlegel, vice president of construction and one of the owners of the company, was HFI's first hire after Dawson became president back in 1998.
"I came here at the ripe old age of 30, and after about nine years, Dave Mood and I had an opportunity to become partners with Steve. And so we've been partners going on about 15 years."
Shlegel grew up in a family-owned business started by his grandfather during WWII learning how to do plumbing, mechanical and electrical work. From there, he worked at a local HVAC supply house and a few manufacturing facilities for a few years before deciding to go to college. In 1994, he enrolled as a non-traditional student at Purdue University.
"The easiest job I ever had was going to school full-time," he jokes.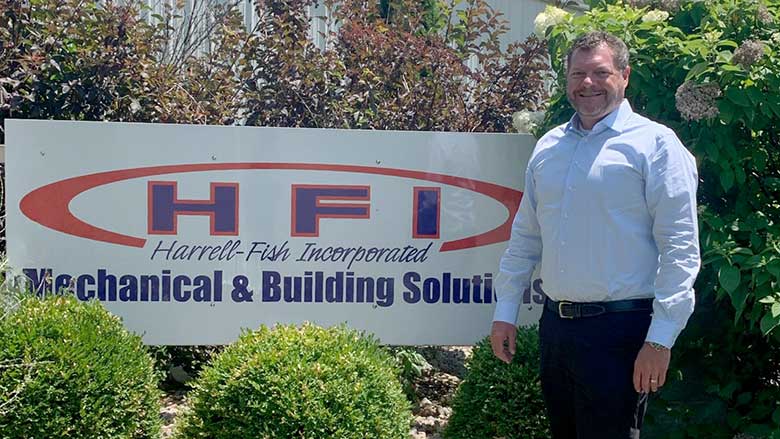 Schlegel received his degree in construction management with a mechanical specialization. And, he's proud to boast his son just graduated this year from the same program.
"He got a minor in BIM, and is working with our company full-time under a different guy after interning with both our Virtual Design Construction group and our Project Management team. As a dad, it's exciting to see that."
Schlegel notes it was the young company leadership that first drew him to HFI to begin with. "I had offers from all over the country because I had experience working in the industry. But then I interviewed with HFI and realized, 'Hey, these guys are young.' I'm six months older than Steve. And our other partners are the same age or younger. It was also the closest to home — I grew up in central Indiana. I saw an opportunity to really plug into all aspects of the business, not just spend time with the estimating team for two years, then go to the scheduling team for two years and so on. I was already 30 — I didn't have time for all that. And I hit it off with Dave Mood. It just felt like a good fit, so we took a chance on one another, and here we are, 37 years later."
Schlegel says it helps that all the company owners work in the day-to-day business. "We have an open door policy, if somebody has a good idea or sees something happening, it can go straight to the top to our leadership team and owner group to make it happen quickly. And it's cliché, because everybody feels they have a family atmosphere, but we truly live it. Our Frankie Fridays are like your old-school family picnic time. We try to work hard and play hard, which is another cliché, but we really embrace that. We don't have very many people leave our company. People come and they just stay. That says something."
As an example of how HFI cares about its employees, Schlegel notes that the ownership team recently decided to give all of its office employees an additional paycheck to combat the recent inflation and fuel hikes.
Mood, vice president and another owner of HFI, is also a Purdue alumni who grew up in the industry with his father, who was a small HVAC residential contractor. Together with John Koontz, Mood helped form the very first Mechanical Contractors Association Student Chapter in the country. Dawson, as a young HFI employee, helped Koontz pitch the idea to Purdue's dean during a meeting one morning.
"We started the first one working with MCA of Indiana and MCA of America," Mood says. "In that process, I sent a bunch of letters to mechanical contractors — way back before we had internet —and Joe Harrell answered my letter and hired me as an intern. I spent a couple of summers in California working for a GC, then did my last internship at HFI and graduated top of my class from Purdue. I could have gone to any big company in the country, but I chose to work for a small mechanical contractor in Bloomington, Indiana. I wanted to work for a company where I really thought I could make a difference.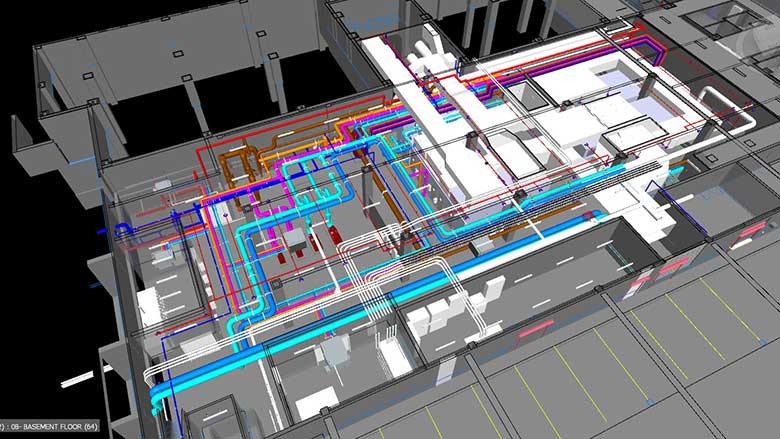 When I spent the summer at HFI, I was already able to help them develop new processes and programs that even when I left, they were going to continue. I helped them. When you go to a small company, you can really make a difference. Nothing just happens. Everybody here can make a difference. And personally, it's been the best decision of my life — going from an 18 year old coming to work for a small company, and ending up the owner of a $100 million-plus mechanical contracting company. It's a big company with a small company feel that we've worked hard to maintain."
Mood notes that HFI has an inordinate amount of really good people in the company, and it's all because of the culture.
"The history of the company shows how the best people here have been given ownership opportunities over the years," he says. "We have multiple employees here who have been president of the MCA of Indiana student chapter, we have a number of people who have been number one in their graduating class, we just have a lot of really good people in our company."
Mike Hupp, vice president of service and also an owner, was recently joined by his sons who joined HFI after graduating from Purdue. "When they were 10 or 12 years old, they would visit the shop and from then they knew they wanted to graduate college and work here. I am as humbled as I am proud that they chose our company for their career."
Dave Conner, CFO and another HFI owner, came to the firm through the financial side of the business.
"I worked for a regional CPA firm for about 17 years, specializing in construction companies, then came to work here in 2007 when they reached out to me," he says. "I was familiar with Steve and some of the other individuals here, and they kind of recruited me. HFI's reputation at that time was top-notch, knowing who they were and how they started. It was, and still continues to be, a family-oriented, family-focused business, where we care about employees and their families. We also want to treat employees like they're our family."
The company atmosphere is what first attracted Conner, who became one of the company owners in 2015. "I enjoy working here and making a difference. We really make a difference with our employees and in our communities. The work is interesting, but you could do interesting work at a lot of different places. It's who we choose to do that interesting work with, and I think that's what makes HFI unique."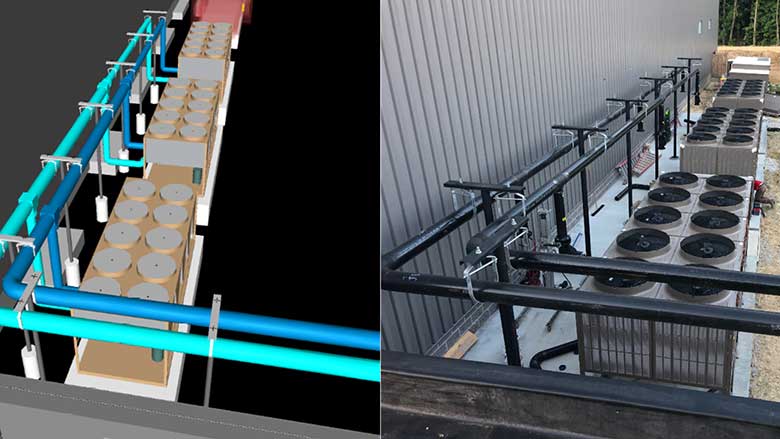 Embracing technology
HFI was one of the early adopters of Building Information Modeling (BIM) back in 2014. Today, HFI's Virtual Design & Construction team provides an avenue for connecting construction teams, designers and clients during the early stages of a project. The team, led by Jeff Miller, yet another Purdue grad and director of virtual construction, utilizes Revit, AutoCAD, 3D laser scans, clash detection software and robotic layout for improved coordination in all phases going from initial modeling all the way to layout of the coordinated work.
"I worked for contractors in Fort Wayne, then my wife was going to optometry school down in Bloomington. I called the contractors I worked with and asked if they could recommend a company in Bloomington, and they gave me Steve's contact information. I reached out to him and we caught up at a national convention for MCA. The rest is history."
Miller worked for HFI as a project manager for about eight years before starting up the company's virtual construction group.
"In late 2013, I got a call from our leadership group that said, 'Hey, we just picked up the Kelly School of Business renovations here at Indiana University. We want you to figure out how to participate in the BIM coordination on that project. And oh, by the way, we want to fabricate as much of that project as we can.' Back in those days, that was a three-year, eight-phase project. It was going to be fully coordinated, and while we had been participating in that in the past, it wasn't our sole focus. We were doing it as required on projects at the time. I had worked with CAD programs in college and took some CAD classes. Because of that experience, I got the call saying I was transferring all my projects to someone else and to figure this BIM stuff out. So I did, and in 2015, I hired my first team member."
Over the past five years, the virtual construction team has grown to 14 employees, not all of whom are actually in the office. Dawson notes in addition to having out-of-state employees, two of the team members reside in Canada and Germany — the beauty of virtual construction is you can work from anywhere.
HFI also hires its virtual construction team out to other mechanical contracting companies in need of BIM services, Miller explains. "We started selling this as an external service. In addition to all of HFI's internal virtual construction needs, we provide these same services across the country to construction managers, contractors, subcontractors and design professionals that are looking for help with their virtual construction needs.
"HFI has such a focus on the leading edge of technology that it has been a blast because we are out there using technology to help us make our projects and support our teams as efficiently as possible," Miller adds. "Our owner group's willingness to invest in technology for our teams — just across the company in terms of software, iPads and computers — and purchasing laser scanners, robotic total stations and augmented reality tools has allowed us to capitalize on being leaders in our industry here in the United States."
Dawson notes HFI is an early adopter of technology and innovation. "We were early to adopt BIM and field mobility solutions for service techs. We were early to adopt iPads for construction foremen and new ways of constructing jobs, whether it was press fit or grooved piping. We really geek-out on all this stuff.
"One of our mottos was work smarter, not harder," Dawson adds. "We really pushed the envelope of production, time-saving tools and techniques. We didn't chase all the shiny objects. We really vetted it. We are a tough group to win over because we're so practical. We have to see it to believe it. And you might think that doesn't go with innovation but it actually does. It just means the innovation has to work. We also encourage our employees to come to us with problems and solutions — we have an incredible sense of continual improvement. We let our people tinker and experiment. Some of our best inventions come from our field people — we have a plumbing fixture fabrication table that can slope to match the slope of either the building we're building or the amount of fall that the thing needs. Then you remove the table, the thing's set at the correct angle, it can go right out. So we created these ways to fabricate plumbing fixtures, how do we get them to the job? We built our own fixture carts, designed by our people, and over time, made little tweaks. It's like anything — try to make a better mousetrap. I've given my team the freedom to experiment. We have a fab shop because one of our employees was a champion for fab, which is how we eventually got into virtual construction. We give our team the freedom, encouragement and resources to run with their ideas."
Miller notes the technology in the industry is ever-changing, and while most everybody is good at what he calls BIM Phase One — the software and technology to get buildings fully coordinated and ready for construction, that's not necessarily the case with BIM Phase Two.
"That's the phase in between BIM Phase One and the fab shop fabrication process," he explains. That's where we're using technology to pull out all of the information out of the model we've just coordinated and get as much of that out into the field as possible and as efficiently as possible. Because basically once the coordination's done, the construction managers and owners want their building going as fast as possible. I see a big push in the industry to develop all of the fabrication software that's needed for that and taking everything from a traditional 11 by 17 spool sheet out to a 3D model that's being used in the fab shop. And companies out there are doing that right now, like MSUITE and Strata. And I think they're going to keep improving that process. The next step we're going to see is a lot more machine learning being used in the coordination process. There's going to be a lot more AI put into the front end of coordination. We're not there today, and I don't even think we're there in five years, but that's eventually where it will go."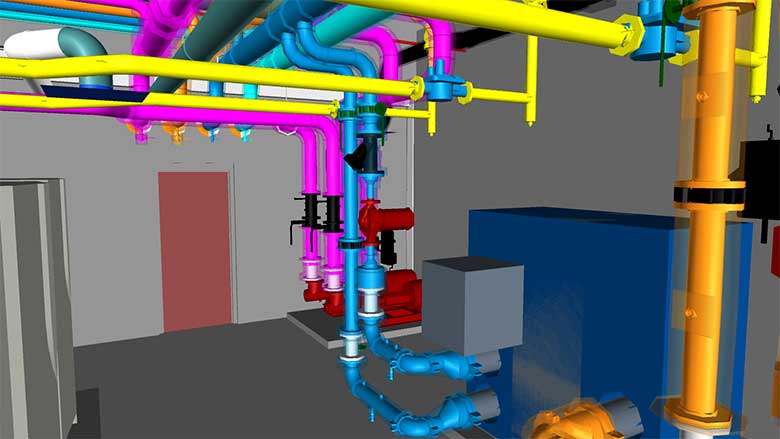 Securing the next generation
With such a focus on its people, HFI is also heavily involved in recruiting the next generation of mechanical contractors. Dawson notes the firm's internship program has been a gamechanger for the company.
"We have developed relationships with Purdue, Indiana State, the University of Southern Indiana, Rose Hulman and Ball State," he notes. "We typically have between three and seven interns each summer. Each intern has a mentor and do real-life work. They manage projects, estimate, work in our BIM division and are on jobsites. At the end of the summer, we hold Intern Day, where they each give a presentation outlining their summer along with providing recommendations to our Leadership Team for improvement or ideas that could guide the company in the coming years."
HFI has partnered with many of its student interns by providing scholarships to complete their college degrees, and some of them have gone on to become full HFI employees after college.
"We are active with the MCAA in their Career Development programs and one of our vice presidents, Scott Hinton, volunteers for that committee," Dawson adds. "We participate in The Great Futures Forum with MCAA and we have met so many talented students over the years and hopefully helped them get excited about a career in mechanical contracting. We all know how challenging and rewarding this industry is and it is great to see students start their careers with us."
On the field side, HFI is bringing people into the shop who get to know the industry by delivering material to company jobsites. "They get to know our foremen and what this industry is all about," Dawson says. "Many have transitioned into the union apprenticeship following this path and some of those people are now foreman running our projects. We take great pride in the development of talent across all areas of our company and we have had great success with these programs."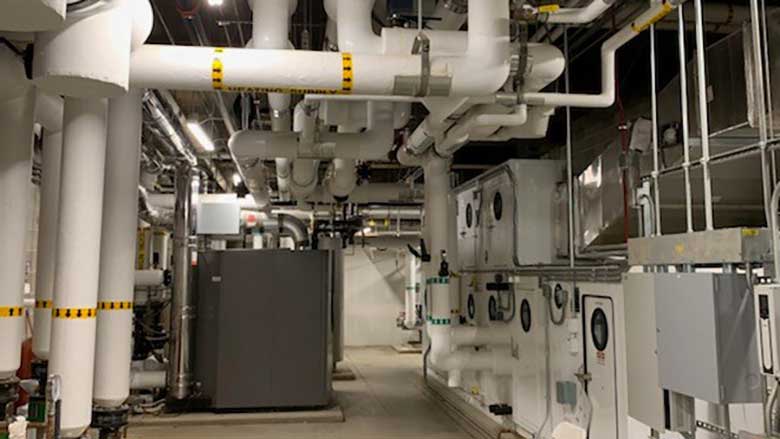 Overcoming challenges
We are certainly living in challenging times, and HFI is not insulated from the ongoing struggles contracting companies all over the country are currently facing.
Dawson notes the firm successfully navigated COVID-19 by developing a response and planning team inside the company. Dawson personally took on the role of COVID officer and handled all employee exposures and communication.
"Communication was essential," he says. "We had to very carefully and intentionally balance the need to keep our employees safe while still answering the call of duty. We had to listen to our people and meet them where they were in terms of their own feelings and unique situations. We also actively engaged our association partners, our PEER Group and crafted best practices for responding to COVID-19, creating appropriate safety measures, exposure protocols, screening questions for clients and keeping up-to-date with the changing face of the pandemic. We had to monitor CDC, state, local and national guidelines and requirements, as well as the requirements of each site we were working on. Although it was a major challenge, we became closer as an organization, and we emerged stronger because of it."
Dawson notes that the business saw an immediate reduction in its service division, which dropped about 25% to 30%.
"Our contract side didn't stop until about 18 months later, and that's because the jobs that would have bid just didn't," he says. "That's because owners didn't know how long the pandemic was going to last or what we would look like when we emerged from the other side. So new projects just stopped being planned. Our service division dipped March of 2020 through May of 2021 — June 2021 was our first month over month where we saw an uptick compared to the prior year. Now, we're in 2022 and we just now caught up to our 2019 levels."
It helped that HFI also won several important projects related to COVID-19. All the vaccine for a leading pharmaceutical company produced for North America was generated in piping systems HFI fabricated and installed.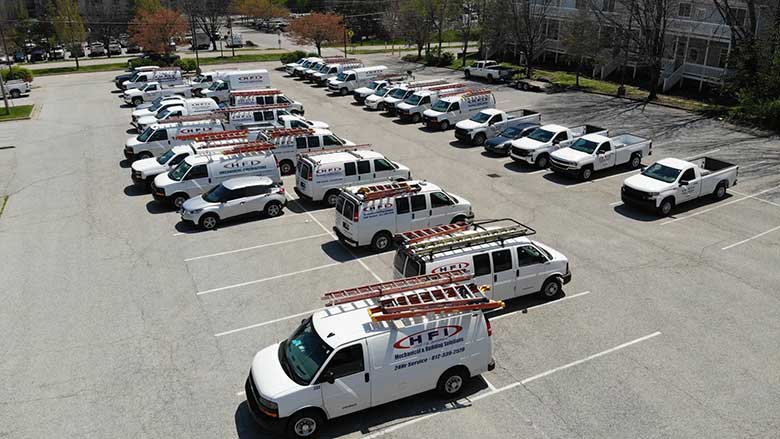 "We are very proud of that," Dawson notes.
However, COVID-19 continues to drag on, bringing new challenges with it.
"The issues we're having right now in construction is budget pressure," Dawson explains. "It's the supply chain's effect on price. If steel and copper are up 300%, the building budget is double. An owner might have had a $50 million job that they could fund, and now it's coming back in at $80 million, and they either can't afford it or it doesn't make sense for them. We are able to find — or eventually find — everything we're looking for, it's the price of that thing that's the biggest challenge."
Conners agrees, saying that cashflow is his job, and clients are struggling with the current economy. "We want to partne`r with our clients, so we communicate to them that we understand and share in their frustrations, and we try to come up with alternatives."
Mood agrees that price and material volatility as well as trying to find manpower and equipment lead times are probably what HFI is struggling with the most right now.
"Things you could get in the past, you just can't get today," he says. "We're working very hard to have owners bring us in earlier so we can help them make equipment selections very early on."
However, Hupp is optimistic about the remainder of the year, saying, "2022 will be a record-breaking year for service."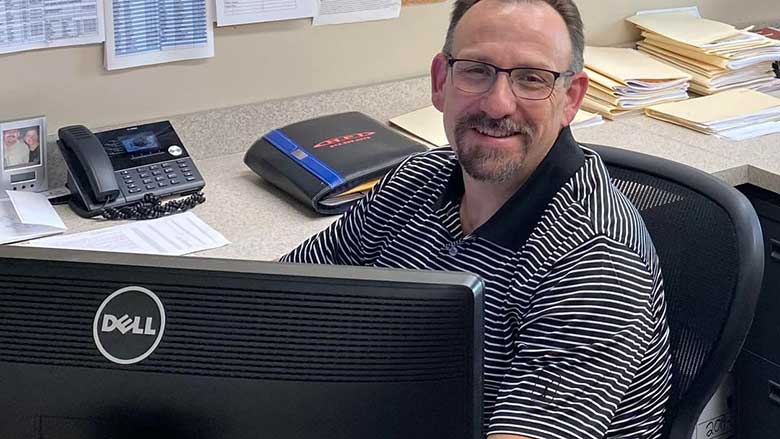 Planning ahead
HFI is very active in generating pathways for its employees to learn, grow and thrive, and the firm is excited about the number of young people entering the industry in its office and field.
"The work we do is critically important, and the demand is strong," Dawson notes. "The work outlook in our area looks very promising over the next seven to 10 years. We continue to be flexible and creative in managing supply chain challenges and pricing pressures. We continue to improve as a company to meet the ever-changing needs of our clients.  We continue to embrace technology and innovation. We think mechanical contracting is the most exciting, challenging, and dynamic area of construction and we are proud to be a leader in the industry."
Dawson's goals for the firm lie in ensuring its future success. "I want this company to become 50 years old, become 100 years old — long after the current ownership group has gone. And I want everyone in the company to feel like they have a path to increase their knowledge, experience and fulfillment. We have no unimportant people on our team. I want everyone here to feel like the sky's the limit."
Conner agrees, noting his goal is creating opportunities for the next generation of leaders and company owners. "We're attempting to do that now through diversification and growth. We've had some geographic growth opportunities, and we've diversified the services we offer to become the premier provider of choice to our clients. Whatever building solution they need, we can connect them to it and provide it to them. We want to grow and create a stable company to pass onto the next generation, and that goes back to retaining good employees."
Schlegel is also focused on figuring out the next succession plan and what that will look like. "We've got so much good talent that we've really worked hard to keep involved, and they will be our next group of leaders. At some point here in the near future, I'm going to become the biggest cheerleader for the company. So my goals are to see this company go on in that, someday, selfishly, as a dad, my 22-year-old son might someday become a leader in this company if he chooses to continue on. Our footprint here, the perpetuation to those youngsters that are all working hard right now is the most exciting thing for me as a goal for the company moving forward certainly. Growth and the numbers will take care of themselves."
Mood also wants to see the company continue forward, eventually handing over ownership to the next generation. He's also currently working to expand HFI by adding a fourth office location in Indianapolis to further provide opportunities for people to grow in their careers. He expects the fourth location to be up and running before the end of 2022.
"HFI will continue to make investments into our people, specifically increasing our BIM and fabrication resources, because that's really what allows us to build projects faster with less problems," he says. "At the same time, HFI is opening new locations, increasing our VDC horsepower and diversifying ourselves so we're positioned for any market disruption."
"My favorite thing is, at the end of the day, you get to see what you built — we make a difference," Dawson notes. "Whether we built a stadium for our sports team or the hospital where our kids are born, it makes a difference. We're changing the landscape of our cities and towns and it's fascinating. The jobs we're involved in, our kids go to school there, our parents get treated there, or we're making a vaccine. I don't even know how to describe that feeling, but whatever that is, that's what I love."