The plumbing industry is ever-changing, and plumbing contractors are striving to maximize productivity and minimize call backs. In order to do the job correctly the first time, plumbers need the right tools. Each year, plumbing tool manufacturers strive to meet contractors' needs by releasing their latest and greatest products for the job site. These are a few of the trends shaping hand and power tools for the plumbing professional.
Hand tool trends
Productivity is key in today's market, notes Alex Boll, group product manager for Milwaukee Tool. Milwaukee's plumbing hand tools represent safety and durability, but also a focus on simplicity, he adds.
"Now more than ever, plumbers are faced with an increased workload and fewer resources," Boll explains. "Streamlining operations and offering tools that are highly capable and easy to use are necessary to maximize any tradesmen's productivity."
Additionally, the plumbing industry has been stagnant when it comes to plumbing tool solutions, Boll says.
"Even the industry-leading products have remained the same for years despite the ever-changing marketplace," he says. "This disconnect between tool manufacturers and the evolving landscape has created an opportunity to improve many of the solutions that are already available. 
"We work hand-in-hand with users to identify their needs head-on instead of simply accepting the norm and we actively look for new ways to create plumbing hand tools that will maximize productivity on the jobsite," Boll continues. "Even simple additions or changes to a classic tool can completely change the way a plumber approaches an application for the better. For example, a few years ago, we created the Cheater Pipe Wrench. A pipe wrench is arguably the core of a plumber's arsenal, but they have seemingly been ignored when it comes to innovation. We took this opportunity to create the Cheater Pipe Wrench, an adaptable pipe wrench which equips users with ultimate versatility for jobs that previously required multiple tools."
RIDGID continues to see two trends around tool design — the desire for ergonomically enhanced tools and tools that have multiple functions, according to Billy Yrad, industrial designer for RIDGID.
"Better ergonomics put less strain on the body while lessening user fatigue," Yrad says. "This allows for a more productive work day. At the same time, tools with multiple purposes allow for enhanced efficiency by eliminating downtime while switching tools."

Electric tool trends
Plumbers have a range of applications to perform to get jobs done, including everything from light duty applications where weight and precision are important to demanding applications that are traditionally corded tools, notes Robert Chetelat, senior cordless product manager, Hilti North America.
"In the past, plumbers may have used 12V tools to fasten, 18V tools for common applications and corded tools to complete demanding applications," Chetelat says. "Hilti offers a 22Vplatform that uses compact power and ultimate class batteries — 22V batteries: B22V 2.6 ah, B22V 4.0 ah and B22V 8.0 ah. When they need lightweight and control, they can use the compact 22V 2.6 ah battery. When they need to move the run time and performance up, they can move up to 22V 4.0 ah or to the 22V 8.0 ah battery.
"Customers are moving to use a range of batteries on the same voltage with the same tool bodies to gain productivity in cordless tools for more applications," he adds. "Hilti is answering this need with the use of higher performance batteries. Our new batteries include 21 mm cells and improved pack design. This means higher capacity, higher power output per cell and cooler operation for the batteries." 
Similar to hand tools, plumbers need power tools that make them more productive, Boll notes. And because connection technology continues to evolve as the industry shifts its focus toward productivity and safety, there is a continued focus on press technology.
"With our lineup of FORCE LOGIC Press Tools and jaws, we have fundamentally changed the way pipe can be connected in the field," he says. "We expanded our lineup of press tool accessories last year with the addition of the IPS XL Ring Kit M18 for use with the M18 FORCE LOGIC Long Throw Press Tool. With the ability to press Viega MegaPress XL fittings without the use of cumbersome tool extensions, this new kit vastly expands the range of applications press tools can accomplish." 
Additionally, Boll notes that PEX tubing has become more popular in the growing residential space due to cost, installation and lack of corrosion in comparison with copper. This year, Milwaukee launched PEX Crimp (F1807) Jaws for its M12 and M18 FORCE LOGIC Press Tools allowing plumbers to tackle an even broader range of materials and pipe sizes. 
"FORCE LOGIC Press Tools now enable efficient, quality connections on PEX with the very same tool plumbers and mechanical contractors use for pressing copper, black iron and stainless steel, ultimately resetting the standard for productivity in pipe installation," he says.  
One of the primary trends shaping electric plumbing tool design is versatility, Yrad notes. 
"Plumbing contractors face various types of job sites daily — many times each requiring its own specialized tools," he says. "Providing contractors with multifunctional tools enhances their efficiency. For example, the RIDGID  RP 340 is a standard-size pistol-grip press tool that is compatible with RIDGID standard jaws and attachments, including PureFlow, MegaPress and ProPress rings and jaws. One tool enables contractors to press pipe from 1/2-inch to 4-inch.
"An additional driving factor in tool design is user preference," Yrad adds. "At the core of the RIDGID design process is a user-centered approach. We take our time to listen and observe our end users. Every design decision reflects our user's needs — whether it's the aesthetic, ergonomics or other requests." 
Tools for plumbing professionals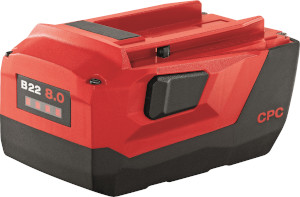 Name: 22V batteries: B22V 2.6 ah, B22V 4.0 ah and B22V 8.0 ah
Released: August 2019
Description: With reduced weight and size, the advanced compact B22V 4.0 Ah battery delivers more charge than a standard 18V 5.0 Ah battery. The powerful B22V 8.0 Ah battery has up to 50% more run time allowing you to work all day with minimal to no runs to the charger.
Price: $75 – 2.6 ah, $119 – 4.0 ah and, $209 – 8.0 ah
Where to Buy: Online at www.hilti.com, Hilti stores or your local account manager.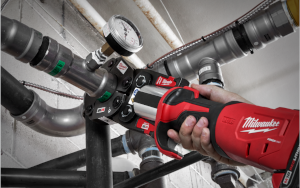 Name: M18™ FORCE LOGIC™ Long Throw Press Tool 
Released: October 2016
Description: The industry's first brushless press tool, the M18 FORCE LOGIC Long Throw Press Tool is the smallest, most intelligent press tool on the market, Milwaukee Tool notes. Equipped with an adjustable stroke length, this tool delivers optimized cycle time with minimal impact on its overall weight. With the introduction of the M18 FORCE LOGIC Long Throw Press Tool, plumbers and mechanical contractors now have the most versatile press tool on the market, with capability to tackle the broad range of materials and pipe sizes installed on the job.
Where to Buy: www.milwaukeetool.com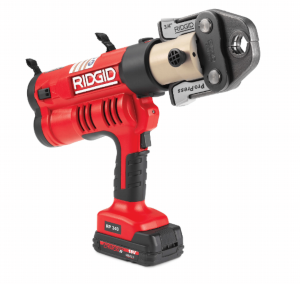 Name: RIDGID RP 340 Press Tool
Released: 2013
Description: The RIDGID RP 340 is a standard-size pistol-grip press tool purpose-built with accessories that enable contractors to work smarter and press larger pipe. It is the only standard-size tool that offers a full line of jaws and rings compatible with: ½ – 4-inch ProPress® for copper and stainless steel, ½ – 2-inch PureFlow for PEX, and ½ – 4-inch MegaPress.
Price: n/a
Where to Buy: Your local RIDGID distributor