✕
How does the saying go? "A man is only as good as the tools in his toolbox?"
While journeymen and master plumbers have a wealth of industry knowledge, they rely on certain tools to get the job done. Plumbing tools need to be durable to handle tough jobs repetitively, while also being ergonomic to minimize discomfort for the pros.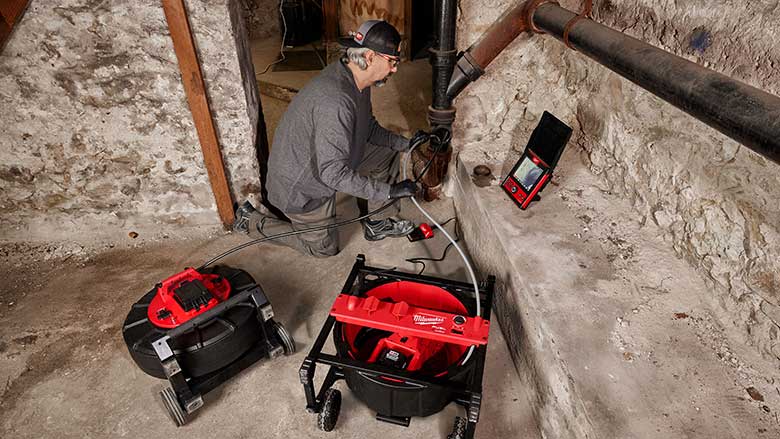 According to Jeff Albertini, director of marketing, plumbing and mechanical, for RIDGID, notes that ergonomics continues to be the single largest driver of innovation throughout the RIDGID line.
"Our team is constantly looking at how we can help professionals get their job done more efficiently and with less stress/wear-and-tear on the body to enhance jobsite safety and productivity," he says. "Tradespeople know that their greatest assets are their own hands and body, so preventing injuries is critical. From a tool perspective, ergonomic designs can help with this.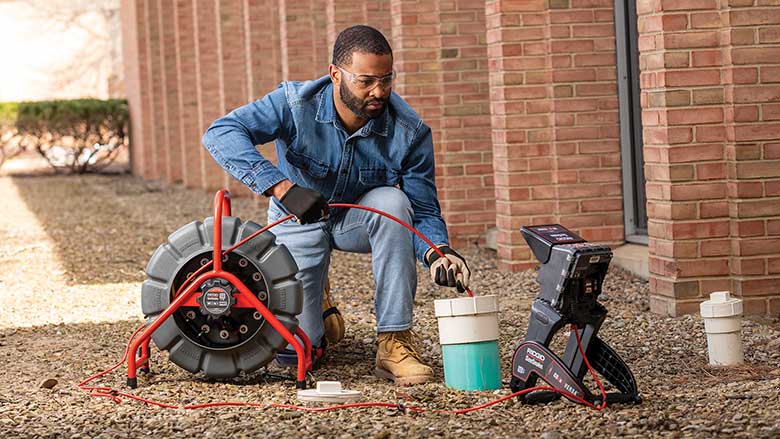 "The long-term cost and wear-and-tear on your body of doing tasks in a way that is not ergonomic may not hurt you when you are 25, but the toll adds up," Albertini adds. "By the time you are 40 or 50 — there is no going back. Professionals are dependent on their bodies for their livelihood, and they want to not only stay healthy for their careers but also for their families."
Tool design is being driven by new motor and battery technology, ergonomics and connected technology, Albertini explains. "The lighter, smaller, more efficient motor and battery technology has led to great strides in ergonomics. The smaller-sized tools can incorporate the best practices of ergonomics into the design of a tool, making for a safer work environment for the operator. Ergonomic tools are being designed to more closely align with the body's natural movements, reducing the likelihood that users will suffer strains or sprains after a day of working in confined or difficult positions. Extending the working life of our users is always at the forefront of our minds, and as a side benefit to business, ergonomic tools have been proven to increase job efficiency leading to an increase in productivity."
DEWALT Product Manager Justin Burke points to efficiency and productivity as the top trends shaping plumbing tool design.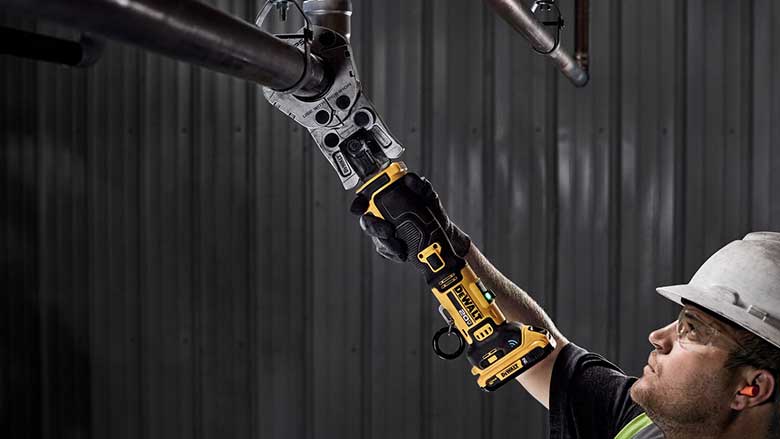 "It's about driving efficiency for contracting companies," he says. "We all know tradespeople are incredibly skilled, so our tool designs aren't removing the need for skilled tradespeople, but are focused on reducing the time needed to complete the application. We develop an answer to the question of how can we reduce the barrier of the labor factor? Keeping up to date with industry trends of what new trade-specific materials and methods are being developed is critical for us, then determining how our tools will interface with those materials and methods. How they interface with those materials to help make the contractor's job safer, more efficient and more productive? It's about equipping the end user to comple their entire workflow safely and quickly."
DEWALT puts a strong emphasis on end-user obsession, Burke notes. "We know that by spending time with our end users we are going to discover their needs and pain points, and we can use that to adapt and develop products to meet those needs. You may have seen recently DeWalt announced our innovative suite of Construction Technology products, working alongside our traditional power tool side of the business. The products consist of a variety of connected tools, software and mobile applicatoins that help at every phase of construction, from design to prefab, and on-site construction. As you know, the plumbing and mechanical world is quickly moving to offsite construction in fabrication shops. Part of our Construction Technology solutions come into play by helping fabrication shops become more productive in how they manage their materials and ensuring those materials are getting to the job site faster. And, when they arrive on the job site, that they require less hands-on work for final installation. It goes back to the idea of looking at the entire construction workinflow and helping the contractor complete their job."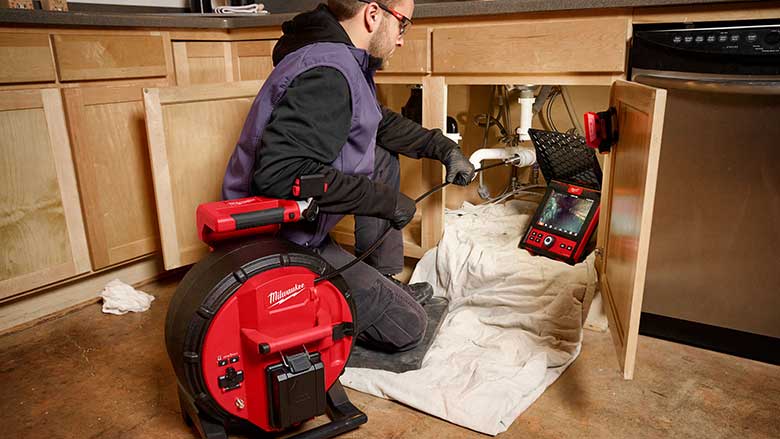 Alec Dietzel, senior product manager, plumbing and mechanical for Milwaukee Tool, agrees that it's all about efficiency.
"Service plumbers are trying to streamline the job at hand to complete the job and move on to their next call faster," he says. "One way service plumbers are accomplishing this is by investing in multi-material installation tools that enable them to service the pipe connections of entire systems, such as water heaters, with a single tool. For example, Milwaukee's M12 FORCE LOGIC™ Press Tool is compatible with multiple materials such as copper press fittings up to 1 1/4 inch and black iron pipe press fittings up to 1 inch. The press tool replaces the need to bring a torch and threading equipment out to replace a gas water heater, delivering a safe and consistent way to join pipe. It is also up to 50% faster than other connection methods such as sweat and solder, which allows plumbers to finish their job quicker and tackle more calls each day."
Chris Lamb, trade marketing manager at Hilti, cites the ongoing shift from corded to cordless tools as the largest trend impacting plumbing tools. Additionally, the ongoing shortage of skilled labor is impacting how tools are being designed to allow for safer and more productive work, he notes.
"More and more plumbing and mechanical tools are now cordless — faster and simpler to use," Lamb says. "To add to that, tools are now more ergonomic and offer contractors greater comfort for longer usage. Improvements in tools are leading to more work per charge, faster work speeds, interchangeable and intelligent batteries and more."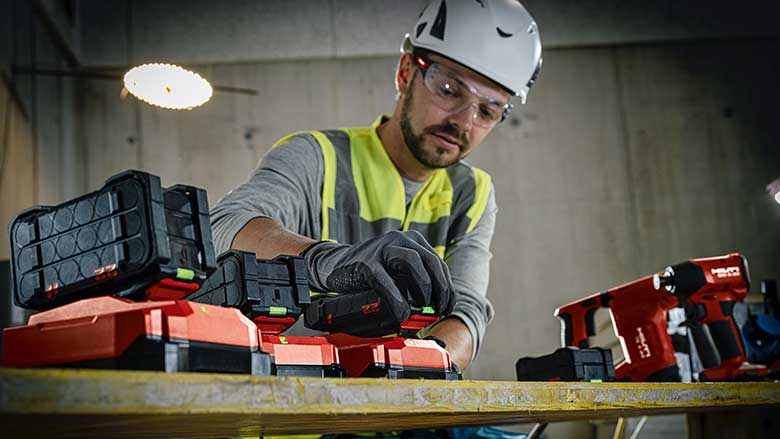 Drain cleaning, inspection present additional revenue opportunities
According to Lauren LaBreck, product manager, drain cleaning, for Milwaukee Tool, plumbing contractors who offer drain cleaning and inspection services have another way to generate incremental revenue for their businesses.
"They can provide their clients with video inspections, creating the opportunity for them to sell additional services if concerns are detected during the inspection," she explains. "Plumbing contractors can also better communicate with their clients, who have come to expect this level of service. They can show the diagnosis first-hand and warranty or protect the work that was just completed."
LaBreck notes that with the rise of high-speed flexible shaft drain cleaning, more and more plumbing contractors are using pipeline inspection cameras in their businesses. "These drain cleaners are able to clean and inspect the pipe at the same time to work more efficiently and get to the next job faster. Additionally, many companies are tasked with replacing decades-old lead and cast iron piping. An inspection camera and pipeline locator are critical in understanding where this pipe is located and pinpointing the location of the camera head underground.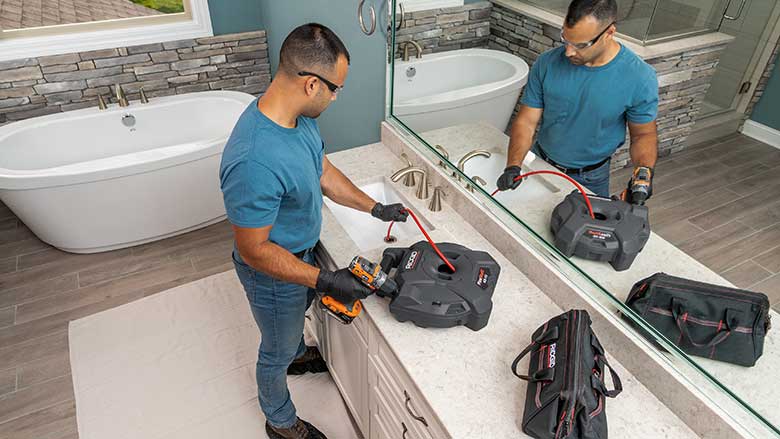 Dave Dunbar, national sales manager for General Pipe Cleaners, notes there are several really good reasons to add drain cleaning and inspection services.
"First, it's a really good service, and people really appreciate it," he says. "Plumbers have two main jobs — to provide freshwater and to take care of wastewater. Being able to do those two things is fundamental to life as we know it. When it is disrupted, it's a really big deal for somebody, and a plumber being able to come in and fix that problem is a huge confidence-builder. Secondly, they can charge a lot of money for it. Drains are always clogging — it's constant no matter what the economy is doing, no matter what is happening in the world. We say General is almost a recession-proof company because business does not necessarily slow down. Sometimes, it even speeds up when the housing market goes bad and we go into a recession. So it can be a very stable source of income for a service plumber in the world."
Dunbar also points out that the U.S. Environmental Protection Agency (EPA) has recommended that plumbers fix, replace and repair all leaky pipes because sewage treatment plants are being overwhelmed by freshwater getting into the treatment facilities.
"If you take a gallon of rainwater and mix it with a gallon of sewage, what do you have? You have two gallons of sewage," he says. "This is happening on a regular basis and becoming more and more of a problem. Plumbers see that this is an opportunity. There are trillions of dollars' worth of repairs that need to be made over the next 20 years, and most of them are going to be borne by the homeowner. It's not going to be paid by the government or insurance companies. I've talked with plumbers out there who have put service trucks on the road specifically to look for pipe replacement leads, because that's where the big money is — it can be anywhere from $5,000 to $40,000 to replace a pipe."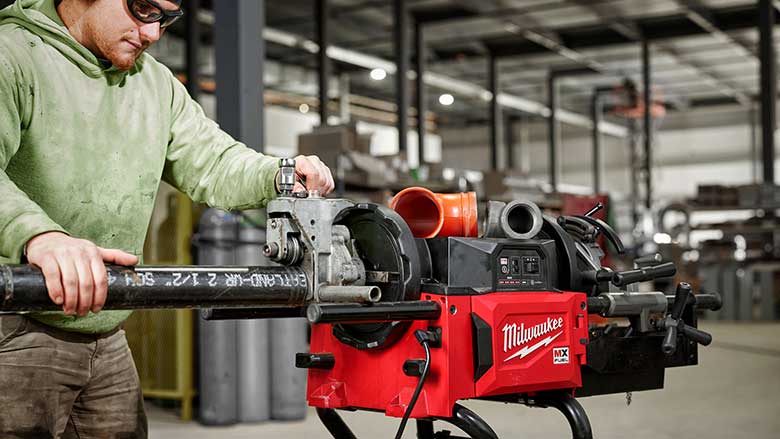 Albertini notes that plumbers are being asked to do more in less time and expand their serice offerings to accommodate more of their customers' needs.
"Once a customer finds a plumber they can trust, they want that person to do it all — from installing a sink to unclogging a main drain line running into the house," he says. "It is why we have seen a lot of plumbers expand their service arsenal to include several models of drain cleaning machines and inspection cameras. These machines open new revenue streams for plumbers and help them grow their businesses. Inspection cameras alone have opened a new revenue stream when RIDGID entered this space 26 years ago. This gave customers the ability to see what is happening in the line and then charge customers just for the diagnosing of these issues. After finding the issue with the camera and locator, the next is to solve it with our wide range of drain cleaning options. These have been great services to add as new construction in residential and commercial settings slows down to help plumbing companies find supplemental and incremental revenue for their business."
Albertini also points to drain cleaning as a unique, recession-resistant market. "Regardless of what is going on in the economy, pipes will clog and customers will need their drain lines serviced or repaired. We also have an aging skilled workforce that is constantly looking for tools that make their job easier and more productive. Even younger skilled tradespeople entering these markets are asking for the same things and pushing the industry even further forward with the utilization of products with connected features. These macro trends help drive growth into the overall drain cleaning and inspection markets. We drive growth even further by pushing the limits on innovation with our new products and continue to offer our customers industry leading service and support with our field sales and distribution network."
Top tools
According to Dunbar, the best-selling tool for General is its tried-and-true snake-style machines.
"We can't make and ship these things fast enough!" he says. "We're selling more machines on the larger side of the spectrum, and, I think the reason for that has to do with the changing flow rate on our toilets. A lot of the infrastructure in this country was built for 3.6-gallon volume flushes, and now they're getting a fraction of that. The particulate is not flowing as far as it used to."
Albertinti points to RIDGID's FlexShaft Drain Cleaning machines as the top-selling product.
"The quick setup and convenience of the drill power options have made this a great addition to the truck for all plumbers," he says. "Other productivity gains with FlexShaft include running your inspection camera simultaneously since the cables are enclosed in nylon sheathing. This allows you to run both your camera and drain cleaner at the same time to efficiently clean pipes wall-to-wall. Besides the productivity gains, Flexshaft has also given plumbers and drain cleaners a new business model to offer their customers. Instead of just opening a blocked pipe, FlexShaft's unique ability to clean wall-to-wall allows plumbers to charge even more than previously since they know that the drain is cleaned like new and will reduce the likelihood of future callbacks. RIDGID's expanded FlexShaft line of machines and accessories allows multiple blockages to be handled in different types of pipes and makes the FlexShaft a robust drain-cleaning option for all plumbers."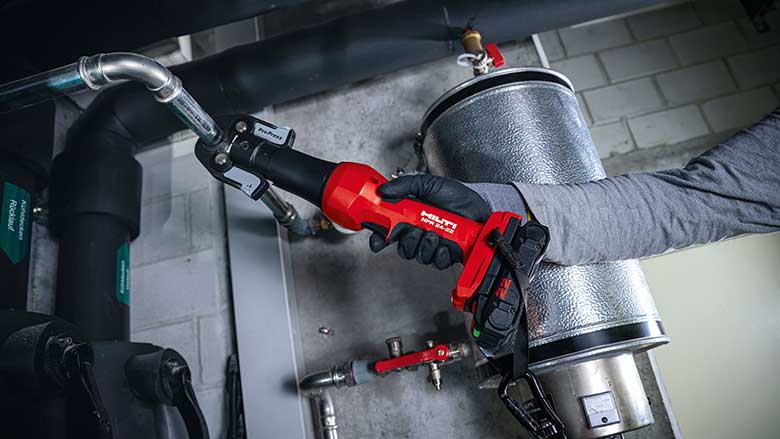 Burke notes that best-selling DEWALT plumbing tools depend on what types of material plumbers prefer to use. "For example, if copper is the preferred piping material for a particular plumbing contractor, then our DCE-200 20V MAX* Standard Press Tool would be the best-selling product. We recently announced the DCE210 20V MAX* Compact Press Tool that will add to our pipe press tool portfolio. Keep an eye out for that product launching in October. If a plumber prefers PEX piping as their go-to piping system, our DCE-400 20V MAX* PEX expansion tool would probably be the most preferred tool. At the end of the day, it's the efficiency and productivity that those tools are driving for the end user that make them popular. We all know that labor shortages will continue to be a hot topic moving forward in the construction industry, so any solution that can drive efficiency and productivity for contractors, like the tools mentioned, will be very popular."
According to Lamb, Hilti's portfolio of Nuron cordless hydraulic pipe press tools have been popular in the plumbing and mechanical space, as they help increase speed and reliability when installing metal or plastic pipes.
"Managing different power sources and cordless battery systems across multiple locations can be a headache — not to mention costly and time-consuming," he explains. "Hilti's all-on-one battery platform, Nuron, allows contractors to power a wide selection of power tools on the 22V Nuron cordless platform — compatible from drill drivers to demolition hammers. Nuron's intelligent, cloud-connected batteries offer built-in diagnostics, battery state of health and insights on tool usage and location —without compromising on power-packed performance. You'll need fewer batteries and chargers on the jobsite and you can reduce your reliance on tools that run on other power sources."
Dietzel adds that in the event of leaks or even unexpected weather, sump pump pits, water meter boxes and trenches may fill with water, leaving contractors scrambling to manage the mess before they can begin the repair. "Milwaukee Tool's M12 Stick Transfer Pump eliminates the repetitive strain of manual hand pumps and provides the power to push water out of pits and basins, and over walls. It is also equipped with HydroPass filter technology that maximizes flow in heavy debris to minimize clogging and downtime, allowing contractors to spend less time and effort pumping and more time focusing on the repair."