The days of folded paper maps and crank car windows are long gone. The cars of today practically drive themselves with features like park assist, lane detection and rearview cameras. And while these features have been standard on most passenger vehicles for quite some time, they are now becoming more prevalent options in the commercial vehicle market, according to Brian Tabel, executive director of marketing, Isuzu Commercial Truck of America.
"The safety features are becoming more prevalent and requested by customers and fleets, such as backup cameras and lane detection that had been in passenger vehicles for a number of years," Tabel says. "The most common accessories are the backup camera and alarm or the Mobileye device we offer. We're also seeing many customers requesting the high visibility seatbelts to ensure their drivers or passengers in the vehicle are using the seatbelt as is required. So the features that focus on safety and help improve the overall safety of the driver, the vehicle and anybody driving around the vehicle continue to be popular and a growing trend of the business."
Tabel says this trend is being driven based on what's available on the passenger side of the market.
"Obviously, backup cameras are required in every passenger vehicle today," he says. "And lane detection is becoming more and more common. Additionally, insurance companies are also driving these changes by allowing reduced rates for customers that have a number of vehicles with a number of drivers. And any way they can reduce insurance costs, those business owners are most definitely going to that. And they want to ensure their trucks are being operated in the safest possible way."
Cary Shapiro, Ford brand manager for Transit and Transit Connect, agrees that safety features are a big trend in 2020 because a single traffic accident can have a serious impact not on just drivers and passengers involved, but also on the business's bottom line.
"Automatic emergency braking can help drivers avoid or mitigate collisions in some cases," Shapiro says. "It is standard on 2020 Transit and 2019 Transit Connect and available across the rest of Ford's commercial vehicle lineup. The smartest Transit ever adds standard forward collision warning, post-collision braking, lane-keeping system and auto high-beam headlamps. New available driver-assist technology for Transit includes adaptive cruise control, blind spot information system with trailer coverage, enhanced active park assist, side sensing system, front and rear split-view camera and adjustable speed limiting device."
Additionally, Ford is excited to introduce the new all-wheel drive for Transit, Shapiro notes.
"We know work doesn't stop when the weather gets bad — contractors have to get to the job site no matter what. Transit's intelligent all-wheel-drive system is always on to provide enhanced traction on icy, snowy or muddy roads. And what's really great is that it doesn't raise the load floor or seat height, so a Transit with all-wheel drive is just as easy to enter and exit as a standard rear-wheel-drive model."
Larger payload
The market for class one vans has actually shrunk due to persistently reasonable fuel prices, and so consumers in the commercial vehicle market have moved into more full size vans, notes Dave Sowers, head of marketing for Ram commercial vehicles.
"Our Ram ProMaster — that class two van seems to be the sweet spot for the vocational customer because there's more payload available," Sowers says. "There's a lot more space inside, so they can be a much more functional or workable piece of their fleet.
"One of the things that we know is true is plumbing and mechanical small business and fleet owners are employing their people for a set of skills and that those skills are relative to their vocation more than anything else. So they're hiring expert plumbers, etc., not necessarily people that have a commercial driver's license or those who are particularly adept at operating those vehicles. So these fleet managers are looking for a vehicle that will meet their capability needs, but will be easy enough to operate. Since the class two van tops out at 10,000 pounds, a business owner can put somebody behind the wheel without a CDL."
Another benefit from the class two perspective relative to service contractors is the payload and space, Sowers notes.
"Payload is important because of some of the heavy tools and equipment they haul — and that's particularly true on the traditional plumbing side," he says. "They have large wrenches, iron fittings, and if they are doing gas installs, that's a lot of weight. Plus, there are replacement parts. And in the plumbing and mechanical world, they're dealing with hot water heaters, furnaces, accumulators, a lot of things like that can weigh a lot. So they need space for those large pieces of equipment and they need payload to carry the equipment, tools and supplies."
Efficiency and connectivity
Service contractors are increasingly looking for new ways to increase efficiency in their businesses and that includes both on and off the road. To that end, more and more contractors are using their vehicles as mobile offices, Shapiro notes. So Ford has made it easier for them by including a modem with 4G LTE Wi-Fi hotspot and connectivity for up to 10 devices in every Ford commercial vehicle.
"New Ford Telematics and Ford Data Services are available across the lineup to help commercial customers operate their fleets more efficiently," Shapiro says. "Ford Telematics and Data Services enable fleet managers to enhance uptime and asset utilization, optimize running costs, improve driver behavior and protect their fleets using Ford OEM-grade telematics software, integrating with the company's existing telematics service provider or taking vehicle data directly into their own IT systems and giving them the power of choice."
While fuel prices have been moderate for some time and service contractors have moved into larger model vehicles, they are still conscious of cost of operation, Sowers notes.
"They want to ensure they're getting the most work done for their fuel bill," he says. "So fuel economy is important. The powertrains that are available, such as the V6 that's available in the Ram ProMaster, are delivering better fuel economy than the V8 rear wheel drive vehicles of the past. So the front wheel drive system on the Ram ProMaster is unique in the segment, but that further enables fuel economy by eliminating a lot of the additional running gear in live axle that you have in a rear wheel drive system."
Accessories
Ranger Design, a manufacturer of fleet vehicle storage, shelving and racks, has spent the last few years streamlining its product line so its distributors can specify vehicles quickly and get them out on the road faster, according to Stella Talianakis, product manager for the company.
"To give you an example, our shelving line has gone from a 300 sku count down to 65, and we can still upfit all the same vehicles with just those 65 skus," she says. "People want to get their upfits quickly, and in order to do that, having a more streamlined product line allows the distributors to really know the product well and be able to get it out to the end users a lot quicker. With just the basic few skus, you can build anything that the tradesman is looking for, even something that's more custom to their field. They can easily put that together with our basic units and get those tradesmen back to work quickly."
Additionally, due to the ongoing labor shortage in the trades, Ranger Design is working to make vehicles more efficient to allow the techs to be as efficient as possible when restocking their trucks and vans.
"We are offering solutions for restocking that can be done by a warehouse employee rather than the actual technician that is on the road," Talianakis says. "Additionally one of the products that Ranger offers is our Partskeeper cases and cabinets. The techs on the road can just bring in their empty Partskeeper, exchange it for one that's full with parts and they can be back on the road in minutes rather than spending the time filling those up and getting back on the road."
"It's not only an efficient storage and organization product, but it's also a tool that's durable enough to be brought onto the work site. And these are things that just help the tradesman on a day-to-day, job-to-job scenario.
"At the end of the day, we're able to guide fleet managers on how to best upfit their vehicles and get them on the road as quickly as possible," she continues. "These managers have less and less time and very tight budgets, so they count on us to steer them in the right direction. We're able to understand their exact needs to be able to service them better."
2020 RAM PROMASTER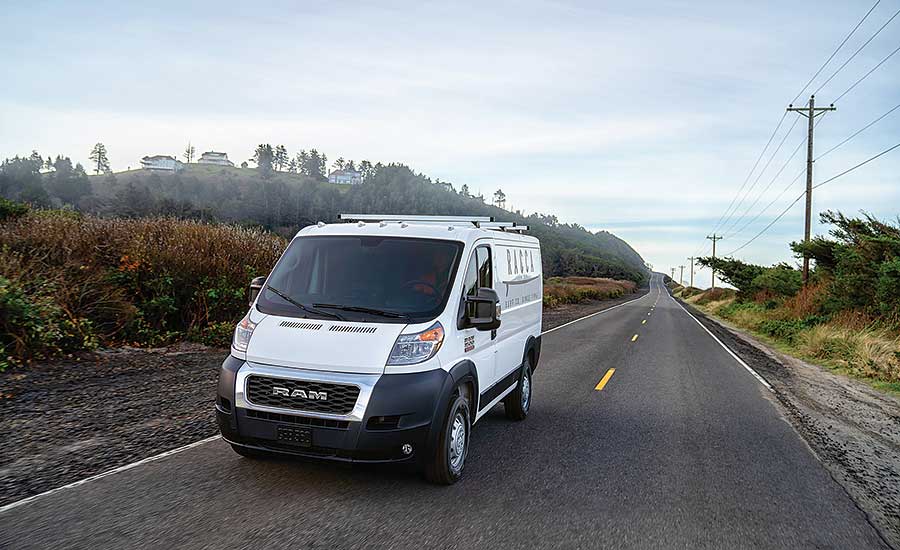 Release date: Quarter 4
MRSP starting at: $30,245
Description: The 2020 Ram ProMaster is a purpose-built, highly customizable van designed to exceed the demands of commercial customers and upfitters. An exclusive front-wheel-drive system design enables the cargo-load-floor height and step-in height to be very low, which is a great ergonomic feature for the person getting in and out of the van all day.
Drivetrain: FWD.
Engine options: 3.6-liter Pentastar V-6 paired with a proven six-speed automatic transmission.
Popular features/options: Factory-installed trailer hitch with max trailer towing of 6,800 pounds, new 136" wheelbase, standard interior cargo height, load-floor height and cargo width between wheel wells. 
Warranty information: Three years or 36,000 miles bumper to bumper warranty and five years or 60,000 miles powertrain warranty.
Where to buy: Your local Chrysler/Dodge/Jeep/Ram dealer. 
For more information: www.ramtrucks.com
2020 FORD TRANSIT CARGO VAN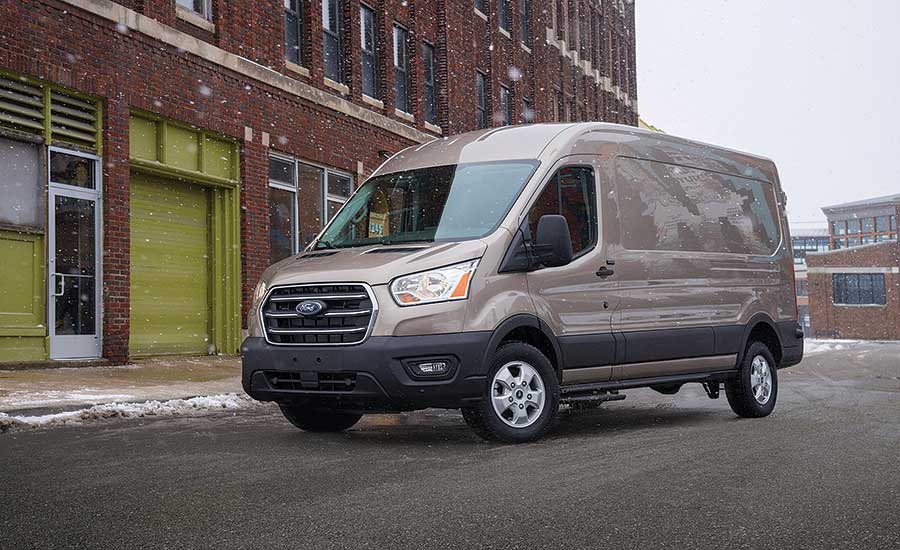 Release date: 2020
MRSP starting at: $34,510 plus destination and delivery.
Description: Ford Transit offers the most configurations in its class to help customers specify just the right van for the job. Choose from three engines, three roof heights, two body lengths and an almost limitless array of upfits. Now available with all-wheel drive.
Drivetrain: RWD standard, AWD available new for 2020.
Engine options: 3.5-liter PFDi V6 gasoline engine comes standard. Also available is the new 2.0-liter EcoBlue bi-turbo I4 diesel or the 3.5-liter EcoBoost gas, all of which are mated to new 10-speed automatic transmission.
Popular features/options: Power sliding door, pre-collision assist with automatic emergency braking and pedestrian detection, forward collision warning, lane-keeping system, Ford Telematics and Ford Data Services, enhanced active park assist, blind spot information system with trailer coverage and cross traffic alert, adaptive cruise control and front and rear split-view camera.
Warranty information: Three years or 36,000 miles bumper to bumper warranty; five years or 60,000 miles roadside assistance program; five years or 60,000 miles powertrain warranty on gas engine models; and five years or 100,000 miles powertrain warranty on diesel engine models.
Where to buy: Ford dealers nationwide.
For more information: www.ford.com
ISUZU NPR-HD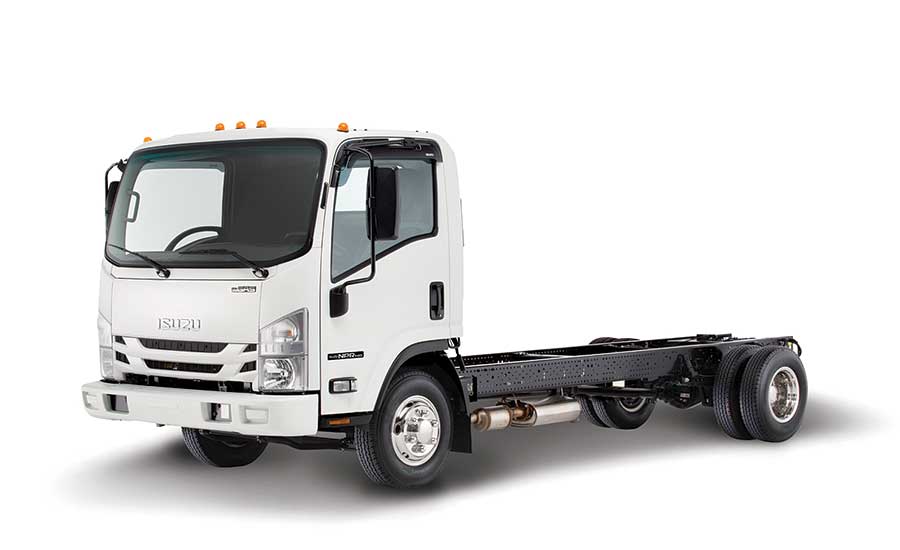 Release date: March 2019
MRSP starting at: Please contact your local Isuzu dealer.
Description: The NPR-HD features a 14,500-pound gross vehicle weight rating. Utility bodies are a perfect upfit for a gas chassis. Service contractors drive modified pickups and cargo vans that sometimes lack the organization, payload capacity, quiet ride and security of an Isuzu truck with a utility body. To meet the demand, Isuzu recently added the Knapheide KUVcc and the Supreme Spartan utility bodies to their Road Ready Body Program, giving dealers and customers quicker and easier access to these quality bodies.
Drivetrain: RWD.
Engine options: 6.0 L Vortec gasoline engine.
Popular features/options: Back-up camera, Mobileye, Triangle kit, seat covers and suspension seats.
Warranty information: Basic three years or 36,000 miles bumper to bumper warranty and five years or 75,000 miles powertrain warranty.
Where to buy: Your local Isuzu dealer.
For more information: www.isuzucv.com