When Tom Meek founded TM Sales in 1991, they were operating out of the basement of his still-under-construction new home. Newly laid off from his job as a sales rep, he took a leap of faith.
Twenty-seven years later, Arvada, Colorado-based TM Sales employs 23 people and represents more than two dozen lines in Colorado, Wyoming, Montana, Nebraska, and South Dakota. Known for their knowledgeability and professionalism, the TM Sales staff has made a name for themselves as a tight-knit group of people who work hard, play hard, and take care of their clients.
Their commitment to their customers – and the owners' commitment to their employees – have set them apart as one of the elite manufacturers representatives in the hydronics and plumbing industry. And, it is what has earned them the title of PM's Manufacturers Rep of the Year for 2018.
Humble beginnings
Meek grew up in Michigan and worked as a plumber in the Detroit area after high school. His brother Rick Meek, who had been working a dead-end job at a chemical lab in Ann Arbor, Michigan, had moved to Colorado a few years before — "with about $180 to my name and a box of shredded wheat," he jokes — and helped convince his brother to make the move in 1976.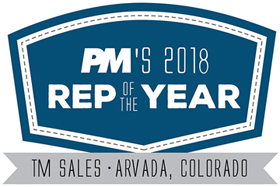 Their commitment to their customers — and the owners' commitment to their employees — have set them apart as one of the elite manufacturers representatives in the hydronics and plumbing industry.
Tom Meek worked as a factory sales rep and earned multiple awards for overshooting his sales goals. Then, toward the end of 1990, he and the rest of the reps were laid off.
"I had lost my job and was in the middle of building the house," Tom Meek says. "When I started, I had one line and a five-speed hatchback Escort with no air conditioning and only an AM radio. I also had a bag phone, because I thought the bag thing was cool."
That was early January of 1991. With two children and a wife to support, as well as a house payment, he took his naugahyde briefcase, his bag phone, and the Escort (technically his wife's car) and got to work.
Initially operating out of the home's basement, they soon "upgraded" to a building near the train tracks. That building, Tom Meek fondly recalls, lacked plumbing and had originally been constructed to serve a very different purpose.
"We wanted to be a legit business, so we were doing remote warehousing," he recalls. "The guy who was doing the warehousing for us really liked us, so he allowed us to take and convert this old abandoned meat locker into our first office space. We were on the railroad tracks. We were underneath the highway, and we had no plumbing.
"But we painted it, fixed it up and put our Oak Express desks in there, and we were legit, or we thought we were legit because we weren't working out of my basement anymore."
"At least we had a counter," Rick Meek jokes.
TM Sales' first line was US Brass, which no longer exists, and its oldest line is Red-White Valve, which has been with them since 1991. Currently, TM Sales reps more than a dozen brands — including Milwaukee Tool, A. O. Smith, Uponor, Caleffi, Laars, and Sioux Chief — while also providing in-house training at its Arvada and Bozeman, Montana, training centers. They hope to branch into the plumbing market more in the near future.
Oh brother…
Part of what makes TM Sales so unique is that it led by three brothers — Tom, Rick and Mike Meek; Mike Meek is the inside sales manager while Rick and Tom Meek serve as vice president and president, respectively.
"We like giving them a hard time," says Lauren Butler, outside sales/accounting for TM Sales. "They're amazing people. TM Sales and these two [Tom and Rick Meek] made sure that no one lost their jobs during the Great Recession. Even in the downturn, we had a bonus, which no other person would've ever had that anywhere else. A lot of people were getting laid off, and they were always with us."
Mike Campbell, outside sales rep for TM Sales, has been with the company for 23 years and says the elder two brothers' management style is very similar in that they both lead by example and don't micromanage employees.
"I think everyone here probably takes a little bit from what they've seen those guys do and acts very similar," he says. "Everybody kind of is working on the same thing and wants the same thing, so I think it works really well, and it just has continued to go that way from when I started to where it is now."
Campbell says his favorite thing about working for TM Sales is "the fact that you do your job and nobody messes with you."
"I've never had anyone question what I'm doing, where I've been, what kind of money I spent, or anything like that," Campbell adds. "Just do your job and it's going to go well for you."
One big family
TM Sales also provides employees with company vehicles that get upgraded to luxury vehicles after their 20th anniversary with the company, and TM Sales also pays 100% of employees' health insurance and matches 401(k) contributions.
But what really makes TM Sales stand out above the rest is its company culture. From work events and group dinners to kids' birthday parties and doggy playdates, TM Sales' employees enjoy each other's company both in and outside of the office.
"Definitely, our culture is what makes us special," says Tobi Gibson, outside sales manager for TM Sales. "You've got Rick and Tom, who started the company — they've worked here forever, but they show up at counter days. They show up at trainings. They go to sales meetings. They definitely do all the things they expect us to do and it makes all the difference."
"We do a lot of activities outside of work together," Butler adds. "If there's a Christmas party, or a birthday party, or whatever it is, we're all together. There's times where we'll go and do a work event, but then we also stay after and just hang out as a group together. We're coworkers, but we're also family."
Gibson, Butler and other TM Sales employees frequently refer to their group as a "pack" because of how tight-knit it is.
"If we go to ASHRAE, or sales meetings, or if we're getting into trouble, it's generally several of us together," Gibson says. "We eat together, we drink together, we hang out together, and we generally like each other. It's definitely a group atmosphere, and it's more family than colleagues."
"'One in, all in' is probably the best motto that we could put in print," Tom Meek says. "Any of these trade shows, or counter days, or anything like that, we are the first ones to set up and we are absolutely the last ones to break down.
"It's all about the people who are sitting at this table and the people who sit out front," he continues. "We have great people."
Rick Meek agrees.
"They're all unique in their own way, like they should be," he says. "And I admire every person here, absolutely."
Focused on training
Another thing that makes TM Sales unique is its dedication to technical training. In addition to the Western Training Facility (lovingly referred to as WTF) co-located at TM Sales' headquarters, a second state-of-the-art training facility in Boseman, Montana, serves the training needs of individuals in that area. The company also offers some online training opportunities.
"We try to be on the leading edge of technology," Tom Meek says, adding that they are working hard to get their training centers "to the next level."
"We're working more on an integrated system approach rather than training on individual pieces of equipment. We're going to promote more of a holistic solution — where things are working together — and train on the entire system rather than the individual components. That's our next thing."
A respected rep
While TM Sales company culture makes it an enjoyable and rewarding place to work, its employees' dedication to their work is what makes it stand out to suppliers and manufacturers alike.
Rick Hawk, A. O. Smith's vice president of national accounts, says the company has partnered with TM Sales for 24 years.
"One of the reasons TM is such a good representative is that everyone in the agency — beginning with Tom Meek — understands our business and is able to interact with virtually anyone in our organization to help serve their clients," Hawk says. "The entire staff at TM Sales approaches their jobs with a tremendous amount of professionalism.

"It's all about the people who are sitting at this table and the people who sit out front. We have great people [at TM Sales]."
"Not only do they take time to become educated about all the products we offer, but they understand that the relationship between A. O. Smith and TM Sales is more than purely transactional," Hawk continues. "It is a true partnership, and they demonstrate that every day with their competence and professionalism."
Hawk says TM Sales does so many things well it's hard to choose one thing that sets them apart from other manufacturers representatives.
"One thing that stands out is that they hold themselves to a very high standard," he says. "When you know your agency is giving its best every day, regardless of the circumstances, it creates a great deal of confidence and trust. Those things can't be bought."
Cindy Albrecht, director of sales – Pacific mountain region for Uponor, has personally worked with TM Sales for nearly 20 years and regularly sees evidence of the company's commitment to its clients and employees.
"Tom Meek has built a tremendous company based on his understanding of how to find, develop and retain great people," Albrecht says. "But it's more than that with TM. Tom's knowledge of not only the industry, but also of all the customers and manufacturers he deals with — their needs, their motivations, their personalities, the best way to help them succeed — has been passed along to his team as well. It makes them extremely good at what they do. They understand their customers and their partners, and they work hard to support them."
Colin Perry, owner of Rampart Supply in Colorado Springs, Colorado, works closely with TM Sales and interacts with them daily.
"TM's reps are very responsive. Once you call them with a question or something needing action, you can move on and know it is being handled. They do a great job of following through and following up."
TM's reps are also very well trained on the lines they sell, Perry adds.
"They are our first line of defense when we have issues. In most cases, the TM folks can resolve the issue without involving the factory. TM adds value to the products they represent."
Albrecht says she has been "privileged to have worked with TM and their great team for the past 20 years" and extends her sincere congratulations to their entire team. "This recognition is much deserved."
"TM Sales is very deserving of this award," Hawk adds. "They personify what manufacturers look for in a rep agency: commitment, dedication, knowledge and passion."
Plans for the future
In addition to continue to serve its hydronics manufacturers, Tom Meek says they plan to dive into the plumbing market in the coming years.
"Our longer-term goal is to increase our plumbing side of our business and get more into that because we've been very demonstrably good at that portion of the business. We really want to make a push into that and kind of round the business out so that we're more diverse."
Tom Meek adds that their overarching goal is to retain the core values that have helped the company attain its current level of success.
"We really hope we don't change. We do want to get bigger and better, but our hope is that we stay true to who we are."