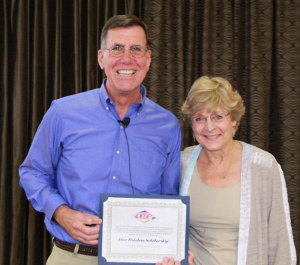 OESP Executive Director Judy Garber (right) presents Dan Holohan (left) with a recognition certificate.
 Judy Garber, executive director of the National Assocation of Oil Energy and Service Professionals , at a recent "Classic Hydronics" seminar in Grantville, Pa., presented Plumbing & Mechanical columnist Dan Holohan with a certificate recognizing him for all he has accomplished on behalf of the OESP scholarship program.
She announced that one of the group's annual awards would be presented in his name — The Dan Holohan Scholarship. The inaugural scholarship is expected to be presented this month.
Proceeds from the seminar, more than $10,000, went to the OESP scholarship fund. A canned goods drive after the seminar resulted in two large bins delivered to a Lebanon, Pa., food pantry.