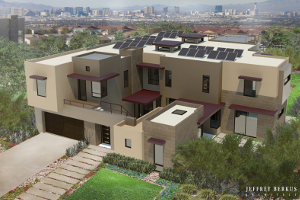 A computer rendering of the 2014 New American Home.
Watts Water Technologies is a sponsor the 2014 New American Home, which is showcased at the International Builders' Show, Feb. 4-6, in Las Vegas. As part of its support, Watts and SunTouch have contributed a wide range of products and solutions for the showcase home:
PEX pipe, fittings and accessories;
Electric floor-warming system;
Water filtration and anti-scale systems;
Residential fire protection piping, fittings, sprinklers and accessories;
Water connectors and lead-free water pressure-reducing valves; and
Assorted plumbing accessories.
 Click here to read more about the 2014 New American Home.